All garlic varieties are members of the allium family, just like leeks and chives. Garlic is a bulbous vegetable that requires very little space to grow and prosper. Learning how to grow garlic is an excellent addition to your garden because it is a common ingredient that pairs nicely in several main courses and adds a flavorful taste.
If you want to know how easy growing garlic is, continue reading to uncover straightforward tips and tricks that show you how to care for and correctly maintain garlic bulbs.
Garlic, or Allium sativum, grows from individual cloves broken off from a whole bulb. Each bulb contains anywhere from five to ten garlic cloves ready to use in any recipe, like homemade pesto.
Organic garlic is not only found at your local grocery store or farmer's market. Garlic growing in your backyard is an excellent alternative.
Planting garlic in your garden allows you to eat fresh food, reduce your environmental impact, and save a little bit of money on groceries each month.
Additionally, fresh garlic tastes better because it is free from chemicals that most growers use to speed up the harvest time.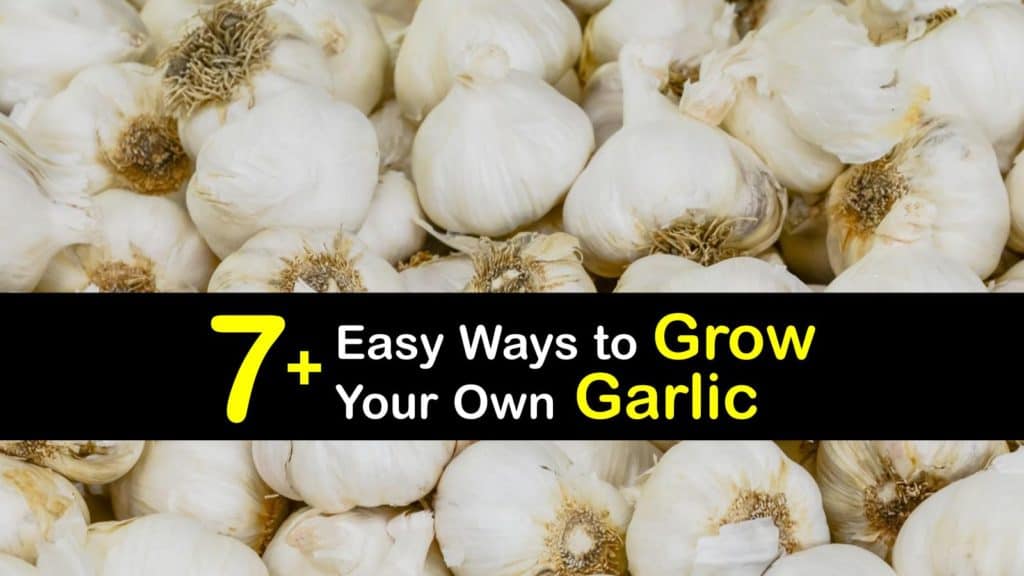 Two Classes of Garlic
Several types of garlic derive from two main classes: hardneck varieties and softneck varieties. Hardneck garlic, like elephant garlic, has cloves that are very large and are easier to peel. Also, hardneck garlic contains more flavor than softneck garlic.
Softneck garlic thrives in warmer weather and does not produce scapes. Softneck varieties have more cloves on each head compared to hardneck garlic varieties. Plant both types of garlic in your garden to produce the biggest harvest.
For the most part, growing hardneck vs softneck garlic is virtually the same.
How to Grow Garlic in the Right Location
Unfortunately, garlic is not the easiest food to grow indoors. All you will get are the greens to use in cooking – not the cloves.
Before you plant and grow garlic from seed in your garden, you must first choose the correct location, so your seed garlic thrives and produces an abundant harvest.
If you have planted garlic in a particular site before, continue farming in the same area, as the roots are accustomed to the soil. Note that garlic is ideal for companion planting with celery, as it brings out the flavor of the celery.
It is also essential to choose a good drainage location so water does not accumulate around the roots. When there is not adequate drainage, root rot and other diseases form that cause your garlic to wither. The same applies to the best way to grow tomatoes from seed. Too much water is never a good idea.
Whether you grow garlic in pots or the flower or vegetable garden, choose an area with good air circulation and full sun. When growing garlic in containers or the ground, the plant calls for six to eight hours of direct sunlight during the growing season.
Choosing a sunny spot for root veggies or your garlic is vital, so the plants have plenty of nutrients to grow and produce. Learning how to grow garlic is relatively easy and starts with choosing your garden's best location.
Growing Garlic in the Correct Soil
Another fundamental step in garlic growing or whatever easy herbs to grow that you choose is implementing the correct type of soil and fertilizer, as they provide your garlic with much-desired nutrients to grow as fast as possible.
Garlic needs well-drained soil from raised beds. Make sure there are no stones in the ground, as it prevents the roots from spreading naturally.
Fertilize your garlic with compost or well-rotted manure. If you purchase fertilizer from your local gardening store, buy one with high nitrogen levels for the best growth.
Work fertilizer several inches deep into the soil. Fertilizer gives your garlic plant even more nutrients that promote growth and help you grow garlic with a fresh taste. Understanding how to grow garlic is easier when you utilize the correct soil and fertilizer.
Garlic Growing Made Simple
Compared to other vegetables and fruits, planting garlic bunches is relatively easy. When you regrow garlic cloves, ensure they are adequately spaced in the soil, as it gives the plant's roots enough room to spread and receive the necessary vitamins and nutrients it asks for from the ground.
One benefit to garlic growing is that the plant does not need that much space in the garden. Space the garlic cloves about four to six inches apart.
If you plan on growing multiple rows of garlic, space the rows at least one foot away from each other. Push the garlic head into the ground, with the blunt end facing down and the pointed end up.
Push each garlic glove one to two inches into the earth and firmly pat the soil around it. Garlic growing is more efficient when you space out the cloves far enough.
When to Plant Garlic
One of the best aspects of growing garlic is that it can be planted in the fall, before the ground freezes, or in the spring. The chilly weather in cold winters is not ideal for a garlic plant.
If you want to plant garlic in the fall, plant the cloves in mid-autumn and sprinkle about six inches of mulch over the soil. When fall planting, garlic is ready at the end of the season.
For spring planting, plant your garlic cloves in the early spring as soon as the soil is ready. The garlic is usually ready to harvest by early summer.
No matter what season you choose to grow garlic, follow the same spacing patterns, so the roots have plenty of room to spread and receive nutrients.
You can also grow garlic indoors but you won't be harvesting garlic bulbs. The greens, though, are a delicious addition to many recipes.
The Benefits of using Mulch
Spreading mulch on the top of your soil has a couple of advantages that help promote initial sprouting of the bulbils and vegetable production.
Using mulch in cooler climates helps prevent the garlic's roots from being negatively affected by the freezing and thawing that occurs overnight. When mulch is used in milder temperatures, it helps reduce the number of weeds in your garden.
Spread a four inch thick mulch layer composed of straw, chopped leaves, or grass clippings on top of the soil.
If you live in an area with warmer temperatures, spread a lighter layer of mulch on the ground, as you do not need to protect the garlic from freezing temperatures. Mulch provides instrumental advantages when planting and growing garlic.
Knowing When to Harvest Your Garlic Bulbs
After following the careful procedures involved in planting and growing garlic, it is now time to harvest garlic in your garden. There is no specific time when garlic is ready to be harvested, as it varies between climate zones.
Harvesting garlic is straightforward and easy. When the garlic scapes turn brown, you know it's when to harvest garlic. Dig the garlic bulbs out of the ground gently, then let the bulbs dry out in an area with good air circulation for two to three weeks.
When the garlic roots feel dry, store garlic in bunches by tying them together. Garlic must be stored in a cool and dry place so they remain ready to eat.
Companion Planting with Garlic Bulbs
The benefits of companion planting for garlic and other veggies are enormous. Companion planting utilizes the space in your garden more efficiently, promotes growth between different plants, and adds a variety to the vegetables and fruit you choose to plant.
Garlic is a natural deterrent for unwanted pests because of the sulfur that accumulates in the garlic bulb. Plants that thrive with garlic include tomatoes, fruit trees, potatoes, cabbage, broccoli, kale, cauliflower, and carrots.
When any of these vegetables or fruits are planted alongside garlic, the plant produces a higher yield and has more nutrients to feed off the garlic plant.
The two plants to refrain from growing next to garlic are peas and beans. These foods will not grow when planted next to garlic.
Making a Delicious Garlic and Basil Pesto
One gain of learning how to grow garlic is that you can create fantastic pesto with fresh garlic.
Pesto is used in several creative ways, including an addition to soup, a spread for bread, a veggie dip, and a flavorful punch to mashed potatoes. Whip up savory garlic and basil pesto in only a few quick steps.
Start by placing the chopped basil and about one tablespoon of oil into your blender and grinding it to a fine powder.
Add the remaining ingredients to the blender and blend until the consistency is smooth, similar to softened butter. Your garlic and basil pesto is now ready to serve and enjoy!
Growing garlic is straightforward and does not require as much attention as other plants. The garlic plant does not take up that much room in your garden and complements several other vegetables or fruits.
A garlic plant is a great companion plant because it acts as a natural pest deterrent for all the surrounding vegetables. The most crucial step in growing garlic is to ensure the plant has enough space for the roots to spread and receive nutrients.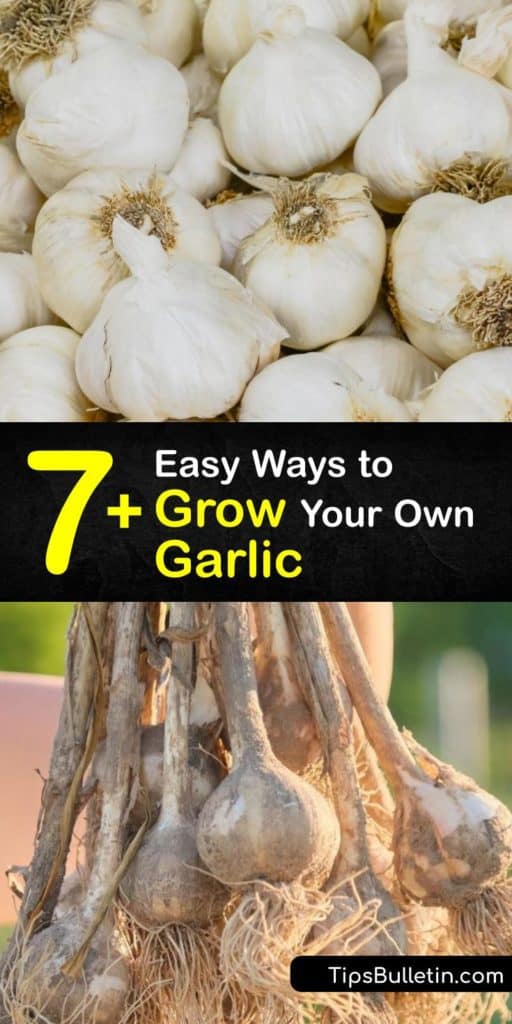 If you found out how to grow garlic in your garden, share this article with tips for growing garlic with your family and friends on your Facebook and Pinterest accounts.