Ginger is an ingredient that brings dishes to life with its bold flavor, but it's not something that all of us get to grow in our vegetable gardens, especially if you live in cold northern regions. Learning how to grow ginger indoors is a smart way to have fresh ginger on hand and incorporate it into your favorite home cooked meals.
This tropical plant doesn't only have to be purchased at your local grocery store. Can you grow ginger indoors without compromising the flavor of the ginger root? Growing ginger indoors is easy because you can keep a close eye on the ginger plant.
You won't have to continually run to your local grocery store when you run out, and you'll savor as much of the ginger plant as possible because you put so much work and love into growing it. There may be tons of veggies to choose from, but planting ginger root is something that you definitely won't regret.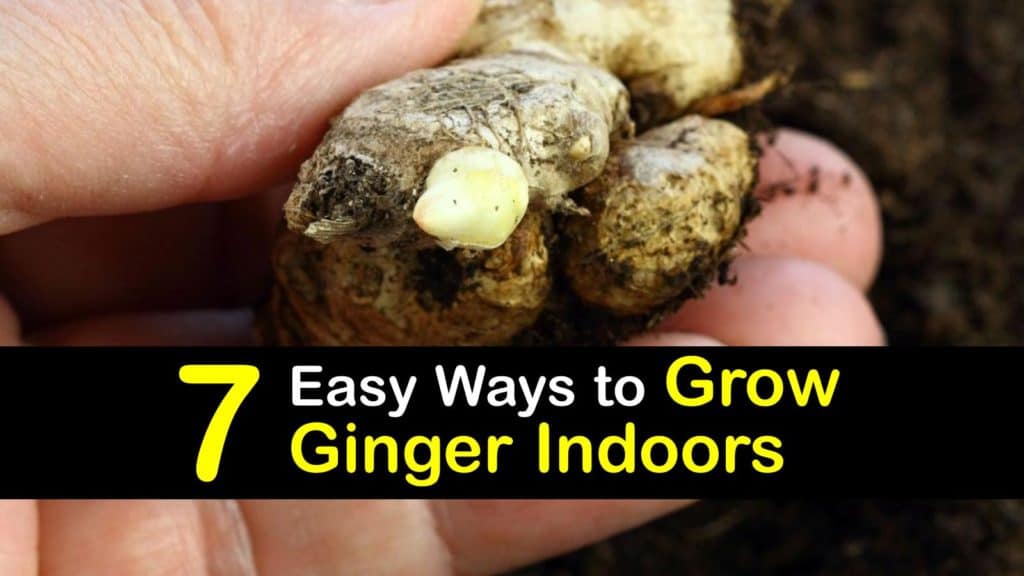 Health Benefits of Growing Ginger Indoors
Zingiber officinale is the ginger plant's official name and is one of the most flavorful and healthy spices from Southeast Asia. Ginger rhizomes are the root of the plant and what we use for cooking and flavoring our food, like the way to grow turmeric.
Ginger has an intense and spicy flavor with powerful properties for our health. The root has a long history of medicinal uses, and it is known to reduce nausea and aid in digestion.
Some studies have also found that eating ginger helps reduce joint pain and stiffness for people with osteoarthritis.
The components of ginger root help lower blood sugar and cholesterol levels and treat chronic indigestion. If you have a health problem, adding fresh ginger into your diet is a great choice to start living a healthier lifestyle.
Can You Grow Ginger Indoors?
Knowing how to grow ginger indoors is possible and one of the easiest plants to grow when container gardening, similar to when you grow mushrooms at home.
Like when you are growing turmeric in pots, as long as you give ginger the sun, water, and nutritional requirements, you'll soon have a harvest and require information on how to preserve the root.
Pair your ginger plants with some easy vegetables to grow inside and you won't even need an outdoor garden!
How to Grow Ginger Indoors
Growing ginger indoors must start by selecting a piece of live ginger root. Grocery store ginger is fine, but garden centers have live rhizomes as well. Look for firm, healthy pieces of ginger that are not shriveled and show no signs of damage.
Some small pieces or nubs should be popping out of the roots that help them grow. If a section is sprouting, that's fine too. Grab at least two or three rhizomes to plant them together to create a decent sized plant.
You can grow ginseng indoors in much the same way. Choose the healthiest roots for the best results.
Start Sprouting the Ginger
Preparing your ginger for planting is a critical step and makes the difference between growing a large, healthy plant and watching it fail as a houseplant.
Start by washing and drying the root to remove any growth retardant or growth inhibitor applied by the store and take a few pictures of it to refer back to visually.
Dampen a cloth or paper towel with warm water and put it in a plastic bag. Set the bag of ginger in a dark kitchen cabinet to encourage the roots to sprout. Check the bag every three days to monitor growth.
After about ten days, you should see nubs of growth. If you're unsure, refer back to the original pictures you took to compare differences.
Return the ginger to the bag until the shoots are at least a few inches long. This growing process takes about four to five weeks.
Planting Ginger Root
Planting your own ginger is possible only after the ginger's shoots are two the three inches long. Keep in mind that the shoots are different from the roots.
When you plant the ginger root, make sure the sprouts are placed so that they grow upward. Choosing a pot is one of the most critical steps when growing ginger root indoors. Choose a pot that is a few inches wider than the ginger root's length.
For example, if the ginger is three inches long, you want at least a six-inch wide and deep pot. Slightly larger pots are better so that the roots have plenty of space to spread. Purchase a potting mix specifically for houseplants to fill your container.
To grow ginger in a pot, plant the sprouted ginger in the potting soil so that the ginger is two inches below the pot's lip. Cover the root with additional soil and water it. The entire ginger root should be covered.
Ginger needs good drainage. Ensure that the garden pot has drainage holes drilled in the bottom so that water doesn't get trapped and grow fungi and disease.
Caring for Ginger
Once your ginger is planted, move the pot to a location with direct sunlight that doesn't get overly hot. Grow lights are a great way to control the temperature of the soil. Keep the heat of the soil between 75°F and 85°F.
Despite this amount of heat, growers must keep the soil moist. Misting the plant with water or using a drip tray with water is an easy way to control the humidity and keep it between 40 and 50 percent.
Be cautious of overwatering the plant, or you might face a plethora of problems with mold. New shoots emerge from the soil after two to four weeks of proper care.
After about six weeks, the plant's main stem reaches about three feet long on a single stalk with long, narrow leaves.
Prune any leaves that are browning or damaged from the cold. Don't be afraid to cut healthy stems back to your desired height and make the plant easier to care for.
Fertilizing Ginger
Fertilizer is an integral part of both indoor and outdoor gardening. Adding organic fertilizer helps nourish the soil, creates healthy plants, and protects the roots.
If you plan to eat the ginger, choose a slow-release organic fertilizer that is safe to use on food crops. Adding mulch is another safe way to add nutrients to the soil as it breaks down while maintaining the heat and moisture that the root requires.
How to Harvest Ginger
Most ginger rhizomes aren't fully mature for at least eight months. However, the best time for when to harvest ginger is to start picking the ginger root after three or four months of growth.
To harvest ginger, remove some of the soil around the container's outside edges and use your hand to feel around for the root.
Take a sharp pair of scissors and start cutting the rhizome from the outer edge. Leave at least a couple of inches connected to the stalk to keep the plant alive and refrain from harvesting more for a few weeks.
Growing ginger indoors is the easiest way to keep this spice in your kitchen year round without the risk of it failing outside. If your ginger root is taking up the entire container, replant it in a larger pot or harvest more of the root at a time.
What to Make with Ginger Root
These grow-ginger-indoors tips are great for harvesting a large yield, but what do you do with the ginger after you cut it?
Ginger can be dehydrated, pickled, candied, and turned into delicious drinks like ginger beer. You can even vacuum seal ginger root and keep it in the freezer.
One of our favorite healthful recipes is a ginger tea that warms you from the inside out and boosts your immune system.
Add the three cups of water to a pan and bring it to a boil. Add the cinnamon, ginger, and turmeric and simmer the solution for five to seven minutes.
Turn the heat off and squeeze in the fresh lemon juice. If desired, stir in some honey for sweetness. Sieve the tea into a cup and enjoy it while it's hot.
Be sure to store ginger properly for future use so that you don't end up with spoiled ginger and waste all your hard work.
Can you grow ginger indoors? Ginger has a bold, spicy flavor, and knowing how to grow ginger indoors is a great way to give your family endless health benefits throughout the year.
Make the most of your houseplants by planting things that are easy to care for and fill your dishes with bright and bold flavors.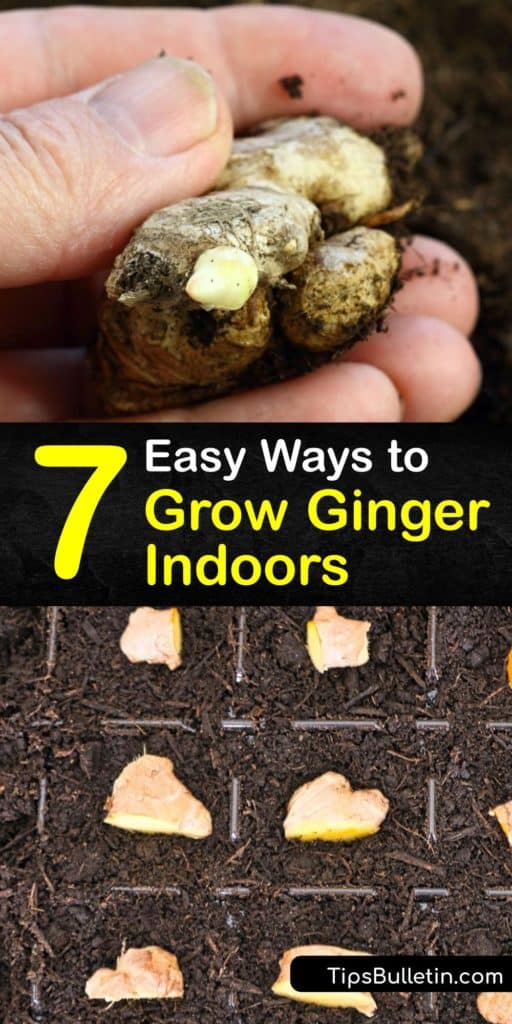 If these tips on how to grow ginger have helped you live a healthier lifestyle, share this guide for indoor ginger gardening on Facebook and Pinterest.