The ginger plant, scientifically recognized as Zingiber officinale, is a fantastic beneficial plant to grow in your garden. If you have found yourself wondering how to grow ginger root, look no further. We show you the most efficient way to plant your ginger.
Additionally, we provide ways to tend to your ginger root on a day-to-day basis and ingredients to use to deter harmful pests from destroying your plant. Overall, we prove that growing ginger roots is easy when you use the correct techniques.
This tropical plant originates in southeastern Asian countries. Because not all climates are like those in Asia, we teach you how to sprout ginger even if you do not live in a tropical environment.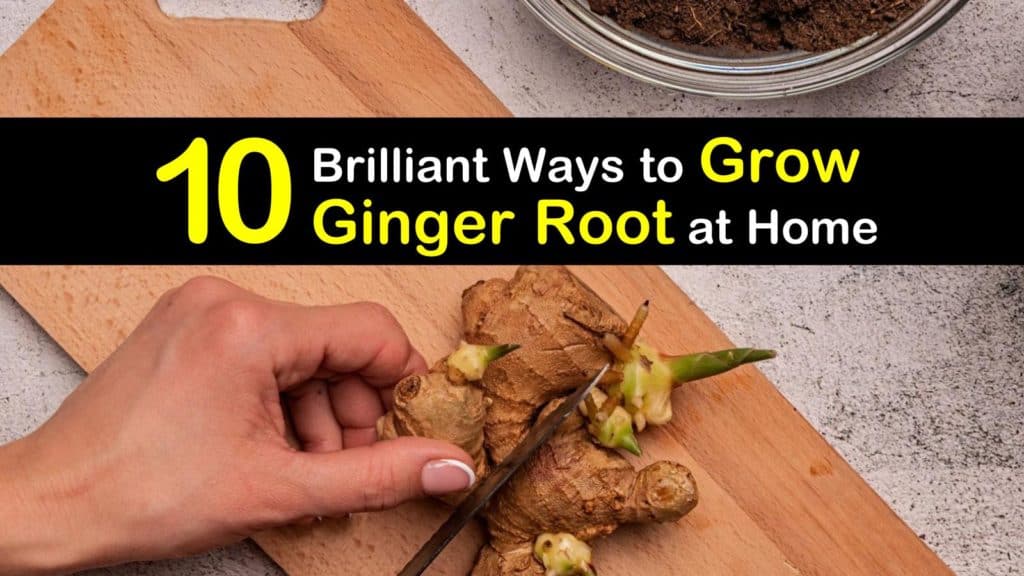 The Environmental Impact of Growing Ginger at Home
Fresh ginger is an exceptionally healthy food. Some of the many health benefits include being a natural anti-inflammatory, regulating blood sugar, and preventing cell damage. Growing ginger at home is straightforward and offers a wide array of advantages for your body and the environment.
Often, when you buy a piece of ginger from the market, you have some leftover after using it in a recipe. Can ginger root go bad? You bet.
Fortunately, you do not have to go to the grocery store every time you need ginger. Planting ginger is a fun and delicious way to save money. Utilizing DIY gardening tools to create a ginger harvest reduces your environmental impact.
When you refrain from using herbicides and insecticides, you help reduce the number of fossil fuels in the air. Follow these tips and tricks to produce a bountiful harvest of new ginger.
How to Grow Ginger Root from Rhizomes
The best way to start planting your own ginger is to use ginger rhizomes. A rhizome is found at your local grocery store or a farmer's market.
If you buy a rhizome from the grocery store, soak it in water overnight to rinse off the growth retardant that coats the root. Growers often use a growth inhibitor so new plant growth does not interfere with the ginger.
Growing ginger from seed takes a significantly longer time than from a rhizome—plant ginger rhizomes about eight inches apart and three inches deep in a large pot. Ensure the growth buds on the ginger point upward in the potting mix.
Initial Steps for Growing Ginger Roots
The best time to plant your ginger or for beets growing is in the early spring. If the weather is unseasonably cold, you may have to start by growing your ginger indoors before replanting it outdoors when the temperatures are warm enough.
After rinsing off your ginger rhizomes, cut each piece to one to two inches long and include at least one growth bud. Let the pieces completely dry out before planting. Air drying usually takes one to two days.
When the rhizome is completely dry, it promotes quicker growth and helps the plant absorb more nutrients. These steps are vital for knowing how to sprout ginger.
How to Sprout Ginger Root in a Pot
How long does it take to grow ginger? What about when you grow turmeric root indoors? In a healthy environment, ginger takes about six to ten months to grow indoors. If you plant your ginger root in a pot, make sure it has plenty of space to spread.
Planting the ginger in a two-gallon pot with drainage holes is ideal. Drainage holes help excess water seep out. If left in the pot, too much water leads to root rot, fungus, viruses, and bacteria that ruin your plant.
When you are ready to replant your ginger outdoors, make sure to transfer all of the potting soil in the pot to the garden. Educating yourself on how to sprout ginger from a pot or to sprout cucumbers in the yard is not as difficult as it may seem.
Growing Ginger Roots in the Right Location
Like a houseplant, a ginger root only thrives when planted in the ideal location that promotes steady growth. Before successfully growing ginger root, it is crucial to understand that this plant grows quickly and aggressively.
Ginger's natural climate is a tropical location, surrounded by humid temperatures and dappled sunlight, whether you plant it outside or choose ways to grow ginger indoors. Make sure your ginger plant is not in direct sunlight.
Instead, place your ginger root in an area with a balance of partial shade and full sun. An integral step in learning how to grow ginger is to place your plant in the best location.
Put your ginger pot with your herbs to grow in the kitchen to snip off a piece of the root whenever you need it.
Perfect Temperature for Growing Ginger Root
Ensuring your ginger root remains in a healthy temperature zone is key to ensure sprouting and consistent growth. Regrowing ginger is impossible if the plant experiences any freezing temperatures.
When the temperature is below freezing, the ginger rhizome shrivels up and becomes lifeless in preparation for hibernation. Ginger thrives in temperatures above 55℉.
The mature ginger root goes dormant during the winter months and regrows in the spring without any preparation. Knowing the perfect weather is critical when learning how to grow ginger root.
Planting Your Ginger Root in Healthy Soil
Using the correct potting soil is integral to the overall health of your ginger root. The ground provides your ginger root with nutrients as well as hydration. Plant your ginger in a damp, fertile, hummus-like, rich soil to best match the plant's native soil type.
To trap moisture in the soil better, spread a little mulch on top of the earth. The ginger plant is accustomed to incredibly moist conditions, and the tropical plant receives water each day in its natural environment.
Water your ginger every day to ensure the soil remains moist, but be careful not to overwater your plant. Good drainage is critical because muddy soil kills the plant quickly.
How to Harvest Ginger Correctly
After growing ginger roots, you need to know how to harvest ginger the right way. If you have multiple rhizomes in your garden, the best time to harvest turmeric and ginger is about 8-10 months after planting. Digging up one to use for cooking purposes is adequate. Pull the entire ginger root out of the ground and rinse it with warm water before eating.
If you wish to save and keep the rhizome alive for further use, it is possible to save the ginger. Measure at least two inches above the rhizome underground and cut the remainder of the shoot that is growing from the plant.
The rhizome that stays underground continues to regrow more ginger. Understanding how to regrow ginger correctly is just as vital as correct harvesting.
Store raw ginger in the crisper drawer of your fridge or freeze some for later use. Be sure to package it well for the freezer so it doesn't develop freezer burn.
The shelf life of ginger root is not very long when left on the countertop.
Identifying Aphids on Your Ginger Plant
As you propagate ginger, harmful insects may invade your plant. The most popular pest that feeds off of ginger plants is aphids. Aphids are tiny insects that are nearly invisible to the naked eye.
These bugs are white, black, light green, or brown and cause extensive damage. Although aphids are challenging to locate, it is still reasonably easy to tell if they have been on your plant.
Aphids survive on the nutrients of a plant's leaves and stem, leaving behind damaged or curled leaves. Keep in mind when growing ginger root that some pests attempt to damage the plant.
How to Eliminate Aphids
Even though aphids cause damage to your ginger and other veggies, getting rid of them is not impossible. Essential oils are a fantastic way to deter and kill existing aphids that are sucking the nutrients out of your ginger plant.
Swish the ingredients gently after pouring them in the spray bottle to ensure the oils absorb into the water. Spray the solution on and around your ginger roots.
The scent and active components in oils deter any aphids that attempt to live on your ginger root. The mixture also kills any aphids or larvae that currently reside on the plant.
Making a Delicious Turmeric and Ginger Tea
Using culinary ginger to create a natural turmeric and ginger tea is easy and packed with health benefits.
Ginger and turmeric tea help reduce inflammation, relieve pain, improve your overall immune system, and reduce nausea. Not only is this tea packed with health benefits, but it also only requires a few steps.
The first step to creating a tasty tea is to bring your water to a boil in a small pot. Reduce the heat to medium-low as you add the turmeric, ginger, and cinnamon.
Let the tea simmer for ten minutes before straining it into a large glass. To add more flavor, stir in the honey and lemon wedge and enjoy the nutrient-packed tea.
Learning how to sprout ginger from a rhizome is not difficult. With the correct growing location, planting techniques, and soil, growing ginger in your garden is feasible.
Planting ginger offers immense environmental benefits, and it is also a food with a long list of ingredients that help improve your overall health.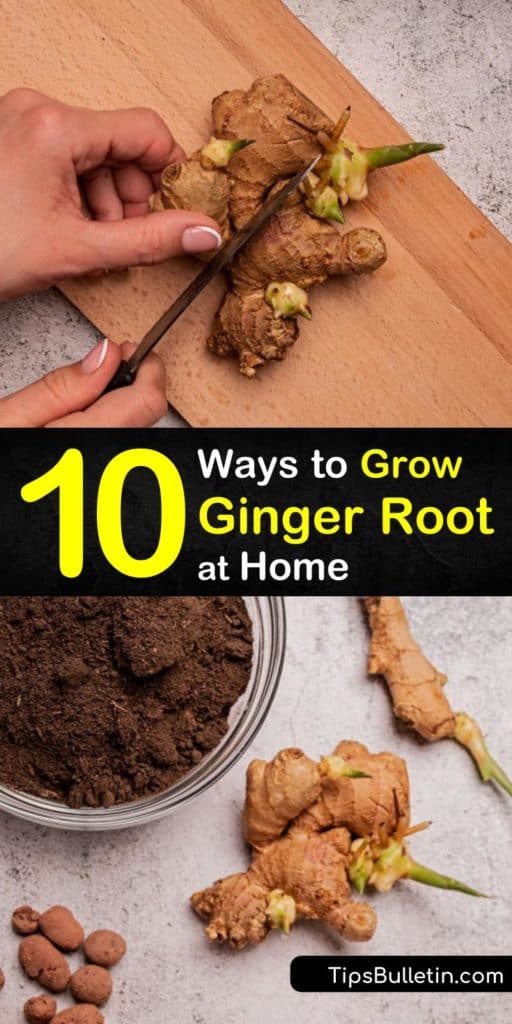 If you discovered how to grow ginger root, share this article about growing ginger roots with your neighbors on Pinterest and Facebook.