Fresh ginseng is hard to come by, and growing your own ginseng plants solves this problem. However, ginseng plants are slow growers and require the right conditions to thrive. Find out how to grow ginseng from seed and explore tips for using your mature plants at the end of the growing season.
While it's illegal to harvest ginseng in the wild, it's legal to grow and harvest this plant at home. Wild ginseng grows in deciduous forests in North America, throughout the Appalachian and Ozark regions, on north and east facing slopes. With the high price of ginseng, poaching is common in these areas.
However, mimicking ginseng's natural habitat is vital to encourage germination and promote healthy ginseng production. These plants need good drainage, free air circulation, and 75 percent shade. Providing ginseng with a wild-simulated environment similar to goldenseal encourages your plants to flourish.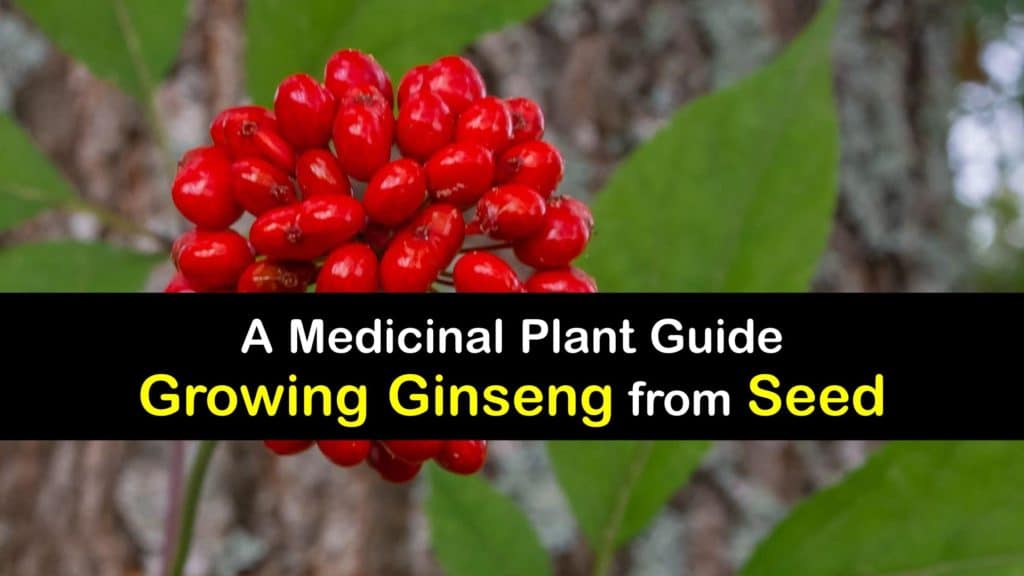 Growing Ginseng from Seed
Asian ginseng (Panax ginseng) and American ginseng (Panax quinquefolius) are the two main types of ginseng. It's possible to grow them at home, but growing ginseng from seeds takes patience since you must wait five to ten years before harvesting the ginseng roots.
Learn how to plant ginseng seeds indoors and outside in the garden. Note that ginseng is not the same as ginger, although the plants have similar attributes. Discover what these plants require for optimal growth and find plant care tips. Enjoy some popular ways to use the roots and reap their benefits.
How to Plant Ginseng Seeds Indoors
Many ginseng growers find that it's better to start their seeds indoors, where they can control the environment. Here is how to plant ginseng seeds inside your home in a warm area.
To grow ginseng indoors or for the way to grow ginger root at home, choose a container with a 15-inch diameter and drainage holes and fill it with light, mildly acidic potting soil. Plant a stratified seed an inch and a half deep in the dirt, water it lightly, and place the pot in an area out of direct sunlight. Do not fertilize the ginseng and keep the soil moist.
How to Grow Ginseng from Seed in the Garden
While it's easier to plant ginseng seedlings or rootlets, planting ginseng from seeds is reasonably straightforward. However, the seeds need the correct depth and spacing to germinate. Learn how to direct sow ginseng seeds in the garden.
Ginseng seeds need up to six months of stratification and may take 18 months to germinate. Similar to some herbs that grow in the fall, the best time to plant ginseng is in the fall or early winter – until the ground freezes.
Choose a partial shade area with well-draining soil, and sow the seeds one and a half inches deep with at least 14-inch spacing, or four to five seeds per square foot. Spread light mulch or leaf litter over the ground to stop weed growth.
Alternaria leaf blight is a common disease affecting ginseng plants, and using a liquid copper fungicide effectively controls the problem. After planting ginseng seeds the first year, the only thing left is to keep the area weed-free and the soil moist. Ginseng roots are ready for harvesting five to ten years after seeding or transplanting.
Ways to Use Ginseng After Growing Ginseng from Seeds
After growing ginseng from seeds and the plants mature, it's time to enjoy the ginseng root harvest. Learn the best time to pick ginseng to take advantage of the fresh roots. There are several ways to use these roots to benefit your daily life.
Eat ginseng roots raw, lightly steamed, or stewed in water, and they provide many health benefits. They are potent antioxidants that may reduce inflammation, improve brain function, and boost the immune system. Women often combine Siberian ginseng with black cohosh to ease menopausal symptoms.
The red berries are also edible and safe to eat raw or as a tea or juice concentrate. In addition, they have antioxidant properties, are anti-diabetic and anti-inflammatory.
While growing ginseng from seeds takes time, the result is worth the wait. Provide your plants with the correct soil and the right amount of shade, and they reward you with an abundance of ginseng roots once they reach maturity.
We hope that learning how to grow ginseng from seed helps you grow the healthiest ginseng plants, and we'd love it if you'd share our ginseng seed growing guide with your friends and family on Pinterest and Facebook.