Ginseng is a leafy perennial plant native to mountainous regions of northeastern Asia and eastern North America. Prized for its large taproot, ginseng has played a critical role in Asian and Native American traditional medicine for thousands of years. In this article, find out how to grow ginseng in your garden at home and keep it flourishing for years.
Growing ginseng in your home garden or landscape demands careful maintenance and a bit of patience. The plants are relatively slow growers, taking four to six years to reach maturity. Once mature, lightly fragrant white flowers appear between late spring and early summer, followed by red berries in late summer and early fall.
Fresh ginseng is often expensive and hard to find. Luckily, growing ginseng isn't too challenging, as long as you provide the proper growing conditions. Read on to discover the best tips and tricks for planting ginseng in a traditional garden plot, raised beds, and containers.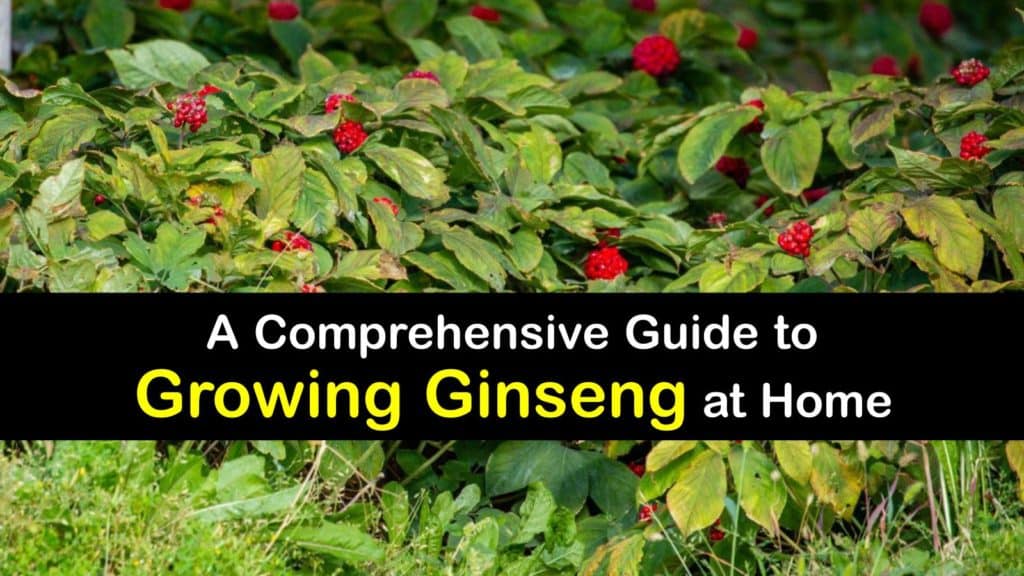 What to Know about Growing Ginseng
Humans have an extensive and complex history with ginseng plants. The earliest known record of the medicinal use of ginseng comes from ancient Korea in 2137 BCE. Native Americans first introduced European settlers to American ginseng in the early 1700s.
Ginseng products are extremely valuable, and high commercial demands led to over-harvesting that nearly wiped out these beneficial natural resources in both Asia and North America. Today, strict regulations are in place regarding the harvest of wild ginseng.
What is ginseng? The principal part of ginseng harvested for use is its root, so the plant does not usually survive the harvesting process.
It is possible to replant part of the rhizome to grow after digging up the plant. Nonetheless, current regulations dictate that only the fully intact ginseng roots are acceptable for commercial sale. The ginseng root's age is determined by the rings on the "neck" or top of the rhizome, and the age determines its value.
Although experts consider wild ginseng superior to cultivated ginseng, it's a profitable crop for many ginseng growers worldwide. The top countries for ginseng production are China, South Korea, Canada, and the United States. Wisconsin produces over 90% of US-grown ginseng.
What is Ginseng?
Ginseng is a relatively inconspicuous plant when seen growing in shady areas of deciduous forests or on north or east-facing slopes. It grows dark green compound leaves with serrated or toothed edges.
The leaves typically have four or five oblong leaflets emerging from a central stem, but sometimes as few as three or up to seven. The plants normally reach approximately one or two feet in height.
There are two primary types of ginseng used for herbal medicine: American ginseng (Panax quinquefolius) and Korean or Asian ginseng (Panax ginseng).
The concentration of ginsenosides and gintonin, the principal active compounds in ginseng roots, differs between the two species. American ginseng reportedly has cooling, relaxing effects, while Asian ginseng is more invigorating and stimulating.
The natural range for American ginseng is from southern Ontario and Quebec in Canada to Alabama, Georgia, and North Carolina. It primarily grows in the Appalachian and Ozark mountains and occurs as far west as Iowa. Asian ginseng grows wild throughout Korea, Japan, and northern China.
How to Grow Ginseng from Seeds
The least expensive way to grow ginseng is by planting seeds. Ginseng seeds must go through several periods of cold-stratification to germinate. The germination process takes between 18 and 24 months.
For the best results, purchase pre-stratified seeds from a certified source. When considering how to plant ginseng seeds, timing is critical. Sow stratified ginseng seeds in mid to late fall so they sprout in late spring the following year.
Plant ginseng seeds approximately one inch below the soil surface and cover them with a thick layer of mulch. Leave three to six inches between each seed and thin out the weakest seedlings several weeks after they emerge.
Spacing between mature plants should be between 14 and 20 inches to ensure adequate air circulation and avoid overcrowding as they develop.
Propagating Ginseng Roots
A faster way of growing ginseng is by transplanting established ginseng roots. The advantage is how much quicker the plants reach maturity since they are usually two or three years old when sold. However, mature ginseng roots tend to be quite expensive.
The best time for planting ginseng roots is late summer or fall as they enter dormancy. Over the summer growing season, nodes develop at the top of the rhizome, which produces the next year's new growth. It's critical to wait for transplanting until after those nodes fully form.
It's also possible to propagate ginseng by removing the "neck" or top of the rhizome from a mature ginseng root and replanting it. This is an excellent strategy for home gardeners to harvest ginseng without killing the plants. However, removing part of the root disqualifies it for commercial sale.
In addition, the neck is the only part of a ginseng root that will regrow. Unlike other rhizomatous plants such as ginger or goldenseal, it's impossible to grow ginseng cuttings or rootlets into new plants.
How Long Does It Take to Grow Ginseng?
At this point, you might be wondering, "How long does it take to grow ginseng?" In general, ginseng plants are slow growers and require a lot of patience to cultivate.
First year ginseng seedlings only produce one compound leaf, usually one or two inches high with three leaflets. The roots typically grow around an inch long and a quarter-inch wide during the first growing season. In the following years, the developing plant produces more leaves with four or five leaflets each.
At four or five years old, a ginseng plant normally has three or more leaves. By now, the roots will have grown to an adequate size for consumption, which is generally between three and eight inches long and a quarter-inch to an inch thick.
Mature ginseng roots are often forked, which earned them the nickname of "man root" since the forked rootlets often look like legs.
For commercial ginseng cultivation, there are three primary categories regarding the age of the roots and how they're grown. Wild-simulated ginseng grows in completely undisturbed soil for nine to twelve years, and sometimes longer.
Wood cultivated ginseng is planted in tilled soil under natural shade for six to nine years. Field cultivated ginseng plants typically develop in raised beds under artificial shade and grow for three to four years.
Optimal Growing Conditions for Ginseng Plants
Ginseng plants are a bit particular about their growing conditions. They prefer 70-90 percent shade and grow best under deciduous hardwood trees. It's possible to follow the way to grow ginseng indoors as long as their growing conditions are met.
Try to mimic the plants' natural woodland conditions with relatively cool temperatures and consistent humidity for optimal results. Ginseng is suitable for growing outdoors in USDA hardiness zones 3-8.
They're hardy down to temperatures of -40℉ and require several weeks of below-freezing temperatures for their yearly dormancy period.
Choose a location for your ginseng beds with well-draining soil that's rich in organic matter. The plants favor a slightly acidic soil pH level between 6.0 and 6.5. Use grass clippings, leaf litter, and pine needles as mulch to insulate the soil, retain moisture, and minimize weed growth.
Avoid letting your ginseng plants dry out or the roots may crack and split. Keep the soil consistently moist but avoid allowing it to get waterlogged or soggy. Overwatering or planting ginseng in areas prone to flooding may cause the valuable cultivated roots to rot in the ground.
Ginseng plants generally aren't heavy feeders and don't want supplemental fertilizer. Add a generous layer of organic compost every few years to keep the soil fertile. Heavy clay or sandy soils often produce long, spindly ginseng roots of poor overall quality.
Growing Ginseng Indoors
Although ginseng grows best outdoors, it's also possible to cultivate it in a pot with a bit of extra care, similar to planting ginger. Since growing ginseng from seed takes much longer, it's best to purchase established ginseng seedlings for planting in containers.
Choose a pot that's at least 12 inches deep and wide to accommodate the developing ginseng root. Ensure that it has good drainage holes at the bottom to prevent problems with root rot and fungal disease.
For the best success rate, use nutrient-rich potting soil with added coconut coir or peat moss to maintain consistent moisture levels and perlite for drainage and aeration. Place your potted ginseng plant out of direct sunlight in an area that gets good air circulation and stays relatively cool.
Harvesting and Storing Ginseng Roots
Once it's finally time to harvest your ginseng roots, be especially careful not to damage them while you're digging, like the way to pick ginger. Harvest ginseng in late summer or early fall when the plants are at least four years old.
Start by gently loosening the soil surrounding your ginseng plants with a hand trowel or garden fork. Grasp the plant by its base with one hand, and use your other hand to lift the ginseng root out of the soil by its bottom to avoid accidental breakage. Keep the main root and any attached lateral rootlets intact.
Gently wash any excess soil off the root, then lay it on a rack to cure in a well-ventilated area out of direct sunlight. Turn the roots daily while drying to make sure that they don't stay too wet on one side and develop mold.
Large ginseng roots may take several weeks to cure fully. Once they're ready, the outer skin turns light brown and the inside of the root should be completely white.
Store dried ginseng in a paper bag, wicker basket, or other ventilated storage container. Cured ginseng roots last for several years when stored in a cool, dry, dark location. However, they lose some potency over time.
Although they are both roots, ginseng is not a substitute for ginger root. They are two completely different plants with varying uses.
Health Benefits of Ginseng
Since the levels of active compounds tend to vary widely between different types of ginseng, the efficacy of ginseng products is sometimes difficult to determine. Still, some studies show that ginseng has several health benefits.
Ginseng has antioxidative effects that help to reduce inflammation and protect cells against oxidative stress. It also improves cognitive function and strengthens the immune system.
One of ginseng's most well-known benefits is boosting energy and enhancing physical performance. Studies also demonstrate that fermented red ginseng is effective for regulating blood sugar levels.
Always seek professional medical advice to treat serious health concerns. Consult your doctor before trying any new herbal remedies, especially if you take prescription medications.
Once your ginseng roots have fully cured, try making some homegrown ginseng tea. Experts recommend avoiding ginseng in the evening before bed, as it may interfere with sleep.
Many people drink ginseng tea as an immune booster during cold and flu season. Sip a cup once or twice per day for up to three or four months at a time.
Boil water, then let it cool for 30-60 seconds before pouring it over your dried ginseng root. If desired, add green or oolong tea and steep for five minutes. Strain the tea, add your preferred sweetener, and enjoy.
Solutions for Common Pest and Disease Problems
Although ginseng plants are relatively low-maintenance once established, they're sometimes prone to fungal diseases. Healthy plants are considerably more resilient against attacks from insects and pathogens. Giving them appropriate levels of light, nutrients, and water is their best defense.
The most prevalent plant diseases that affect ginseng include Alternaria leaf and stem blight, root rot, and damping-off. Treat affected plants with an organic copper or sulfur fungicide.
Slugs, wireworms, and root-knot nematodes are ginseng's most frequent insect pests. Mulch with eggshells and protect the base of your plants with plastic or metal collars to deter slugs.
It may be necessary to apply organic pesticides or nematicides to combat a severe infestation of soil-borne pests like wireworms and root-knot nematodes. Pyrethrin is effective against wireworms.
Biological controls like beneficial nematodes and Bacillus thuringiensis are effective ways to kill both wireworms and root-knot nematodes without using pesticides.
Companion Plants for Ginseng
If you're interested in growing other medicinal herbs with your ginseng, there are numerous options for other plants with similar growing requirements.
It's best to choose perennial plants to avoid damaging the ginseng roots by frequently digging in the nearby soil. Here are a few other plants native to eastern North America cultivated for their medicinal roots.
Bloodroot (Sanguinaria canadensis) is a flowering perennial herb in the poppy family. Its traditional medicinal uses include treating coughs, infections, and inflammation and as a natural antiseptic mouthwash.
Black cohosh (Actaea racemosa) is in the buttercup family. Tall spires of creamy white flowers bloom in mid to late summer. The roots are used to treat headaches, sleep problems, inflammation, anxiety, and depression, and are useful as natural menopause therapy.
Goldenseal (Hydrastis canadensis), another buttercup family member, produces large, lobed leaves and dainty white flowers. The root extract helps relieve digestional upset and respiratory afflictions. It also stimulates the immune system and acts as a natural antibiotic.
Jack-in-the-Pulpit (Arisaema triphyllum) also goes by the names "bog onion" and "Indian turnip." It's in the Arum plant family, along with a few familiar houseplants like philodendron and pothos.
Used in traditional Cherokee medicine to treat joint and muscle pain, headaches, snake bites, and skin diseases, this plant is controversial in modern herbal medicine because the fresh root contains toxic amounts of calcium oxalate. The roots must be dried for several months then cooked before they're safe for consumption.
Solomon's Seal (Polygonatum biflorum) is a flowering perennial in the asparagus family. The root extract treats lung and skin disorders, reducing inflammation, and soothing digestive distress.
Ginseng plants make a wonderful addition to your home garden or landscape. If you've never tried planting them before, you may wonder, "How long does it take to grow ginseng?"
Although this crop takes time, ginseng roots large enough for culinary and medicinal use develop after four to six years. Older ginseng roots are more medicinally potent.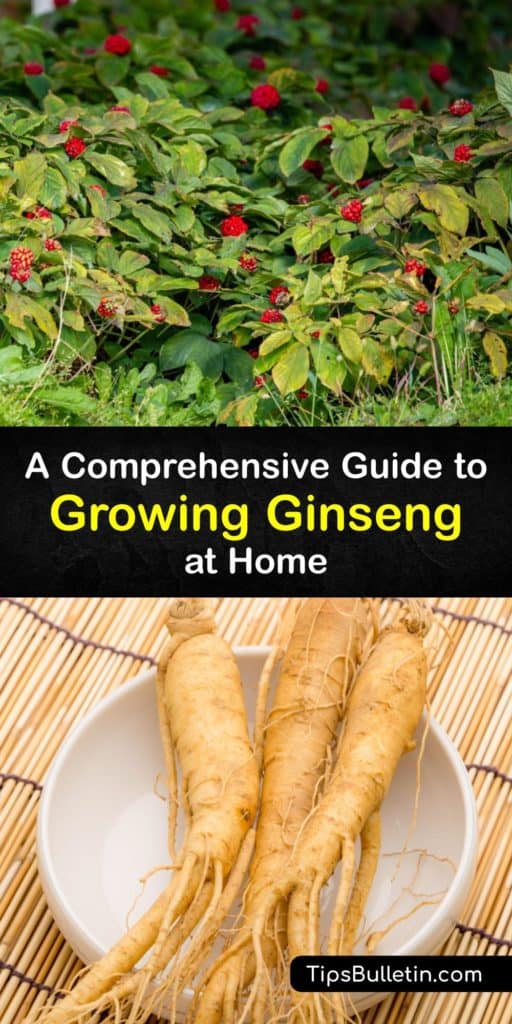 If you enjoyed learning about growing ginseng, please share this article about how to grow ginseng with your fellow gardening enthusiasts on Pinterest and Facebook.