Gourds of all types are a fun addition to the garden, and you don't have to be a master gardener to grow them. While gourd vines need proper spacing for air circulation, growing gourds is relatively simple. Learn how to grow gourds from seed indoors and the garden and use them at the end of the season.
There are many interesting hard-shell and ornamental gourds, from luffa, loofah, and birdhouse gourds to dipper and bottle gourds. Some have practical purposes, and others are just fun to look at with their bright colors and unique shapes.
While many people avoid growing gourd plants (Lagenaria siceraria) because they think they are picky growers, these cucurbits are just as easy to grow as radishes, tomatoes, or other vegetables. Is a squash a gourd? Yes, it's an edible cultivar.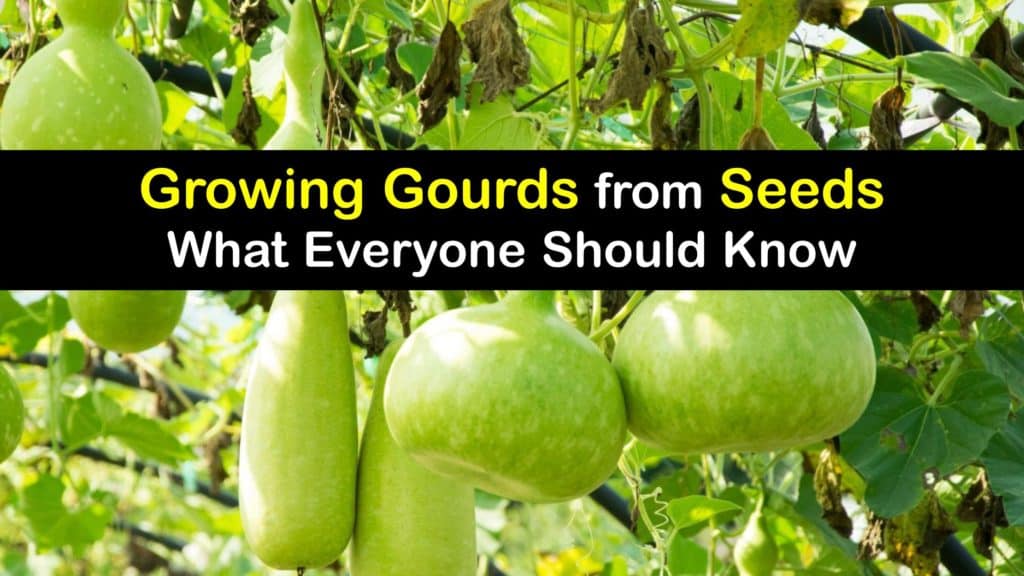 Growing Gourds from Seeds
Instead of waiting for your local farmer's market to sell hard shell gourds, why not grow your own at home? Growing gourds from seeds is pretty straightforward, and you get to enjoy a bountiful harvest in 100 to 180 days after planting, depending on the variety.
Some gourds are edible at certain growing stages, but it's important to know which ones. Most people grow gourds for decorative purposes.
Learn how to plant gourd seeds indoors to give them a head start and transplant them or direct sow seeds in the garden bed after the danger of frost is gone. Discover some of the problems you may encounter, how to rectify them and how to use your gourds to make an attractive garland.
Provide your gourds with a decent amount of sunshine and some TLC, and your plants flourish and produce beautiful gourds for making a birdhouse or decorating your home.
How to Plant Gourd Seeds Indoors
Gourds (Lagenaria siceraria) are warm-season crops with a long growing season, and the best way to get them started is to sow seeds inside, like when planting pumpkin seeds. Explore how to plant gourd seeds and when to plant gourd seeds indoors to encourage faster germination.
A good time to plant gourd seeds is four to six weeks before the last frost to give the seedlings time to grow before transplanting them outside. Before planting gourds from seeds, soak them in a glass of water for 24-hours to speed up germination.
Fill peat pots with potting mix, sow a couple of seeds in each pot, and plant them one to two inches deep. Cover the gourd seeds with dirt and water them right away. Set the pots in a warm area as they germinate, and do not let the soil dry out. Thin seedlings when they begin sprouting by removing the weakest ones from each pot, leaving one healthy plant for the garden.
How to Grow Gourds from Seed in the Garden
After planting gourd seeds indoors and the last frost has passed, it's time to prepare the garden for transplanting. Transplant your gourd seedlings outdoors or direct sow seeds in the garden and care for your plants to encourage optimal growth.
Prepare the garden for planting by enriching the soil with organic matter, aged manure, or compost. To transplant gourd seedlings, make holes slightly larger than the pots and space them five feet apart with rows eight feet apart. Place each pot in the hole and cover with dirt before watering the plant to help it settle.
For direct seed sowing, plant four seeds an inch to two inches deep and five feet apart. Space them eight feet apart if you're planting rows, and water the seeds immediately after planting. Keep the soil moist and thin the new plants after the true leaves emerge.
If you decide to trellis your plants, space the seeds and seedlings 18 to 24 inches apart. Cover your young plants with row covers to protect them from frost if you expect a cold snap. Consider spreading mulch over the bed to retain moisture, maintain ground warmth, and prevent weeds.
To promote healthy growth, feed your plants a high nitrogen fertilizer at the time of planting, when the runners are twelve to eighteen inches long, and again when the first gourds set on the vine.
You'll have to wait a while to harvest your gourds, as gourds can take up to 4 months to reach maturity. However, if you are patient and provide the proper care, you will have an abundance of gourds for all kinds of projects.
The squash vine borer, cucumber beetles, squash bugs, and aphids are common gourd pests. It is best to remove them by hand or use a pollinator-friendly insecticide since pollinators are essential for pollination and production.
Keep an eye out for bacterial wilt, powdery mildew, and other diseases as your plants grow. Remove the infected plant material immediately, sterilize your garden tools after each use, and perform crop rotation to prevent spreading bacterial and fungal diseases.
Avoid picking your gourds too early and leave them on the plant until the stems begin to turn brown. Check them before the first frost and begin harvesting them when they feel light, which means the water is evaporating and the pulp is drying out.
Making Seasonal Garland After Growing Gourds from Seeds
Growing gourds from seed is rewarding, but harvesting the gourds at the end of the season and using them to make projects is even better. Use varying types of ornamental gourds to make a garland to celebrate the changing of the seasons.
Dry the gourds by keeping them in a well-ventilated moisture-free area where the temperature is between 55 and 60°F. Depending on their size, they generally take one to six months to dry completely. Clean the gourds by soaking them in hydrogen peroxide or bleach solution and dry them with a towel.
Drill two holes opposite each other in every gourd, then use a yarn needle to push ribbon or twine through each hole and knot them on each side to prevent the gourd from slipping. String as many gourds as you like, and hang them on a mantel, doorway, or elsewhere. To make the garland even more festive, consider stringing lights through or around them.
Gourds are great plants to add to the garden, whether you decide to grow colorful baby gourds, large bumpy gourds, or gourds for making useful items. While it is a slow grower, your gourd plant rewards your efforts with unique and fun gourds at the end of the growing season.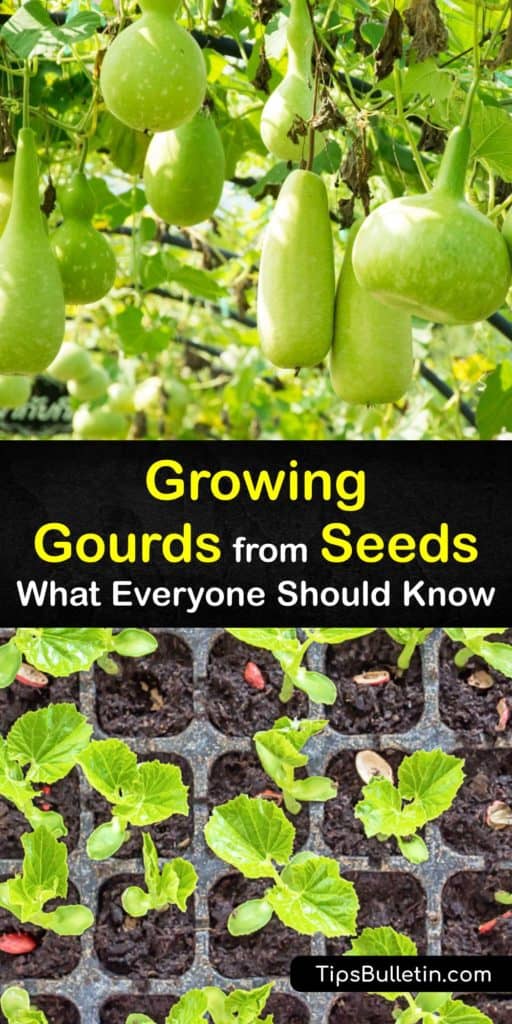 We hope that knowing how to grow gourds from seed keeps your garden overflowing with beautiful gourds, and we'd love it if you'd share our gourd growing guide with your family and friends on Pinterest and Facebook.