Unlike winter and summer squash, ornamental gourds have a unique appearance that draws the eye. A gourd is a neat, typically nonedible, fruit that is relatively easy to grow, even if you have a small patio or backyard space. Learn how to grow gourds in a container and use them to decorate your garden and around your home.
Some people enjoy growing gourds for making a birdhouse, while others love them for their attractive colors and shapes. Growing gourds at home is both simple and satisfying, whether you want them for their usefulness or artistic purposes. But, what if you don't have ample gardening space?
There are various Cucurbita or gourd plants, and some of them are perfect for container gardening. Gourd plants are versatile and grow quite well in the ground or a pot, as long as you choose a large enough container and provide them with some support like a trellis for their long vines to climb.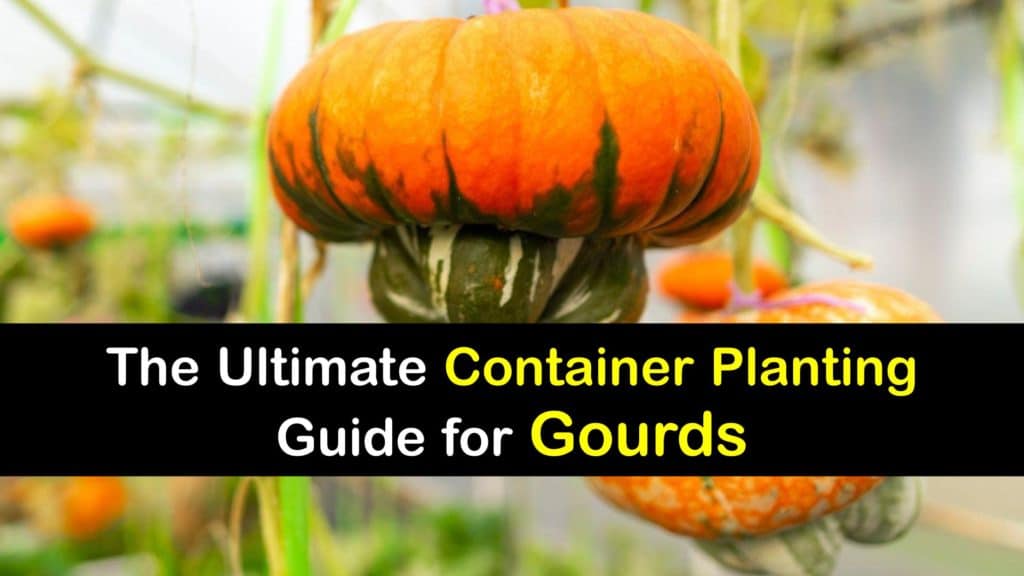 Growing Gourds in Containers
If you're considering growing gourds in containers, you've come to the right place. While we often associate container gardening with flowers, peppers, and other small plants, many plant types tolerate growing in pots, and gourds are one of them.
While it takes some know-how, growing gourds in pots is easier than you may think. The key is to pick the right-sized pot and give them the TLC they need to thrive. Find out how to grow your own gourds in a container garden and use them for crafting at the end of the growing season.
Things to Know When Growing Gourds in Containers
Before growing gourds in containers, it's wise to learn about the different gourd types and their requirements for healthy growth. Discover the most popular hard-shell gourd varieties and their potting soil and sunshine needs.
There are many types of gourds (Lagenaria siceraria) or cucurbits, including the loofah or sponge gourd (Luffa cylindrica), dipper gourd, ridge gourd, bitter gourd, bottle gourd, and snake gourd. They each have a unique shape with varying colors.
There is little difference between gourds, pumpkins and squash when considering how to grow them in containers or the garden. Pay close attention to the seed packet to ensure they get what they need to thrive.
If you plan on growing gourds indoors from seed in peat pots, follow the packet instructions for seed depth and keep them in a warm area to encourage germination. Gourds love growing in well-draining, rich soil, and adding organic matter to the dirt provides the plants with extra nutrients if your soil is lacking.
Gourd vines prefer growing in full sun for at least six hours each day and require pollination from insects to produce small fruit and gourds. Avoid using pesticides that kill beneficial insects. Learn what to plant with gourds to deter bugs, whether growing gourds and their companions in containers or the garden.
How to Grow Gourds in a Container
While planting gourds in containers or planting pumpkins in containers is relatively straightforward, there are steps to take to ensure your plants thrive. Here is how to grow gourds in containers with the proper spacing and depth to encourage germination and healthy growth.
Before planting gourds in pots, make sure to choose a container large enough to accommodate your gourd grower and climber. For example, a five-gallon container is a good size for growing gourds.
When to plant gourd seeds depends on your growing zone. The best time to plant gourds and pumpkins is after the last frost. When planting gourds from seeds, fill the pot with soil and sow three to four seeds one to two inches deep in the center. Gourds are heavy feeders, and adding organic fertilizer before planting is beneficial.
Water them lightly and set the container in a full sunlight area of the porch or patio. Once the seedlings emerge, thin them out by removing the weakest and spread mulch over the soil to prevent the plant from drying out.
It's essential to give your plants support while growing gourds in a container, so position a trellis in the pot when planting. Gourd plants are natural climbers, and training isn't necessary as they grow.
Keep an eye out for pests like cucumber beetles, aphids, squash bugs, and provide the vines with air circulation to prevent powdery mildew.
Ways to Use Gourds after Growing Gourds in Pots
Since decorative gourds have many purposes, growing gourds in pots is only the first step. Here are some fantastic ways to decorate with gourds and use them around your home with DIY projects.
Before using gourds as decoration, it's essential to cure them first. Start by washing the gourds with soapy water or diluted bleach and allow them to air dry. Place them in a well-ventilated area for one week, out of the direct sun.
During this time, the skin hardens and changes color. Take the gourds inside to a dark, dry area for at least six months to cure.
To make a birdhouse, drill a hole with a doorknob hole cutter in one side of a cured bottle gourd. Use sandpaper to smooth the entrance hole and gourd surface, paint the exterior with latex paint and a coat of polyurethane, and hang the birdhouse in a nearby tree.
Consider making a planter with a gooseneck gourd if you enjoy growing houseplants. Cut an opening in the largest section of the gourd and remove the inside. Place rocks in the bottom for drainage, and fill the hole with a potting mix before planting your favorite miniature plant.
Another great way to use gourds is to make patio lighting. Use a drill with varying bit sizes to make decorative holes around the outside of the gourd for the light to shine through. Cut a large hole in the back of the gourd, remove the insides and place a tea light in the center.
While gourd plants require some form of support for healthy growth, it's possible to grow them in a container garden as long as you give them the care they need. Plant them in a sunny area, water and feed you plants, and they reward you with unique-looking gourds at the end of the season.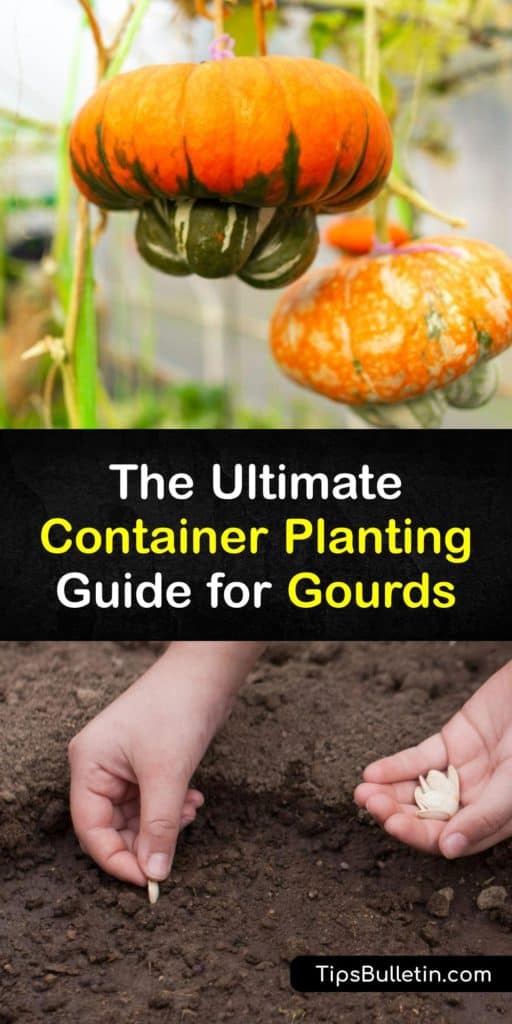 We hope that learning how to grow gourds in a container keeps your outside area filled with attractive and unusual hanging gourds, and we'd love it if you'd share our gourd container growing guide with your gardening circle on Pinterest and Facebook.