Whether they are used for decoration, eating, or fun fall craft projects, ornamental gourds are a fabulous way to liven up your autumn garden. In this article, you'll learn how to grow gourds in your home garden and keep them thriving all season long.
Gourds were one of the first cultivated crops in human history. They're native to Africa and have served as food, musical instruments, storage containers, and utensils for thousands of years.
The term "gourd" sometimes refers to any member of the Cucurbitaceae plant family, which also includes cucumbers, melons, pumpkins, and squash. However, gourds are typically the hard-shelled, non-edible fruits of cucurbits.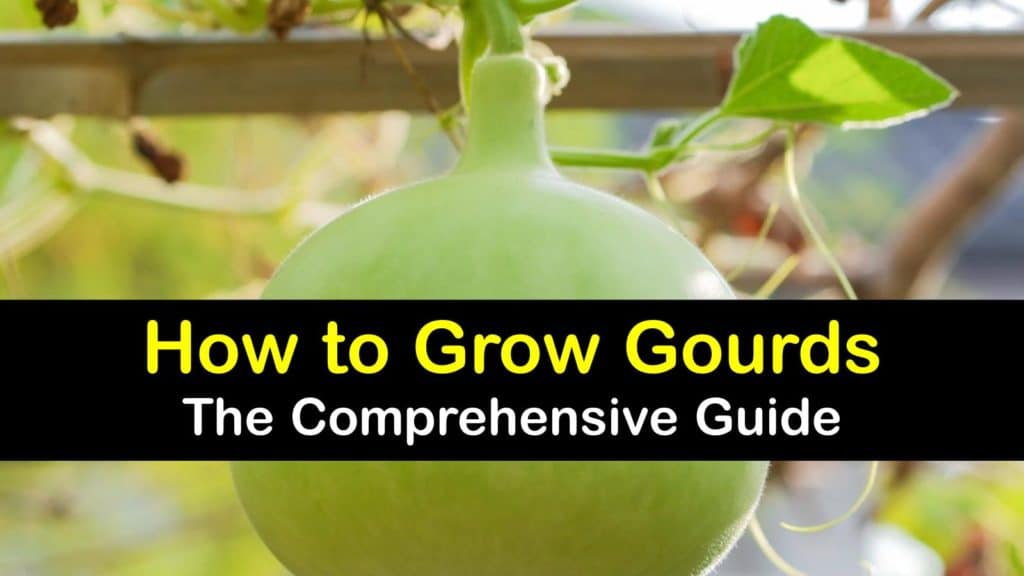 Essential Tips for Growing Gourds
If you've never tried growing ornamental gourds before, you're in for a treat. There are a few edible types to choose from, or you can grow them for the fun of it. In the fall, use your gourds as decoration or for creative DIY projects like making a birdhouse.
Growing gourds isn't as challenging as you might think. As long as you provide the right growing conditions, like when planting spaghetti squash, gourd plants are relatively low-maintenance once they are established.
Like most other cucurbits, gourd plants grow best in full sun with moist, fertile soil, whether growing gourds in containers or the garden. They have a long growing season and usually take between 75-130 days to mature, depending on the variety.
They are highly cold-sensitive and must be planted after the last danger of frost has passed. Gourd vines tend to be quite long and take up a lot of space in the garden.
Some gardeners prefer growing gourds on a trellis to conserve space, which also results in more uniformly shaped gourds since one side isn't resting on the ground. Otherwise, prune the gourd vines as necessary to control their growth habit.
Gourds are similar to winter squash in that they aren't harvested until the end of the growing season, once the vines begin to die back. After harvesting, they must be cured for storage to harden the rind and seal the cut stem. If stored properly, hard-shell gourds will keep indefinitely.
Types of Gourds
When it comes to which kinds of gourds to grow, it's essential to distinguish between hard-shell and soft-shell gourds. Hard-shell gourds belong to the Lagenaria plant genus, while soft-shell gourds are members of the Cucurbita plant genus.
Hard-shell gourds are more durable and usually have a much longer shelf life. They often get used for making birdhouses, bowls, dippers, musical instruments, and other products. Some types are edible in their early stages of growth before the rind hardens.
In most cases, they have white flowers, and their shell is green when unripe and dark green, tan, or brown when mature. Lagenaria siceraria, or birdhouse gourds, bottle gourds, or calabash, are perhaps the best-known of the family.
Certain varieties of soft-shell gourds still get dried and stored or used for projects. They tend to have yellow flowers, develop a more irregular shape than hard-shell gourds, and sometimes grow bumps or "warts." They grow in an amazing array of colors, shapes, and sizes.
Did you know that loofah sponges come from gourds? Luffa aegyptiaca and L. cylindrical are the two main types of gourds used to make bath sponges. After curing, the gourd's outer skin is scraped away, leaving the coarse inner fiber.
Purchase gourd seeds from a reliable source online or at your local garden center, or try saving the seeds from gourds purchased at the grocery store or farmer's market.
However, if it's a hybrid variety, the seeds may not grow true, and you end up with a different kind of gourd. Here are a few of the best gourd cultivars for home gardeners.
How to Grow Gourds from Seed
If you have a long growing season, it's best to sow gourd seeds directly in the ground once the last danger of frost passes and the soil is consistently 70℉ or warmer, like the best time to plant pumpkins.
In most northern regions, gardeners opt for planting seeds indoors four weeks before the expected last frost date to get an extra head start once the weather warms.
If you're starting seeds indoors, you'll need a few propagation supplies. In case you don't already have them, these items are readily available online or at your local garden center.
Fill your seedling tray with a well-draining and nutrient-rich potting soil blend. Some growers favor peat pots or cardboard egg cartons to avoid disturbing the seedlings' sensitive roots when transplanting.
Plant your gourd seeds one inch deep, then loosely cover them with soil. Gently saturate the soil with a spray bottle, taking care not to disturb the seeds. Cover the soil with a humidity dome or sheet of plastic to retain moisture.
Germination usually takes about five to ten days. The optimal soil temperature for germinating gourd seeds is between 80-85°F. The seeds won't grow if the soil is colder than 65°F.
Consider using a heat mat to keep the soil at a steady temperature during germination and while the seedlings develop.
As soon as your gourd seedlings begin sprouting, move them to a sunny, south-facing windowsill that gets around six to eight hours of bright light daily. Otherwise, use a grow light to prevent the seedlings from becoming "leggy" or elongated.
It's beneficial to regularly rotate the tray or pots as the seedlings lean towards the light. Doing so encourages robust and healthy stem growth.
How Long Do Gourds Take to Grow?
Have you ever wondered, "How long do gourds take to grow?" It depends on which varieties you're growing. In general, most types of gourds take between 75 and 130 days to reach maturity.
If you chose to transplant nursery-grown seedlings, subtract two or three weeks from the days to harvest listed on the plant label.
In climates with a short growing season, it's best to plant gourd seeds indoors four to six weeks ahead of your average last frost date. In most northern regions, the best time for transplanting gourd seedlings is in late May or early June, once the last danger of frost has passed.
Many gardeners wait until late June or early July before planting gourd seeds in the southeastern United States. This practice is partly to avoid crop damage from pests like the squash vine borer.
They're the larvae of moths that lay eggs at the base of cucurbit plants in late spring. After hatching, they burrow into the young plants' lower stems to feed.
Caring for Gourd Plants
After transplanting gourd seedlings, the young plants require a bit of TLC to become established. It's helpful to pinch off the first few sets of flowers until the plant is big enough to support fruit to help direct the plant's energy toward growing larger and developing its root system.
It's crucial not to overcrowd your gourd plants. Many growers plant gourds in raised hills or mounds of two or three plants each. This technique promotes better drainage and keeps the soil warmer. Spacing between mounds should be at least six feet.
Pollination is crucial for a prolific harvest of gourds in the autumn. Plant aromatic herbs and flowers nearby to attract pollinators.
Gourd plants develop separate male and female flowers. The male flowers usually bloom first and have a central stamen that generates pollen.
Female flowers have a pistil to receive the pollen and a small, swollen node at their base that eventually develops into the fruit. If the flower remains unpollinated, the node turns yellow, shrivels up, and falls off the plant.
Optimal Growing Conditions for Gourd Plants
Choose a location for growing gourds that gets full sun, or eight or more hours of direct sunlight each day. Without adequate light, your gourds may be stunted and mature late.
Gourd plants have shallow roots that quickly get damaged by drought and suffer when competing with weeds for space, nutrients, and water.
Use grass clippings, leaves, or pine needles as mulch to insulate the soil, retain moisture, and minimize weed growth. On average, give your gourds around one inch of water per week and more during periods of dry or hot weather.
Gourds are tropical plants that love the heat. The ideal temperature range for growing gourds is between 75-85°F, with nighttime temperatures staying above 65°F.
In regions with a short growing season, it's helpful to place a cold frame over your gourd plants for a few weeks after transplanting to protect them from late spring cold snaps.
Preparing Your Planting Area
Gourd plants grow best in well-draining soil that's rich in organic matter, whether you grow gourds and pumpkins in containers or in a garden bed. A few weeks ahead of planting, apply a generous amount of organic compost or well-rotted manure to your garden soil and cover it with a dark-colored mulch to keep it from blowing or washing away.
Doing so adds vital nutrients for your plants and raises the soil temperature ahead of transplanting your gourd seedlings. Like many other vegetables, gourds favor a slightly acidic soil pH between 6.5 and 6.8.
Acidic soil also helps to prevent clubroot, a soil-borne fungal disease that damages cucurbit plants. Adding coffee grounds, pine sawdust, or wood ash to your garden soil gradually lowers the pH.
These DIY soil amendments also provide valuable nutrients like calcium, magnesium, nitrogen, phosphorus, and potassium.
Choosing the Best Fertilizer for Gourds
Consistent with other types of squash, gourd plants are heavy feeders and benefit from regular applications of organic fertilizer throughout the growing season.
There are three key macronutrients in plant fertilizer: nitrogen (N), phosphorus (P), and potassium (K). Nitrogen encourages green leafy growth, phosphorus helps develop robust roots, and potassium supports flowering and fruiting.
When transplanting gourd seedlings into your garden, add one tablespoon of organic, all-purpose fertilizer to the bottom of your planting hole. Once the gourd plants begin developing flowers, switch to a homemade fertilizer for gourds with greater amounts of phosphorus and potassium than nitrogen.
For a slow-release granular fertilizer, apply every three to four weeks until the plants begin to wither in the late summer or early fall.
If you prefer using liquid plant food, combine it with water according to the instructions printed on the product label and fertilize your plants every two or three weeks.
How to Grow Gourds on a Trellis
Many gardeners attest that gourd vines, like when you grow butternut squash, grow best on a trellis. Growing your gourds vertically conserves a lot of space in the garden. In addition, trellising reduces the risk of your gourds rotting or developing fungal diseases in wet weather while sitting on the ground.
Be sure to use sturdy materials to construct your trellis frame so that it can support the weight of the mature gourds. While smaller varieties are easier to train for trellising, growing medium- to large-sized gourds on a trellis is still possible.
Use flexible plant ties to loosely secure the gourd vines onto the trellis as they grow and regularly direct the curly tendrils to wrap around the lattice.
For heavier gourds, tie large sections of stretchy fabric-like hammocks to the frame supports to hold the fruits. Repurposing old pantyhose or t-shirts works great.
Unfortunately, it's not wise to grow cucumbers vertically next to gourds, as they compete for the same nutrients and have the same pests and diseases.
Harvesting and Storing Homegrown Gourds
Although it may be tempting to harvest them early, it's critical to allow your ornamental gourds to ripen on the vine until early to mid-autumn. Unlike when to harvest squash, gourds take longer.
Mature gourds have a hardened rind, and the stem should begin to turn brown and shrink away from the top of the fruit. The vines will have started to die back by this time.
An easy way to test whether your gourds are ready to pick is to gently but firmly tap the rind. If it feels stiff and sounds hollow, it's ripe.
Another approach is to press your fingernail into the shell. If it punctures the gourd's skin, wait a few more days.
Cut the stem a few inches above the gourd with some gardening shears – this is one of the best ways to harvest gourds. Be sure to harvest your gourds before the anticipated first frost date in your area. It's best to harvest during dry weather.
Use a sterile, sharp pair of pruners to cut the gourd stem three or four inches above where it meets the fruit. Leaving the stem intact is essential for long-term storage.
Unlike the way to store summer squash, gourds must be cured to toughen their rinds and seal the stem before storing them. When possible, leave your gourds outdoors in the sun for seven to ten days.
If the weather is too rainy, cure the gourds indoors in a warm, dry location. After a week or two, dip the gourds in a weak bleach solution to kill any remaining bacteria or contaminants. Once fully cured, use them as decorations or get creative.
Troubleshooting Common Problems
Gourd plants are sometimes prone to a few common pest and disease issues. Routinely check your plants for signs of distress. Healthy plants are far less vulnerable to attacks from insects and pathogens.
Ensuring that your gourds receive adequate amounts of light, nutrients, and water is their best protection.
Some of the most frequent insects that feed on gourd plants include aphids, cucumber beetles, squash bugs, and squash vine borers. When you first notice signs of a pest infestation, spray all parts of the plant with an organic insecticide like neem oil or horticultural oil.
Use row covers to prevent insects from laying eggs on the tender seedlings for the first several weeks after transplanting. Remember to uncover the plants when they start flowering to facilitate pollination.
Note that insecticides harm beneficial insects like pollinators and predators, too. Try to only target badly infested plants and use environmental controls to minimize pest populations when you can.
Gourd plants are sometimes susceptible to fungal diseases like bacterial wilt, leaf spot, and powdery mildew. These diseases thrive in warm, moist conditions, and their spores frequently spread through water droplets.
Ensure adequate air circulation between plants, and utilize drip irrigation or a soaker hose to keep the leaves dry when you're watering.
Companion Planting with Gourds
One of the main advantages of companion planting is attracting beneficial insects that help out with garden chores. Without assistance from pollinators like bees and butterflies, gardeners must hand-pollinate gourds, melons, and squash if they expect a harvest.
Predatory insects help control pest populations naturally, reducing your use of pesticides. Certain plants also reportedly improve the flavor and overall growth of their neighbors.
Plant herbs and flowers throughout your garden to take advantage of their numerous benefits. Basil, dill, oregano, parsley, and thyme attract pollinators and predators by providing food and habitat.
Calendula, chamomile, cosmos, feverfew, marigolds, nasturtium, and tansy are easy-to-grow annual flowers that make an excellent border for your veggie garden. Goldenrod, salvia, and yarrow are perennial flowers that come back year after year.
Unless you're growing gourds on a trellis, interplanting other veggies in the same bed is challenging. Tall crops like corn and sunflowers that don't block much light or need regular access work best.
Legumes like beans and peas have the unique ability to fix nitrogen in the soil through a beneficial relationship with soil bacteria, which aids nearby plants.
Growing Birdhouse Gourds
Growing gourds for birdhouses is a fun and rewarding DIY project. Birdhouse gourds, also called bottle gourds, develop a long, narrow neck with a wide, round base.
They sometimes produce a curved neck, and grow more uniformly on a trellis than if the gourds are lying on the ground. Although the immature fruits are edible, most gardeners grow birdhouse gourds for their ornamental value rather than for culinary use.
Growing birdhouse gourds requires a bit of patience at first since the plants have such a long growing season. They take up to 180 days from planting seeds until they're fully cured and ready for your birdhouse project.
If you'd like to make a homemade birdhouse from a gourd, you first need to gather a few supplies. Always remember to use protective equipment like gloves, safety glasses, and a respirator mask.
Create the doorway for your birdhouse by drilling a hole where the bottom of the gourd begins to narrow. The opening's width depends on the gourd size and which types of birds you want to attract.
Generally, the entrance hole should be approximately one to two inches wide. Hold the gourd firmly while drilling, and brace it against a wall or solid object for stability. Afterward, use a small knife to clean up the edges.
Scoop out the flesh inside and clean the interior of the gourd. If desired, save the seeds for growing next spring. Thoroughly rinse and dry them, then store them in an airtight container in a cool, dark place.
Smooth the gourd's outer shell using sandpaper. After brushing off any residual dust, wash the gourd with a bleach solution. Dilute nine parts water to one part chlorine bleach. While the gourd is still wet, scrape off any remaining residue with clean steel wool.
To make the hanger for your birdhouse, drill small holes through the top of the gourd. Two or three inches below the stem, create two quarter-inch holes, ensuring they're aligned. Dust off the gourd and smooth out the holes with sandpaper.
Feed your wire through the holes, then twist the ends together to make a loop. It's best to wrap the wire ends with tape so they don't hurt you, the birds, or the tree where your birdhouse will hang.
As a final touch, drill another hole below the doorway to hold a perch for the birds. It's helpful to drill the hole at a slight downward angle to compensate for the curve of the gourd.
After drilling the hole, line it with wood glue and insert the dowel about a quarter-inch deep. Allow it to dry overnight.
If desired, get creative and turn your birdhouse into an art project with a bit of paint. Otherwise, cover the exterior of the gourd with at least two coats of varnish to seal it. Once the birdhouse is completely dry, hang it in a safe place in your yard.
Growing birdhouse gourds or other types of ornamental gourds in your home garden is as enjoyable as it is rewarding. Gourds of various colors, shapes, and sizes make natural and unique autumn decorations or use them for your latest arts and crafts projects.
Many gardeners wonder, "How long do gourds take to grow?" The days to harvest depend on which gourd varieties you're growing.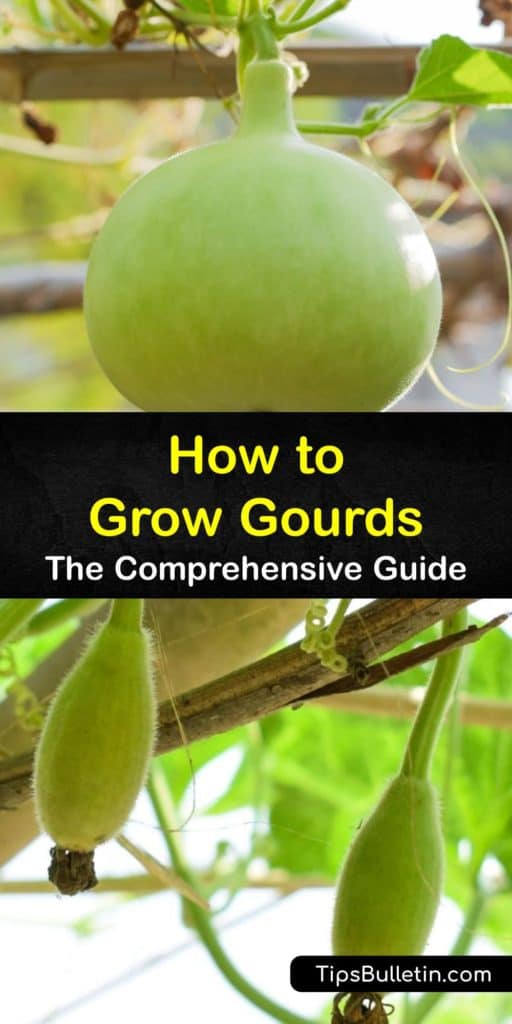 If you enjoyed learning about growing gourds, please share this article about how to grow gourds with your fellow gardening enthusiasts on Pinterest and Facebook.