Heirloom tomatoes are delicious fresh fruits that taste great on sandwiches, as a salad topping or mixed with other dishes. Compared to other tomatoes, like cherry tomatoes, heirloom tomatoes are a little bit more challenging to grow. However, learning how to grow heirloom tomatoes is manageable when you have the correct information and techniques to produce an ample harvest.
With adequate nutrients from water, fertilizer, and sunlight, tomato plants grow with ease. Heirloom seeds are commonly found at local garden centers or farmers markets.
Growing heirloom tomato plants comes with several benefits for your overall health and the other plants in your garden, too.
Tomatoes serve as excellent companion plants for a broad away of vegetables and herbs, allowing you to save space in your garden and produce tasty tomatoes.
This article teaches you how to grow heirloom tomatoes from seed and how to harvest the ripe tomatoes at the end of the growing season.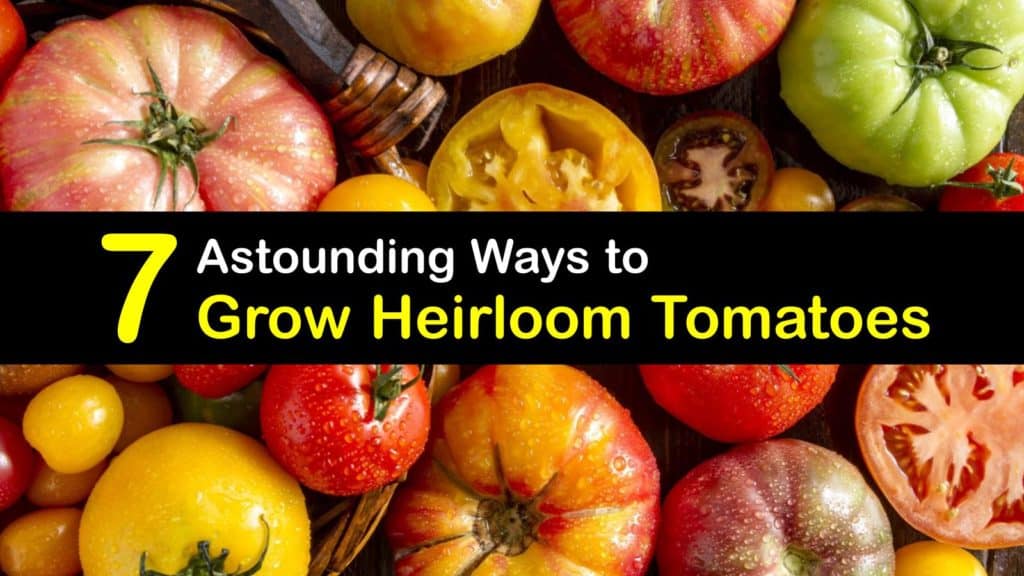 Heirloom Tomatoes Require Plenty of Attention
Compared to hybrid tomatoes, heirloom tomato varieties demand a lot of care, which is why they are not regularly found at your local grocery store.
Farmers prefer to grow alternate kinds of tomatoes because heirloom tomatoes have thin skin that bruises easily and a shorter shelf life.
Additionally, heirloom tomatoes are less disease-resistant than hybrid varieties. Although heirloom tomato seeds require additional routine consideration, the tomato flavor produced is well worth the effort throughout the growing season.
Different Heirloom Tomato Varieties
There are thousands of types of heirloom tomatoes to plant and grow in a garden. However, there are a few heirloom tomatoes that grow best. The Brandywine beefsteak tomato has a rich flavor and the multiple ways to use the fruit.
Most heirloom tomato varieties are indeterminate tomatoes. Indeterminate types grow long vines that need support from tomato cages or a trellis.
The other type of tomatoes is the determinate variety. Determinate tomatoes grow in a bush and sprawl out over the ground.
The advantage of growing indeterminate tomato plants is that they are more disease-resistant, as the vines are not exposed to insects on the soil.
How to Grow Heirloom Tomatoes in the Right Soil
Whether you are growing heirloom tomatoes indoors or outdoors, proper soil is critical during germination, so your tomatoes have the best taste.
Heirloom tomatoes grow well in rich, loamy soil, allowing the root system to develop deep into the potting soil. Ensure the soil is well-draining.
Well-draining soil is one way to prevent harmful diseases like root rot. When there is excess soil moisture as water pools at the root's base, the tomato plant's roots become infected and negatively impact the germination process.
Disease resistance is crucial so your tomatoes survive the entire length of the growing season. Learning how to grow heirloom tomatoes is easy when you use the proper soil.
You may also experience problems with bugs. Avoid tomato worms and other pests with a neem oil or dish soap spray or by using diatomaceous earth. Companion planting near heirloom tomatoes with marigolds or garlic can keep pesky bugs away.
How to Grow Heirloom Tomatoes from Seed
One of the great aspects of planting heirloom tomatoes is that you can grow them indoors or outdoors. To germinate an ample harvest, you must know when to plant heirloom tomatoes.
Start your heirloom tomato seeds, whether you are growing cherry tomato from seed or larger types, indoors about six weeks before the last frost date of the spring.
If you reside in an area with unseasonably cooler temperatures, starting your tomato seeds indoors is an excellent option, so the seedlings are developed when it comes time to transplant.
When you follow the best way to grow tomatoes indoors, use a large pot, so the seeds have plenty of room to grow deep into the soil. Another crucial aspect of growing tomatoes in pots is to ensure there are draining holes at the pot's base.
Drainage holes allow excess water to accumulate at the base of the container instead of pooling around the roots. After the weather warms to around 70℉, most growers utilize staking or trellising to support the plant's main stem.
Growing Heirloom Tomatoes with Fertilizer
If you want your heirloom tomato plants to produce fruit that tastes great, you must incorporate fertilizer into the potting soil, whether growing tomato from seed or a seedling.
Fertilizer provides your plants with extra nutrients that speed up growth, help protect the plant from disease, and promote healthy airflow in the roots.
Compared to other popular garden plants, heirloom tomatoes are heavy feeders, making fertilizer an essential germination aspect. Use a balanced organic fertilizer for your heirloom tomatoes, which has equal levels of nitrogen, phosphorus, and potassium.
Plants use nitrogen to produce green growth, phosphorous for roots, and potassium for flower and fruit development. Work the fertilizer into the soil once every two weeks to ensure the plants have a consistent nutrient source.
How Much Sunlight do Tomato Plants Need?
Although understanding when to sow heirloom tomato seeds is crucial, it is also important to plant the heirloom tomatoes in the correct location.
Heirloom tomatoes require a lot of direct sunlight, so make sure your plant is free of any shadows from trees or buildings. When growing heirloom tomatoes indoors, place the pot near a window that receives direct sunlight throughout the day.
Do not plant your heirloom tomatoes outdoors too early when the temperatures are not warm enough. When the nighttime temperatures are at least 60℉, your heirloom tomato plants can survive with the risk of the roots freezing and dying.
Watering Your Tomato Plants
An essential part of growing heirloom tomatoes is implementing a proper watering routine. Heirloom tomatoes need plenty of water, especially after they sprout true leaves and start to produce fruit.
When an heirloom tomato plant receives a lot of water and has well-draining soil, germination goes smoothly. Continuously keep the soil of your heirloom tomato plant moist, as dried-out soil causes harmful diseases and stunted growth.
One fantastic way to prevent dry soil is by sprinkling a little mulch over the top of the ground. Mulch slows down the rate at which evaporation occurs, so your heirloom tomatoes stay hydrated longer.
How to Harvest Your Tomato Fruits
After spending considerable time learning how to grow heirloom tomatoes from seed, you have to know when to harvest tomatoes, whether they are heirloom or hybrid. Most tomato varieties take around six to eight weeks to reach full maturity.
Even when your tomato plant has matured, make sure to prune the excess leaves to promote continuous fruit growth.
A couple of signs that your heirloom tomatoes are ready for harvest include the fruit's firmness and color. A ripe tomato is slightly soft when you squeeze it gently.
Ripe tomatoes have full red color. Using a sharp pair of scissors or gardening shears, snip the fruit off the vine to harvest the tomatoes safely.
Understanding how to grow heirloom tomatoes from seed is a rewarding task that allows you to have access to fresh tomatoes throughout the growing season.
Heirloom tomatoes need plenty of nutrients as they develop, so make sure you use the proper soil, fertilizer, and water amounts. Overall, growing heirloom tomatoes comes with several benefits for your garden, the environment, and your health.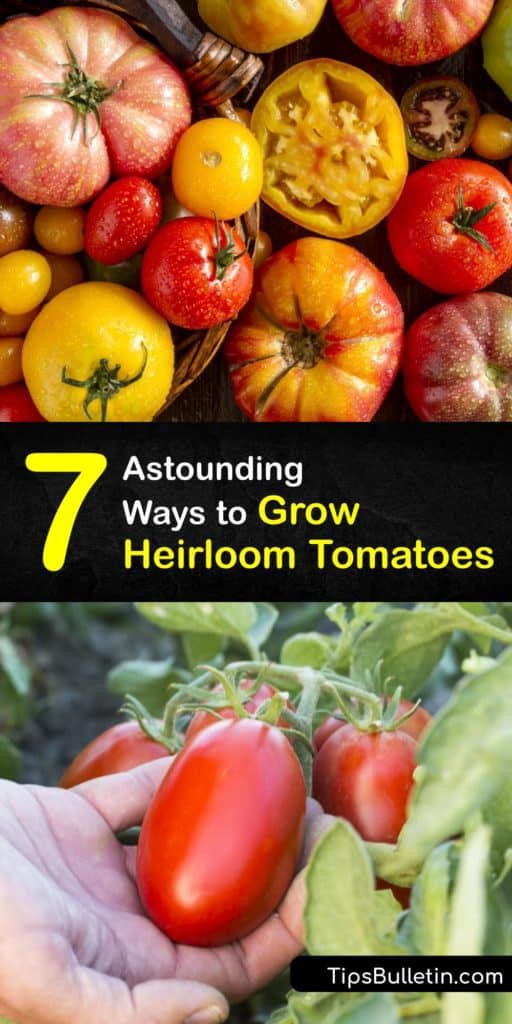 If you discovered how to grow heirloom tomatoes, share this article with tricks for growing heirloom tomatoes with your gardening friends and family members on Pinterest or Facebook.