Iceberg lettuce, or Crisphead, is head lettuce and is the most popular type of lettuce in America from the lettuce varieties list. Its light and crisp texture makes filling a salad bowl alongside greens like arugula an excellent choice. The ease at which it grows makes it a favorite for home growers. Learning how to grow iceberg lettuce is simple as it grows almost anywhere as long as the temperature isn't too humid or frigid.
Iceberg is unique among lettuce types in that it is far less expensive than Boston and Bibb lettuce which make up the variety of butterhead lettuce. Iceberg is a round head of lettuce compared to the long head of romaine lettuce and the open growing formation of looseleaf lettuce like Oakleaf and Red Sails.
An important cool-season crop dating back to ancient Egyptians, lettuce is a rich source of vitamins, iron, and folate.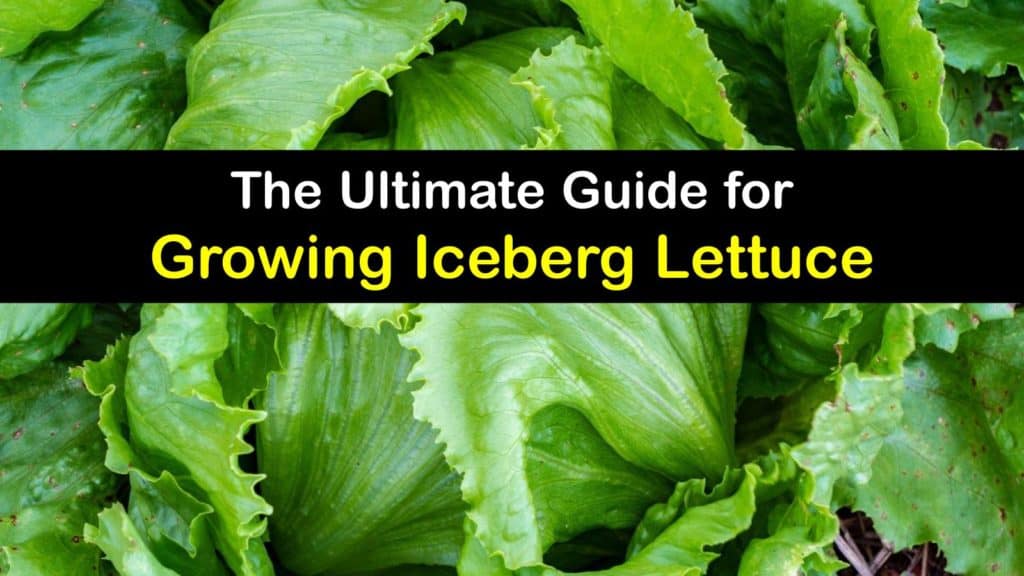 Growing Iceberg Lettuce
The biggest pitfall of lettuce is that it is highly susceptible to nutrient deficiencies, pests, and bacterial diseases, making it a target for harmful outbreaks in humans like E. coli and Salmonella. Continue reading to find out how to grow a lettuce crop.
"How does iceberg lettuce grow?" It grows quickly and easily in the right conditions. Growing iceberg lettuce is best done in full sun when the weather is in the mid-60s.
Like when cooking with other leafy greens, lettuce is typically prepared and served cold or chilled as heat causes the leaves to wilt. While growing, hot weather causes bolting in different types of lettuce or causes lettuce leaves to droop.
Before the growing season, start your lettuce indoors before the last frost date in early spring. Grow lettuce seedlings in flats before transplanting them into their outdoor beds. If you're growing lettuce in late summer, seedlings require a partially shaded area to grow to avoid too much heat affecting their growth.
Lettuce does well in most soils, but for the best results, we recommend sowing your heirloom seeds in soil with a pH of 6.2 to 6.8. Treat your soil before planting with lime as needed to reach the desired pH and keep the soil moist after planting.
How to Start Growing Iceberg Lettuce Indoors
If you start growing iceberg lettuce indoors first and will plant arugula in zone 6 or another zone, this process should begin four to six weeks before the last frost date for your area. This method makes growing lettuce as a fall crop a great option as seeds sown in late spring may struggle to germinate in the summer heat once the ground is entirely workable.
Plant a few lettuce seeds in each portion of a seed tray and cover them with starter soil from your local garden center. Keep the soil around your seeds moist, and within ten days, seedlings will emerge. Trim seedlings so that you only have one per seed tray cell by cutting the other seedlings off at soil level.
When the seedlings are ready for transplanting, keep spacing to a foot apart in theigarden or raised beds with 18 inches of space between each row. To ensure your seedlings have the best chance for survival, wait to transplant in cool weather or on a cloudy day.
If you're transplanting on a hot day, we recommend using row covers to provide partial shade for your seedlings for a few days. Transplanting is stressful for seedlings, and to help with germination, don't allow them to face the direct sun in hot weather right after planting.
How to Grow Iceberg Lettuce
When the ground thaws, begin planting lettuce seeds in your garden. How successful your crop is depends how far apart to plant lettuce. If grown too closely, the plants are more susceptible to the spread of disease and insects.
Maintain the exact spacing of one foot between seeds and 18 inches between rows to allow room for each seed to grow.
Like all lettuce varieties, iceberg lettuce enjoys moist soil, so test your soil weekly. Dig your finger into the first inch of soil to feel if the soil is wet or not. Adding organic mulch around your plants helps maintain soil moisture and keeps weeds at bay.
Depending on the weather in your area, adding a cloche or planting your lettuce in a cold frame may be necessary if your spring tends to be chilly.
A cloche is any cover that protects outdoor plants, and while many are available for purchase, make your own cloches by recycling a plastic water jug or a large pop bottle. Cut off the bottom portion of the bottle or jug with a blade and place the plastic cloche over your plant.
This addition to your plant protects it from cold weather and any animals that might visit your garden while still allowing you to water your plant through the opening at the top. As your lettuce plants grow, remove the cloche to enable your plant to grow and to avoid watering the outer leaves directly.
While your lettuce grows, fertilize it with a balanced, water-soluble organic fertilizer. Look for a fertilizer where the numbers listed are equal or close to being equal; these numbers show the percentage of nitrogen, phosphorus, and potassium in the fertilizer.
How to Regrow Iceberg Lettuce after Harvest
Lettuce is typically ready to harvest 45 to 60 days after planting, though this timeframe differs if you grow lettuce in early fall or winter. The best time to harvest lettuce is when your lettuce looks ready to harvest once it forms the pale round head you're used to seeing at the grocery store. A full grown Romaine lettuce plant is dark green and compact.
If your lettuce does not seem ready for harvest, but hot weather is on the horizon, we recommend harvesting anyway. Don't harvest your lettuce once it turns brown or if it's left outside to seed, at which point your lettuce becomes inedible.
Harvesting too soon results in your lettuce having a bitter taste, but these greens are great as accents in salads for a tang.
Harvest lettuce using a sharp knife and bring it inside to store in the fridge in a perforated plastic bag—store iceberg lettuce for up to two weeks without losing quality. If kept any longer, your lettuce may develop brown spots and turn yellow.
When you're ready to use your lettuce, cut off a few inches of the stem and use the rest of the lettuce head as needed for your meal. Keeping this stem is crucial if you want to regrow iceberg lettuce.
To grow iceberg lettuce from scraps, take the stem or stump of your lettuce, pierce it with several toothpicks and fill a glass with enough water to cover the stem's bottom. Place this dish in a sunny windowsill to grow. Change the water every day.
You should see root growth from the bottom of your stump and new leaves forming after a few days. After about ten days, you'll have many more leaves and probably nearly as many as your stump is capable of producing in its current environment.
Because water alone does not possess enough nutrients, you won't get a brand new head of lettuce from this process. Using scraps to regrow iceberg lettuce is a fun and easy project to do in the winter with your family, and if you replant your growing stump in soil indoors, you can watch your lettuce grow even more.
Handling Mollusks on Iceberg Lettuce
Although knowing how to grow iceberg lettuce cultivars is easy, garden pests won't make the job as simple as it could be. Snails and slugs are common problems you need to deal with before you reap the reward of growing iceberg lettuce.
The type of mollusks you encounter varies by location, but what does not change is how much they enjoy your lettuce. Mollusks do not enjoy sunlight and prefer cooler temperatures in moist areas and this makes your lettuce plants the perfect place for these creatures to gather.
If snails or slugs are eating your plants, their presence is visible by small holes in the leaves of your plants, though this type of damage is easily confused with another kind of pest.
A surefire way to identify a mollusk problem is by looking for their slime trail—these trails of mucus leave behind a silvery appearance where they travel.
Keeping your garden free of shelter for these pests is a significant first step to reducing their presence in your garden. Remove cardboard or concrete blocks in the area – anything that could offer snail protection from the sun.
Creating barriers or traps made from copper tape and crushed eggshells is also quick and effective at dealing with mollusks. The mucus of these animals generates an electrical current when in contact with copper and, after one touch, kills them.
Additionally, the sharp edges of crushed eggshells cut into the soft bodies of these creates and draws out oils and fats, drying them out.
Countering Aphid Infestations
Whether you're growing leaf lettuce like romaine or head lettuce like iceberg lettuce, aphids love to get to your lettuce before you do. Among aphids, the Green Peach aphid is well-known to farmers and home growers for its range of host plants and resistance to insecticide.
Since aphids are small with high reproductive potential, these insects may go undetected until their numbers reach damaging levels for your plants.
Aphids harm plants by piercing leaves with their mouthpieces and sucking out essential plant juices; an aphid infestation causes stunted plant growth. Some aphids are carriers of viruses that are harmful to many leafy vegetables.
There are several methods to keep the aphid population under control when growing iceberg lettuce, the first being prevention. If you planted lettuce in a staggering pattern to provide yourself with a steady supply, dispose of any debris or crop residue after harvesting to avoid aphids spreading to other plants.
Aphids have a lot of natural predators like lacewings, waps, and lady beetles that are ready to handle these pests for you. Plant helpful companion crops like alyssum around your lettuce help draw aphids away and attract predators to your garden.
Although some aphids are somewhat resistant, insecticides are a reliable option for controlling aphids if applied early enough. Scout your garden often for the presence of winged aphids moving into your garden to lay eggs.
Mix your ingredients in a bottle and spritz liberally onto your plants and onto any gatherings of aphids you find. Follow the measurements carefully as adding too much soap may damage your plant's health.
Growing iceberg lettuce at home is rewarding and more cost-effective in the long run, and there's no denying the satisfaction in going from garden to table.
With staggered planting, you can have a steady supply of lettuce to use in salads, wraps, sandwiches, and more. We hope our guide on iceberg lettuce was helpful to you and answered all questions like "Where is iceberg lettuce grown?"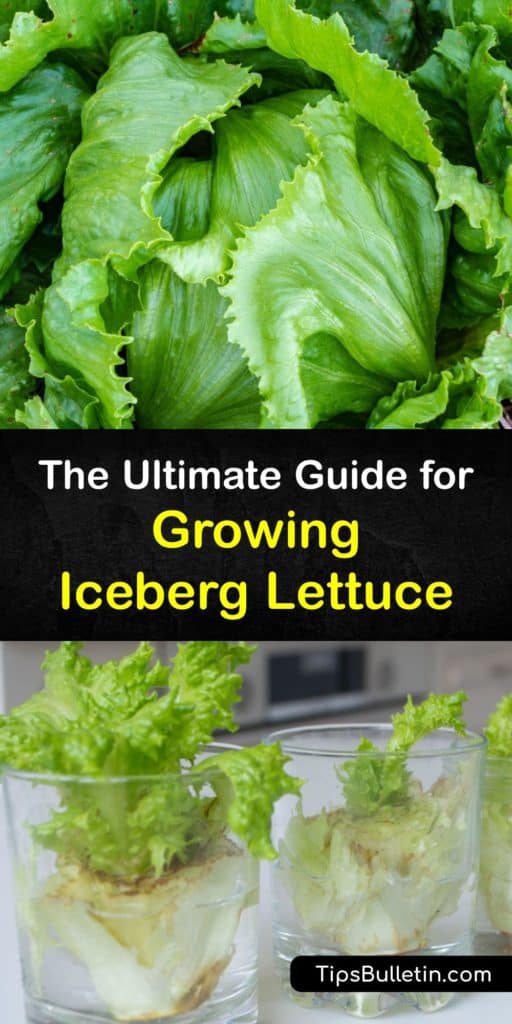 If our article on how to grow iceberg lettuce was useful, please share our iceberg lettuce growing guide on Facebook and Pinterest with your family and friends who might be interested in growing iceberg lettuce.