Are you looking to add a spicy vegetable to your garden? Learning how to grow jalapenos is an excellent skill to acquire for the upcoming growing season. Raising jalapenos from seed is far simpler than most people assume.
Throughout this article, we show you how easy planting, transplanting, and harvesting jalapenos is with DIY tips and tricks. With the proper care, pepper plants provide a bountiful harvest that allows you to have hot peppers for various Mexican recipes.
Jalapeno peppers, like habanero peppers, chili peppers, cayenne peppers, and ghost peppers, are scorching. When you tend to your jalapeno peppers every day, germination goes smoothly with little to no problems.
To best grow the best jalapeno pepper plant, we show you what pests and diseases to be aware of. Additionally, we teach you how to fight off unwanted pests that try to steal your plant's nutrients. Continue reading to find out amazing tricks for how to grow jalapeno peppers.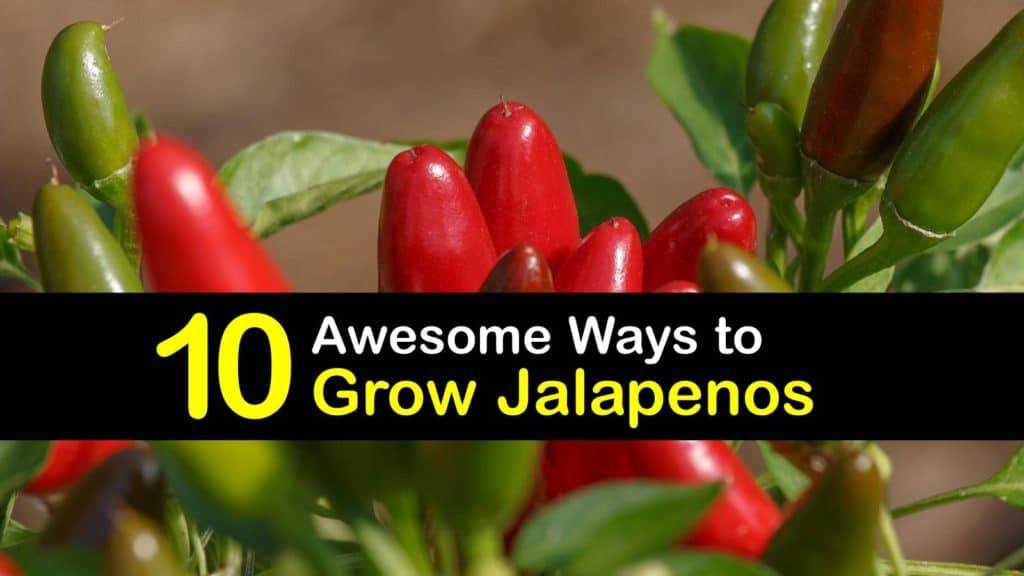 Advantages to Growing Jalapenos in Your Garden
There are several benefits when you plant any pepper varieties in your backyard garden, like bell peppers or jalapeno peppers.
Growing jalapeno peppers and growing cayenne peppers allow you to save money on groceries, eat food free of artificial chemicals found in pesticides, and have fresh produce for delicious recipes like jalapeno poppers.
Additionally, growing vegetables and fruits in a garden reduces your overall environmental footprint. With the overwhelming amount of advantages to growing jalapenos, there is no reason to avoid planting these delicious peppers.
When is the Right Time for Growing Jalapenos?
One critical aspect of growing different types of jalapenos from seeds is to sow them at the right time of year. When you plant pepper seeds in ideal temperatures, the roots ban develop in the soil, and the fruit grows to its fullest potential.
When weather conditions are unseasonably cold where you live, we recommend starting your jalapeno plants indoors. Contrary to popular belief, jalapenos grow just as well when they begin indoors as when planted outdoors.
Plant your jalapeno seeds about six weeks before the last frost of the season. Usually, the frost date occurs between January and March, depending on the region. After the last frost, soil temperatures are warm enough to support a healthy jalapeno plant.
If you are growing jalapenos indoors, set the plant near a window or use a grow light so the soil gets warm enough. When growing peppers indoors, the soil must be warm enough so the roots do not freeze, which causes your plant to die immediately.
How to Grow Jalapenos and Seed Spacing
An important aspect of growing jalapenos or growing bell peppers is to space the seeds out correctly. Plant care starts with knowing how to sow the seeds. When jalapeno seeds are adequately separated, the roots have ample room to bury into the ground to access nutrients.
In a garden bed, space your jalapeno seeds about 14 inches apart. If you plan on growing multiple rows of jalapenos, give your plants about two feet in between each row.
A healthy pepper plant sprouts about three feet high when it is fully mature. Learning how to grow jalapeno peppers is manageable when you space the seeds out the right way.
If you are planting veggies in your garden like carrots or other pepper plants, grow them alongside their companion plant-jalapenos.
How to Grow Jalapeno Peppers in Adequate Soil
Use the right soil to ensure your jalapeno peppers sprout on time and have all the nutrients required. Potting soil makes it simple to transfer water to the roots, allowing your peppers to develop and produce fruit.
Another reason to use the right potting mix is to make transplanting jalapenos from an indoor to outdoor environment easier. When growing jalapeno peppers, use a loamy potting mix. It is critical to make sure the soil is well-draining.
Well-draining soil allows water to flow through the ground and not accumulate at the root's base. When water pools up around the bottom of the roots, it leads to fungal diseases and other plant diseases that damage and kill your plant.
Understanding how to grow jalapenos carries several necessary maintenance steps, one of which is implementing loamy, well-draining soil.
The Best Fertilizer for Jalapeno Pepper Plants
Fertilizing your jalapeno pepper plants is not an essential part of the germination process. However, using fertilizer helps the capsaicin and the rest of the jalapeno develop.
In all capsicum peppers, capsaicin is the chemical compound that makes a green jalapeno hot. To grow Anaheim peppers or crisp, hot jalapenos, use fertilizer.
We suggest implementing a fertilizer with five percent nitrogen, ten percent phosphorus, and ten percent potassium levels. This kind of fertilizer balances drainage in the roots while also giving the roots additional nutrients.
When incorporating fertilizer, mix it with the soil before you plant your jalapenos to ensure it is evenly spread. With the right fertilizer, a jalapeno plant receives even more nutrients than soil provides.
Ideal Climates and Temperatures for Jalapenos
A jalapenos' natural environment features very warm temperatures—the ideal conditions for growing jalapenos are temperatures between 65 and 80°F. Like red or green peppers, jalapenos will not sprout and cannot survive when temperatures are too cool.
Make sure your jalapenos receive full sun so photosynthesis occurs. Photosynthesis is when a plant converts sunlight into organic matter that the jalapenos demand to develop fully.
Knowing how to grow jalapeno peppers includes making sure the plant gets direct sunlight every day-at least six hours.
How Much Water do Jalapeno Peppers Call for?
Watering jalapeno peppers in your garden is essential, so the plant continues to grow throughout germination. Compared to some veggies and fruits, jalapenos do not demand as much care. However, watering is one detail that requires attention each day.
Water your jalapeno plants, especially during hot and humid weather. To see if your jalapenos require more water, stick a finger in the ground to check if the soil.
Is the soil moist? If so, refrain from watering. To help lock in moisture during the summer months, spread mulch over the top of the ground. Mulch slows down the rate at which the water evaporates from the soil.
Common Pests that Invade Jalapenos
Whether you are growing Serrano peppers or jalapenos, some pests can infest your garden. Some of the most familiar insects that steal nutrients from your jalapenos and kill the plant include cutworms, aphids, and flea beetles.
Most pests are visible to the naked eye. However, other signs that your jalapeno plant is infested with aphids or flea beetles include discolored leaves, wilting stems, and small holes in the plants' leaves.
It is vital to get rid of pests right away so they do not spread to your other plants and continue to repopulate.
A great way to keep unwelcome bugs from invading your jalapenos is by utilizing the benefits of companion plants for hot peppers. These plants repel the nasty bugs while encouraging helpful ones.
How to Eliminate Aphids from Your Jalapeno Plants
Many techniques repel and kill aphids and other unwanted pests on your jalapeno plants. One option is to utilize the power of neem oil, which dries out a bug's exoskeleton. However, there are other DIY bug repellents made with familiar household ingredients.
Combine your bug-repelling ingredients in a large spray bottle and gently shake to ensure that all the ingredients mix thoroughly.
Spray the solution on the soil and on the leaves to get rid of aphids. Some plants release odors that deter pests from your garden – including nasturtiums and marigolds. Grow these flowers near your garden for a hands-free way of avoiding pests.
Harvesting Jalapenos Correctly
After you spend time planting and maintaining your jalapeno peppers, it is essential to understand how to harvest the fruit. Test the readiness of your jalapenos by gently squeezing them. When the pepper is dark green and firm, it is time to harvest the peppers.
With a sharp pair of scissors or gardening shears, snip the top of the stem. Unlike bell peppers, jalapeno peppers do not continue to mature after being disconnected from the vine. A healthy jalapeno plant produces around 25 to 35 pods.
Learn how to tell if jalapenos are bad, whether on the vine or off so you always have the freshest and most delicious peppers.
Where to Store Jalapeno Peppers after Harvest
To keep jalapeno peppers fresh for as long as possible after harvesting, proper storage is critical. Storage techniques differ depending on whether you have whole or sliced jalapenos.
To store fresh jalapeno peppers, keep sliced jalapenos in an airtight container or resealable plastic bag in the fridge to extend the shelf life. Whole jalapenos can be kept fresh at room temperature for up to three days and in the refrigerator for up to one week.
Commonly found in Mexico, jalapeno peppers are scorching, reaching up to 8,000 units on the Scoville scale. To grow the most delicious and crisp jalapenos or to grow habanero peppers in your garden, there are specific procedures you must follow so the peppers mature.
As you learn how to grow jalapeno peppers, certain insects will try to destroy your plant. Fortunately, a quick DIY bug repellent works great to deter and kill them.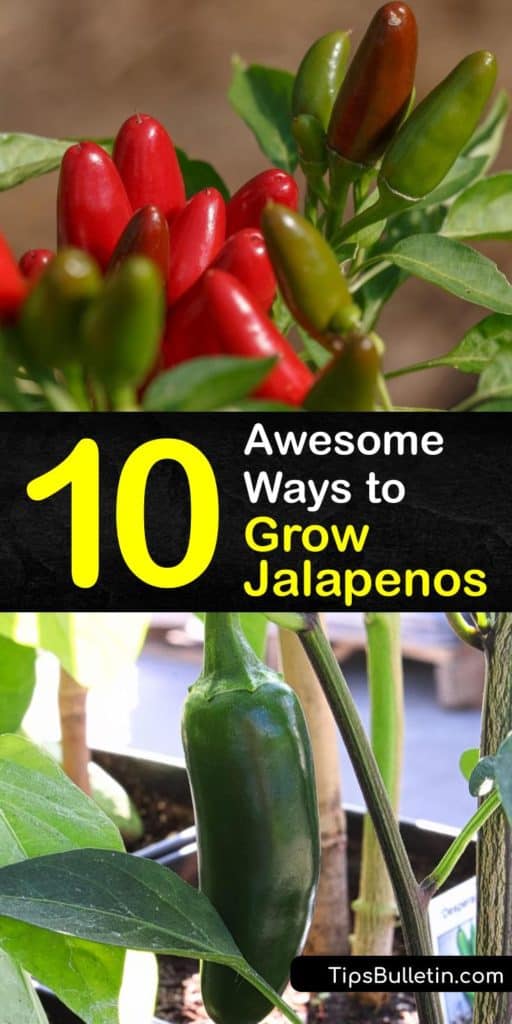 If you discovered how to grow jalapenos, share these tricks about growing jalapenos with your gardening friends on Pinterest and Facebook.