Kale is now one of the most popular leafy greens, enjoyed in everything from smoothies to salads, but did you know that it is one of the easiest vegetable plants to grow, even if you don't have ample outdoor space? Learn how to grow kale from seed, transplant it in the garden, and ways to care for your leafy greens for a great harvest.
Those who haven't had kale yet are missing out. This salad green is one of the most nutrient-dense foods that mother nature provides.
It is packed with high levels of vitamin K and A and has more vitamin C than spinach. It's also rich in magnesium, copper, calcium, and potassium.
Not only is kale highly nutritious, but it tastes excellent, both raw and cooked, whether you eat it in a salad, top it on a burger, or toss it into a soup.
If you think the grocery store is the only place to get your healthy dose of kale, think again. Believe it or not, it's easy to grow your own kale at home.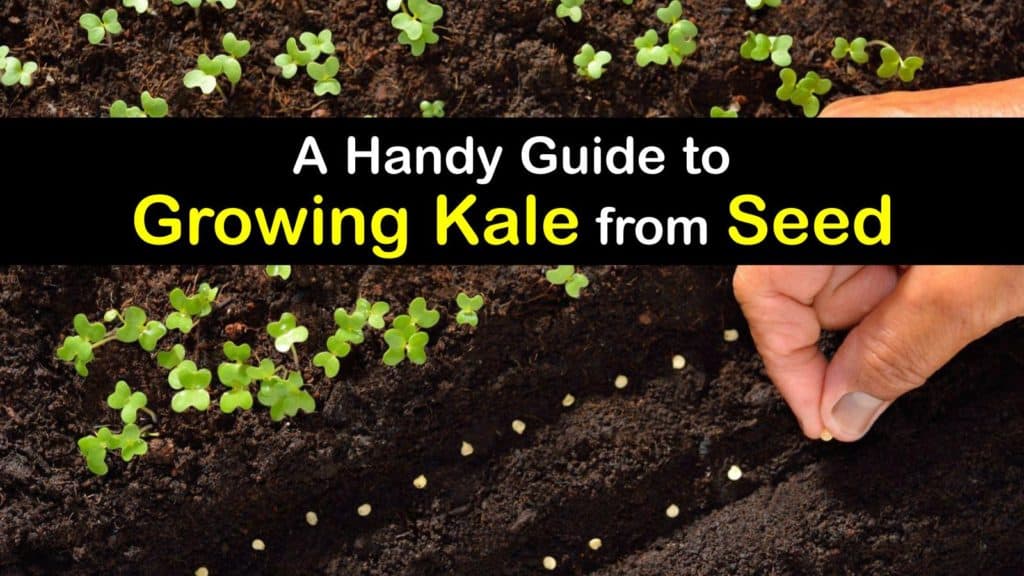 How to Grow and Care for Kale
This ancient member of the brassica family grows in a variety of colors, from the traditional deep green to yellow, white, red, and purple. Kale types also range in flavors, including slightly bitter, sweet, and spicy.
Whichever variety is your favorite, growing kale from seed is the best way to enjoy a nearly continuous supply of deliciousness.
Much of the produce at the market is shipped from far away locations. Many fruits and vegetables are treated with chemicals during the growing process, too.
What starts as a very healthy veggie is not quite so beneficial for you anymore. We show you how to plant kale seeds and care for your plants to enjoy natural leafy greens.
Things to Know before Growing Kale from Seed
Before growing kale from seed or grow spinach from seed, it is crucial to understand how much sun these plants require and when to plant kale seeds or seedlings outside if you plan on growing it on the patio or in the garden. Here is some valuable information to help get you started.
Kale (Brassica oleracea)
Kale requires a minimum of six hours of full sun daily. Similar to collards and Swiss chard, it is a cool season plant that grows well after the last frost in the early spring or during the late summer before the first frost.
If you live in the north, consider planting kale in a cold frame during the autumn for sweet, tender leaves.
There are many varieties of kale, including heirloom Red Russian, Winterbor, Redbor, Tuscan, Vates, Lacinato, Russian, and Dinosaur kale. It is biennial, and it puts all of its energy into leaf production during the first growing season.
How to Plant Kale Seeds Indoors
While planting kale seeds directly in the garden is fine, oftentimes, it's a good idea to start them inside first to give the plants a head start. Here is how to plant kale seeds indoors and the best way to plant Swiss chard seeds.
Planting kale seeds is simple as long as you give them adequate warmth and water. Fill a seed starting tray with soil and start to grow kale indoors by sowing the seeds a half-inch deep or as the packet instructions recommend.
Cover them with dirt and spray them lightly with water to dampen the surface without making it soggy. Keep the tray in front of a sunny window and keep the dirt moist to encourage germination.
Once the soil temperature begins to warm, prepare for planting the kale seedlings outside by hardening them off for a week beforehand. Thin the seedlings by clipping out the smaller or weaker ones, so there is one good plant per section.
Here is How to Grow Kale from Seed in the Garden
Once your kale seeds sprout indoors or if you are growing cabbage from seeds, it's time to move them outside into the garden so that they receive the proper amount of sunshine. Discover how to plant kale seedlings in the ground or raised beds.
This cool weather plant is ready for transplanting once the seedlings reach nine inches tall, have four leaves, and the soil temperature is 60 to 65°F.
It's okay if a light frost hits after planting kale since this makes the young leaves sweeter, while hot temps turn the leaves bitter.
Prepare the garden or bed with organic matter to enrich the soil, and make holes a foot apart while spacing rows two feet apart. Carefully remove the seedlings from the tray and plant each one in a hole.
Cover them with dirt, pat them down lightly, and water them immediately to settle the roots. Feed the kale plants with high nitrogen fertilizer and spread mulch over the soil to hold moisture and halt weeds.
Caring for Kale Plants and Harvest Time
After planting kale from seed and watching them mature, they need a little extra attention from you. Here is how to care for your kale plants, problems to watch for, and when to harvest your leafy greens.
Kale requires a consistent supply of water each week, so make sure to provide your plants with an inch or two of water during periods of low rainfall.
In addition, kale plants are fast growers, so fertilizing is only necessary when you first plant them and after harvesting leaves to encourage new growth.
Spreading a decent amount of mulch around the plants is a great way to stop the dirt from drying out too fast while preventing weeds from taking over the garden.
Kale is a member of the cabbage family, and it attracts many of the same insects, including cabbage worms, flea beetles, and aphids. All three of these bugs munch on foliage and stems, and aphids spend most of their time hiding on the underside of leaves. Kale is not one of the good companion plants for Swiss chard since they are cabbage family members.
To prevent the destruction of your plants, pluck the insects off by hand as soon as you spot them, apply an organic insecticide with bacillus, and use a floating row cover to prevent an infestation.
Kale leaves are sweetest after a light frost in the fall, but the leaves are ready to pick any time they reach the desired size. Start with the oldest foliage on the bottom part of the plant and work your way up the stalk, leaving four or more leaves at the top.
This encourages the kale to produce new leaves. If you reside in hardiness zones 7 through 10, the plants continue producing leaves throughout the winter.
As you harvest, discard any ragged or yellow foliage and eat the rest in your favorite recipe or store them in a plastic bag in the refrigerator.
Kale is a fun and healthy plant to eat with its assortment of smooth and curly leaves in colors ranging from green to purple. Not only do these veggies give your immune system a healthy boost, but they are also incredibly easy to grow from seeds.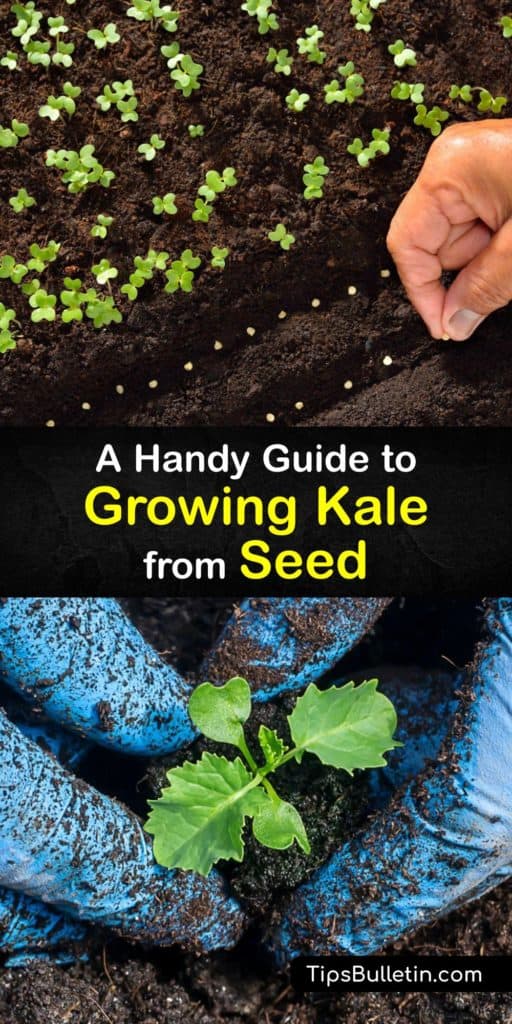 Learning how to grow kale from seed means that you get to enjoy healthy greens that are both inexpensive and chemical-free, so why not share our kale seed planting guide with your social circle on Pinterest and Facebook?