Lima beans are an easy-to-grow addition to your summer veggie selection that rewards you with a bumper crop of super-healthy legumes in two or three months. Read on to learn essential tips for how to grow lima beans and keep them flourishing in your garden until harvest time.
They grow similarly to green beans, and there are bush and pole varieties. Depending on the type, lima beans take about 60-90 days to mature. In most cases, bush lima beans grow faster than pole lima beans. One of the best parts of growing your own groceries is the wide selection of unique cultivars available. Choose lima bean varieties that suit your growing climate and available space.
All you need for growing lima beans is nutrient-rich soil, plenty of water and sunshine, and a little bit of patience. When it's time to harvest lima beans, either pick them in the shelling stage when the hull is still green or wait until the bean pods dry out.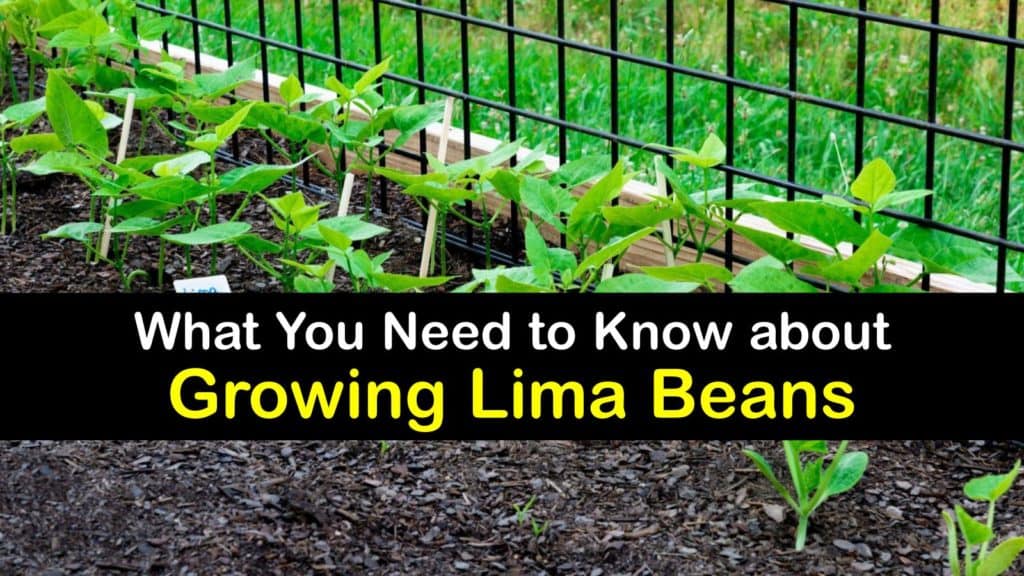 How do Lima Beans Grow?
Lima beans and butter beans are the same thing. Lima beans or Phaseolus lunatus also get called butter beans or chad beans. Early Spanish explorers named them lima beans after Lima, Peru, where they first encountered these vegetables.
Bean plants thrive in full sun where they get at least six hours of direct sunlight during the day. They're highly cold-sensitive and must be planted after the last danger of frost has passed in the springtime.
In addition to not tolerating temperatures below freezing, lima bean plants are also sensitive to high heat. They won't set their pods in temperatures above 80 degrees Fahrenheit or in excessively wet, cool weather.
These warm-season annuals grow best when the temperatures are between 70 and 80 degrees Fahrenheit.
When planning your garden layout, it's crucial to distinguish between bush beans and pole beans, as they have different spacing requirements and harvest times.
Bush varieties grow up to two feet tall and wide and don't usually require staking or other support. The beans mature faster and sometimes get referred to as baby lima beans because they tend to be smaller than pole varieties.
Pole lima beans sometimes reach up to 12 feet long and grow best when trained to climb a trellis. These are the most common types grown for commercial production and often get sold as the large, dried beans we recognize from the grocery store.
There are numerous colors, shapes, and sizes of lima beans. Here are several of the best lima bean cultivars to try growing at home.
How to Grow Lima Beans from Seed
The best way to plant lima beans depends on your growing climate. Since they have a relatively short growing season, most gardeners direct-sow lima bean seeds after the last danger of frost passes.
Alternatively, plant lima bean seeds indoors about three or four weeks before your area's average last frost date to get a head start in the spring.
Sow lima bean seeds approximately one and a half to two inches deep in rich, well-draining soil. The optimal soil temperature for germinating lima bean seeds is between 75 and 85 degrees Fahrenheit.
Germination normally takes seven to ten days or longer in cold soil. Lima bean seeds won't germinate if the soil temperature is below 60 degrees Fahrenheit.
Keep the soil moist during germination and while the seedlings develop. Protect them from insect damage and late spring frosts with row covers or a cold frame.
Best Time for Planting Lima Beans Outdoors
The timing for planting lima beans is crucial, as the plants don't tolerate extreme hot or cold temperatures. To ensure adequate germination, direct-sow seeds outdoors several weeks after the typical last frost date for your USDA planting zone.
If you have a short spring growing season, consider sprouting lima beans indoors so that you can harvest before the weather gets too hot.
It's also possible to grow a second crop of lima beans in the fall. Depending on the variety, plan on planting lima beans in late summer so that you can harvest them before the first frost.
If you get mild summers, try succession planting lima beans every three to four weeks throughout the growing season for a continuous harvest.
Growing Lima Beans in Containers
Lima beans are excellent candidates for container gardening. Choose a pot that's at least eight inches deep and has drainage holes at the bottom.
Refer to the seed packet for variety-specific spacing recommendations and use a pot wide enough to accommodate the plants when planting a black bean bush or lima beans. Overcrowding causes stunted growth and increases the risk of disease problems.
Use a nutrient-rich potting soil blend with added perlite for drainage and coconut coir or peat moss for moisture retention. Potted plants usually use more water and fertilizer than in-ground plantings.
Caring for Lima Bean Plants
Grow lima beans in an area that gets full sun and has well-draining soil rich in organic matter. Growing pinto bean plants requires the same treatment. A few weeks before planting lima beans, add a generous amount of organic compost or well-rotted manure to your garden soil. It's also helpful to apply a thick layer of dark-colored mulch to warm the soil.
On average, lima bean plants need around an inch of water per week and more during dry or hot weather. Drought stress sometimes causes the plants to drop their flowers and bean pods. However, it's equally important to avoid overwatering.
If the soil stays oversaturated for too long, the plants' roots cannot absorb the available nutrients and oxygen.
Legumes have a unique relationship with soil bacteria to fix nitrogen in the surrounding earth so they don't require much supplemental fertilizer. They also make outstanding companion plants by enriching the soil.
Harvesting and Storing Homegrown Lima Beans
Most types of lima beans take two or three months to ripen. In general, bush varieties grow faster than pole lima beans and typically set all of their pods at once. Pole varieties have a more extended harvest time. Find out when to best pick lima beans for optimal flavor.
The bean pods are ready for harvesting when they're between four and eight inches long and feel firm. Use sterile, sharp pruners to harvest lima beans without damaging the plant's main stem. Pick them as often as possible to encourage more vigorous growth.
Store fresh lima beans with the shell on in the crisper drawer of your fridge. For the best possible flavor and texture, use them within one week.
For dry beans, leave the pods on the vine until the shell fully dehydrates and the beans inside have hardened. Store shelled dry beans in an airtight container. With proper storage, they're usable for several years.
Canning is also an option for storage. Lima beans are some of the best canned veggies around. There are a variety of recipes to choose from.
Quick Fixes for Pest and Disease Problems
Healthy plants are significantly more resistant to pests and pathogens. Adequate amounts of light, nutrients, and water are their best protection.
Some of the most prevalent lima bean pests include aphids, bean beetles, and spider mites. At the first sign of an infestation, spray all parts of the plants with an organic insecticide like neem oil or insecticidal soap.
Proper airflow and drainage help to minimize the risk of fungal diseases like blight and mildew. Treat affected plants with an organic copper or sulfur fungicide.
The nutritious and delicious harvest makes it worthwhile to try growing lima beans. These warm-season veggies are straightforward to care for as long as you can provide the right growing conditions.
With ample sunlight and consistently moist soil, your lima beans will keep flourishing from planting to harvest.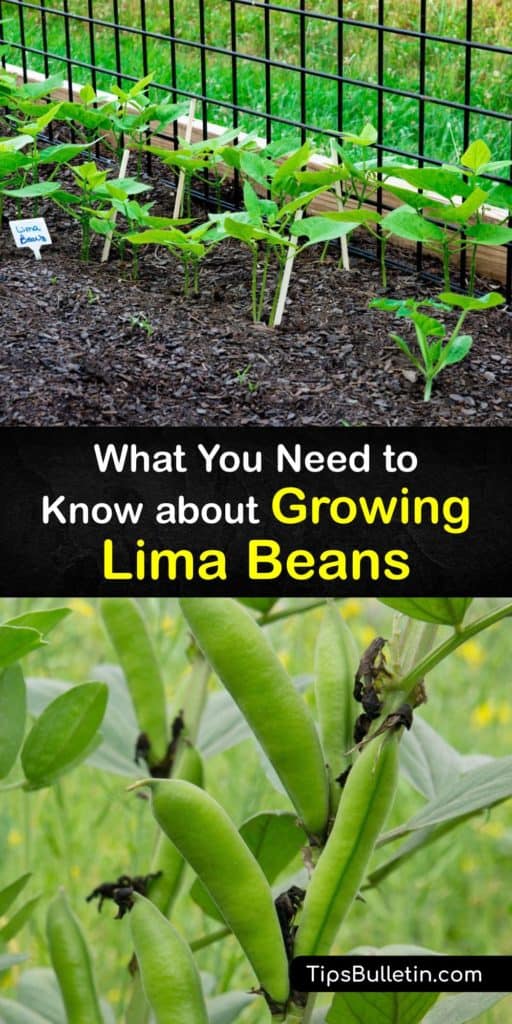 If you found these tips for planting lima beans helpful, please share this article about how to grow lima beans with your fellow green thumbs on Facebook and Pinterest.