Many garden veggies are easy to grow at home, but planting melons takes a little bit of patience and know-how. If you want to learn how to grow melons, you've come to the right place. Learn about the different types of melons to grow, what they want for healthy production, and how to plant and care for them throughout the growing season.
There is nothing that says the end of summer than a large, juicy slice of watermelon. Fruit salads are not complete without cantaloupe's sweet orange and green flesh, Crenshaw, muskmelons, and honeydew melons.
However, if you get to the grocery store a little late, you often find the melon bins running low on ripe, healthy fruits. Fortunately, there are a variety of melons that grow quite well in a home garden, and some are even suitable for planting in raised beds.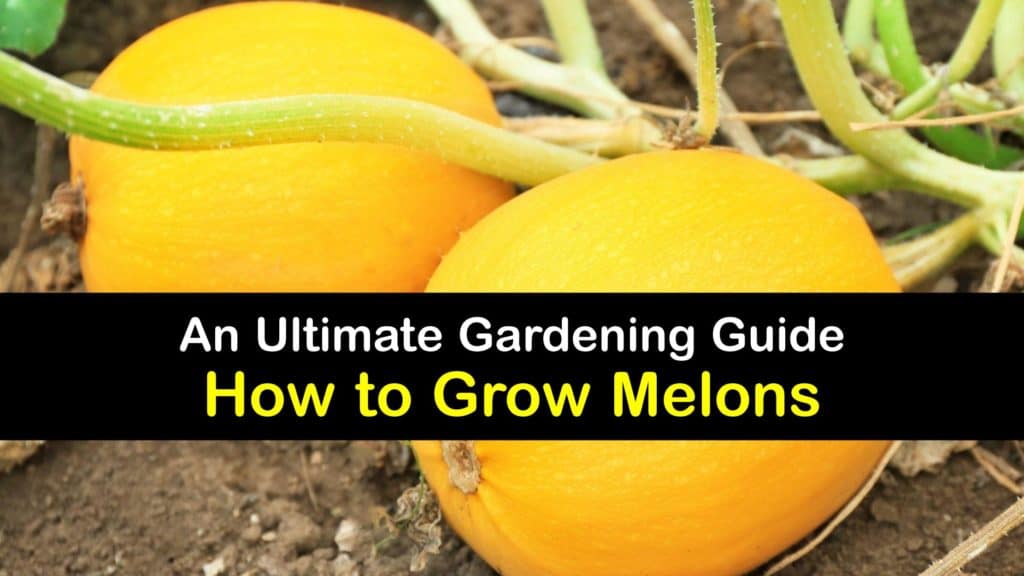 Growing Different Types of Melons in a Home Garden
While these vine-growers require a decent amount of space to flourish, it's possible to grow melons almost anywhere if you give them full sun, a trellis, and some TLC. Though i's simple to pick up a melon at the market, growing melons of your own means that you get to enjoy organic produce that tastes even better than melons from the grocery store.
However, it's vital to provide your plants with everything they want to promote fruit production. Learn about the different types of melons and which ones are ideal for home-growing. Discover how to grow melons from seed, transplant them in the garden, and care for them through the season.
Explore when to harvest your crop in the late summer after planting melons and tips for storing and preparing them in a dish.
Different Types of Melons to Grow at Home
Before you grow melons in the garden or raised bed, it's a good idea to learn about the different types and their growing habits. Some melons are small and perfect for patio growing, while others require more space to stretch their vines.
Let's look at some of the more popular varieties to help you choose the ideal one for your space.
Some of the most common melon types to grow are watermelon, cantaloupe, and honeydew, and there are many cultivars of each.
When you compare cantaloupe to muskmelon, it's important to note that the cantaloupe is a type of muskmelon.
Honey Yellow is a honeydew cultivar with high sugar content, while Athena is a cantaloupe with orange flesh, and it's perfect for colder climates. Taste and looks are the primary differences in honeydew vs cantaloupe. Another popular melon is the Canary melon, which is yellow on the outside and inside with a sweet taste and juicy texture.
For small melons to grow in raised beds or containers, try planting Alvaro, Sprite, or Sleeping Beauty. Alvaro melons are a type of cantaloupe that grows quickly and is only five inches in diameter.
Sprite melons are a honeydew variety that grows four inches across, while Sleeping beauty has fruit that weighs about half a pound, with vines only reaching up to twelve inches. If you prefer watermelon and have to grow watermelon in a small space, the Sugar Baby Bush type has small three and a half foot vines and twelve-pound fruit.
Things to Know before Growing Melons
Different plants have varying needs, from sun requirements to soil type, and learning about what your melon plants need to thrive goes a long way to producing the best garden. Here are some essential facts to know when growing melons to ensure that you get the healthiest crop.
Melon plants are fairly picky about their growing conditions. They like a lot of sunshine and a good amount of water to create enough sugar for healthy fruit production. They also need to be free of pests, disease, weeds, and stress and have adequate nutrition to thrive.
Ideal companion plants for watermelon include tomatoes and marigolds. Cucumbers and nasturtiums work well, too.
Extreme variations in temperature affect the stages and development of melon growth. They grow ideally when the daytime temps are between 70 and 90°F. Water the melon plants an inch to two inches each week while they grow, bloom, and set fruit. Water the vines at the base with soaker hoses or a drip irrigation system.
To encourage healthy growth, mix four to six inches of organic matter or composted manure into the garden before planting and add a balanced organic fertilizer every four weeks.
Planting Melons from Seed
Planting melons from seed, like planting watermelon seeds, is not only inexpensive and simple, but it's a great way to encourage germination and get a head start on the growing season, especially if you live in a northern region. Here is how to start melon seeds indoors before the last frost.
Check your seed packet for sowing directions since seed depth depends on the melon type. When is the best time to plant melon seeds? A month before the last frost date, fill peat pots with potting soil and press three seeds down a quarter-inch deep into the dirt or according to the instructions.
After planting melon seeds, place the pots or tray in a warm area to germinate or set them on a heat mat set to 85°F for faster germination. Spray the dirt with water to moisten it, and do not let the seeds dry out. After germination, remove the weakest seedlings to have one strong plant per pot.
How to Grow Melons in a Garden
After the danger of frost is past, it's time to prepare the garden for planting, whether you decide to transplant seedlings you started indoors or sow seeds directly in the ground. Consult the cantaloupe planting guide on the packet if needed Here is how to plant melons from transplants and seeds in the garden bed.
Once the outdoor temperatures warm and the soil temperature is at least 65°F, harden off the seedlings by taking them outside a couple of hours each day for a week. Transplant them two feet apart with rows five feet apart in a prepared garden.
To sow seeds directly outside, form six-inch high raised beds in the dirt. Plant the seeds a half-inch deep and 20 inches apart. Sow two to three seeds per section and thin the seedlings after they emerge.
Water the seeds and seedlings right after planting and position a trellis near the plants to grow melons to grow off the ground. Spread a layer of black plastic mulch over the garden to hold in warmth and moisture and stop weeds from taking nutrients from the vines.
Caring for Melon Plants through the Season
As much as you'd love to let nature take care of your melons after planting them in the garden, your work is not complete. Melon plants need food and water as they mature to ensure they produce flowers and fruits.
Water the plants deeply and frequently and reduce watering as the fruits ripen. Too much water during the last two weeks of ripeness causes the fruits to split. Melon roots grow close to the soil surface, and aggressive weeding disturbs the root system.
Use a hand tool to perform frequent shallow cultivation to eliminate weeds before they become a problem and spread mulch over the garden bed.
Begin fertilizing four weeks after planting your melons and repeat every four weeks. Feed them a balanced fertilizer such as a mixture of blood meal and bone meal for optimal growth.
Pollination is necessary for melon fruit production, and it's easy to pollinate them by hand if your area is low on pollinators. First, carefully remove the male flowers from the vine and pluck away the petals, leaving the stamen intact.
Insert the stamen into the open female flowers and tap the stamen on the stigma to evenly coat it with pollen. Or, swirl a paintbrush around the male flower stamen to pick up pollen and then paint the female flower's stigma with the brush.
Common Problems When Growing Melons
Even with the best growing conditions, all plants suffer from ailments now and then, including melons. Learn about some common melon plant pests and diseases to watch through the season and ways to prevent them from destroying your garden.
Various insects attack melon plants, including aphids, striped cucumber beetles, squash bugs, and squash vine borers. Squash bugs and aphids feed on leaves and harm young vines, cucumber beetles eat the leaves, stems, and fruit and may carry bacterial wilt, and vine borers tunnel through vines causing them to wilt and die.
To prevent killing beneficial insects and pollinators, remove the pests by hand, install floating row covers, kill them with a soapy water solution, or use a pollinator-friendly insecticide.
Plant disease is another issue melon plants contend with, and bacterial wilt, powdery mildew, blossom end rot, fungal leaf spot, and fruit rot diseases are the most common.
The best way to stop these problems from destroying your melon garden is to reduce moisture on the leaves by providing the plants with good air circulation and using a soaker hose or drip irrigation instead of a sprinkler.
Keeping a tidy garden is also beneficial to stop the spread of fungal and bacterial disease since diseases survive on weeds and dead and damaged plants. If you discover infected plants, remove them immediately and discard them away from the garden.
When are Melons Ready to Harvest?
While there is something therapeutic about planting a garden and giving it care, we all look forward to harvest time when we get to reap the benefits of all our hard work. Here is how to tell when your melons are ready for picking and how to harvest them for the kitchen.
Melon Harvest
Harvesting depends on the type of melon you grow. Depending on the temperature, cantaloupe and muskmelon varieties need 35 to 45 days to mature after they flower.
As they reach maturity, the tendrils of the stem turn brown and dry, the skin netting of the rind becomes coarse and rough, and the fruit loses its shine, turning from green to yellow. They are ready for harvesting when the melons break from the vine easily by slightly twisting the vine.
Identifying ripe honeydew and watermelon is a little more challenging since these types do not slip easily from the vine. These melons are ripe for picking when the stem tendrils near the fruit are brown and dry, and the closest leaf to the melon is yellow.
If the fruit color is dull, the surface is rough, and the bottom of the melon lying on the soil changes from light green to yellowish, it's ready to harvest.
Ways to Store Melons after Harvesting
Food storage is often an issue, especially if you grow more than one melon plant. As much as we'd love fresh melons to last indefinitely, their storage life shortens after they ripen. Here are a few ways to store your garden melons short and long-term.
If the melons are not ripe yet, store them at room temperature for two days to ripen them or place them in a paper bag to speed up the process. To store ripe melons, place them whole in a perforated plastic bag and keep them in the fridge where the temperature is not below 50°F.
Lower temperatures brown the rind and cause fast deterioration. If you have leftover melons after cutting, keep the melon pieces in an airtight container or sealable bag and refrigerate them for up to three days.
Your freezer is an ideal place to keep melons for long-term storage. Use a melon baller or cut the melons into cubes, place them into an airtight container, and freeze them for a year.
Pickling Melons for Longer Storage
While growing melons is a great way to produce organic food at home, you're often left with more watermelons and cantaloupe than you know what to do with, and storage becomes a problem.
Pickling is a popular way to preserve food, and it's not only for cucumbers. Pickle your garden melons for refrigerator storage.
Sanitize the jars and lids by running them through the hottest wash cycle of your dishwasher. Cut the melons in half, remove the seeds, and carve out about six cups of melon balls. Place them in a bowl and reserve the melon juice for another recipe.
Place a saucepan over medium-high heat and pour the sugar, vinegar, water, salt, and red pepper flakes in the pot. Heat the mixture while stirring until the salt and sugar dissolve.
Pack the melon balls into the three Mason jars as tightly as possible without crushing them, and pour the hot brine liquid over the top to submerge the fruit while leaving a half-inch of headspace in the jars. Push a mint sprig into each jar with a spoon to submerge it and let the melons cool to room temperature.
Screw the lids on the jars and store them in the fridge for four days before serving. Unopened, the pickled melons last up to one month in the refrigerator.
Make a Unique Salad with Your Fresh Garden Melons
We're all familiar with fruit salads. However, this is not your typical fruit salad since it combines the sweet flavors of watermelon, cantaloupe, and honeydew with veggies and feta cheese, and it's finished with a lemon vinaigrette.
Prepare the lemon vinaigrette by whisking the olive oil, lemon juice, and honey in a bowl and adding salt and pepper to taste. On a platter, arrange the one-inch cubes of watermelon, honeydew, cantaloupe, radishes, and feta.
Scatter the black olives and raw onion rings over the top and drizzle with the vinaigrette dressing. Sprinkle it with sea salt, black pepper, and fresh mint and serve.
Why wait until your local grocery store has melons when you can grow your own at home? While these plants require space and the right amount of sunshine to thrive, they are easy to grow and a great addition to the garden.
We hope that learning how to grow melons at home keeps your garden and kitchen full of sweet and juicy fruits, and we'd love it if you'd share our melon growing guide with the melon-lovers in your life on Pinterest and Facebook.