When you see a mulberry tree while walking through a wooded area, it's most likely not a native red mulberry, but instead a white mulberry tree, or a perhaps hybrid of the two. What is a mulberry? These black fruits are delicious in wine or mulberry juice, with a leaf known to have medicinal and health benefits. It's no surprise many gardeners wonder how to grow mulberries in their garden.
Growing mulberries is a fun project with ties to some fascinating history. Before the American Revolution, the English imported white mulberry trees to North America to develop a food source for a silkworm industry in fledgling America's burgeoning textile industry.
The white mulberry tree population exploded because of its ease of germination and spread. The famous red mulberry tree, on the other hand, is native to North America but is much less often encountered.
The Ultimate Guide to Growing Mulberries
Mulberry trees of all kinds are charming landscape additions if they're correctly selected and tended. The red and white varieties of mulberries and the hybrids have a dark green leaf with serrated edges, and berries appearing very similar to blackberries.
How long do mulberries take to grow is a common question. Mulberry trees thrive when planted in the early spring and grow swiftly. They reach 10 to 12 feet in less than six years.
Mulberries are a simple tree to grow, but they aren't appropriate for all gardens. Choose from the various seedless mulberry variety available, such as Morus alba 'Chapparal,' a weeping mulberry variant, and M alba 'Kingan,' a drought-tolerant cultivar appropriate for drier climates.
It's vital to remember mulberry trees have many roots and develop quickly. Plant your tree away from significant structures such as your home's foundation or garage and features like utility, septic, or sewage lines to avoid the roots injuring your property's essential parts. However, growing mulberry trees next to cranberries benefits both plants.
Examine the tree's mature height and choose a location to keep it reasonably with little pruning to avoid stressing the tree and allow it to grow naturally for the best mulberry fruit production. It's easy and fun to grow mulberries.
How to Grow Mulberries – Planting
Growing mulberry trees begins with planting mulberry tree and when to plant mulberry trees is an important consideration. If you're going to plant a sapling, wait until after the last frost of the growing season. To identify the proper planting depth for your young tree, refer to the instructions on the plant's box.
Cuttings from established trees also work well to generate a new mulberry plant. According to the USDA's growing guide, prune mulberry trees with 8 to 12 inch long branches at its typical pruning time. Make sure each twig has at least three buds.
Bury the cuttings as soon as possible, preferably in late spring, by completely covering them in the soil at a depth of 3 to 4 inches. Water them daily or as needed to keep them moist for at least a month. The buds develop into shoots ready to plant permanently as a young tree.
Mulberry Species to Grow
The first step to grow mulberry tree is choosing which mulberry variety fruit tree you wish to have in your garden.
Mulberry Plant Care – Environment
A mulberry tree is classified as a male tree if it produces male flowers containing pollen to fertilize female blossoms, allowing them to bear fruit. Thankfully, caring for a female or male tree is the same when you grow mulberry trees of any type.
Mulberry trees are flexible and thrive in various soil types, including clay, loamy, and sandy soil, as long as the earth has adequate drainage. The trees flourish in a wide range of pH levels, from neutral to somewhat acidic.
Most mulberry trees are cold-hardy and may withstand temperatures down to -25°F during dormancy, depending on the species. However, they produce the most fruit when temperatures are between 68 and 86°F.
It's important to consider where to best plant a mulberry tree, as they can be messy during fruit production and harvest. Plan carefully so you can enjoy the "fruits of your labor" at the end of the growing season.
Watering is Vital in Growing Mulberries
After you've planted your mulberry tree, water it thoroughly and frequently to help it create a robust root system. Giving your mulberry plant around three gallons of water per week for the first year is advised.
Mulberry trees are drought resilient once planted, yet extended dry weather might cause a reduction in fruit production or early berry dropping before they're fully mature.
Watch for and get rid of aphids on mulberry trees with a strong stream of water from the hose. Keep an eye out for other mulberry bugs, as well, and treat them accordingly.
How to Grow Mulberries – Fertilizing
A mulberry bush or tree usually does well with little fertilization; however, a yearly application helps. When to fertilize mulberry trees is in late winter – feed your tree once to keep it healthy and produce ripe fruit. Manure tea helps your plant get the nutrients it needs to develop.
Mix well and pour manure tea on the soil in late winter.
How Long Do Mulberries Take to Grow for Harvest?
If you wonder how long do mulberries take to grow, the answer is a while. Some patience is required before you harvest mulberries. It takes three years before tasting the results of your labor and begin mulberry harvesting. Mulberry picking season runs from June until August.
Mulberry fruit is effortless to pick and falls off the tree with little provocation, so it can be one of the messiest trees if you're not prepared. The best way to harvest mulberries entails wrapping an old sheet or blanket you don't mind getting stained purple around the tree's base and gently moving the branches above. After you learn when to pick mulberries off your blanket, you'll get tons of fruits falling from your tree.
Mulberries don't keep well, so eat, cook, or preserve them as soon as possible. The stems and mulberry seeds are tough to remove, so the berries are eaten whole. Eat a ripe fruit raw but give it a quick rinse first.
Though they are often assumed to be berries, the mulberry fruit is not a berry but a collective fruit, according to the California Rare Fruit Growers, Inc. Despite this, mulberries work in any dish calling for berries.
Remember, mulberries are very juicy, making your meals a little watery. However, they do not typically react well to drying like other berries.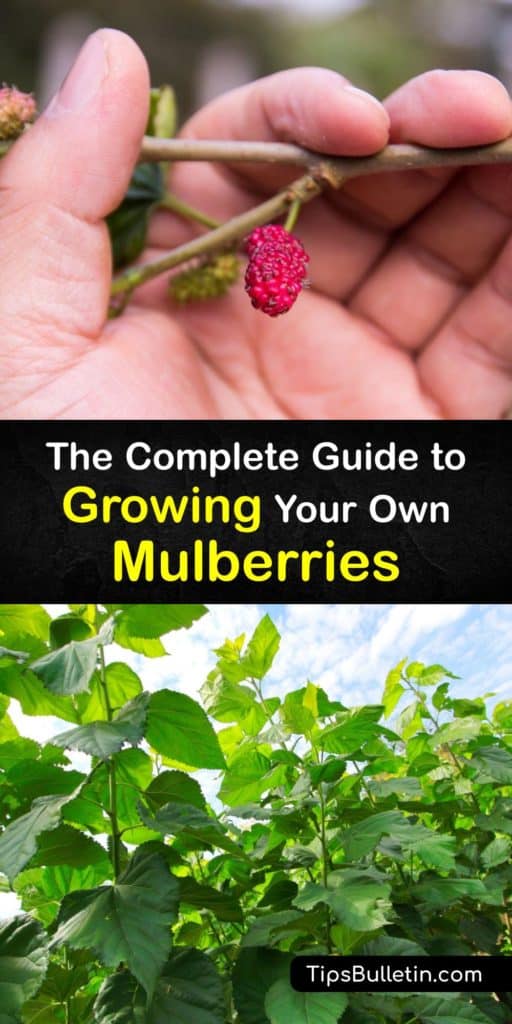 If you loved this article on how to grow mulberries, share these brilliant tips for growing mulberries with your family and friends on Pinterest and Facebook.