Mushrooms are a must-have in the kitchen. Fortunately, you don't need a mushroom farm to produce these tasty delights, as long as you provide them with the right growing conditions. We'll show you how to grow mushrooms of your own, explain the growing process, and how to prevent common problems.
What is it about mushrooms? Edible mushrooms have an appearance and texture ordinarily off-putting, yet we can't seem to get enough of them. They taste delicious on pizza, sauteed in butter, folded into an omelet, and stuffed with cheese.
There are different types of mushrooms, each one with a unique flavor, from portobello and button mushrooms to shiitake, lion's mane, and oyster mushrooms. Unfortunately, some of these delectables are not always available at the grocery store when you want them. However, many are easy to grow at home from scratch or mushroom growing kits.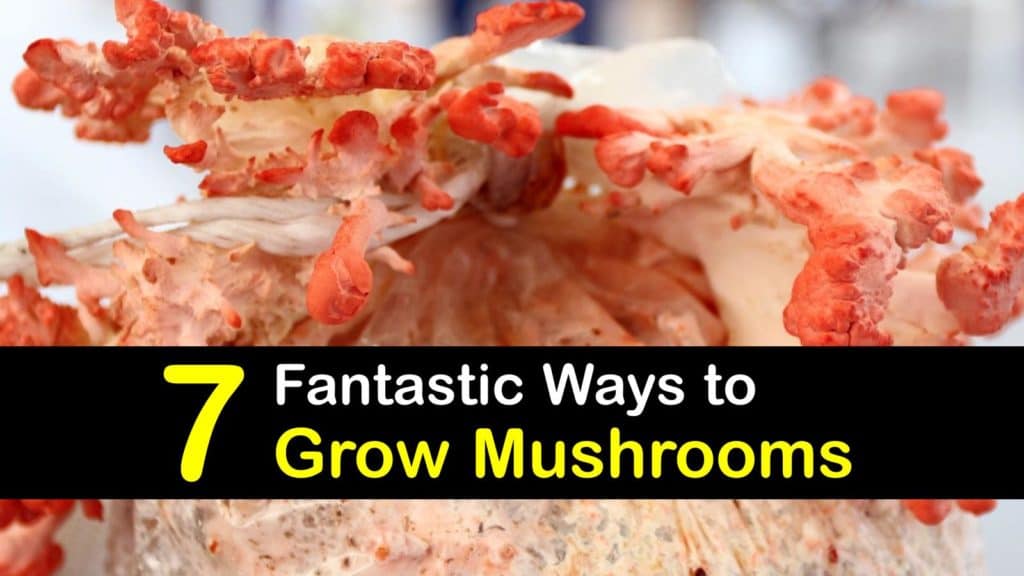 Simple Ways to Grow Your Own Mushrooms at Home
When growing veggies indoors, you probably didn't think about mushrooms. While not an actual vegetable, if you thought growing mushrooms was a task best left to professional mushroom growers, we're here to tell you that it's easier than you think.
Learn about mushroom cultivation and how to grow your own mushrooms using a few simple techniques.
Things to Know before Growing Mushrooms
So, you've decided to give growing mushrooms a try, but where and how do mushrooms grow, and what is the ideal environment for growing them? How long can you keep mushrooms after you pick them?
While planting peppers or tomatoes is pretty straightforward, there are a few things to know before planting and harvesting your own mushrooms, no matter what mushroom varieties you try.
Mushroom Growth
First of all, what exactly is a mushroom? Fungi produce a reproductive structure that is somewhat like the fruit of a plant. However, the seeds or spores they have are microscopic and form in the pores beneath the cap or the gills.
These mushroom spores spread on the breeze and germinate in a suitable substrate, creating a new mycelium network that produces mushrooms.
Unlike vegetables and fruits, mushrooms depend on sawdust, wood chips, grain, or straw, rather than soil, for nourishment.
While most plants desire sunshine, mushrooms require a dark environment that is both humid and cool to flourish. The basement or the inside of a cabinet beneath the kitchen sink are ideal locations for growing them in your home.
The Right Mushrooms for Growing and Regrowing
We've all heard that it's easy to regrow onions, potatoes, and other fruits and veggies, but would it surprise you to know that some types of mushrooms regrow as well?
Before you learn how to regrow mushrooms and become a cultivator, it's important to know which ones to plant.
Mushroom Growing
Many mushrooms are suitable for growing indoors, including button, portobello, and crimini.
However, one of the easiest mushrooms to grow indoors is the oyster mushroom (Pleurotus ostreatus) since they grow in a wide range of fruiting substrates from banana leaves and hardwood sawdust to coffee grounds. They are also a good candidate if you plan on regrowing your mushrooms.
How to Regrow Mushrooms from Ends
If you're wondering how to grow mushrooms from mushrooms, the answer is simple. Don't throw away your mushroom scraps while preparing your dinner. Instead, keep the stems and plant them. Here is how to regrow mushrooms from stems.
Prepare the bedding by placing the straw in a plastic container, getting it wet, and allowing it to sit in dampness for a couple of days. Pull it out of the container and spread half the straw in a layer in a cardboard box.
Separate the ends from the mushroom caps, cut them into quarter-inch pieces, and place them over the damp straw. Cover them with the rest of the bedding and set a plastic sheet with holes over the top.
Place the box in a dark, cool area such as the basement, between 65 and 75°F. Spray the bedding with water when it appears to be drying out, and expect the mycelium to begin fruiting in about two to four weeks.
How to Grow Mushrooms in Compost Trays
Compost trays are the best way to grow mushrooms indoors if you do not have a growing kit or substrate. All that's required is a planting tray, compost material, button mushroom spawn, and a couple of household items to grow your own mushrooms.
Pour mushroom compost material into the six-inch deep trays and sprinkle spawn over the top. Place a heating pad beneath the tray to raise the soil temperature to about 70°F for three weeks or until you spot thread-like growths.
After the mycelium emerges, reduce the temperature to about 60°F and cover the spawn with an inch of compost.
Ensure the trays are moist during the growing process by covering them with a damp cloth and spraying with water as needed. The button mushrooms are ready for harvest in three to four weeks. Find more ways to make mushroom compost to benefit your mushroom garden.
Growing Mushrooms in a Substrate
A substrate acts as an organic mushroom fertilizer, providing mushroom mycelium with material for energy and nutrition. The process of growing mushrooms by adding spawn to a substrate, or inoculation, is reasonably uncomplicated, and only a few items are necessary.
If you purchase a mushroom kit, the substrate comes prepared with an inoculated growing medium. That is, it already contains the mushroom spawn and is perfect for beginners. Follow the instructions for your kit and watch the mushrooms grow.
If you're a DIY type of person, try making your own substrate. Cut cardboard pieces into small, even squares and weigh them down in a bucket. Pour boiling water over them until submerged, cover the bucket with a lid, and let them sit for eight hours.
Squeeze the water out of the cardboard with clean hands and stack them with spawn between each layer inside a plastic bag. Tie the bag closed, poke holes in the sides, and place it in a dark area where the temperature is comfortably between 60 and 75°F.
Check the moisture every couple of days and mist them to keep them wet. Open the bag and lower the temperature to about 60°F once you notice white, feathery roots.
Common Problems with Mushroom Growing
It's common to encounter a few problems during the mushroom growing process. Growing mushrooms is a skill just like any other gardening venture, and sometimes mistakes happen. The best way to avoid them is to understand what causes them.
Bad Mushroom Growth
The moisture level is essential when growing mushrooms. Never let them sit in standing water, but make sure they are always slightly damp.
Sterilization is also key to healthy growth, so wash your hands and materials with antibacterial soap while preparing and planting the spawn or mushroom ends.
Mushrooms need good air exchange. Always prepare the substrate with proper ventilation by making holes in the plastic or covering.
When and How to Harvest Mushrooms
After you go through the trouble to inoculate the growing medium and set up the substrate or growing tray, there is a waiting period before you harvest mushrooms. So, when are they ready for the picking?
Harvesting Mushrooms
Most mushrooms fruit after two to four weeks and are ready for harvesting in about 19 days, depending on the type. Button mushrooms are ready in three to four weeks when the caps are open.
Use a sharp knife to remove them from the stem. If you grow oyster mushrooms in a cardboard substrate, wait until they are full size and then press down on the board while twisting the mushroom stalk off at the base.
The shelf life of fresh mushrooms is only a few days so have a plan in mind of what you plan to do with your fungi after picking them.
The ideal mushroom storage temperature is on the cool side, like in the refrigerator or even freezing.
You can store portobello mushrooms long-term after harvesting or purchasing in the freezer where they will be ready to use in your next savory recipe.
While not all of us have an expansive knowledge of fungi like mycologist Paul Stamets, it is possible to have just the right amount of know-how to create a small mushroom garden.
Growing your own mushrooms is not only easy and convenient but regrowing them gives you an endless supply of deliciousness, whether you decide to use a grow kit or a DIY mushroom grower.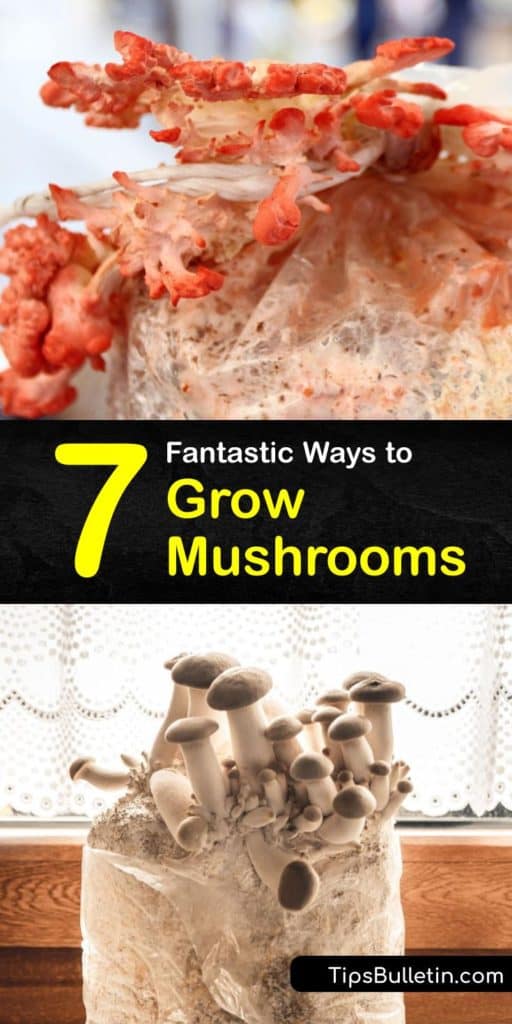 Now that you learned how to grow mushrooms at home, why not share our mushroom growing guide and tips with the mushroom-lovers in your life on Facebook and Pinterest?