As more people realize how much they enjoy okra, these plants are steadily edging their way into northern regions and adapting more to cool weather. There aren't many in-depth guides telling you how to grow okra from seed, and more and more gardeners are desperate for this pertinent information as they realize that time is of the essence during the growing season.
Even though okra is a warm-season vegetable, they can survive in all home gardens at some point throughout the year.
Growing okra from seeds might be more common in warm weather areas in USDA hardiness zones nine through 12, but there is a sweet spot during the growing season where northern gardeners get to embrace the deliciousness of okra plants.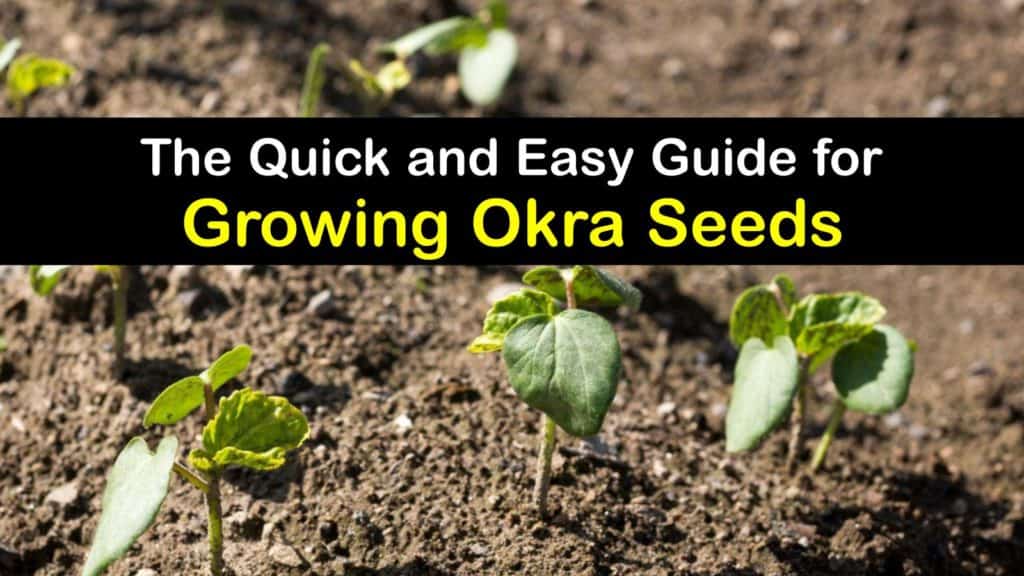 All about Okra
We have compiled all the information needed to learn how to plant okra seeds no matter where you live.
Abelmoschus esculentus, more commonly referred to as okra, is a part of the mallow family and is a close relative to hibiscus, cotton, and hollyhock.
Researchers believe that okra pods originate from ancient Ethiopia and Asia. Okra plants are grown as annual is all hardiness zones, although it fares better in warm weather.
Okra seed pods or lady fingers are popular in gumbo. They are immature, edible pods that thicken Southern and Indian stews, soups, and other dishes.
Okra is rich in protein, fiber, and vitamins A, C, and K. It isn't only nutritious, but it is a beautiful specimen to add to garden beds or borders. There are dozens of okra varieties, with some dwarf plants and others stretching over eight feet tall.
Planting okra seeds is an exciting process because you watch the yellow flowers that look similar to hibiscus turn into green and red-stemmed fruits. The seed pods, leaves, and stems are almost always covered in tiny hairs or bristles.
Most gardeners prefer to grow a spineless variety to keep these protrusions from causing an allergic reaction or irritating their skin. Growing okra from seed is a fun and tasty hobby. Use this guide to figure out how to grow okra from seed.
How to Grow Okra from Seed
Growing okra from seed starts with understanding what the plant needs to grow. As long as you fertilize okra and meet their sun and water requirements, the plants should thrive around your home.
How to Plant Okra Seeds
Learning how to plant okra seeds is one of the best parts of the process. This moment is where all the hard work comes in. After that, all you have to do is tend to the plants and watch them thrive in their new homes.
Planting okra from seed requires you to meet a few basic demands from these plants. Okra plants prefer full sun and average soil moisture but they might need some extra water during dry conditions. A neutral soil pH level between 6.5 and 7.5 is best.
Okra has a hard seed coat. Lightly scrape the outside with a nail file and soak it in tap water for 24 hours to speed up germination. Knowing when to plant okra seeds is also essential.
In warmer growing zones, the best way to plant okra is to sow seeds when the soil temperature is at least 60 degrees Fahrenheit. Keep spacing between seeds four to six inches apart with three feet between rows.
Make sure you plant okra after the last frost date in spring. Use pruning shears to trim the plants around mid-summer to encourage more growth. Plant another okra crop at this time for a late harvest.
In colder growing regions, wait a little longer for the soil to warm and sow seeds directly outdoors. If you prefer, start the seeds inside in some peat pots two months before the last frost date.
Transplant seedlings into your outdoor garden after the danger of frost is gone. Be gentle when handling the delicate root systems.
Apply a thick layer of mulch around the plants to inhibit weeds from sucking nutrients from the ground. Amend the okra's soil with organic matter if necessary.
Problems when Growing Okra from Seeds
One of the most challenging problems when learning how to plant okra seeds is preventing pests and diseases from killing your crops. The most significant issues are aphids, corn earworms, root knot nematode, flea beetles, fusarium wilt, and stink bugs.
The key to preventing these issues is practicing crop rotation and using floating row covers to stop an infestation.
Try buying a disease-resistant heirloom cultivar. Our favorites are Annie Oakley, Emerald, Cajun Delight, Clemson Spineless, and Burgundy okra.
Harvesting Okra
After spending ample time dedicated to learning how to grow okra from seed, the best part is when you finally get to snip your crop from the stems. Always wear gloves and long sleeves to harvest okra and protect yourself from the spines.
Harvest okra when it is three inches long, or they become stringy and woody. Pick okra pods every other day to keep on top of the task. After you've gathered a good yield, find tasty ways to store them or cook with the pods right away. How long does okra last in the fridge? Not long, so cook fast, store them in the freezer or pickle them.
Use a sharp and clean kitchen knife to cut the lemon in half and squeeze the juice into a bowl with the okra slices. Let the okra and lemon juice sit for up to ten minutes.
Heat a regular saucepan over medium heat and add the olive oil. Once warm, stir in the garlic, mustard powder, and half of the salt, pepper, and paprika. Add the onions and allow everything to cook for four minutes.
Stir in the okra slices and let them cook for another two minutes. Toss in the tomatoes and cover the pan. Turn the heat up to high and add the water, cayenne, bay leaf, and remaining salt, pepper, and paprika when the tomatoes release their juices.
Keep the pot covered and simmer everything for 20 minutes. Stir in the lemon juice from the other half and serve.
If you have a lot of extra okra, look for fun ways of preserving fresh okra by canning or even dehydrating.
You don't have to live in a southern state to grow okra in your garden. These tasty pods are becoming more common in cooking worldwide, and utilizing the hot summer months is the best way to have a full, healthy harvest ready by the end of the growing season.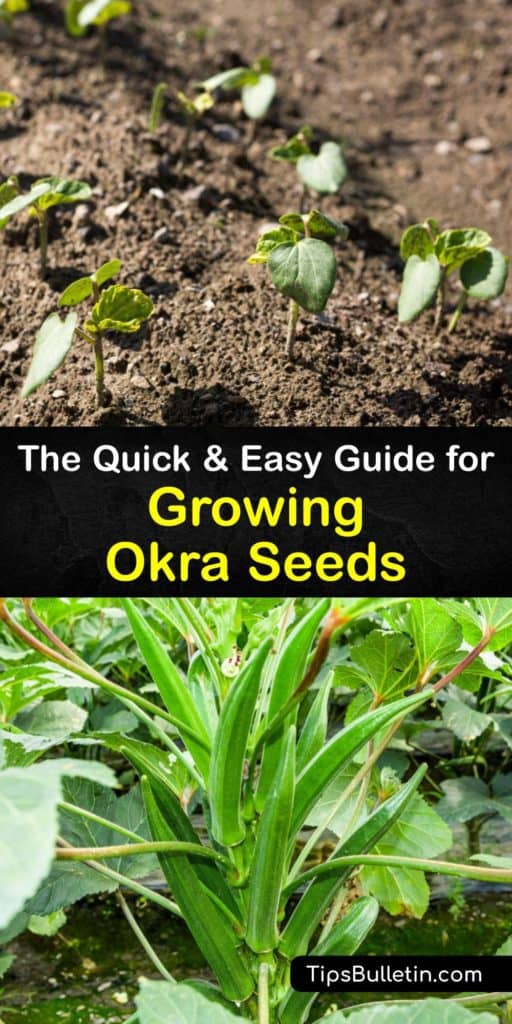 If learning how to grow okra from seed has encouraged you to do more southern cooking, share this guide for growing okra from seeds on Facebook and Pinterest.