Okra plants are a crop that loves the southern heat. Though most northern gardeners don't think these plants grow successfully in their vegetable gardens, there are ways to raise this crop to maturity regardless of where you live. Discovering how to grow okra in containers is the best way to tend to these delicate plants.
Growing okra in pots gives you more control over your garden because you can bring the plants indoors when the weather isn't cooperating. In addition, you'll be able to cook with this staple ingredient of southern cuisine and fill your bellies with warm gumbo and crunchy fried okra.
While container gardening is possible for most plants, adjusting to get used to this new strategy takes some time. By the end of it, you may even prefer growing okra in containers instead of traditional outdoor gardening.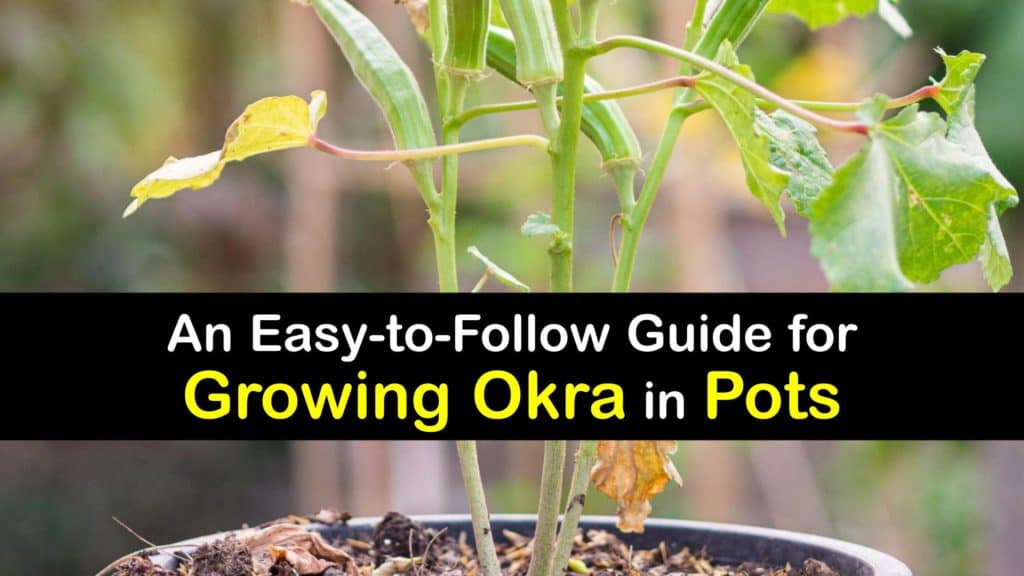 Tips for Growing Okra in Containers
Use this easy-to-follow and informative guide for the details that go into growing okra indoors.
Okra belongs to the mallow family and is called Abelmoschus esculentus. They are technically a fruit, yet almost everyone refers to them as veggies.
Okra produces long, edible fruiting pods and beautiful flowers. These plants are also close family members to hibiscus and cotton.
Choosing an okra variety to work with depends on what your needs are. Okra pods like the Clemson Spineless are popular, but dwarf varieties are ideal for learning how to grow okra at home.
Dwarf okra is much smaller and won't take up nearly as much room as traditional cultivars.
Picking out your okra seeds is only the first step of learning how to grow okra in containers. Read about growing okra in containers, and you'll have all the knowledge required for success.
Soil Needed for Growing Okra in Pots
You won't be successful growing okra in pots if you have low-quality soil. Okra thrives in soil rich with plenty of organic matter. The potting mix you choose should drain well and have a pH range between 6.0 and 7.0.
The size of the container is just as important as the potting soil. You might not need a giant pot, but larger pots often lead to more productive plants. Choose a good-sized container ranging from 11 to 14 inches across and 12 to 14 inches deep.
How to Grow Okra in Containers
Figuring out how to plant okra in pots isn't all that hard once you get past the first few steps. The way to plant okra from seed is easy. First, okra seeds must be softened by soaking them in room-temperature water for 24 hours. This soaking helps the seeds germinate.
It also means that the okra seedlings are more successful even after germination. If any of the seeds float to the top, they are no good and should be thrown out.
To start growing okra in a container, plant each seed about a half-inch to one inch deep in the soil. Put at least two seeds in each pot and then set them in an area with full sun. Keep the soil evenly moist.
Once the seedlings reach about two or three inches tall, identify the healthier one and cut the others down to soil level.
When to Start Seeds Indoors
The okra planting season makes seed germination tricky because the frost date changes every year. Try to start okra seeds indoors and under some grow lights about six or eight weeks before the last frost of spring.
When sowing seeds outdoors, place them in full sun and wait until the nighttime soil temperature is regularly above 60°F. Consider planting in succession every two weeks until you reach your preferred number of plants to care for.
Water Requirements for Okra
Okra plants do tolerate heat but don't do as well in droughts. Always keep the soil evenly moist around okra. The soil in containers dries out faster than it does in the ground.
Water your okra crops in the morning while still keeping an eye on them during the day. Leaf droop is typical in warmer climates, and more water might be required to prevent it. Mulch the top of the dirt to help the pot retain moisture.
Fertilizing Okra
One concept to grasp when learning how to grow okra in a pot is that plants growing in containers lose soil nutrients faster than those grown outdoors. Okra is also a heavy feeder. If they are not producing flowers, they lack nutrition.
Add some high nitrogen and phosphorus organic fertilizer to your containers to help your plants become healthier.
Aged manure is excellent if you have it, or you can create a homemade fertilizer for okra. Radishes also make lovely companion plants and help give nutrients to each other.
Take your dry chicken or fish bones and put them in the blender. Blend the bones until they are pulverized and broken into tiny pieces.
In a bowl, mix the bones with an equal amount of the coffee grounds. Sprinkle the fertilizer onto the top of the soil or mix some into the existing soil.
How to Harvest Okra
It's important to know when to pick okra so you get the tastiest pods. Okra seeds are typically ready for harvest when the pods reach two to four inches long. If you allow them to grow too long, they turn fibrous and tough to eat. The colors of ripe okra could be vibrant green, red, or burgundy, depending on the type.
Always harvest okra pods with long sleeves and gloves to protect you from the pokey hairs on the outside.
To preserve fresh okra, do not wash the veggies if you don't plan to eat them right away because it promotes mold growth. How long does okra last in the fridge? Keep harvested pods in a plastic bag in the crisper drawers for up to three days.
Okra Plant Pests and Diseases
Common fungi such as fusarium wilt and verticillium cause damping off, and the okra plants eventually wilt and die. It even spreads to other healthy plants, so it is crucial to take care of these issues with fungicides as soon as possible.
You might also have to use pesticides or neem oil. Insects love okra plants, and it isn't always easy to deter them. Common okra pests include aphids, nematodes, corn earworms, flea beetles, and stink bugs. Learn what to grow with okra, including marigolds, to deter bugs.
Growing okra in containers allows those who live in colder climates to grow these tender, tasty crops throughout the entire year.
Better yet, it teaches you how to raise other plants susceptible to the cold. After you try it, you might even prefer it over outdoor gardening.
If learning how to grow okra in containers has provided you with a fresh supply of this southern-cooking staple, share these easy steps for growing okra in pots on Facebook and Pinterest.