The flavor of onions can't be beat, and they range from mild and sweet to sharp and pungent. Growing your own onions is easier than you think, and a packet of seeds is not required. Learn how to grow onions from onions, whether they are onion bulbs or green onions, how to care for your plants, and ways to store them after harvesting.
There are many onion varieties, including sweet yellow onions for baking or sauteing in butter, chives for spicing up soups and potatoes, leeks that are perfect for adding to a hearty stew, and red onions that taste great raw on a sandwich or grilled hot dog.
Not only do onions make your favorite dishes taste good, but these alliums are low in calories and a decent source of vitamin C. The greatest thing about onions is they are one of the few veggies that regrow from scraps.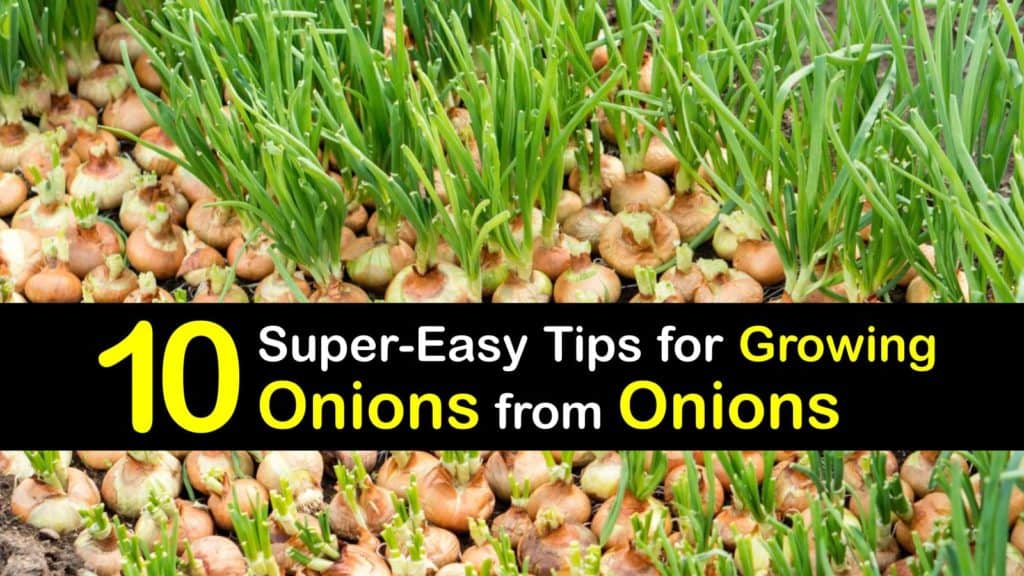 Growing Your Own Onions from Onions
Onions do not require a large area to grow, so they are the perfect vegetable for growing in a small garden or patio. What grows well with onions? Grow members of the Brassicas family near your onions to help repel pests.
While planting onion sets is popular, onions can also regrow from the scraps you toss in the garbage or compost pile, similar to growing cabbage from scraps. Here is how to grow your own onions from leftovers in a few simple steps.
How is it Possible to Plant Onions from Onions?
While growing red onions from seed is easy, regrowing them from scraps is just as simple.
Believe it or not, but onions are not the only veggies that you don't need seeds to grow, and it's a simple task to plant onions from onions. We explain how it's possible to regrow onions and other vegetables from the leftovers you throw in the trash.
Regrowing Food
Vegetables and fruits most commonly grow from seeds. However, some of them are capable of growing back from sections of fruit, root, or plant.
For example, veggies such as carrots, celery, and onions regrow from the top or bottom section you toss in the garbage. If you look at the onion bottom, you'll notice dried roots, and planting this section encourages new growth.
What to Know before Growing Onions from Onions
Which onions are the easiest to grow, and where is the best place to plant them? It's a good idea to know the differences between onion types before growing onions from onions. Here is some handy information about these alliums to help you get started.
Onions are naturally biennial, and it takes them two years to complete their life cycle if you plant them from seeds.
However, regrowing onions from onions produces a crop in the first season. The first thing to understand when growing onions is the difference between short-day and long-day onions.
Short day onion sets are sweeter and grow bulbs once the day length increases to ten or 12 hours. Long day varieties of onions are suitable for storing but need 14 to 16 hours of daylight to produce bulbs.
Onion plants prefer growing in well-drained soil that is fertile and slightly acidic. They require full sun and produce well in a garden, raised beds, and containers.
Gardeners commonly grow them from small onion sets sold at a garden center, but they conveniently regrow from scraps.
How to Grow Onions from Onions
There are a few steps to take to prepare an onion to plant from leftovers. Here is how to grow onions from onions at home by starting them indoors and transplanting them into a garden bed.
Starting onions indoors is easy. In the early spring, pick your onion of choice and use a sharp knife to slice off the section one inch from the bottom. Set the onion bottom in a dry area of the kitchen for 24-hours and use the remaining onion for cooking.
Pour a couple of inches of water into a jar or glass and set it aside. Insert four toothpicks around the perimeter near the cut area of the onion and balance it on the rim of the glass so that the onion root bottom sits in the water.
Place it in a sunny window for about four days or until you see small, white roots growing.
After the last frost, plant the onions in a prepared garden bed by placing them in the soil, covering them with one to two inches of dirt, and spacing them 12 to 15 inches apart.
Can You Regrow Onions in a Container?
Do onions grow well in a pot? A container is a perfect place to plant onions from onions, especially if you have limited outdoor space. However, onions are a deep-rooted plant and require a tall pot for optimal growth.
If you plan on planting onion bulbs in a container, it's safe to plant them any time of the year. Prepare the onion for planting by cutting the bottom inch off the onion.
Store the rest of the onion in the fridge, and set the onion bottom aside to dry for 24 hours. Slide four toothpicks around the upper portion of the onion so that they form an x-shape.
Fill a jar with water and balance the toothpicks on the rim so the bottom of the onion sits in the water. Set the glass in front of a sunny window for a few days until white roots emerge from the bottom.
To grow onions in pots indoors or out, fill a container with potting soil, position the onion bottom in the middle, and cover the top with an inch or two of dirt. Water the pot and set it in a sunny area of your home or out on the patio after the last frost.
How to Regrow Green Onions
Onion bulbs are not the only onion type that grows well from scraps. Green onions or bunching onions, scallions, and spring onions regrow so well that oftentimes they root without being seated correctly in the soil. You can also regrow red onions the same way. Here is how to regrow green onions in a garden or container.
To grow green onions at home, slice the bottom one to two inches off the green onions and prepare a garden bed or fill a pot with soil. Use a pencil to make one-inch holes in the dirt and set the green onion pieces, root-side down, in the soil.
Use your hands to push the dirt around them so the top part is above ground. Water them lightly to help the roots settle and watch them begin sprouting.
Caring for Onion Plants
It's vital to give your plants proper care while growing onions from onions to ensure that you get healthy bulbs or onion greens. Here is how to water, feed, and nurture your plants during the growing process.
Water your onion seedlings so they receive one inch of water each week, but stop watering them when the leaves start to fall over. Onions flourish in soil with high nitrogen content, so fertilizing is essential if your dirt is lacking.
Feed them with nitrogen fertilizer right after planting and then again every two to three weeks during the bulbing process. To prevent weed growth, consider spreading light mulch over the ground once the onions begin sprouting.
Common Diseases of Onion Plants
There are a variety of fungal and bacterial diseases that affect garden plants, including onions, so you should know how to tell when an onion is bad and what kind of problem you may have. While some are not curable and prevention is key, others are treatable. Here are some of the most common onion diseases and steps to take to fix the problem.
Onion white rot is a fungal disease that causes onion seedlings to turn yellow. The only effective measure is to remove the infected plants and discard them away from the garden.
Other fungal conditions include onion rust, smut, and downy mildew. Onions enjoy cool weather, and these are all the result of warm and humid conditions. Anti-fungal sprays are relatively effective at fixing these problems.
Ways to Keep Pests off Your Onion Plants
Unfortunately, there is no getting away from insects, especially in the garden. Discover some of the most common onion-loving pests and ways to keep them from destroying your onion plants.
Thrips are a common problem with onions. They are tiny and black and hide in the leaf folds and suck on the sap. Aphids are another issue to deal with in the garden.
These little green bugs hide on the underside of leaves, leaving behind a sticky substance while they eat the foliage. Finally, onion maggots, the larvae of the common fly, feed on the onion bulbs and destroy crops.
Signs of these pests include limp, yellow leaves, black spots, and plants that are struggling or failing to mature. To kill these insects, remove the visible bugs by hand and treat the plants and soil with a natural insecticide.
How to Harvest and Cure Onions
It's getting near the end of the growing season, and you're undoubtedly wondering when your onions are ready for harvesting. Here's how long it takes for green onions and onion bulbs to grow and when they are ready to harvest.
How long do onions take to grow? Onion bulbs take approximately 90 to 120 days to mature after planting them from cuttings and are usually ready for harvesting mid to late summer.
Green onions or scallions grow faster, and it's easy to harvest the greens several times throughout the growing season. Simply cut away the desired amount as the leaves grow. If you desire the whole plant, wait about 60 days before harvesting.
To harvest bulbs, wait until you notice the green tops turn yellow and fall over. Pull them out of the ground carefully and shake off the dirt.
Set them in a dry place with the tops on for seven to ten days to cure. If your onions have flower stalks, use them right away since these types are not suitable for storage.
Ways to Store Onions
After harvesting and curing your onion bulbs, it's time to store them indoors, but how do you keep them fresh the longest? Here is the best way to keep your onions short and long-term to prevent rotting.
Is a shallot an onion? Yes it's is one type of onion. Store whole onions and shallots in a cool, dark, and well-ventilated area of your home. Place them in a mesh bag or open container. A dry spot in the pantry, cellar, garage, or basement is suitable for onion storage.
If you have peeled or cut onions, the best place to keep them is in the fridge. Set peeled onions in an airtight container and keep them for up to two weeks. Place cut onions in plastic wrap or a plastic bag and keep them refrigerated for up to ten days.
Onion bulbs and greens are a couple of the easiest veggies to grow, and planting your own at home means that you know exactly how and where they are grown. They take up little space, and regrowing them from scraps saves money and prevents waste.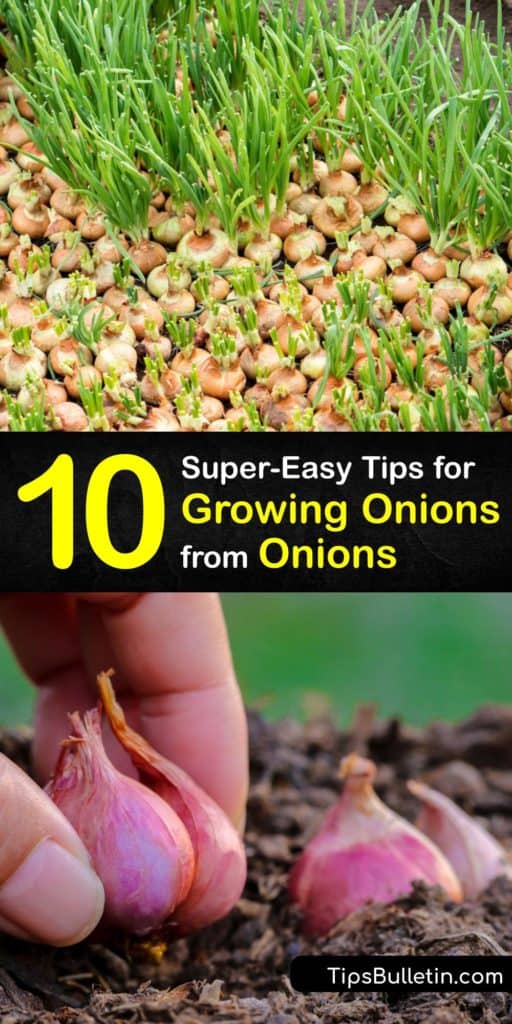 Knowing how to grow onions from onions is a great way to recycle your favorite onion bulbs and green onions without buying onion seeds, so why not share our onion regrowing guide with your social circle on Pinterest and Facebook?