It's easy to find out how to grow onions from scraps – there are two basic procedures for growing onions from onion bottoms right on your kitchen window. Anyone interested in saving money while having constant access to scallions might consider growing onions from scraps.
Green onions are delicious, and it's fun to chop them in various ways to fit the meal you're creating, as virtually the entire stem is edible. The long green leaves are softer in flavor than the white bulbous roots, which have a more robust onion flavor. The next time you use your store-bought green onions, don't throw away the kitchen scraps; these are essential for cultivating a nearly limitless supply of green onions at home.
Regrowing green onions from kitchen waste is an inexpensive and simple DIY project to try any time of the year. Regrowing green onions helps you save money, ensures you always have fresh onions, and gives your houseplants a fresh new look.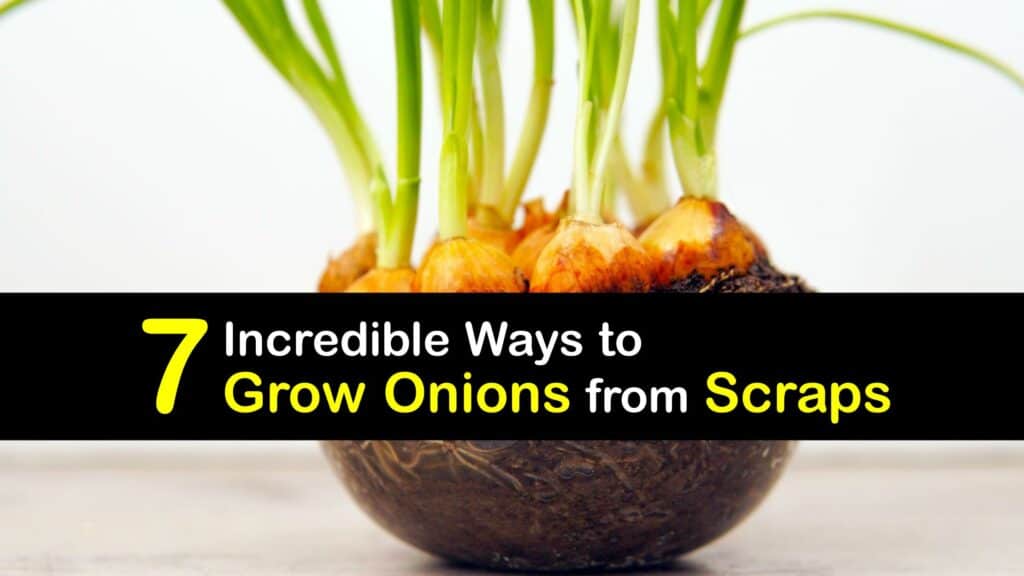 Easy Ideas for Growing Onions from Scraps
The allium family of plants includes green onions, leeks, onions, and garlic. Green onions are found in practically any grocery shop and are called shallots, scallions, bunching onions, or spring onions. The white bulb at the base grows long, slender green shoots, and both parts of the onion are edible.
Check out your available materials while deciding how to use onions to grow onions. For growing onions from onion bottoms hydroponically to produce green onions, you need a container, some sunlight, and tap water. Consider growing onions from scraps in soil on a sunny windowsill if you have access to some potting mix.
What are Green Onions?
Known as scallions, shallots, spring onions, and green onions around the world, these long thin onions are part of the allium family, like leeks and garlic. Recognizable by their green shoots and white bulb with a root end, these onions are flavorful.
Green onions add a spicy, peppery flavor to many dishes. Fortunately, you may grow your own new onion plant using the discarded portion of the roots for an endless supply.
Hydroponics and Onions
Compared to conventional soil gardening, hydroponic farming provides several benefits. A hydroponic plant grows 30 to 50 percent more quickly than a soil-grown plant produced under the same conditions because the extra oxygen promotes root development and speeds nutrient absorption.
The Greek words for labor and water are the origin of the phrase hydroponic. Hydroponics, sometimes referred to as soilless farming, has been used for thousands of years. Growing onions from leftovers with hydroponic regrowth is ideal since it involves minimal resources and yields a lot of yummy vegetables from food waste and water.
How to Grow Onions from Scraps using Water
Hydroponic gardening is an inexpensive and highly successful method for growing additional vegetables from onion leftovers. The method regrow green onions in water from scraps is a straightforward DIY; all you require is the white onion bulbs with the roots still attached, a glass of water, and a sunny window.
Use a sharp knife to chop away any excess, leaving about two inches of the bulb intact to ensure the white bulb of your onion stands on its own. Handle the white roots carefully – avoid damaging the root end while you wash the bulbs and roots under running water to remove extra dirt that could collect in the container.
Cover the bulbs with enough water to submerge them in your small pot, leaving the remaining portion above the surface.
Expect to notice your onion plant sprouting new leaves the next day if you set the cup in direct sunlight; a windowsill in full sun is best. Drain the old water and add fresh tap water every two to three days or as soon as it discolors.
Growing Onions from Onion Bottoms in Soil
Since the green onions receive more nutrients from potting soil during regrowth than water, they grow thicker and zingier, which is why some gardeners prefer the soil technique.
After a few days of hydroponic development, plant the sprouting shallots in potting soil to continue growing. Take your onions out of the pot of water and rinse them clean. Fill your new container halfway with potting soil, and make holes around 1 1/2 inches apart.
Gently push the green onion root into the ground and softly compress the dirt around the white bulb to prevent the onions from toppling. Most standard 2-quart containers fit 5-7 green onions. Be sure to keep your onion soil moist.
Homemade Scrap Onion Fertilizer
Green onions regrown in soil require fertilizer to ensure they continue to produce thick, green shoots. Those grown hydroponically typically do not benefit from it. Making organic onion fertilizer at home is a viable alternative to store-bought and chemical fertilizers.
Combine, give the mixture a good shake and let it settle for around 15 minutes. Directly apply this fertilizer to the soil surrounding your scallions.
Onion Harvesting and Storage
Regardless of how you produce them, green onions are easy to harvest. Snip off the top of the long green shoots with clean scissors, leaving a few inches of the stems above the surface of the soil or water. Use these versatile vegetables fresh or freeze for later.
Chop the leaves into appropriate sizes and freeze them in an airtight container to have scallions available anytime. Chopped green onions taste fantastic when used as a garnish or added to a crunchy salad.
Troubleshooting Issues When You Grow an Onion from Scraps
If your attempt to regrow onions from food scraps fails, many issues might be to blame. It's important not to become discouraged because, like most houseplants and veggies, many others will thrive where a single onion bottom fails.
If you decide to grow onions in soil, check that your potting mix is fungus-free and high-quality. Keep the soil around your onions moist but not wet, and ensure your onions receive 6-8 hours of sun on the windowsill each day. If you grow hydroponically, be sure the old onion bulbs aren't dried out or damaged, have enough water, and receive full sun.
Green onions are a delicious veggie, with a peppery, spicy, slightly sweet flavor similar to red onions. Given their capacity to regrow, it makes sense to save trips to the grocery store and allow the bulbs from your used onions to grow new roots and provide you with an endless supply.
Whether you want an exciting addition to your houseplants or eventually want to transfer your regrown onion to the garden bed, using hydroponics or soil makes producing your own green onion a breeze.
If you loved this article on how to grow onions from scraps, please share these brilliant tips for growing onions from onion bottoms with your friends and family on Pinterest and Facebook.