Onions are a staple in every family kitchen, and lots of people would love to grow them on their own. Unfortunately, this is not always ideal for those without a lot of space to make their own garden. Learning how to grow onions indoors is the solution for those interested in vegetable gardening but don't have the land to do so.
Growing onions indoors doesn't feel like the best option for many people. However, there are many benefits of growing veggies inside instead of in an outdoor space.
There are several different strategies to take when figuring out how to grow onions at home. Some of these methods only require a grocery store trip instead of spending hours at garden centers looking for different onion seeds, onion sets, or transplants.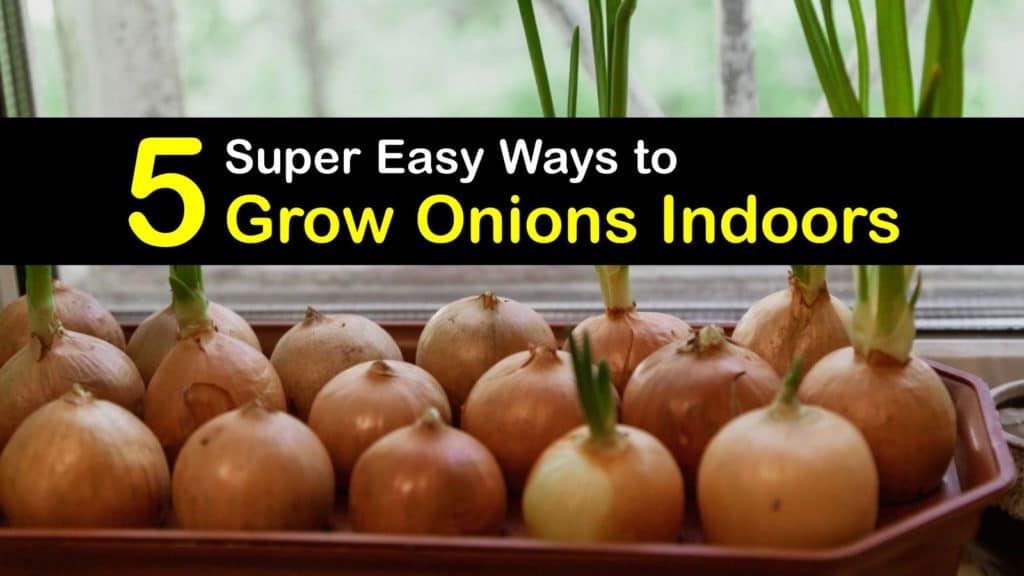 Types of Onions to Grow at Home
If you are tight on outdoor spacing but still want to utilize homegrown produce, try out these grow-onions-indoors techniques and discover how easy it is to container garden.
Of all the onion varieties, some work better than others when learning how to grow onions indoors, just like when growing tomatoes indoors. Onions come from the allium family and are related to garlic, shallots, leeks, scallions, and chives.
Within this family are different onion plants like red onions, white onions, spring onions, and more. All of these plants fit within different categories according to day length, which is one difference between red and white onion.
Once planted, onion seedlings turn into onion bulbs. These bulbs are formed based on the hours of daylight they receive. Short-day onions require about ten hours of daylight. Long-day onions require 14 to 15 daylight hours.
Day-neutral onions do the best because they form bulbs regardless of how many daylight hours they receive. Choosing the right onion type for your region is critical for success.
For areas in growing zones six or colder, long-day onions are ideal, while short-day onions are better for southern zones. Day-neutral onions grow anywhere but do the best in growing zones five and six.
How to Grow Onions Indoors
Because onions are so versatile in the kitchen, growers are dying to have a healthy stock of fresh onions at home. Seed starting, transplanting, and growing onion sets are all possible options.
Growing onions from seeds takes the longest, growing bulb sets is the trickiest, and transplanting is the quickest. Regardless, learning how to grow onions at home is relatively simple once you know how to give them the proper care.
How to Grow Onions at Home from Seeds
There are two different approaches to take when growing onions indoors. If you plan to move your containers outside during the growing season, the best way to grow green onions is to sow them inside during the early spring, eight to ten weeks before the last frost date.
If you live in more southern regions, you might consider planting seeds in the late summer or early fall to overwinter.
After you select which onion seeds to grow, it is time to sow them. Use small, four-inch-deep containers with drainage holes to start the seedlings in. When growing onions in containers, fill the pots with seed-starting potting soil, and then sprinkle the seeds evenly on top of it.
The way to plant onion seeds includes misting the seeds with water and covering them with more potting mix about one-eighth inch deep. Gently press on the soil to ensure the seeds contact the moist soil to encourage germination.
Cover the small containers with a container or humidity dome and set them in a warm area, like a sunny windowsill or under grow lights where they remain around 70°F.
Once the seeds start sprouting, remove the cover and keep them under grow lights. When the onion seedlings are about three inches tall, they are ready to move to a larger container to form bulbs.
Growing Onions from Existing Bulbs
If you already have the onion of your preference at home, whether onions or shallots, you have what you need to figure out how to grow onions at home. Even though onions have shallow roots, they still enjoy a deep container of at least six inches, whether you are planting green onion bulbs or red onions.
If you don't have enough space for them to spread, you'll be stuck with small onions and a lackluster harvest.
Fill the container with fresh potting soil, so there is still about one inch between the top of the soil and the container's top. Slice off the part of the onions where the roots are.
Start planting onion bulbs into your pot and bury them about two inches deep. Cover the onion bulbs with soil and water them so the soil is damp to the touch. This is also a great way to plant a sprouted onion that you may find in your onion bag from the store.
Set your container in an area that gets full sun, or at least six hours of direct sunlight every day. Use grow lights if necessary and add mulch to the top of the dirt to retain heat and moisture.
Raised beds are in high demand and are another way to garden with minimal space. If planting onions in raised beds, ensure the spacing between each plant is four to five inches and at least 12 inches between rows.
Growing Onions Indoors with Only Water
Green onions are a bunching plant, and growing them indoors is one of the easiest gardening methods of all veggies. When you bring home spring onions, fill a glass with about three inches of cool water.
To regrow onions, set the roots into the water and place the glass in a sunny windowsill. Cut the greens from the plant as often as desired and replace the water every few days. The green onions regrow and allow you to use them as long as you like.
Onion Pests
You may think that container gardening saves you from dealing with garden pests. Unfortunately, this isn't entirely true. Although container gardening allows you to keep a closer eye on your plants, they are still susceptible to damage.
Keep an eye out for onion maggots. These small bugs feed underground on the onion bulbs.
They introduce diseases to the plant and hatch their eggs, where the larvae feed on your harvest. Sticky traps and crop rotation are some of the easiest ways to combat these pests.
What to Do with a Large Onion Harvest
Sometimes we have more onions after a harvest than we know what to do with. How long do onions last, after all? If you have too many onions that you don't know how to preserve, turn them into a topping that works for various dishes like steaks, sandwiches, and pot pies.
Peel and cut your onions into slices. Heat some olive oil in a pan so that it covers the entire bottom and drop in a few tablespoons of butter. Add the sliced onions to the warm pan and season them with salt.
Stir the onions every few minutes for roughly 30 minutes until they are golden brown and soft. Store the fresh caramelized onions in an airtight container in the refrigerator for up to five days.
Freshly chopped onions are the base of so many different recipes. Chicken noodle soup, meatloaf, and stews all wouldn't taste the same without them, so it is vital that we are always using the freshest veggies possible.
Learning how to grow onions at home makes all of that possible with a bit of work.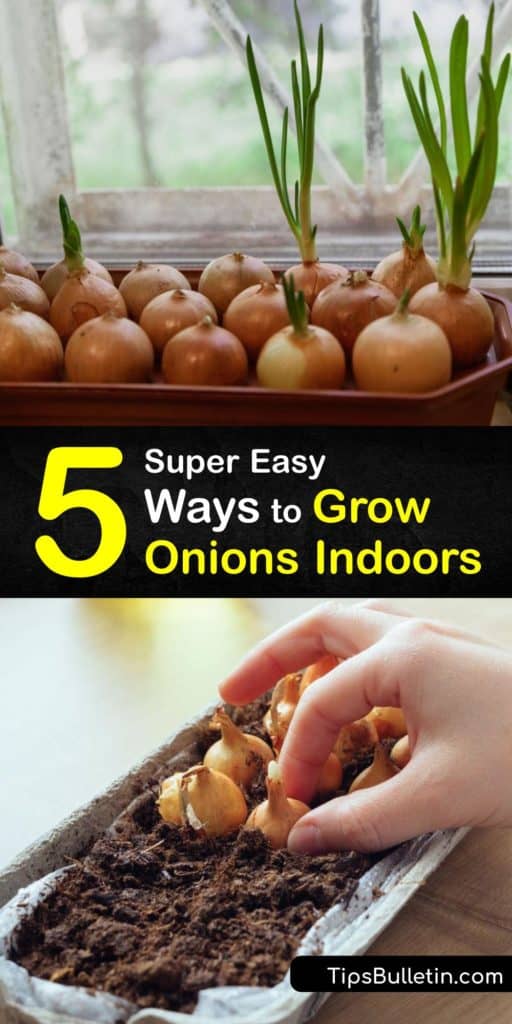 If finding out how to grow onions indoors has brought your kitchen back to life, share these tips for growing onions indoors on Facebook and Pinterest.