Parsnips are unassuming root vegetables that many forget about when preparing meals and growing veggies at home. However, this biennial veggie is closely related to carrots and parsley and an excellent addition to the garden. Learn how long these root crops take to grow, how to grow parsnips from seed, and when to harvest them at the end of the season.
If you've never had parsnips or grown them yourself, you're in for a treat. These root veggies are so versatile that they are tasty in everything from stews to soups, and they are the perfect potato substitute. Roast them with oil and herbs, turn them into mashed parsnips or parsnip rice and pair them with grilled steak.
Parsnips (Pastinaca sativa) are easy to find at your local grocery store or farmer's market from fall until spring. However, knowing how to grow parsnips at home is a great way to ensure your crops are fresh and organic.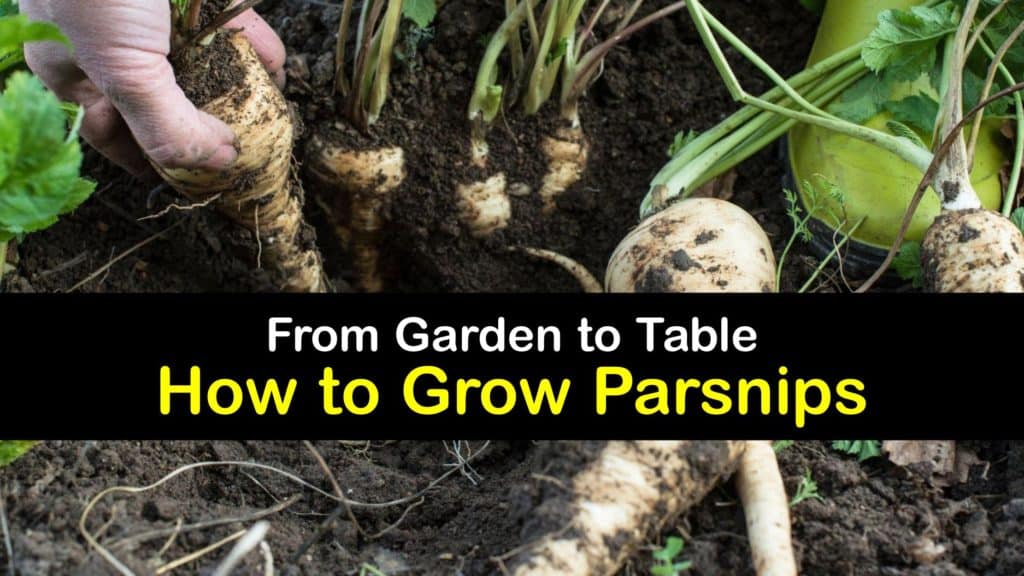 Growing, Harvesting, and Storing Parsnips
Like radishes, carrots, and potatoes, parsnips are relatively easy to grow at home, and it's even possible to plant them in raised beds or a container garden. While they are slow growers with a long growing season, they are well worth the wait since their sweet, nutty flavor is packed with vitamins B6 and C.
How long do parsnips take to grow, and do they grow anywhere? Parsnip roots grow in just about any region.
However, they do not tolerate freezing temperatures for extended periods and take a bit longer to mature than other garden vegetables.
There are many varieties of parsnips with varying germination rates, including Tender and True, Avonresister, Gladiator, Hollow Crown, and Cobham Improved.
Find out what your plants need while growing parsnips from seed, whichever type you choose, and how to harvest, store, and prepare them in a delicious recipe.
How Long do Parsnips Take to Grow?
When are parsnips ready to pluck from the ground? How long do parsnips take to grow?
Different vegetables have varying growing habits, and some take longer to mature before they are ready for harvesting. Discover the growth rate of these root veggies to ensure you plant parsnips at the right time of the year.
Parsnips (Pastinaca sativa)
Parsnips are biennials generally grown as annuals. They are a long-season crop that takes up to 100 days to mature.
They grow ideally when the temperatures are between 40 and 50°F, but they don't like to grow in freezing temperatures for long periods.
However, they do tolerate the occasional frost. In fact, harvesting after the first fall frost gives them a better flavor.
Growing Parsnips from Seed
Growing parsnips from seed directly in the garden is the best way to produce healthy plants. The best time to plant carrots and parsnips is when the ground is workable and soil temperature is above 50°F.
Here is how to grow parsnips from seed with the proper depth and spacing.
In early spring when the ground is workable, sow the seeds in loose soil free of rocks, like when you plant celery seeds. Plant them in rich, loamy dirt and avoid compacted or clay soil that causes the roots to grow thin and misshapen. Parsnip grows well with cucumbers as a companion.
Always use a fresh seed since parsnip seeds do not store well and lose viability, and sow the seeds a half-inch deep and one inch apart with rows spaced 18 to 24 inches apart.
Water the ground right after planting, and do not let the soil dry out to encourage germination. Sprouting begins in two to three weeks if the soil temperature is adequate.
To speed up germination, consider giving the seeds a head start by wrapping them in wet paper towels indoors and transplanting them into the garden once they develop tiny white roots.
How to Grow Parsnips in the Garden
Once you know how to plant parsnips by starting them from new seeds, it's time to give your root veggies some TLC as they grow. Explore these plant care tips to ensure your garden stays healthy and you get to enjoy the best harvest.
Parsnips like about an inch of water each week, and fertilizer is unnecessary for these veggies as long as you start with good dirt.
When the parsnip roots begin forming, hill the soil around the plant's base to stop the shoulders from turning green.
Wear gloves and a long-sleeved shirt when weeding to prevent skin irritation from the leaf sap, and try not to disturb the plant's roots.
Keep an eye out for the carrot rust fly and their larvae or maggots and other common parsnip garden pests and install row covers or use insecticidal soap if necessary.
Parsnip canker is also something to watch for since this disease ruins an entire crop. The best way to prevent many of these issues is to plant resistant cultivars and perform crop rotation.
Like when you grow radishes from a radish, you can also grow parsnips the same way. It's easy to stick your radish or parsnip top in some water and for it to develop roots.
Harvesting and Storing Parsnips
There are three main steps in the vegetable garden process, sowing seeds, plant care, and harvesting, and you finally made it to the last stage. Learn when and how to harvest parsnips and ways to store them short and long term.
Three to four months after planting parsnips, they are ready to begin harvesting. Leave the roots in the ground until after a frost or two, but before a hard frost, and pick them when the roots are about one inch in diameter.
Use a fork to loosen the ground around the plants and gently lift the parsnips out of the garden.
If you decide to leave them in the ground until the second year, cover the plants with a layer of straw or mulch and harvest them as soon as the ground thaws in the spring.
Before storing them, shake off the excess dirt and trim the foliage down to two or three inches.
If you plan on eating them within a couple of weeks, wrap the parsnips in a paper towel, set them in a plastic bag, and store them in the crisper drawer of your refrigerator.
For longer storage, keep them in a cool, dark area such as the root cellar, basement, or garage, where the temperature is between 32 and 40°F with 90 percent humidity.
With optimal conditions, parsnips last four to six months. Check on the veggies often and remove any that show signs of deterioration.
Using Fresh Garden Parsnips as a Potato Substitute
Are parsnips better for you than potatoes? Parsnips are a healthy alternative to potatoes, and their neutral taste makes them a perfect substitute for spuds.
One of our favorite recipes is mashed parsnips or parsnip puree. This dish is creamy, rich, and flavorful and works well as a side dish to any meat.
Peel and chop the parsnips into one-inch chunks and break up the cauliflower into small pieces. Pour the veggies into a large pot of salted, boiling water and cook them for ten to twelve minutes until fork tender.
Drain the cooked vegetables and pour them into a blender. Add the olive oil, roasted garlic, lemon juice, salt, and a pinch of pepper and blend until smooth. Scoop the mashed parsnips into a serving bowl, top with rosemary, and serve hot.
There are so many popular vegetables to grow in a garden, and parsnips are one of the most underrated. However, their mild, neutral flavor, versatility, health benefits, and storability make them an ideal candidate for growing at home.
We hope that discovering how to grow parsnips in your home garden keeps your root cellar and kitchen stocked with healthy veggies, and we'd love it if you'd share our parsnip growing guide with the vegetable-lovers in your life on Pinterest and Facebook.