Peanuts are a well-loved snack food, but have you ever thought about growing them in your home garden? Read on to learn the best tips and tricks for how to grow peanuts and keep them flourishing throughout the growing season.
As it turns out, peanuts aren't actually nuts but legume seeds that develop underground, which is why they are sometimes called a groundnut.
Peanut plants have a long growing season and require 100-150 frost-free days to develop. Climates with hot summers and mild fall weather are best suited for growing peanuts.
However, some types of peanuts mature more quickly and can grow in the northern US and southern Canada.
Whether you enjoy roasted or raw peanuts, prefer crunchy or smooth peanut butter, or like them covered in chocolate, planting your own peanuts is a fun and rewarding garden endeavor. Learn that growing peanuts isn't as complicated as you may have initially thought.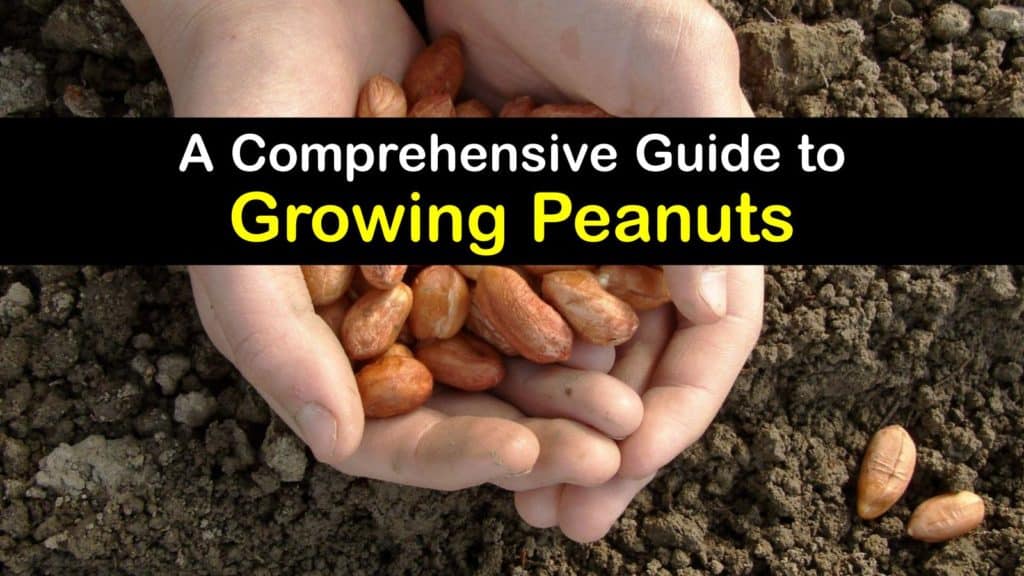 How do Peanuts Grow?
Have you ever wondered, "How do peanuts grow?" They're unusual plants because the flowers bloom above-ground, but the seeds develop beneath the soil.
The yellow flowers are self-pollinating, and the petals fall away after fertilization to reveal a small ovary. The stalks, called peduncles or pegs, elongate and grow into the earth, where the ovary develops into a seed pod.
On average, each plant produces approximately 25-50 pods. For reference, it takes around 540 peanuts to make 12 ounces of peanut butter.
Peanut plants, or Arachis hypogaea by their botanical name, are in the legume family along with beans and peas. Where do peanuts come from? These legumes are most likely native to South America.
Spanish explorers valued peanuts for their versatility and spread them throughout the New World and Europe. Peanuts were first introduced to the US in the 1700s. Today, over half of US-grown peanuts come from Georgia.
There are four principal types of peanuts: runner, Spanish, Valencia, and Virginia. Runner peanuts are most popular with commercial growers thanks to their uniform shape and size and consistently high yields.
Spanish peanuts have smaller kernels with bright red skins and frequently get used for roasting, shelling, and making candied nuts. They also tend to have a higher oil content than other types.
Valencia peanuts have longer shells and usually contain at least three kernels. They're the sweetest-tasting variety and are excellent for making homemade peanut butter.
Virginia peanuts produce the largest kernels. They are sometimes called "ballpark" or "jumbo" peanuts because they're a popular shelling and snacking variety.
Here are a few of the top peanut cultivars to try growing in your garden.
How to Grow Peanuts from Seed
When considering how to grow peanuts from seed, you need fresh, raw peanut seeds that are still in the shell. Be sure to purchase certified disease-free seeds from a reliable source to avoid inadvertently introducing harmful pathogens to your garden.
Because these legumes have such a long growing season, some gardeners choose to get a head start by planting peanut seeds indoors five to eight weeks before the average last frost date in spring.
When growing peanuts indoors, use a container that's at least four inches deep and eight inches wide with drain holes at the bottom, or grow peanut seedlings in peat pots to avoid disturbing the sensitive roots when transplanting.
Fill the container with nutrient-rich potting soil and sow seeds one inch deep. Spacing between each seed should be approximately two inches.
Keep the soil consistently warm and moist while the seeds are germinating. Germination usually takes between five and ten days. The optimal soil temperature for growing peanuts from seed is 70-80℉. For the best results, use a heat mat and grow lights to keep your peanut seedlings healthy.
Growing Peanuts in Your Home Garden
If you live in a warm climate, direct sow seeds anytime the soil is consistently warmer than 65℉. Otherwise, transplant peanut seedlings after the last danger of frost passes. Make sure the spacing between each plant is at least eight inches.
Plant peanuts in a location that gets full sun or a minimum of six hours of direct sunlight during the day. Peanuts grow best in well-draining, sandy soil rich in organic matter.
Peanuts prefer slightly acidic soils with a pH level between 6.0 and 6.5. Loosen the soil around your peanut plants so the peduncles can easily enter the ground.
After transplanting, make sure to keep your peanut plants well-watered. Until they begin flowering, give the plants about two inches of water per week.
However, when the peduncles begin forming, reduce to one inch of water per week and let the top inch or two of soil completely dry out between waterings. In oversaturated soil, peanut plants often form empty or "blind" pods.
Once your peanut plants are about a foot tall and the peduncles are growing underground, begin hilling around the base of the plant like you do for potatoes.
Add several inches of garden soil and compost, then mulch with organic matter like grass clippings, leaves, and pine needles.
How Long do Peanuts Take to Grow?
Depending on the variety, peanuts require 100-150 frost-free days from when you sow seeds to reach maturity. If you live in a planting zone that has a shorter growing season, select fast-growing peanut cultivars.
In many climates throughout the US, peanuts are grown as warm-season annuals. However, in regions with mild winters that don't typically get hard frosts, the rhizomes may survive the winter and regrow once the weather warms in the spring. Peanut plants are tender perennials in USDA hardiness zones 8b-11.
Choosing the Right Fertilizer
In general, peanut plants are heavy feeders and require regular applications of fertilizer throughout the growing season.
There are three crucial macronutrients found in plant fertilizer: nitrogen (N), phosphorus (P), and potassium (K). Nitrogen stimulates green leaves, phosphorus encourages strong root systems, and potassium advances fruiting and flowering processes.
Like other members of the legume family, peanut plants produce their own nitrogen through a beneficial relationship with soil bacteria. It's best to use a fertilizer blend that's higher in phosphorus and potassium.
When transplanting seedlings, add one tablespoon of organic fertilizer to the bottom of each planting hole. Feed your plants every four to six weeks according to the instructions listed on the product package.
Calcium is an essential micronutrient for flowering crops. It's responsible for supporting cell wall structure, activating specific enzymes, and coordinating cellular activities.
Calcium deficiency results in flowers dropping off the plant prematurely, empty or rotted peanut pods, and low crop yields. Add bone meal, garden lime, or gypsum to your garden soil before transplanting peanut seedlings to increase calcium levels.
How to Grow Peanuts in Containers
There are several advantages of growing peanuts in containers rather than in a garden plot or raised beds.
Container gardening allows you to adapt to changing conditions throughout the growing season and move your plants accordingly. Also, container-grown plants are at less risk for pest and disease issues.
To allow for hilling your peanut plants, choose a pot that's at least 12 inches deep with drainage holes at the bottom. Allow at least eight to ten inches of width per plant.
Fill the container three-quarters full with a well-draining, nutrient-rich potting mix. It's helpful to add organic fertilizer or compost to the potting soil before transplanting your peanuts.
Place your peanut pot in a location that gets full sun and protection from the elements. It's beneficial to choose a spot close to a wall of your house, so the plants benefit from the radiant heat.
Container-grown plants typically use more water and fertilizer than in-ground plantings. Make sure the soil stays consistently moist but never soggy.
The root systems cannot absorb enough nutrients and oxygen in oversaturated soil. Apply slow-release, organic fertilizer every three to four weeks, or mix liquid fertilizer with water once per week.
Harvesting and Storing Homegrown Peanuts
Peanuts are ready for harvesting in late summer or early fall before the first frost. The most obvious sign that they're ready to dig up is when the plant starts to turn yellow.
However, it is always helpful to look at a few pods before uprooting the entire plant. Mature peanut pods have a veined surface with dark-colored interiors and seed coats.
Make sure to harvest your peanuts when the soil is dry. Use a spade or gardening fork to carefully loosen the dirt around the base of the plant. Gently grasp the stems near the soil level and pull the seed pods out of the ground. Lightly shake or brush them to remove excess soil.
Cure fresh peanuts after harvesting. Leave the stems intact and hang the plants for about two weeks in a warm, dry location with good air circulation.
Brush off the remaining soil and remove the pods from their stems. Spread the peanut pods out on a drying tray or hang them in mesh bags for adequate airflow and continue curing them for another week or two.
Fully cured peanuts are excellent for enjoying raw or oven-roasted. Use them in your favorite recipes, or try making homemade peanut butter with this quick and easy recipe.
If desired, roast the peanuts for ten minutes at 350℉ before blending to give your peanut butter a richer, fuller flavor and help loosen the oil for easier mixing.
Transfer the peanuts to your food processor or blender. Pulse them a few times until roughly chopped. To make chunky peanut butter, remove a half-cup of peanuts at this point and set them aside.
Purée your peanuts continuously for one minute to have a dry, gritty appearance similar to couscous. Scrape down the sides, then purée for another minute. Repeat until you have a smooth, buttery consistency.
Add the oil, sweetener, or any other extras you'd like and process your peanut butter for one or two more minutes until it reaches the desired texture.
If you set aside chopped peanuts for making chunky peanut butter, incorporate them now and pulse the mixture a few times to blend.
Transfer your homemade peanut butter to a jar or tub with an airtight lid and keep it sealed in your refrigerator for up to three weeks.
This recipe makes approximately one and a half cups of peanut butter. Feel free to adjust the listed measurements to your desired quantity.
Solutions for Pest and Disease Problems
Although peanuts are generally simple to grow, it's critical to closely monitor plants for any signs of pest and disease issues. Healthy plants are much less susceptible to attacks from insects and pathogens, so provide them with sufficient amounts of light, nutrients, and water.
Several of the most commonplace insects that feed on peanut plants include aphids, armyworms, and caterpillars. Protect tender young seedlings with floating row covers to keep insects from laying eggs on the leaves.
At the first signs of an insect infestation, spray all parts of the plant with an organic insecticide treatment like neem oil or insecticidal soap.
Peanut plants sometimes suffer from fungal diseases like blight, leaf spot, powdery mildew, and rust. These fungi thrive in warm, damp conditions and often spread through water droplets.
Ensure that your plants have adequate airflow and employ drip irrigation to keep water droplets off the leaves. Treat affected plants with an organic copper or sulfur fungicide.
Companion Planting with Peanuts
Companion planting is an integrated garden design strategy that utilizes mutually beneficial interactions between compatible plants.
Certain plants work to attract useful pollinators and predatory insects, repel unwanted garden pests, and improve the flavor and overall growth of nearby plants. However, some plants are incompatible and should be cultivated in separate locations.
Plant aromatic herbs and flowers to attract predatory insects that help keep pest populations under control and keep parasitic wasps away. Cilantro, chamomile, cosmos, dill, parsley, marigolds, and yarrow attract predatory insects like hoverflies, lacewings, and ladybugs.
Fast-growing leafy greens like cabbage, lettuce, and spinach benefit from nitrogen fixing legumes like beans, peas, and peanuts. These cool-season crops will have finished production by the time the peanut peduncles start growing into the soil.
Avoid planting members of the Allium family like chives, garlic, and onions near legumes, as these two plant groups reportedly stunt one another's growth.
Plant tall crops like corn and sunflowers in an area where they won't block light for shorter plants like peanuts that grow in full sun. If you've never tried growing your own peanuts before, you're in for a real treat.
These unique plants are fascinating to observe as they develop, and your efforts are rewarded with a bumper crop of delicious and nutritious groundnuts from late summer to early fall. All you need is a bit of patience and plenty of water and sunshine.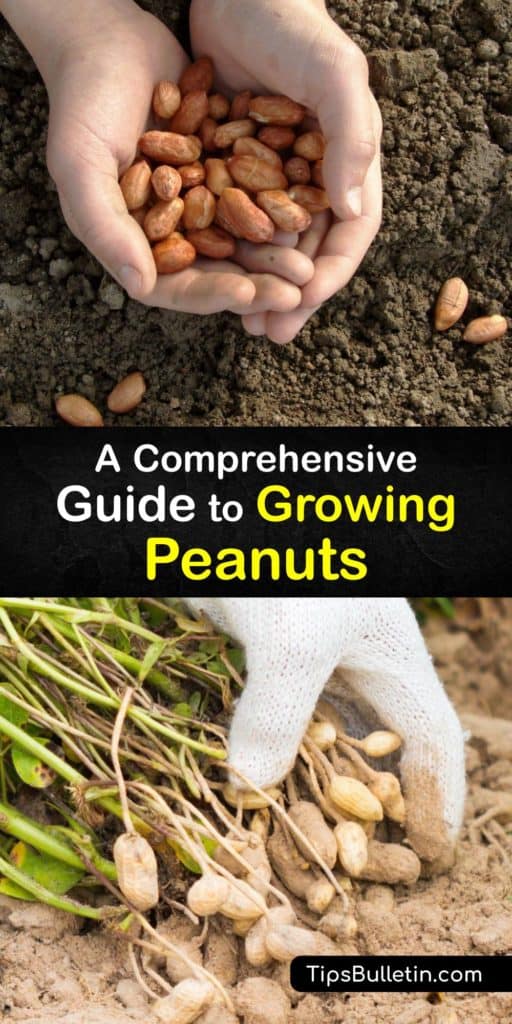 If you found this planting guide helpful, please share this article about how to grow peanuts with your fellow gardening enthusiasts on Facebook and Pinterest who might be wondering, "How do peanuts grow?"