Peas are an excellent plant for a container garden, making it unsurprising many growers ask how to grow peas in a container. Growing peas in a container is a perfect way to take advantage of container gardening and enjoy fresh veggies with minimal effort.
They are quick growers and don't require much attention, but they reward you with a perfect crop for a small amount of labor. When it comes to growing peas, adequate sunlight and wet soil are essential.
Planting peas early in the growing season is the best option for a large yield because peas appreciate chilly weather. Pea plants stop producing once the temperature warms. Once warm temperatures arrive, it's time to harvest pea pods and start growing another heat-loving veggie in the same pot.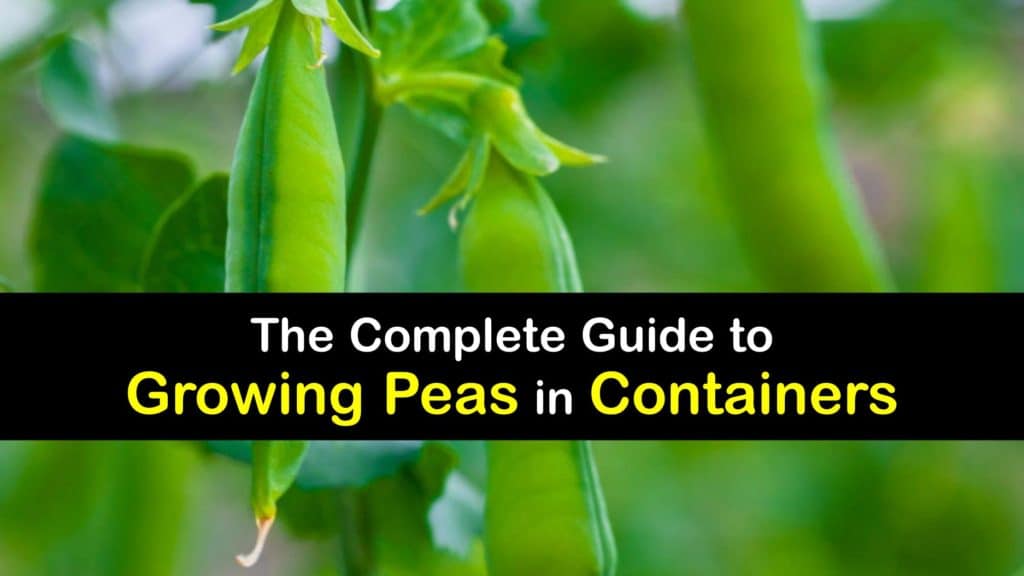 Everything about Growing Peas in Containers
Peas take 60 to 70 days to mature from seed to maturity. If your growing season is long enough, you might be able to cultivate two harvests.
Plant an early crop to be ready for a late spring harvest, switch to another fast-growing vegetable during the summer heat, and plant pea seed in the late summer for a second fall harvest of delicious green pea pods. It's easy to understand how to grow peas in containers and get started on a container garden of your own.
Peas are a tasty and healthy legume that is simple to grow. Many gardeners wonder how to grow peas in a container. Peas to shell and peas with safe-to-eat pods, such as sugar snap or snow peas, are available.
Every pea variety is excellent, and it only takes a little extra care to ensure a healthy harvest during planting and growing. Planting peas in your container garden is worth it because of the delicious taste of garden-grown peas.
Peas only grow in the cooler months and don't last long after harvesting, so enjoy them while you can. Growers plant peas in a container and harvest delicious veggies. These healthy legumes are packed with sweet pea flavor and thrive in containers, leaving no worries about garden space.
With the popularity of container gardening on the rise, it's no surprise many growers are asking how to grow peas in a container. Growing peas in containers is straightforward and a fun project for growers of all levels.
Peas take up a small amount of space, particularly when trellised and encouraged to climb vertically, yet they produce a large crop. Learn how to grow peas in containers to cultivate your bumper crop of peas.
Varieties for Growing Peas in Containers
Before planting peas in containers, the first step is selecting the best pea variety.
Green peas, known as garden peas, English peas, or green peas, do not come in a pod. Green peas are divided into two types: small-seeded peas, known as petit pois, eaten fresh or used for frozen peas, and large-seeded peas, used for dry peas or soup peas.
Sugar snap peas, known as snap peas, are sweet, tender, and taste great with or without their edible pod. Snow peas, called Chinese peas, Asian peas, or sugar peas, are eaten with their pods intact. Dwarf peas reach a smaller mature height than other cultivars, ideal for smaller container gardens.
Choosing the most appropriate variety for your garden allows you to harvest pea pods, learn about shelling peas, and access fresh peas from your homegrown container garden.
How to Grow Peas in a Container – Choosing Your Pot
Growing peas in containers begins with selecting an appropriate vessel to house your pea plant. Whether you're growing sweet peas or garden peas, your container must meet some basic requirements for planting peas. Starting peas indoors is possible as long as you are careful when transplanting, as the plants don't like having their roots disturbed.
Measure and cut plastic screening big enough to lay over the draining holes in the bottom of your selected container. Cover the drainage holes with porous landscape fabric or a coffee filter if you don't have a screen.
For a larger container, fill the bottom third with empty, clean drink bottles, old containers, or anything to take up space without obstructing water flow. Using a filler helps save money on potting soil while also making the container lighter if you need to move your peas indoors or to another spot in the garden.
Before adding soil, separate the dirt from the filler by adding porous landscape fabric or screening on top of the filling; this makes cleanup much simpler at the end of the growing season.
How to Grow Peas in Containers – Planting
Fill the container halfway with potting mix, leaving at least 3 inches of space below the container rim. Add a general all-purpose fertilizer to your potting soil if you don't already have one.
Keep in mind peas only require a limited amount of fertilizer; if you apply too much, the nitrogen (a frequent component of most fertilizers) impairs output, resulting in an enormous pea pod with few or no peas within. Level the soil in your container once filled to be somewhat flat but not compressed.
Though it isn't required, a legume inoculant on your pea seeds results in a higher pea harvest and healthier plants. Soak the dried pea seeds in water overnight for rapid germination.
Sow pea seed by sprinkling liberally and evenly across the soil's surface. Press the seeds into the dirt with the flat portion of your hand, and then cover them with 1–2 inches of soil. Don't add more earth, or the pea seeds may struggle to germinate. Thoroughly water your container using a watering can or a gentle spray hose.
Use a Pea Trellis for Growing Peas in Containers
Because most pea varieties and pole bean plants are climbers, they require a trellis or other support structures to allow each pea vine to climb. Bamboo stakes tied into a triangle form with twine work nicely.
Alternatively, set your pot near a railing, deck, or other structure to act as a pea trellis for the plants. Peas do generally not adhere well with their tendrils, so help them get established by securing the stems to the stability framework using wire ties.
Companion planting for peas is still an option for peas in pots. Grow tomatoes or turnips nearby in their own containers or the ground.
Care for Container-Grown Peas
Growing peas in containers requires relatively little maintenance but produces a high yield of vegetables. Peas are hardy and grow well if a few basic parameters are met.
Keep your soil moist but not soggy as your pea seed germinates, sprouts, and grows. Ensure your containers get six hours of direct sunlight every day. Peas are relatively low-maintenance plants, so this is about all required.
Peas organically fix nitrogen into the earth by absorbing it from the air, so no further feeding is needed because you treated the potting mix before planting pea seeds.
When to Harvest Peas
After sowing, most pea varieties are ready to harvest in 55-70 days. Harvest garden or shelling peas when the pea pods are finished developing but still bright green. Taste for sweetness before picking to ensure optimum timing – they should be sweet, tender, and slightly larger than the dry seeds you sowed.
Don't wait too long; once garden peas fully mature, their quality begins to deteriorate, they yellow, and become inedible as fresh peas in just 1-3 days. Garden peas picked too early are bitter, and overmature peas are starchy with tough skins.
If you miss the correct timing for harvest, dry pods on the pea vine and use them as dry peas for soup.
Shelling pea types are best shelled right after picking or cooled immediately by submerging in cold water to be shelled later. Eat shelled peas soon after harvesting; otherwise, the quality quickly lessens.
Harvest sugar snap peas as soon as peas form in the pod and continue harvesting until the pods are about 3 inches long. Sugar snap peas are tastiest when about half-grown, around a week after blooming. The peas and pods are extremely sweet tasting.
Pick edible-pod snow peas when the pods are still immature and flat before the seeds fill out; harvest snow peas every second day to prevent pods from becoming too large and challenging to harvest.
A fibrous string runs along some snow pea varieties; remove this string before consuming. Snow peas are eaten whole, without the pod, or shelled like garden peas.
When pea shoots or tendrils are about 6 inches long, harvest them for stir-fries or steaming. Remove the shoots from the pea vine by cutting them carefully. The shoots of edible-pod pea varieties are the most delicious. Leafless shoots are usually more tender and sweet than leafy shoots.
How to Harvest Your Peas
Pick peas with two hands. Secure the vine with one hand, then grab the stem of each pea pod and tug with the other. Do not pull pods away from their supports; pea plants have thin tendrils which are easily dislodged by a heavy hand.
After the dew is dry, pick peas in the morning when they'll be crisp and crunchy, ready to eat right away. Peas must be cooled quickly after harvest to maintain freshness and preserve sugar content; sugar in peas soon turns to starch if not refrigerated.
Chilled peas keep their freshness for up to a week in the refrigerator. Cool peas by dunking them in a water bath after harvest until the pods are cold and ready to dry and refrigerate.
To encourage the development of more pods, keep the plants well picked. Still pick, shell, and dry peas for use in soups and stews, even if you miss the optimum harvest point. When a pea plant reaches maturity, the quality of the peas for eating fresh deteriorates quickly.
Pests that Like Peas
Whether growing snap, garden variety, or oriental pod peas in your containers, many problems may afflict the home gardener.
Some diseases affecting pea plants include bacterial blight, damping off, downy and powdery mildew, and various viruses. Pea plants are susceptible to different pests, the most common of which are aphids and pea weevils.
The best defense in keeping your pea plants free of powdery mildew and other pests or fungus is proactivity. To get rid of pea weevils and other problems, avoid overwatering, use disease-free seeds and plants, practice crop rotation, and space plants appropriately to grow a bumper crop of peas.
If you notice damage to pea vines, shoots, or pods, act quickly to identify and treat the pest to salvage your crop and ensure a big harvest.
Storing Peas
Store fresh peas in a refrigerator for around five days. Freshly picked peas should be placed in paper bags and wrapped in plastic to preserve their freshness. Eat green peas raw as a light snack or blended into salads, but they become starchy if not consumed soon after harvesting, so keep this in mind.
Peas freeze well. Sweet peas must be removed from their shell and blanched before draining and packing in sealed containers after being submerged in cold water. Prepare snow or snap peas the same way, but don't trim or remove the string.
Cooking time for green peas varies depending on when they are harvested. Older, starchy peas have a longer cooking time than young, tiny peas.
Peas are one of the most popular vegetables for home gardeners to grow and eat. They usually yield a large harvest enjoyed immediately or frozen or dried for later use.
Pea seeds are one of the most accessible products to save, and once the plants stop growing, mulch them into the compost heap to restock nitrogen in the soil. With pea plants, nothing goes to waste.
Pea plants and flowers are beautiful while they grow. People, bees, and other pollinators are attracted to their bright green foliage and purple flowers, making them an eye-catching addition to any space.
Planting pea plants in a container guarantees you a healthy and tasty harvest. Understanding how to grow peas in containers allows you to produce fresh produce in a small space and provides for the mobility of your crop for shelter if needed.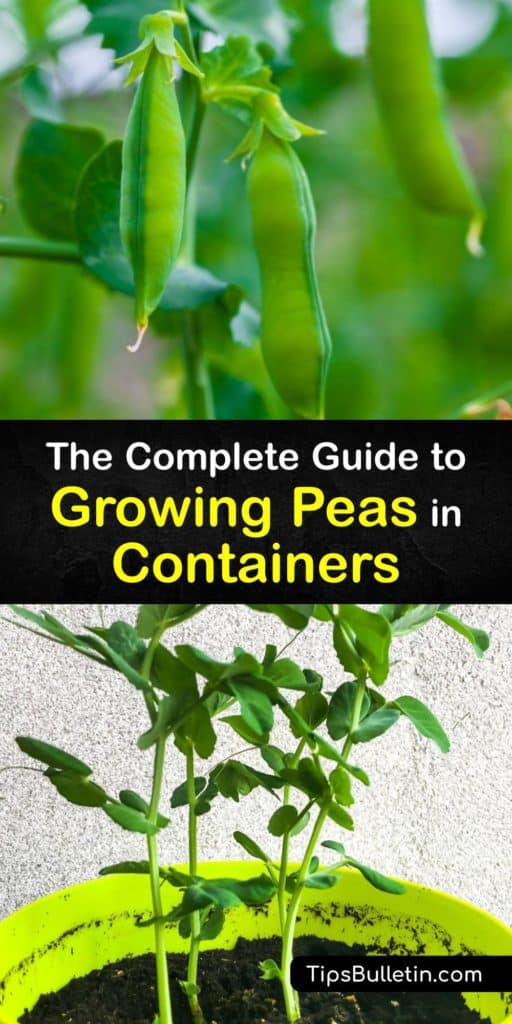 If you loved this article on how to grow peas in a container, please share these valuable tips on how to grow peas in containers with your family and friends on Pinterest and Facebook.