Do you want to grow potatoes but do not have a large backyard? Believe it or not, but potatoes are easy to grow on a porch or patio, and you don't need a fancy pot or garden bed to plant them. Discover how to grow potatoes in a bucket in a few simple steps and how to pick them at the end of the growing season.
Container gardening is a favorite method among growers, especially for those who have limited outdoor space. Not only does this form of gardening take up less room, but the plants are easier to manage and care for than a traditional garden bed.
While we often think of pepper and tomato plants for growing in pots, it's just as convenient to grow potatoes in this manner. Not only that, but you can grow potatoes from old grocery store spuds you'd normally toss into the garbage can.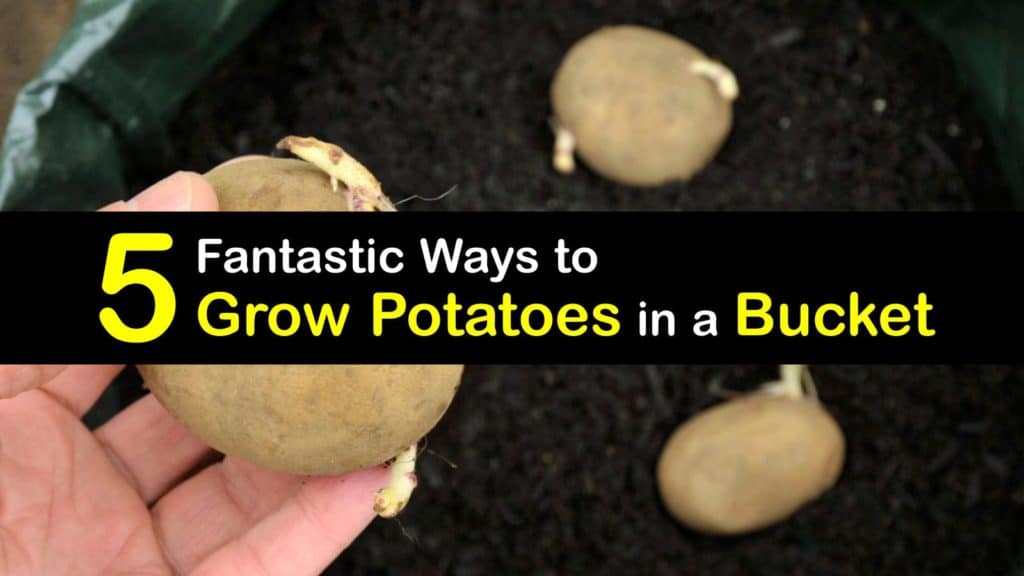 Growing and Harvesting Potatoes in a Bucket
Potatoes are so versatile that they taste great in everything from cheesy casserole soup to potatoes au gratin, and they're even better when you produce your own.
Learn how to grow potatoes at home by planting them in buckets. We also explain how to harvest and cure your potatoes for the longest storage.
What to Know about Potato Bucket Growing
There are some things to understand when potato bucket growing, such as sunlight requirements, garden soil type, and container size. Discover everything necessary to get started growing the healthiest potatoes in a container.
Potatoes
While it's fairly easy to grow potatoes in buckets no matter what species of potatoes you want, choosing a large container is important, preferably nothing less than five gallons. Potatoes require depth to grow well, and anything smaller will produce low yields.
It's also essential to use food grade buckets, so turn the container upside-down and look for the recycling number on the bottom. For example, a good bucket for growing potatoes has the number two, four, or five on it or a cup and fork symbol.
Once you pick the right bucket, make sure you have a sunny location to set it up. Potatoes want about six hours of full sun each day. Since buckets take up little space, finding a sunny area to grow them isn't often a problem.
How to Grow Potatoes in a Bucket
Growing potatoes in a 5 gallon bucket is simpler than you think, but there are essential steps to take during the planting process to ensure you produce good spuds. Here is how to grow a potato in a bucket without chitting.
To plant potatoes in a bucket, you have to decide whether you are planting seed potatoes from the garden center or grocery store potatoes.
If you plan on regrowing your own tubers, choose organic potatoes and set them in a sunny window to encourage sprouting potatoes while you prepare the bucket.
To grow potatoes in a pot, drill ten drainage holes into the bottom of the bucket and use a permanent marker to make lines on the bucket's side, four inches from the bottom and ten inches from the bottom.
Pour potting mix into the bucket up to the four-inch mark, and use quality dirt amended with compost material, especially if you prefer organic gardening.
It's not necessary to chit potatoes before you plant them. Place two potatoes in each bucket with the sprout side facing upwards, and then cover them with dirt until you reach the ten-inch mark.
Water the potatoes right after planting until it drains out the bottom, and then set them in a sunny location of the yard or patio. After a few weeks, the potatoes begin sprouting, and once the leaves reach the top of the bucket, it's time for hilling.
Add several inches of soil until you reach about three inches from the bucket rim. Potatoes planting depth is vital since more new potatoes grow above the old potato you planted. Spread a thin layer of mulch or peat moss over the top and water the potatoes.
Potato bucket growing is not just for russet or white potatoes. Sweet potatoes also grow in a container the same way as long as you choose the right potato. Many growers recommend the Portio Rico variety for a raised bed, grow bags, or container gardens.
Problems to Watch for While Potato Bucket Growing
As with all plants, potatoes often deal with a variety of problems while growing. Learn a few things to look for after you plant potatoes in a container to ensure they stay healthy.
Potato Growing Problems
While we all desire many pounds of potatoes after a good harvest, it's vital to keep the number of potatoes you plant to the recommended amount of two per bucket. Overcrowding your plants defeats the purpose and results in a smaller harvest.
One of the most common insects to worry about with potatoes are potato bugs. These bugs eat the tubers, roots, and leaves and destroy your hard work.
They are small beetles with black and brown stripes, and the best way to get rid of them is to remove them by hand or use insecticidal soap for killing potatoe bugs.
How to Care for Your Plants after Planting Potatoes in Buckets
After planting potatoes in buckets, it's time to give your new plants some tender loving care. Here's what your new potatoes need to thrive and how to maintain them as they grow.
First and foremost, potatoes need six to eight hours of sunshine daily to thrive. They also want one to two inches of water weekly, so it's vital to water them when you have little rainfall.
It's okay for them to receive less water when the leaves begin to wilt near harvest-time. These plants thrive in soil amended with organic fertilizer to provide nitrogen, phosphorus, and potassium.
Harvesting, Curing and Storing Potatoes from a Bucket
You plant your potatoes, give them everything they require to produce, and the end of the growing season draws near. How do you know when spuds are ready to harvest and what's the best way to cure and store them?
After planting potatoes in buckets, you generally have to wait 80 days or more before harvest time. Once the leaves turn yellow and brown and then wilt and die, it's time to pick your new potatoes.
Use your hands to gently dig up the potatoes and shake off all the excess dirt. To cure them, store them in a dry area where the temperature is between 45 to 60°F for about two weeks. At this time, they are ready for kitchen storage.
Sort through the cured potatoes and discard those that are discolored or soft. Keep the remaining spuds in an open bowl or paper bag, and make sure to keep them away from onions.
Planting potatoes in containers is a popular homestead practice, and potato growing goes back thousands of years. Not only are these tubers hearty, flavorful, and nutritious, but they are easy to grow, even if you have limited outdoor space.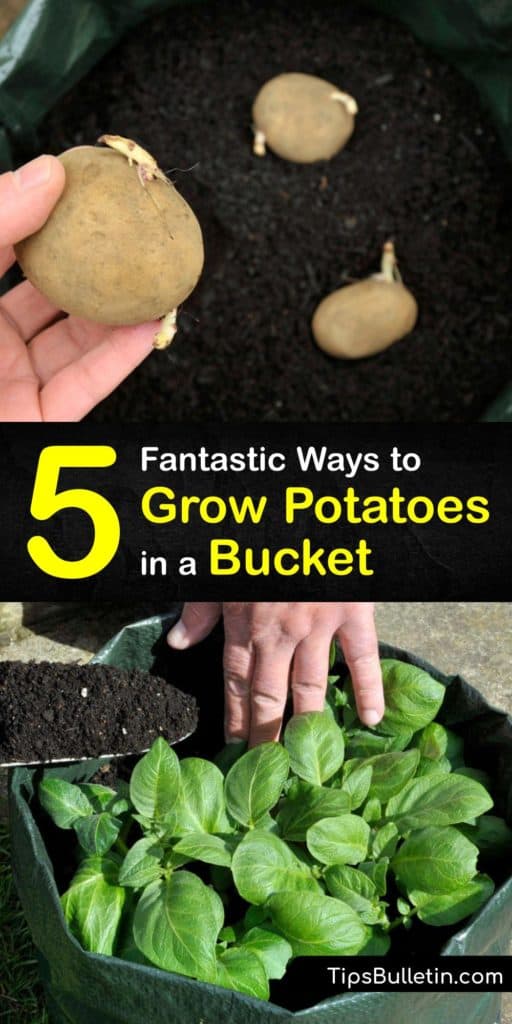 Knowing how to grow potatoes in a bucket is not only a fun DIY project, but you get to reap the rewards during harvest-time, so why not share our potato bucket growing guide with your family and friend circle on Pinterest and Facebook?