Homegrown potatoes, whether sweet potatoes or new potatoes have a wonderful flavor and texture. There's nothing like digging away soil to uncover perfect potatoes to use in your supper. Discover how to grow potatoes in a pot to enjoy this delicious root vegetable steamed, mashed, fried, or roasted.
Growing potatoes in a raised bed take up more space than is available in many home gardens. The gardener must place the rows of potato plants far apart and mound up the soil regularly.
Growing potatoes in pots allow you to enjoy tasty tubers even if you have a small yard. Try growing different types of potatoes in each pot. It's easier to harvest potatoes from containers—and you're less likely to damage them in the process—since you can simply turn the pot onto its side. Learning how to grow potatoes in pots helps you avoid contaminated soil and rodent issues.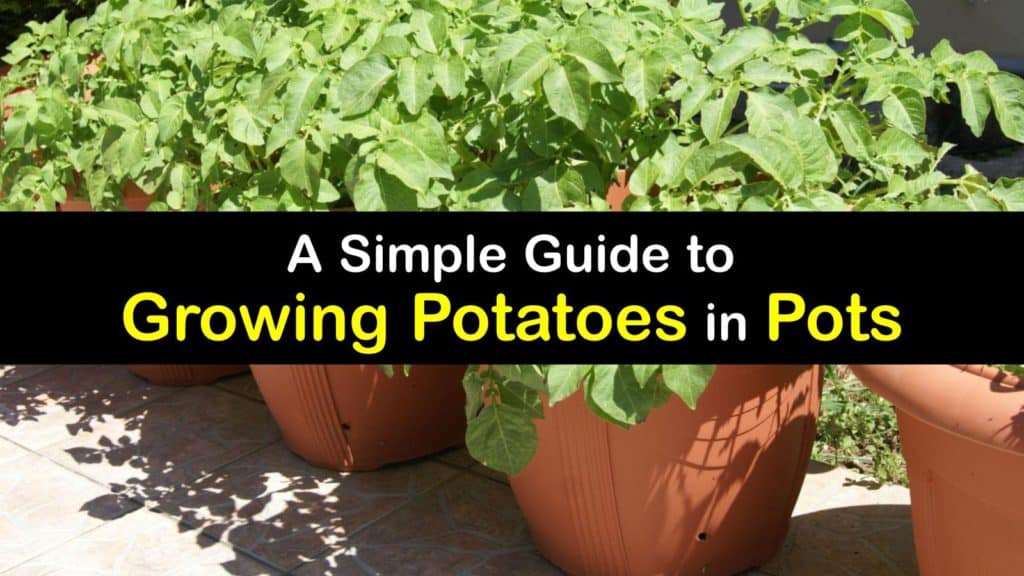 Tips for Growing Potatoes in Pots
Container gardening makes it easier to spot and remove weeds. The one point to note about growing potatoes in a pot is that it's necessary to water your spuds more frequently.
You may not have thought about it before but potatoes are some of the best vegetables for pots. The first step for growing potatoes in pots is choosing an appropriate variety and location and preparing the potting soil. Afterward, you must plant the seed potatoes and care for your plants, including "hilling" (mounding up the earth).
How to Grow Potatoes in Pots
Grocery store potatoes are not ideal for growing potatoes in pots since they tend to be sprayed with chemicals that delay sprouting. Of course, you can use organic potatoes for growing potatoes from eyes, but you can also use seed potatoes. What are seed potatoes? These potatoes are developed specifically for producing new plants.
Seed potatoes are available at nurseries, garden centers, and local growers. Look for early potatoes to ensure you enjoy some taters before the end of the growing season.
Although several specialized potato containers exist, there are also DIY alternatives like a garbage can or an old plastic bucket.
How to grow potatoes in pots involves providing full sun. Potato plants in containers also require frequent irrigation and regular fertilizer to replace the nutrients lost with watering.
Mounding up the soil encourages a larger yield and protects the potatoes from overexposure to the sun. When it comes time to harvest, root around in the pot to pick new potatoes or wait until the plant turns yellow to gather the whole bunch.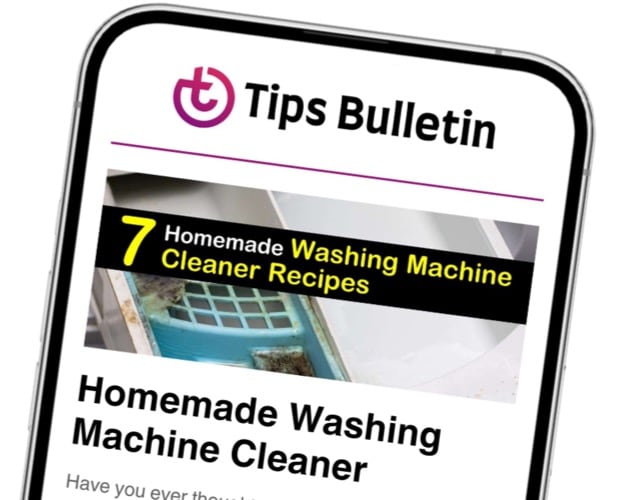 Finally, an email that Transforms Your Home.
Get the latest home and garden tips from our experts, delivered straight to your inbox.
How to Grow Potatoes in a Pot: Getting Started
Before planting your potatoes, you'll have to make a few decisions to set your plants up for success. It's not the best idea to plant old potatoes that may have sprouted. You'll have more favorable results with seed potatoes that are specifically for growing new potatoes.
Choosing a Potato Variety
How to grow potatoes in pots starts with finding seed potatoes that are certified disease-free and suitable for growing in your area. You'll get better-quality plants and higher yields from seed potatoes than if you try to use grocery store ones.
The best types of potatoes are early potato varieties are ideal since they mature more quickly and produce their whole crop at once.
Try planting fingerling potatoes when you want to grow potatoes in a container, which are small and narrow. They have a mild, nutty flavor. Both fingerlings and heirlooms are available in unusual colors like purple and red.
Choosing a Potato Container
A potato plant's container must have enough room for the plant to grow. If you're using a pot, its diameter and height should each be at least 16 inches.
A fabric grow bag or burlap sack drains and breathes well. If your pot has poor drainage, drill drainage holes into the bottom or add a layer of stone and gravel.
Choosing a Location
Put the container in your yard or on a patio, balcony, or deck. A large pot filled with damp soil gets quite heavy, so install it in its final location from the start.
Potato plants require at least six to eight hours of direct sun daily and prefer cooler weather—around 60℉.
Avoid placing the pot somewhere that gets too hot, such as on a concrete patio or beside a hot wall. If temperatures get too warm in your area, put the potatoes in a location that receives morning sun and partial afternoon shade.
How to Grow Potatoes in a Pot: Planting
After choosing the potato variety, container, and location, it's time to do the planting itself. Make sure to plant-potatoes at the appropriate time of year for your region.
When to Plant Potatoes
Plant your potatoes in late spring once there is no risk of frost. The exact date depends on your location. Aim for a soil temperature of at least 45℉. If there is a late spring frost, cover your potato containers or bring them indoors.
Grow potatoes indoors, too. Ensure the plants get the right amount of sun, fertilizer, and water so they thrive.
Best Potting Mix for Potatoes
Most potting soils are suitable for growing potatoes in pots as long as they're fertile and drain well. Garden soil is not ideal for a container garden since it compacts too easily.
The potting mix should be acidic, with a pH between 5.0 and 6.5. Check the pH when first planting and again at midseason. If you have to make the soil more acidic, add elemental sulfur.
Planting Potatoes in Pots
Start by cutting your seed potatoes into small chunks that each contain at least two eyes. Leave any small potatoes whole. Wait about two days until the cut surfaces callous over.
Soil depth for potatoes is important. Add four to six inches of soil to the bottom of your container. Mix in some compost and a handful of balanced, slow-release, organic fertilizer.
Get the soil moist before inserting the seed potato chunks with the eyes facing up. Only put about three or four pieces per container since crowding leads to smaller potatoes.
Cover the potato chunks with another couple of inches of soil. Do not water immediately after planting potatoes in pots or the garden.
How to Grow Potatoes in a Pot: Plant Care
Caring for potted potato plants involves providing sufficient water and fertilizer and performing hilling. Keep an eye out for typical potato pests like wireworms and Colorado potato beetles. Pick off any eggs, larvae, or insects. What kills potato bugs if you find them? Applying neem oil is an excellent option.
Watering Potted Potato Plants
Potatoes in pots demand more water than those in the ground because the water evaporates faster. Keep the soil moist but not soggy. Underwatering results in a reduced yield, while overwatering causes rot.
Check the soil at least once a day by sticking your finger in it. If the top two inches feel dry, irrigate until liquid comes out of the holes at the bottom. Deep watering ensures that water reaches the roots.
Potato plants need at least one inch of water per week. Irrigation is especially important once tubers start developing. However, too much water is not good either. You don't want to pick a moldy potato.
Fertilizing Potted Potato Plants
Potatoes are not heavy feeders but require some trace nutrients. Potted plants need more fertilization since the frequent watering washes away nutrients. Spray a diluted liquid fertilizer, such as fish emulsion, on the leaves twice a week.
Follow the package directions. Spraying in the morning is often beneficial so that the leaves have time to absorb the nutrients and dry off before it gets too hot. If your plant is growing poorly, feed it extra fertilizer.
Hilling Potted Potato Plants
It's essential to keep potatoes covered with soil or mulch. Direct sunlight causes the tubers to develop green skin and become mildly toxic. If any of the potatoes do change color, trim off the green section.
Besides protecting the potatoes from the sun, hilling helps prevent weeds, improves drainage, and increases yield. As the hill gets higher, the lower stems send out roots—the potatoes that you'll eat.
When your potato plants are about six inches tall, add a couple of inches of potting soil. Mound the soil gently around the lower stems, careful not to break them.
Leave the top two to three inches of the plant exposed. Repeat the hilling process approximately once a week until the container is full.
How to Grow Potatoes in Pots: Harvesting and Storage
The number of days to maturity depends on the potato variety, whether you need to know when to pick sweet potatoes or white potatoes. It ranges from 65 to 120 days, although within 90 days is most common.
You can start harvesting new potatoes after the plant blooms. New potatoes are small and sweet with thin skins. Dig around in the soil with your fingers to pick these gems, and use them up quickly.
Expect the leaves to start turning yellow about three to four months after planting. To know when to pick potatoes, watch for the leaves to turn yellow – stop watering and wait about a week for the plant to die back.
One of the ways to pick potatoes is to first dump the plant onto a tarp or wheelbarrow to pull off potatoes. If you used a potato tower or stack of tires, lift off the container instead of dumping.
Brush the dirt off the potatoes and leave them to dry for a couple of days. They keep for several weeks in a basket or paper bag in a cool, dry, dark, well-ventilated location. Check the vegetables regularly for shriveling or decay.
Growing potatoes in a container at home allows you to enjoy tasty root vegetables while avoiding the chemicals common in store-bought varieties. There are just a few potato container gardening tips you need to know.
Read up on how to grow potatoes in a pot from planting to harvest. Among other things, choose a large container that drains well, water your plants frequently, hill regularly, and tip over the whole pot to harvest.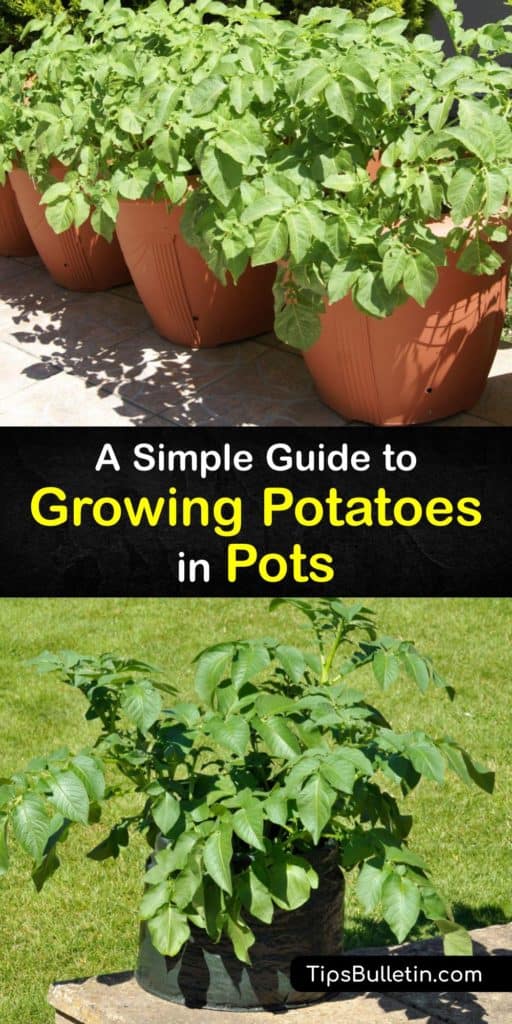 If you found these potato growing tips helpful, please share this container gardening information with your friends on Facebook and Pinterest.