When it comes to radishes, you may only be familiar with one of the most popular spring varieties, Cherry Belle. These radishes are small and red, typically used in salads, and are known for their crisp, spicy taste. Whether you're a radish expert or have limited knowledge, this article provides tips on how to grow radishes from seed.
There are two main types of radishes divided by their growing season, spring and winter. Spring radishes enjoy cool weather, and winter radishes are grown in late summer or fall. Some heirloom varieties, like French Breakfast, are categorized as all-season radishes.
Radishes come in different colors, and aside from their crunchy red variety, you may be familiar with White Icicle, a variety of Daikon radishes that are more cylindrical. Another common variety is known as Burpee that is two-toned red and white. Radishes also come in pink, purple, yellow, or black (Black Spanish) and in either spherical or carrot-shaped varieties.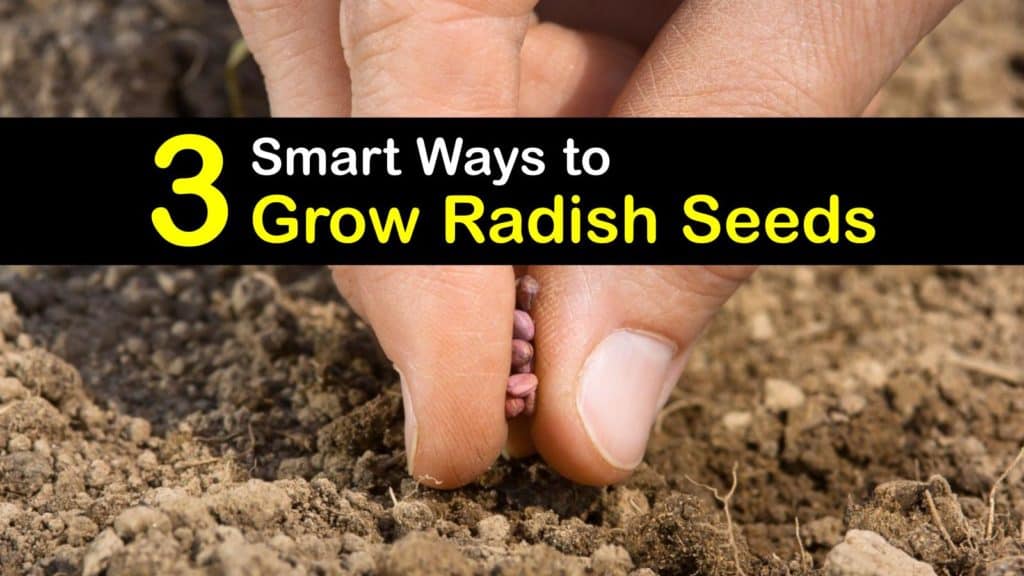 Growing Radishes from Seeds
Radishes (Raphanus sativus) are root vegetables that grow quickly in most soil types. Unlike some root crops, when growing radishes from seeds, you don't need to start indoors.
There is little difference between turnip and radish when it comes to planting time. Plant radishes in either early spring or late summer, but keep in mind that radishes bolt in summer when temperatures get too high; this makes them inedible, so planting seeds twice a year is recommended for the best yield. Continue reading for information on how to plant radish seeds and care for them for the best harvest.
How to Plant Radish Seeds
Knowing how to plant radish seeds is simple compared to other vegetables, like when growing broccoli from seed. The best way to grow radishes at home is to loosen your soil in preparation for your radish roots to easily spread. Keep their spacing at one inch apart from each other in rows that are one foot apart.
Cover them an inch deep with soil and gently water them. For a steady supply of radishes, continue to sow seeds every ten days. Follow the same procedure for the way to grow radishes indoors in a pot.
How to Grow Radishes from Seed
Like when growing parsnips from seed, after planting radishes, they require consistent water, and if they are not receiving water from rainfall, ensure you're watering them deeply. Adding a layer of mulch around your seeds helps keep the soil moist as radishes enjoy having full sun for at least six hours a day.
Whether you need to know when to plant radishes in zone 7 or zone 4, know that germination occurs quickly with radishes. One week after your seeds begin sprouting, thin them to two or three inches, four to six inches if you're grow Daikon radish seeds in the garden.
Protecting Your Radishes
After planting radish seeds, proper watering is not your only concern. Pests like flea beetles and root maggots enjoy radishes as much as you do.
To avoid insects feeding on your radish leaves after you follow the way to plant radishes, install row covers over your radishes. Purchase row covers and quickly install them to protect your plants while giving them space to grow.
We recommend using fabric row covers or covers made from plastic bags that do not directly touch your plant to protect them from bugs and any inclement weather around the last frost date of your area.
After harvesting radishes, we recommend rotating your radish plants to another area to avoid dealing with maggots that attack the root of your plants.
Other methods for reducing pest risk are never to plant radishes in the soil where Brassica crops have grown before and turn the soil surface over to expose any maggots or worms to natural predators.
How to Harvest Radishes
Radishes are harvested for the roots and seed pods, though the former is most common. You'll know it's time to pull your radishes by following the maturity date on your seed packet. The best time to harvest radishes is after pulling a few radishes up to test the roots and see if they are ready. You want them to be crunchy and crisp as radishes left too long in the ground become pithy.
Companion Planting for Radishes
In addition to planting radishes from seeds, sowing seeds of other root vegetables like parsnips, potatoes, and onions benefits the growth of your radish plant.
In return, radishes make great companion plants due to how fast they mature. Radish roots quickly and help break up the soil around them, allowing the roots of adjacent plants an easier time with spreading.
Planting plenty of radishes is also beneficial if you're hoping to sacrifice some of your crops as radishes often lure in aphids, keeping them away from other plants like peppers and squash.
Cooking with Radishes
While their texture is similar to potatoes, we wouldn't say they taste quite the same as radishes are known to have a bit of a bite when raw. When cooked the right way, their crispy outsides and soft insides mimic a potato and make it an adequate potato substitute.
Trim and cut your radishes in half to start and preheat your oven to 400°F. Toss your radishes in a bowl with olive oil and your seasonings before laying them in a single layer on a baking sheet. Roast for half an hour until your radishes are golden and crispy and season to taste.
There are many other exciting recipes to try out with radishes and preserving radishes is just as easy. Now that you know how to start growing them on your own, we hope you take the opportunity to explore more about radishes.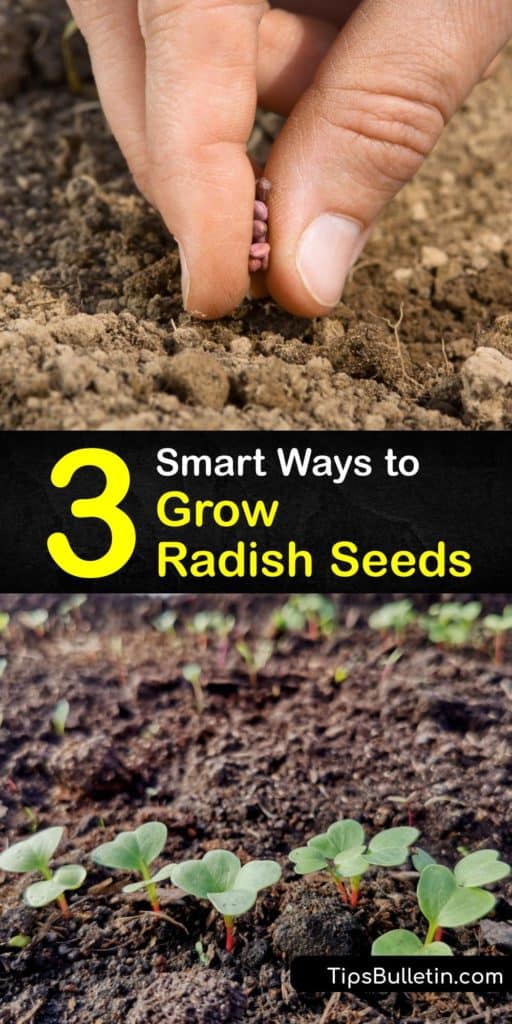 If learning how to grow radishes from seed inspired you to add them to your garden, please share our tips on growing radishes from seeds on Facebook and Pinterest.