Have you ever sat down and considered learning how to grow radishes indoors? These plants are delicious when raw or cooked, can be used in the place of potatoes, and are packed full of vitamins and minerals that are beneficial to your health. Most radish plants don't need much help to grow. They are cold-hardy and resistant to a few pests and diseases. However, growing radishes indoors does make gardening easier for those who lack outdoor space.
Can you grow radishes indoors since they're cool-weather crops? Winter radishes might not seem like the best crops to have inside, but these veggies take up minimal space and don't demand too much of you.
Trying to grow radishes at home is a simple way to create a container garden when you don't have the space to do so outside. This brief article is a shortcut for helping you learn all the basics about growing this root crop at home.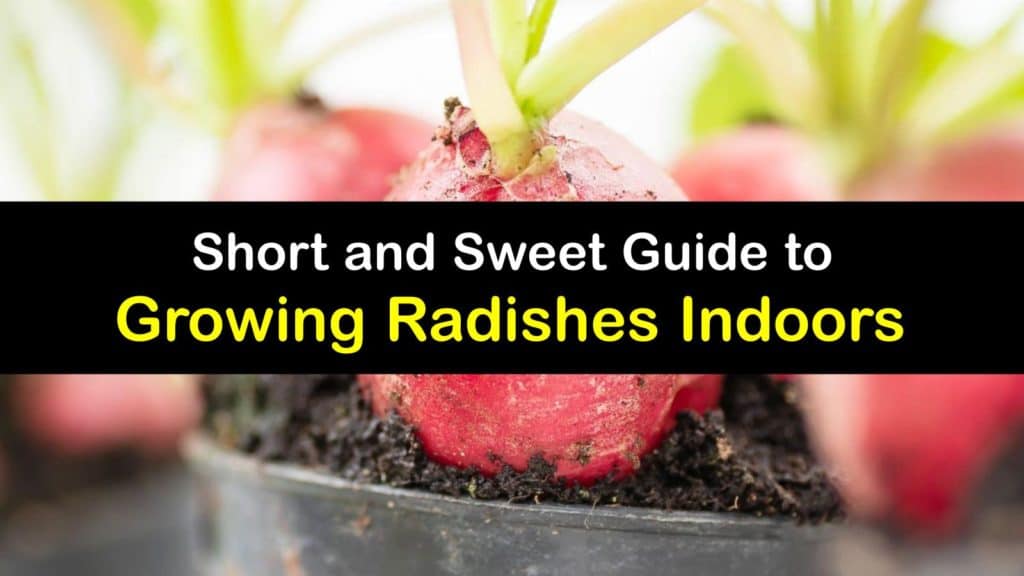 Can You Grow Radishes Indoors?
You likely already know that root vegetables tend to enjoy cool weather. Some even benefit from frost and taste better when they've been in cold soil. So, can you grow radishes indoors successfully? Growing radishes indoors is entirely possible and one of the easy to grow vegetables indoors.
You don't have to worry about radish season when growing these root plants inside. Cultivate radishes year-round.
All About Radishes
Are turnips and radishes the same? Radishes have the name Raphanus sativus, and they belong to the Brassicaceae family. Their closest relatives are turnips, broccoli, mustard, and cabbage. Even if you aren't interested in the white, meaty bulbs, some people choose to grow the radish tops as microgreens because they are full of vitamin C and potassium, just like turnips.
Choosing Radish Varieties before Growing Radishes Indoors
Before you learn how to grow radishes indoors or start planting radishes in pots or containers outside, take some time to think about the cultivars available. Some are better for a DIY container garden than others. You might jump the gun and assume that Daikon radish roots would be best. However, smaller varieties with a sweeter flavor are usually preferred.
Early French Breakfast radishes are one popular option. These are perfect for salads, omelets, sandwiches, or pickles. The Cherry Belle radish is delightful when sauteed in butter with a bit of salt and pepper.
Others add them to stir fry or turn them into pickles. Cherry Belles are best served hot as a side dish or in soup. Easter Egg turnips are tasty, either raw or cooked. They also make a killer veggie tray. Lastly, Watermelon radishes are small and ideal for adding a pop of color to a plate.
How to Grow Radishes Indoors
Planting radishes from seed pods is the most common way to grow them. However, instead of sowing them outside in the soil or seed-starting trays, planting radishes in a pot is simple with a rich potting mix. The best soil for radishes in containers has some fertilizer mixed in or you can add your own.
Radish seeds should sit under about a half-inch of soil. Planting radish seeds involves spacing about one inch apart from other seeds in the container. Germination occurs in three to ten days, although it might happen faster if the potting soil is amended with organic matter.
Thin the seedlings to make them two inches apart as they mature. Keep the seedlings under grow lights until you are ready to transition them to an outdoor patio in spring and summer.
Do your best to avoid issues with pests and diseases. Flea beetles and aphids are two of the most prevalent insects that attack radish plants.
When to Plant Radishes
The best time to plant radishes is in the early spring or late summer to avoid as much hot weather as possible. In hot, frost-free climates, start to grow your radishes in containers any time in late fall or early winter.
While radish plants enjoy full sun, they need plenty of airflow and mulch to keep cool. Partial shade is acceptable as well. Companion plants for radishes include cucumbers and peas.
Harvesting Radishes
Most round radishes are ready to harvest within 40 days after planting. Some are ready in as little as 25 days. Waiting too long could make the roots turn woody. On the other hand, harvesting radishes early is better than late. We suggest cutting off a few green tops as they grow to create a delicious salad.
Wash and prepare all of your vegetables. Layer the salad ingredients in a large salad bowl. Prepare your favorite dressing and pour it over the salad. Toss everything until the leaves are slightly wet from the sauce. Serve and enjoy.
If you have an abundant radish crop, one delicious way to preserve radishes is by making pickles. There are many tasty recipes.
Gardeners often forget about how tasty homegrown radishes are. They are highly nutritious, and using them to create a container garden is a simple way to get your green thumb working.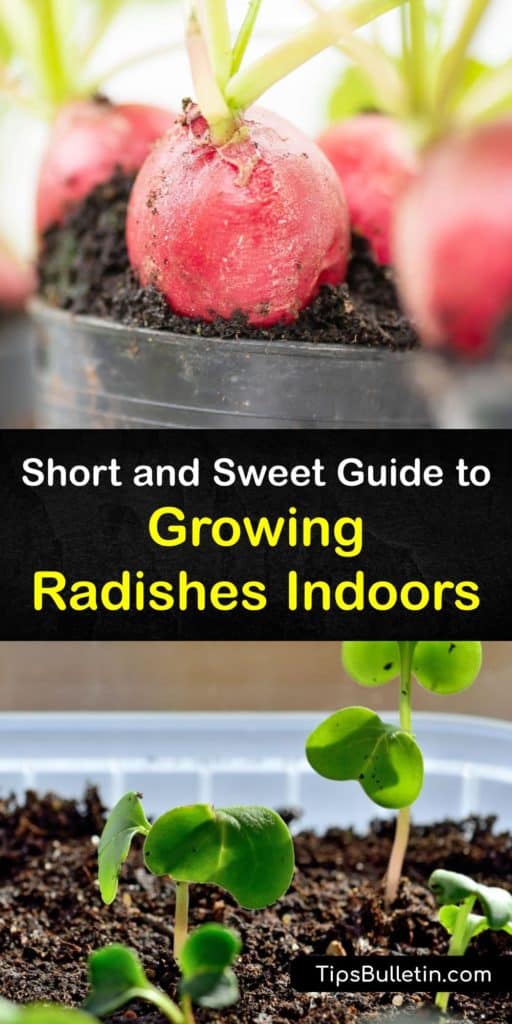 If reading this article helped you understand how to grow radishes indoors, share this guide for growing radishes indoors on Facebook and Pinterest.