There is nothing quite like the sweet, tart taste of raspberries picked fresh from the vine. If you think it's not possible to have your own raspberry patch in a home garden, think again. Discover how to grow raspberry bushes, give them the care they need to produce an abundance of fruits, and use them in a fun recipe.
Raspberry bushes or brambles are easy growers if you provide the new plants with the right growing conditions. While they have a relatively deep root system, they only require 18 to 24 inches of spacing, so growing them in a small garden is possible.
Many raspberry varieties fall into two categories, including red, yellow, gold, purple, and black raspberries. Summer-bearing types produce fruit during the summer, while everbearing varieties have a summer and fall crop. Whichever type you choose, they are the perfect addition to your garden.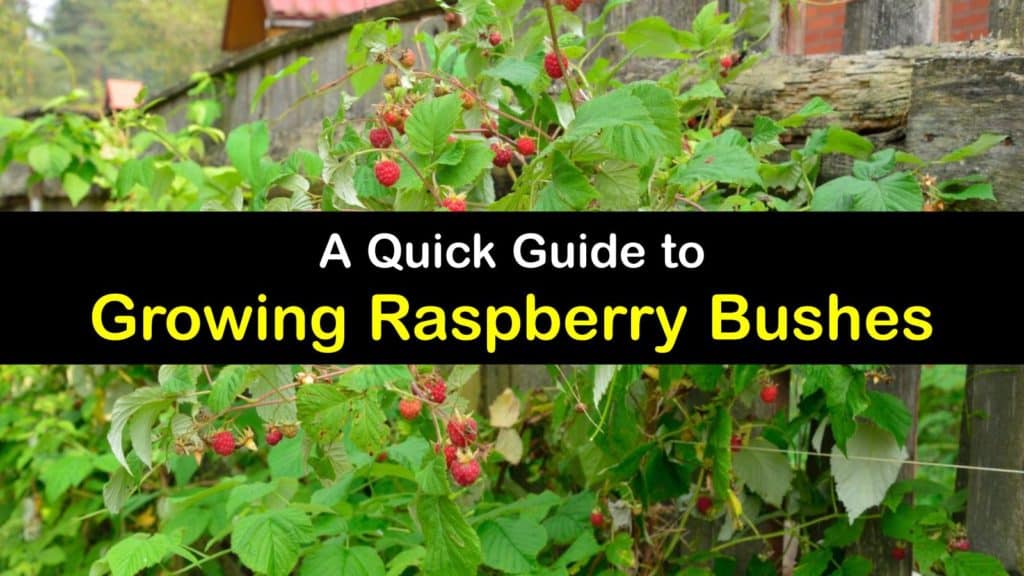 Growing and Caring for Raspberry Plants
Growing your own fruit can be so rewarding. Are huckleberries the same as blueberries? How easy is it to grow raspberries? Learn all about the raspberry fruit here and how to cultivate tasty berries at the end of the season.
Planting a red raspberry shrub is a great way to produce a berry crop, and they are simpler to grow than you think. Is a blackberry the same as a black raspberry? They are similar but not the same.
How long do raspberries take to grow? It can take two years to harvest your first crop. While growing raspberry bushes takes some work and patience, these plants reward you with a berry crop year after year.
Learn how to grow a raspberry bush in a vegetable garden and enjoy fresh berries for eating straight from the shrub or making jams and jellies. Find out how to water, prune, and fertilize these plants and harvest raspberries for use in a delicious recipe.
What to Know before You Grow a Raspberry Bush
All types of raspberries need the right soil type and an ideal amount of sunshine to thrive. Here is how to choose the perfect spot for planting and prepare the garden ahead of time, whether you decide to grow a raspberry bush from seeds, cuttings, or a bare-root plant.
Raspberry shrubs grow best in hardiness zones 3 through 9 and love growing in six to eight hours of full sun daily, so pick a garden spot where they receive plenty of sunshine.
They also prefer planting their feet in sand-loam or well-drained loam dirt, with a soil pH of 5.5 to 6.6. If necessary, amend the dirt in your garden or raised beds accordingly by adding organic matter like well-aged compost or manure a couple of weeks before planting. Growing raspberries in containers follows the same principles.
How to Grow Raspberry Bushes
While it's easy to plant raspberries from seeds, a cutting is an inexpensive and fast way to get a berry crop. Raspberry seed germination takes longer. Learn how to propagate raspberries to grow bushes in the garden.
Growing blackberries indoors, as well as raspberries is another option if you don't have enough yard space.
In late summer, in the morning when the plants are hydrated, prune stems from a mature raspberry bush into three to six-inch cuttings, leaving at least two leaf nodes on each section with an inch of stem below the lower node.
Remove the lower leaves and use a sharp knife to score the bottom tip of each cutting. Dip the stem end in water and then rooting hormone, dipping it up to the wounds left from removing the lower leaves.
When you are planting raspberry bushes by using cuttings, fill a planting tray with a perlite and soilless mix and plant the cuttings by burying the lower leaf nodes while leaving the top leaves above ground. Cover them with a plastic bag and set them in a sheltered area while the cuttings take root.
The best time to plant raspberries depends on your location, but it's usually after the last winter frost. Once the roots appear through the bottom holes in the tray, it is time for transplanting raspberry bushes in the early spring.
Space the cuttings three to four feet between plants and water them right after transplanting for good air circulation. There is no difference between red and black raspberry bushes regarding planting.
How tall do raspberry bushes grow? Depending on the type, they grow four to six feet high, and a trellis isn't necessary if there is enough room for the raspberry canes to arch as the fruits ripen.
How to Care for Your Plants after Growing Raspberry Bushes
Growing raspberry bushes takes some time and effort, so it's vital to understand the growing process before pruning the shrubs. Explore how to prune and care for your plants as they grow.
Raspberry plants require even watering during the summer. Spread mulch around the plant's base since mulching helps retain moisture and stops weeds from growing.
Check the dirt and water them at ground level when the top inch is dry. Avoid watering the raspberries during the winter months to prevent root rot.
Learn what to plant with raspberry bushes to increase fruit yields and deter insects.
Watch for a raspberry disease like verticillium wilt and common pests such as aphids and Japanese beetles. If you spot insect activity, avoid using pesticides that are harmful to pollinators since pollination is necessary for the best flower and fruit formation.
Before pruning your plants, understand the differences between raspberry canes. First year branches produce fruits at the ends of the branches, while second year canes or floricanes have fruit along the entire branch.
Trimming raspberry bushes is an important part of their care. In the spring or early summer, prune first year primocanes to three or four feet tall and prune the second year fruiting canes to the ground after they grow fruit.
To stop the plants from getting unruly, cut back any new canes that grow outside the desired space and prune damaged or dead canes to encourage healthy growth. Clean the garden of debris in late winter before the new spring growth.
Using Freshly Picked Raspberries for Pickling
You've probably heard of pickled peppers, but what about pickled raspberries? While it sounds weird, these raspberries are sweet and tangy and perfect for topping on cured meats, salads, ice cream, and cheeses.
Pour the wine vinegar into a saucepan and add the sugar, cinnamon stick pieces, and star anise. Boil the mixture for five minutes while stirring occasionally.
Put the raspberries into the jar and pour the boiling ingredients over the top. Screw the lid on the glass jar and bring the jar to room temperature. Refrigerate for two hours before using it as a topping.
It's easy to plant raspberries, but that's only the first step. It's essential to give your plants the care they love, and proper pruning ensures that you get a good crop at the end of the growing season.
We hope that learning how to grow raspberry bushes in your yard provides you with a yearly supply of delicious berries, and we'd love it if you'd share our raspberry growing guide and plant care tips with your friends and family on Pinterest and Facebook.