Suppose you love picking fresh rhubarb for making desserts and jam but fear that you don't have the space to grow it at home. Not to worry, this perennial vegetable grows easily in a container garden as long as you plant it in the proper pot. Find out how to grow rhubarb in containers and use your rhubarb stalks in a tasty recipe.
Rhubarb picking during the beginning of summer is a favorite pastime, and we were pleased to discover that it's possible to grow at home. Just about any plant grows in raised beds or containers, and growing rhubarb is no different.
However, the key is to use a large enough pot with drainage holes to ensure you get a healthy plant. While the plant's width is worth considering, the depth is most important since the rhubarb plant has a large root system.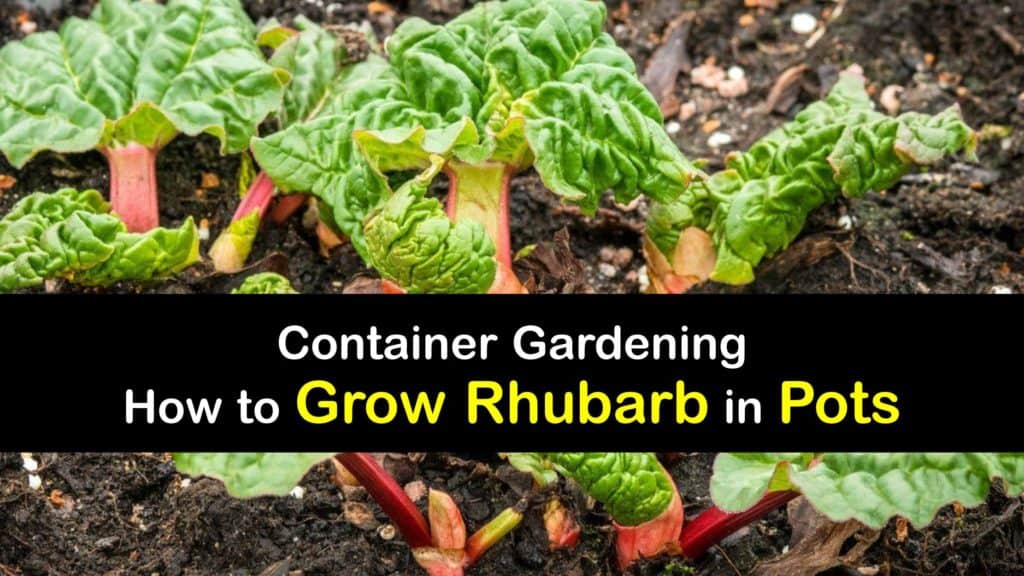 Container Gardening with Rhubarb
Growing rhubarb in containers is simple and a great way to enjoy fresh stalks of rhubarb at the end of the growing season. Potted rhubarb takes up little space, and planting this cool weather crop in the early spring means you get to reap the benefits the following year.
Learn how to plant rhubarb from seed indoors, plant rhubarb crowns in an outside container, and care for your plants year after year. In addition, discover how to create a delicious recipe after growing rhubarb in a pot no matter what different kinds of rhubarb you grow.
Growing Rhubarb in a Pot Indoors
It takes seeds a year longer to mature than growing rhubarb in a pot outdoors from crowns. While it takes time to produce stalks for harvesting, growing rhubarb indoors allows you to plant a variety of types, from Glaskin to Victoria rhubarb.
Before growing rhubarb in a container, soak the seeds in warm water for a few hours to boost germination. Fill four-inch pots with potting mix and an organic rhubarb plant fertilizer. Sow two seeds per pot by placing them a quarter-inch deep in the dirt.
Keep the soil moist, and watch as they germinate in two to three weeks. Once the seedlings reach three to four inches tall, harden them off by taking them outside a week before transplanting them into a larger pot. Start in a shady area and end the week in full sunlight. Mid-autumn or early spring is the best time to transplant rhubarb for ideal stalks.
How to Grow Rhubarb in Containers Outside
The quickest way to grow rhubarb at home is to plant crowns in an outdoor pot. Find out how deep to plant a rhubarb crown and care for your veggies after planting rhubarb in containers.
Fill a container at least 20 inches deep and wide with a potting mix. It doesn't matter if it's a terracotta or plastic pot, as long as it has drainage holes in the bottom.
Avoid using garden soil when planting rhubarb in pots since it may spread an overwinter fungus that causes crown rot. Instead, use potting mix and enrich it with organic matter.
Set the rhubarb crown in a planting hole one to three inches deep and fill in the dirt around the crown. If you plant them in a raised bed, provide one foot spacing between plants. Position the container in a full sun location and water the crown until it's wet.
Fertilization is generally unnecessary; however, mulching around the base of the plant helps retain moisture, stops weeds from growing, and protects the root system during dormancy. Rhubarb leaves turn yellow when the soil has been over fertilized; look out for visual signs of the plant's health. Allow the plant's energy to go to the roots the first year and wait to harvest the red and green stalks until the second year and third year.
It's time to pick rhubarb between May and July when the stalks are 7-15 inches long.
Plan to divide and replant rhubarb every five to six years for optimal growth. Keep in mind that the stalks are safe to eat, and the rhubarb leaves are toxic since they contain oxalic acid.
To deter pests and discourage disease, grow companion plants for rhubarb in containers nearby. Some great choices are garlic and broccoli.
Making a Cornbread Cake After Growing Rhubarb in Containers
There are various ways to prepare your veggies after growing rhubarb in containers, from jam to rhubarb pie. However, this naturally sweet cornbread is a unique way to use your crop of rhubarb, and it only takes 45 minutes.
Spread the rhubarb stalks on a well-greased baking sheet and sprinkle two tablespoons of sugar over the top. Bake them for about six minutes in a 400°F oven, and let them cool.
Combine the sugar, flour, and cornmeal in a bowl and beat in the egg yolk, molasses, and syrup. Slowly mix in the dry ingredients while alternating with the milk. Beat the egg white in a separate bowl until it forms stiff peaks, and fold it into the batter.
Scrape the mixture into a baking dish, lay the baked rhubarb on the top, and sprinkle it with a tablespoon of sugar. Bake for 20 minutes in a 375°F oven until golden brown and serve warm.
A healthy rhubarb plant produces tasty stalks for ten years, which means you get many years to make delicious desserts. It's also ideal for growing in a container, as long as you plant it in the right pot and give it the attention it wants for optimal growth.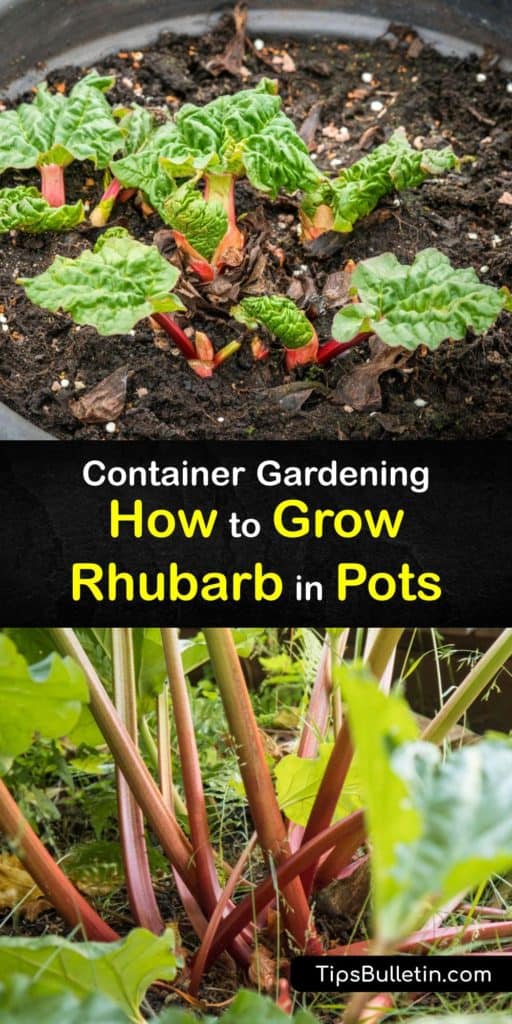 Now that you know how to grow rhubarb in containers, why not share our rhubarb container growing tips and guide with your family and friends on Pinterest and Facebook?