There are large and juicy beefsteak tomatoes, small and succulent cherry tomatoes, and Roma tomatoes. These tomatoes are small with less juice and more pulp and perfect for canning. Learn how to grow Roma tomatoes in a garden bed or container, how to care for your tomato plants, and when to harvest and store them.
There are so many tomato varieties, and garden growers feel like kids in a candy store when deciding which ones to grow. Large heirloom tomatoes are ideal for slicing and small plum tomatoes that are the right size for a salad.
And, there are Roma tomatoes that are the ideal sauce tomato with their meaty texture. There are also a variety of Roma tomatoes, from the San Marzano cultivar with its thin skin and few seeds to the Heinz tomato, a popular paste tomato.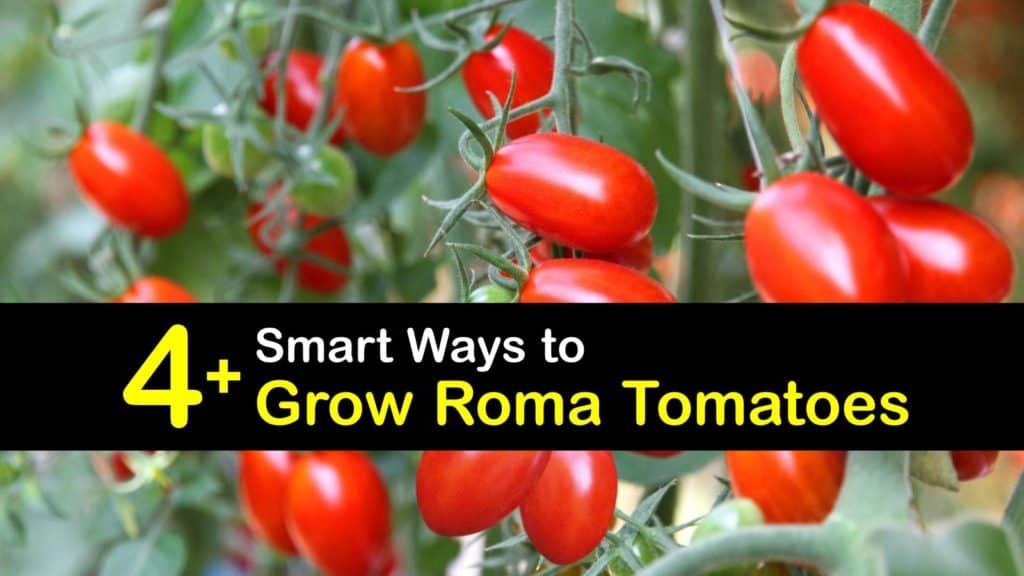 Simple Ways to Grow-Roma-Tomatoes
The hardest part about growing Roma tomatoes is trying to decide which one is your favorite. Once you have that figured out, growing tomato plants is easy, even if you have limited outdoor space.
The different varieties of Roma tomatoes are quite easy to grow, and if you think you don't have enough space to plant them, think again. We show you how to grow your own tomatoes at home in the garden and a patio container.
Growing Roma Tomatoes from Seed
Growing Roma tomatoes from seed is the cheapest way to grow plants. You can also plant beefsteak tomatoes and other varieties the same way.
However, it's a good idea to start them indoors before the last frost if you live in a cold region. Here is how to start your tomatoes from seeds indoors.
When choosing your seeds, decide which type of tomato you desire. Indeterminate types are vining tomatoes and grow rather large, while a determinate variety only grows four to five feet tall and is perfect for patio gardening.
When growing cherry tomatoes from seed or another type, timing is important. Six to eight weeks before the last frost, prepare for planting by filling a seed tray with damp seed starting soil. Sow the seeds a half-inch deep in each compartment and cover them with dirt.
Set the tray in front of a sunny window where the temperature is between 65 and 90°F and keep the soil moist but not wet.
Roma Tomato Plant Spacing in the Garden
If you decide to grow a tomato garden, it is important to plan the area with the proper Roma tomato plant spacing. Here is how to transplant your plants from the garden center or seedlings in a garden bed.
Germination takes roughly five to ten days, and the seedlings are ready to harden off outdoors when they are about five inches tall. Place them outdoors for a couple of hours each day for a week to acclimate them.
When the night temperature no longer drops below 50°F, prepare the garden bed for planting by tilling and adding organic matter. Dig holes slightly larger than the base of the plant, and make sure to space each plant 14 to 20 inches apart.
Pluck off the lower set of leaves, and plant each seedling deeply, allowing enough space between tomato plants to discourage the spreading of disease. Cover the roots with dirt, pat the ground down lightly, and water them well to help the root system settle.
How to Grow Roma Tomatoes in Containers
The best way to grow Roma tomatoes if you don't have enough space for an in-ground garden is to plant them in a large container. Here is how to grow tomatoes by container gardening.
Because of their smaller size, determinate tomatoes are an ideal choice for growing in containers, so make sure to choose your plants wisely. Also, do not start planting tomatoes in 5 gallon buckets until after the last frost date passes.
Fill a 14 to 18 inch garden pot or container with soil and organic material, and make sure the container or pot has good drainage holes.
Dig a hole in the center that is large enough to comfortably accommodate the plant's bottom and set the plant carefully into the dirt. Consider removing the bottom leaves and planting it deeply to encourage better root growth.
Fill the dirt in around the bottom of the plant and pat it down gently. Water it immediately to help it settle and set the pot in a full sun location on your porch or patio.
How to Care for Your Roma Tomatoes
It's vital to provide proper care while growing Roma tomatoes to ensure they get all the water, food, and sunshine they need to flourish. Here is how to maintain your plants throughout the growing season to ensure you receive a bountiful tomato crop.
Sunshine is essential for tomato growth, so pick a location for your plants where they receive six to eight hours of sunshine daily. They also require a decent amount of water, especially in containers, so water them one to two inches a week.
Spreading a good layer of mulch in the garden or pot helps retain moisture and stop weeds. While it's unnecessary to prune your plants after planting Roma tomatoes, removing the suckers beneath the first flower cluster keeps them from getting too bushy.
Give your plants support as they grow by caging or staking them. The best way to fertilize tomatoes is to feed them right after planting and then again when they begin fruiting to promote healthy growth.
Tomato hornworms and cutworms are two of the most common garden pests. Remove these bugs by hand as soon as you spot them by using a spray for bugs on tomato plants. Aphids are another annoyance. To get rid of aphids on tomato plants naturally, carefully spray the plant with a steady stream of water to dislodge them.
Think about planting an heirloom tomato that is disease-resistant to avoid dealing with problems such as fusarium wilt and verticillium wilt. Tomato leaves turning brown is a sign of a problem. Finally, spread eggshells over the soil to add calcium to the dirt to prevent blossom end rot.
Harvesting and Storing Roma Tomatoes
You've gone through the effort of planting seeds with proper Roma tomato plant spacing, and you wait patiently for your plants to grow. When do they begin to produce fruits for harvesting, and what's the ideal way to store them?
Tomato Harvest
Roma tomato plants grow 70 to 80 days before it's time to begin harvesting ripe fruit. It's okay to harvest them when they are green and ripen them indoors, but they are tastiest the longer they grow on the vine.
Once they are red, or the color of ripeness, use garden scissors to clip them away from the stem. To get green Roma or plum tomatoes to turn red after picking, place them stem-side down in a sunny windowsill.
Otherwise, store them on the kitchen counter for the best flavor. If you can't eat them fast enough, set them in the fridge for one to two weeks.
Tomatoes are not only delicious on a salad or in pasta sauce, but these fruits are packed with nutrients and antioxidants.
They are also so simple to grow that even the beginner gardener produces a healthy harvest of plump tomatoes at the end of the growing season.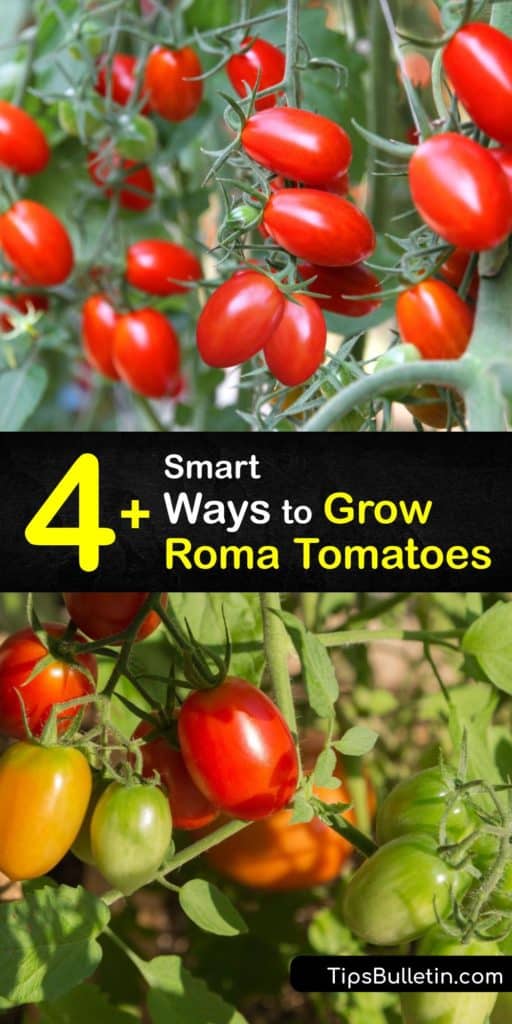 Learning how to grow Roma tomatoes is the best way to enjoy fresh and organic tomatoes for canning and making sauces, so why not share our Roma tomato growing guide with your family and friends on Pinterest and Facebook?