Don't throw away the kitchen leftovers from your store-bought scallions; they're the secret to cultivating an almost infinite supply of scallions at home. Scallions are a delicious garnish and addition to so many dishes, so it's no surprise many people wonder how to grow scallions from scraps.
Produce green onions from leftovers in two simple ways; both are done directly on a sunny windowsill. Anyone wishing to save money while still having quick access to scallions might consider trying to grow scallions in water.
Green onions, garlic, onions, and leeks are all part of the allium family of plants. Scallions are green onions, shallots, spring onions, or bunching onions and appear in nearly every grocery store. They feature long, slender green shoots with a small white bulb at the root end.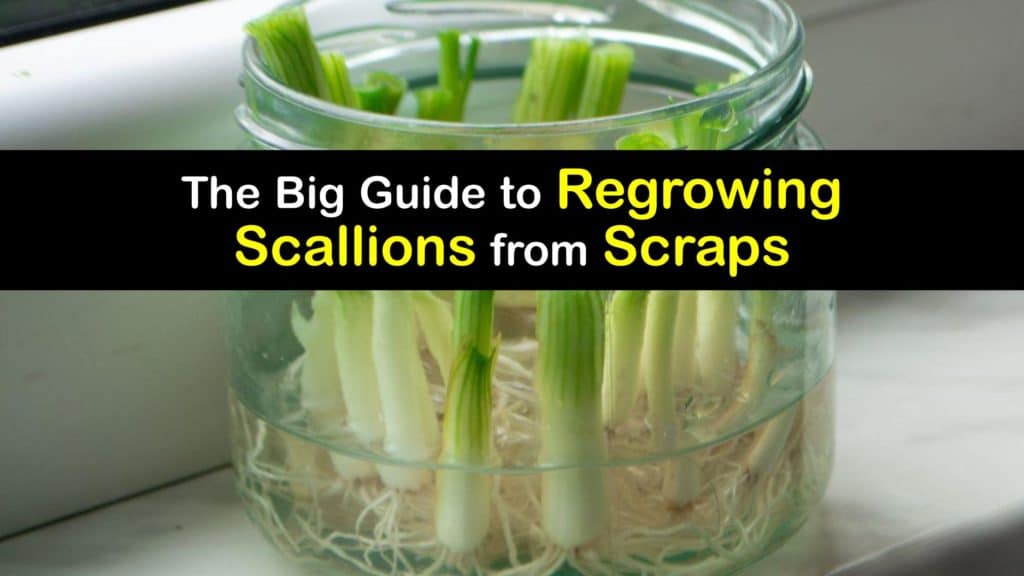 How to Regrow Scallions with Ease
Chop green onions in various ways to complement the meal you're creating, with little waste because the whole stem is edible. The onion flavor is more robust in the white bulbous roots than in the thin green leaves, which taste milder. If you've wondered how to regrow scallions from kitchen scraps, look no further.
Learning how to regrow scallions from food scraps is a cost-effective and straightforward DIY project for any time of year, but mainly when it's too cool to venture outside in the garden.
Growing scallions from scraps saves money and allows you to keep an endless supply of these excellent veggies on hand, preventing food scraps from being wasted and adding a unique and functional new member to your houseplants.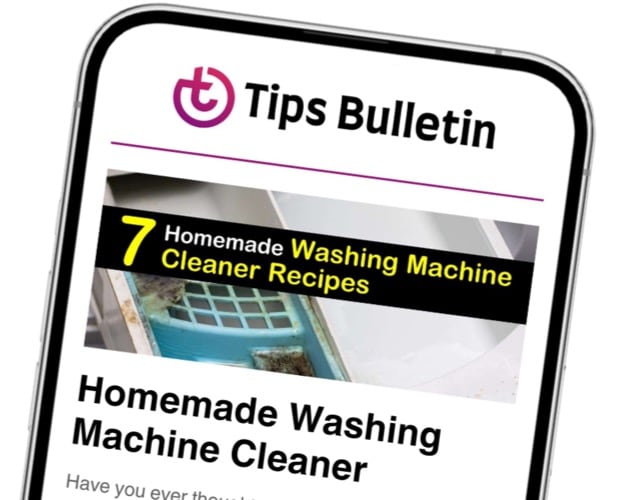 Finally, an email that Transforms Your Home.
Get the latest home and garden tips from our experts, delivered straight to your inbox.
Like leeks and garlic, scallions are alliums, and they make a great companion plant for romaine lettuce for many gardeners. Scallions can be regrown again after being harvested, allowing them to offer their growers an endless supply of produce.
The Simple Way to Grow Scallions in Water
Hydroponic comes from two Greek words – water and labor. For thousands of years, soilless farming, also known as hydroponic growing, has been a massive part of food production. Compared to traditional earth gardening, hydroponic farming has many advantages and you can grow scallions indoors with almost no effort.
Water provides increased oxygen, which allows the plant to better absorb nutrients and stimulates roots to grow, enabling hydroponic plants to grow 30-50 percent quicker than soil-grown plants in the same conditions.
Hydroponic regeneration is a great way to grow scallions in water because it involves little input and yields a lot of tasty vegetables. Follow the same basic process and you can grow cabbage from scraps and several other fruits and veggies.
All that's required to grow scallions in water or to regrow celery from scraps is a glass of water. Include the white bulb section of the scallion with the roots primarily intact, and find a sunny window.
When cutting onions, leave at least an inch of the onion bulbs untouched so they stand up on their own. When you regrow scallions and green onions in water, ensure the roots are undamaged and handle the onion bulbs with care.
After pruning the bulbs and roots of shallots vs scallions or green onions, gently wash them under running water to remove any dirt to prevent accumulation in the pot. When growing green onions from scraps, fill your little pot with enough water to submerge three-quarters of the bulbs, exposing the remainder.
Place the cup in an area of full sun (like a sunny windowsill), and expect to observe new leaves regrowing from the green tops by the next day. Dump the old tap water and refill it with fresh water every two days or when the liquid becomes discolored.
If you've been wondering how to regrow scallions, employing hydroponic gardening to grow scallions in water is a simple, low-cost, and high-yielding solution. Learning how to start growing onions from scraps is well worth the effort.
How to Grow Scallions from Scraps
Consider your resources when deciding how to cultivate green onions from kitchen scraps. To reuse and regrow scallions as a hydroponic, all you need is tap water, a full sun windowsill, and a small pot.
If you have potting soil, sprout your scallion instead and replant it in the soil on a sunny window. Once you understand how to regrow scallions, it's easy to work with what's available and regrow scallions in water or potting soil.
How to Regrow Scallions in Soil
The concept of how to regrow scallions in the soil is simple. After about three days of hydroponic growth, replant the sprouted green onions into potting soil. This approach is preferred by some growers, despite requiring the purchase of additional supplies like potting soil and one extra small container.
During regrowth, the green onions absorb more nutrition from the potting soil than they would from water, resulting in thicker, more tasty green onions.
After following the hydroponic instructions, remove your scallions from the cup they've been growing in after approximately one week and rinse them well. Fill a clean small pot half full with potting soil, moisten it by adding water and make holes big enough for the scallions in the dirt.
Poke about one inch deep and leave about two inches between each hole. To keep the green onions from tipping over, gently press the white bulbs and roots into the dirt, cover them with soil, and carefully compact them.
You may be able to fit multiple green onions in the container, depending on their size. In an average 2-quart container, about 5-7 scallions will grow successfully. Monitor the soil every other day to ensure it's still moist.
Use a nitrogen-rich liquid fertilizer like this easy DIY solution every 2-3 weeks to give your green onions a burst of nutrients.
Shake well, and leave aside for 20 minutes, or until all of the granules have dissolved. Apply directly to the soil surrounding your scallions.
Whatever method you use for growing scallions from scraps, they are easy to harvest. Snip off the top part of the green shoots using clean scissors or garden shears. Leave an inch above the soil or water to allow for new regrowth of new green onions.
Scallions are delicious tossed in a crisper with salad or topped on other dishes. These veggies also freeze well. Chop them into appropriately sized pieces and freeze them in an airtight container to keep an endless supply of scallions. Grow green onions for a simple source of fresh produce right from your kitchen.
Scallions are a simple DIY plant to cultivate in a sunny window. Learn how to grow scallions from scraps in your kitchen to enjoy fresh green onions all year round.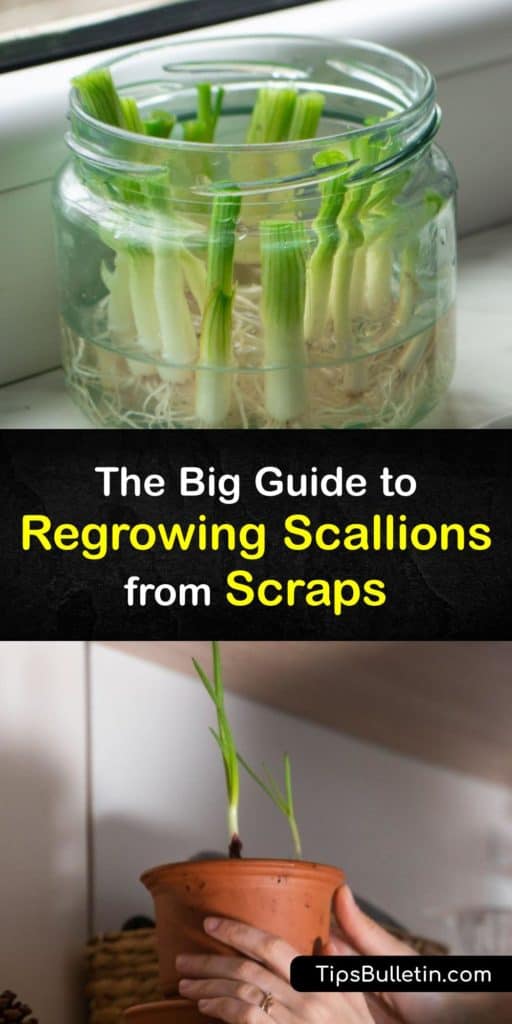 If you enjoyed this article on how to grow scallions from scraps, please share these helpful tips on how to regrow scallions with your family and friends on Pinterest and Facebook.