It's not uncommon for home cooks to mistake French shallots for green onions or chives. While they have similar flavors, these root veggies are more similar to a regular onion. Figuring out how to grow shallots indoors is even easier than growing them in an outdoor garden.
Growing shallots indoors allows you to control the environment. It is also easier to keep an eye on them and adjust any small detail that sends them off track.
Growing shallots in pots is the perfect way to start a container garden. It is easy to find yourself drawn to some of the more exotic veggies, but we find that it's better to start with something that you're going to get a ton of use out of.
Shallots won't be super demanding and turn you off from gardening for the foreseeable future. Shallot sets are inexpensive to grow and are good in almost any recipe.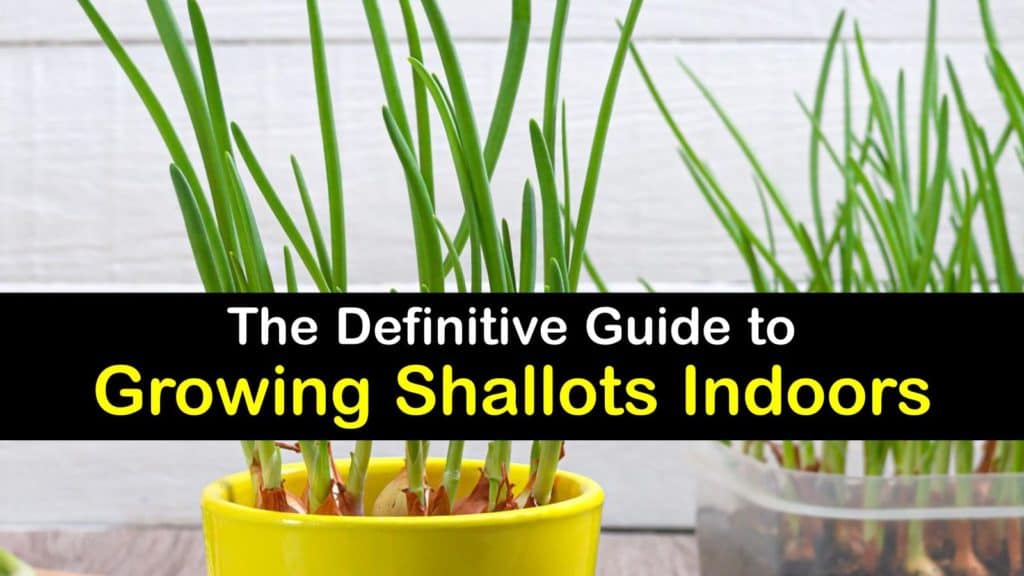 What are Shallots?
Shallots are called Allium cepa, and these veggies are a part of the onion family. Their closest relatives include scallions, ramps, and leeks. One difference between shallots and onions is that they taste similar to spring onions but with a sharper bite. Scallions vs shallots is another story.
There are two types of shallots that you are likely to find in the grocery store. The first is a Dutch form called A. cepa var. aggregatum, and the other is in a French form called A. oschaninii. There is another Persian type of shallot, but these are harder to find in the United States.
Learning how to grow shallots indoors is comparable to how you grow regular onion. Traditional garden beds are unnecessary as long as you give them ample space and the right amount of food, water, and sunlight.
Even though shallots are biennials, experienced growers use them as an annual. Can you grow onions inside like shallots? Definitely. Growing shallots indoors, as well as when you grow scallions indoors, is an excellent way to bypass the growing season and have small onions on hand year-round.
How to Grow Shallots Indoors
Can you grow shallots indoors? It is not only possible but encouraged to grow shallots at home. Growing shallots in pots keeps you from worrying about when the last frost of the early spring is and instead allows you to work with these plants whenever you desire.
Starting the Process of Growing Shallots Indoors
Planting shallots in containers starts from seeds or shallot bulbs. Replanting shallot bulbs is usually much more straightforward than sowing seeds. However, some people prefer to raise their crops from start to finish.
Keep in mind that when you grow shallots from seed, you are most likely only going to obtain three or four small bulbs, while planting onion sets provides you with eight to 12 bulbs.
Growing Shallots in Pots
Deciding that you want to use seeds for growing shallots indoors means you should purchase a seed packet from a local nursery. If you plan to transplant them outside, sow the seeds four weeks before the last spring frost.
Seed-grown onions are usually ready for harvest 100 to 120 days after germination. Start your seeds at any time if you prefer to keep them indoors.
Fill a standard seed tray with high-quality potting soil. Sow each seed a half-inch deep and cover with more soil. Spray the seeds with water and set them in a warm and dry place. Ensure they are under full sun, meaning they get six to eight hours of direct light.
Germination should happen within two weeks. Once they start sprouting, increase the time in the sun or under a grow light to eight hours per day. When seedlings are five to six inches tall, start replanting seedlings outdoors.
Growing shallots in pots from sets is a great way to use multiplier onions. Choose a sunny location in your house or set up grow lights and provide at least eight hours of sunlight.
A late summer or fall planting might be a good idea if you hope to move pots outside since they enjoy cool weather.
Carefully set the shallots in rich potting soil with the pointed end facing down. If the soil isn't rich enough, amend it with organic matter. Keep the protective skin intact to prevent the bulbs from rotting when you water them.
Mist the soil surface every day to keep it moist without being soggy and provide the shallots with an inch of water every week. Green tops start sprouting after only a few days.
Mulch the tops of the containers to hold onto moisture if there are dry conditions. Ensure they have plenty of good air circulation by keeping the spacing between plants at least six inches apart.
Harvesting and Storing Shallots
Now that you watched your shallot plants grow, we know you can't wait to bite into that sweet onion flavor. After about 100 days, the greens start to brown. Gently tug on the plants so that the entire root system comes loose.
Braid the onion tops together and hang the onions in a dry location to cure for six months. How long do onions or shallots last after curing? When properly stored, these alliums can last up to one year. Store the shallots in mesh bags until you're ready to turn them into a mouthwatering meal.
Warm your oven to 400°F. Heat a sauté pan over the medium heat setting and melt the butter. Stir in the shallots and sugar and toss everything to coat the onions. Cook the shallots over medium heat for ten minutes until they start to brown.
Stir in the vinegar, salt, and pepper. Set the pan in the oven and roast them for up to 50 minutes or until everything is tender. Sprinkle the dish with extra salt and pepper before serving.
Shallots may look like onions, but they take your dishes to a whole new level that you didn't know you were missing. These plant-shallots-indoors tips are easy to follow and allow you to keep fresh veggies in the house without worrying about them on a daily basis.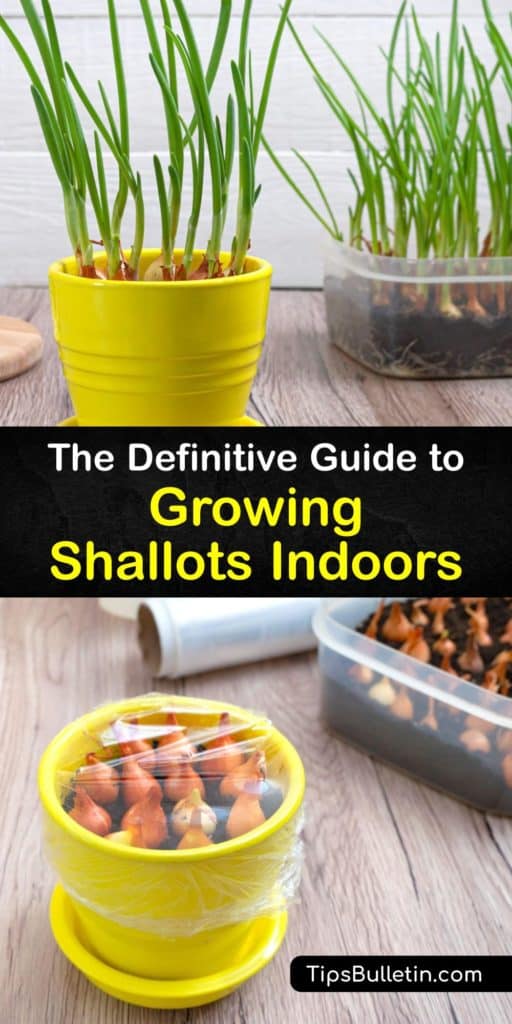 If this article helped you learn how to grow shallots indoors, share these tips for growing shallots in pots on Facebook and Pinterest.