It's a sad time when the summer growing season comes to a close. We think our once lively vegetable garden is no longer useful and goes to waste for the remainder of the year. Learning how to grow spaghetti squash is an easy way to free yourself from the cold-season blues.
Growing spaghetti squash varieties that qualify as winter squash continue to grow even after all of your summer squash is harvested and dies off. How long do spaghetti squash take to grow, and how soon is it safe to harvest them?
The nice thing about spaghetti squash plants is that they have a thick rind that protects the inner flesh for more extended periods of time. Once you harvest them, storing the veggie in a root cellar or cold room in your house keeps them fresh for months and is a great choice to sustain your family's diet with high-quality, fresh foods.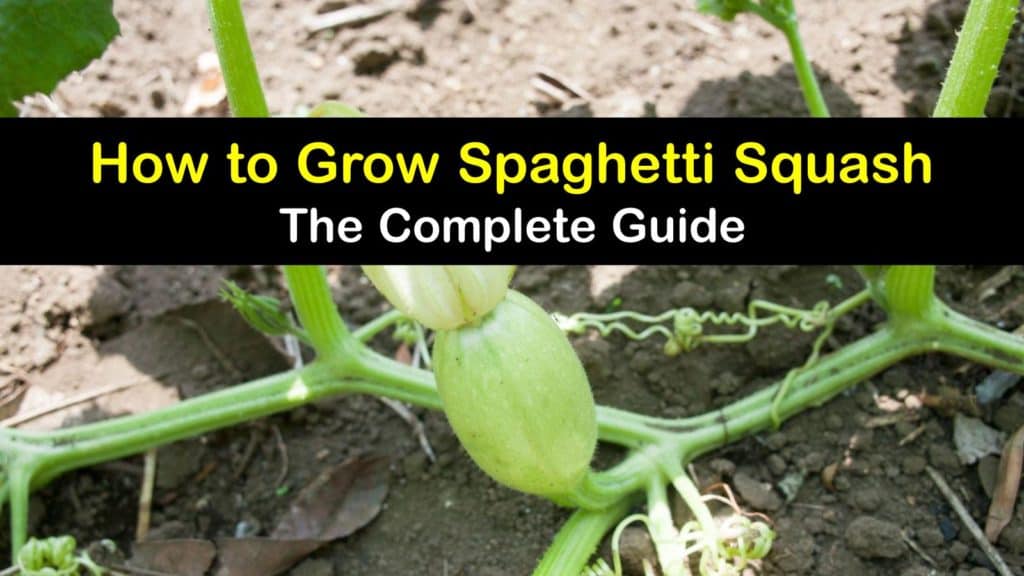 Potential Winter Squash Cultivars
Although spaghetti squash plants are a favorite among gardeners and anyone else who enjoys eating zucchini in general, many winter squash cultivars grow in similar conditions. They make excellent additions to grow alongside your spaghetti squash seeds.
Growing squash at home does require some involvement. The overall process isn't so challenging that you need a lot of experience, though.
Butternut squash is a large, peanut-shaped fruit that grows over a foot in length when they're in an ideal habitat. It has thick, tan skin on the outside with lighter stripes lengthwise down the body.
The inner flesh is a vibrant orange color that has a sweet and nutty flavor. Recipes that use sweet potatoes are often interchangeable with butternut squash. Learn how to tell if butternut squash is bad before cooking with it.
Acorn squash is another lovely winter squash. These fruits are smaller and have a mild and sweet flavor. There are many strange folds on the outside that make getting to the yummy interior more challenging. A single acorn fruit is plenty to feed two people.
Kabocha squash is also known as the Japanese pumpkin. These aren't the prettiest squashes to work with, but they are a fun new flavor to try. Kabocha squash has a thick rind and a lot of seeds inside.
Finally, spaghetti squash is the true winner of our hearts when growing spaghetti squash at home. These foods gained a large following after fad diets introduced them as pasta replacements.
The stringy interior tastes delicious and lacks a high number of carbohydrates like in pasta or rice. Spaghetti squash has a long body and vibrant yellow flesh inside.
Other notable winter squash varieties include pumpkin, buttercup, delicata, and honey nut. While every type has a unique taste, most of them are interchangeable.
We suggest trying to grow spaghetti squash alongside at least one other cultivar in your fall veggie garden beds.
Now that you know your fruit options, it's time to find the answers to your questions, like how long do spaghetti squash take to grow and how do you harvest them?
Growing Spaghetti Squash
Regardless of the types of winter squash you grow, nearly all of them can grow in the same conditions. Generally, the way to plant butternut squash is just like growing spaghetti squash. There might be a few minor differences, yet all types should do fine throughout the growing season.
How to Grow Spaghetti Squash from Seed
Spaghetti squash are vining plants and tend to spread out and take up as much space as possible. It's impractical to expect your squash vines to stay contained in a small area. Planting gourds in pots like squash is possible as long as you give them something to cling to.
Before you sow seeds for spaghetti squash or plant zucchini seeds, set up a trellis or another type of support system that allows them to climb and utilize more of your garden.
Whether you start growing butternut squash or the spaghetti variety, squash plants do best when grown in hills or mounds in the last row of the garden, where they are away from other veggies. When is time to plant spaghetti squash to have the best chance of a good harvest? When to plant squash seeds is when there are at least 100 days without danger of frost.
Most gardeners prefer starting squash seeds inside under grow light about four weeks before the last frost date of the season. Spaghetti squash tolerates a light spring frost, but it is better to wait until mid-March or April to keep them protected.
If you live around a gardening zone where the growing season is longer than 100 days, sow them directly in the garden once all chance of frost is gone.
Prepare your beds by creating mounds of dirt 24 inches across and spaced four to six feet apart for bush varieties of gourds and ten feet apart for vining varieties. Planting gourd vs squash is similar. Perform a soil pH test at the start of the season and keep it in a range from 5.8 to 7.0.
Spaghetti squash plants are hardy and seem to do well when soil is rich in organic matter and humus. Add organic compost to each hill base to provide extra nourishment.
Soak your squash seeds overnight in room temperature water to soften the outer covering and allow faster germination. Water seeds lightly on the first day and wait seven to ten days for germination to occur.
Spaghetti squash plants have both male and female flowers that are pollinated by bees. Plant at least four healthy plants to have enough flowers bloom for good pollination.
Mulch generously around the base of the squash plants to keep the weeds away and prevent them from sucking nutrients out of the soil.
Water spaghetti squash regularly to keep the soil moist, especially during the hottest parts of summer. Ensure they are in a spot with full sun and add fertilizer every two or three weeks. Keep water off the leaves and vines to stop the spread of powdery mildew.
How to Fertilize Spaghetti Squash Vines
Spaghetti squash is a large plant, and it takes a lot of nutrition for them to perform their best and supply you with a high yield. Each vine produces an average of six to eight fruits.
Do not apply garden fertilizers high in nitrogen because it increases vine length instead of fruit production. Organic granular fertilizer with lots of phosphorus is best.
Sprinkle two tablespoons of organic granular fertilizer around individual plants when they are six inches tall. Apply another three tablespoons when the plants start to flower.
Another option to use is liquid fertilizer. Apply liquid fertilizers by mixing them with water according to the instructions on the label and dispersing it around the base of the plant every three or four weeks.
Preventing Pests and Diseases
Unfortunately, many potential issues may arise while growing spaghetti squash. Heirloom varieties are usually best at resisting these plant killers. Look for seeds labeled pest or disease-resistant as you buy them.
Aphids are a problem on most garden plants and are usually found on the underside of leaves and stems. They feed in groups and also spread diseases.
Use a strong stream of hose water to wash the aphids off of your squash plants. Neem oil or insecticidal soaps are the most effective defense mechanisms against aphids.
Squash bugs are insects that leave your plants looking speckled with yellow and brown splotches. The plants begin wilting and eventually die back and don't produce fruit.
You must destroy all infected crops as soon as you notice the problem. Apply row covers to keep these bugs away from your spaghetti squash.
Cucumber beetles are colorful pests with yellow, green, and black bodies. They stunt the growth of seedlings and leave them damaged. Row covers or kaolin clay are effective against small populations of beetles.
Vine borers come from moths that lay eggs. The borer eggs hatch and the larvae feed on your plants. Look for insecticides that contain ingredients like carbaryl, permethrin, bifenthrin, or esfenvalerate.
Many diseases affect spaghetti squash, the most common being leaf blight, leaf spot, downy mildew, powdery mildew, blossom-end rot, and cucurbit yellow stunting virus. Some are more dangerous than others.
The key to keeping of these diseases away is growing your crops in the right conditions. Keep an eye on plants so you can take care of getting rid of powdery mildew on squash plants as soon as it occurs.
Organic squash bug control includes only using clean soil. Do not overwater your plants. Allow the top two inches of earth to dry completely before watering again.
How Long do Spaghetti Squash Take to Grow?
When to pick summer squash is different that winter squash. Summer squash takes about 60 days and spaghetti squash takes from 90 to 100 days to reach full maturity. Although they grow all summer long, be prepared when August hits. This is when the fruits start showing up, and the most maintenance is required.
Managing Vines
The spaghetti squash fruits start to show in August, and you must cut off all vine runners as they develop. Cutting them encourages your plant to put all of its energy into producing fruit instead of longer vines.
Do not handle your vines when wet to prevent the spread of diseases, and be gentle when working with these plants.
Spaghetti squash vines break easily, and you don't want to accidentally uproot the root system. Remove foliage that blocks the fruits from the sun. However, don't take off more than two leaves per plant.
The Time to Harvest Spaghetti Squash
After months of patiently waiting for fruits, the time has finally come to harvest your spaghetti squash. You don't want your squash to ripen too long, yet you don't want to pick them too early either.
Use your thumbnail and start to press it into the rind of the fruit. If the fingernail goes in easily, it is too early to pick. If it takes some pressure, the fruits are ready for harvest.
The best way to harvest spaghetti squash is to use sterile garden shears and clip the fruits from the vine, but do not bring them inside yet. Instead, allow them to cure in the beds for another week as long as the frost isn't arriving too quickly.
Store spaghetti squash in a dry place between 55°F to 61°F and do not wash the harvested squash. If they require cleaning, rub away loose dirt with a dry cloth or paper towel.
Try not to handle the stem area while it cures. Keep your spaghetti squash stored in a cellar or dark pantry for three to six months. Only wash the fruits when you are ready to prepare and eat them.
Ways to Use Spaghetti Squash
There is more than one way to utilize your spaghetti squash. If you have excess male flowers, harvest a few of the blossoms at midday when they are open wide.
Wash the blossoms and turn them into a tasty treat by stuffing them with ricotta, breading, and frying them. Even though squash blossoms are delectable, what you're really after is the sweet inner flesh.
Heat your kitchen oven to 400°F. Use a sharp chef's knife to halve the spaghetti squash. Grab a metal spoon and scoop out the center where the seeds are.
Pour one tablespoon of olive oil on the inside halves of the squash and season them with salt and pepper to taste. Set the squash halves cut-side down on a baking tray and roast them in the oven for about 45 minutes.
Remove the cooked squash from the hot oven and allow them to cool before using a fork to remove the squash strands. Heat a seasoned, cast-iron skillet on the stove over medium-high heat.
Add the extra tablespoon of olive oil and cook the onions are garlic in it for three minutes. Stir in the cooked shredded chicken and spaghetti sauce.
Allow the sauce the heat through before mixing in the squash strands. Dump the food into a casserole dish and top it with mozzarella cheese. Bake the casserole for another ten minutes until the top is golden and bubbling.
How long do spaghetti squash take to grow? Long enough that it makes it all the more enjoyable when we finally get to bite into the sweet strands.
Spaghetti squash is a time-consuming crop that takes a little bit of effort to grow. Thankfully, all of the work is worth it in the end and allows us to store homegrown food without the risk of it rotting.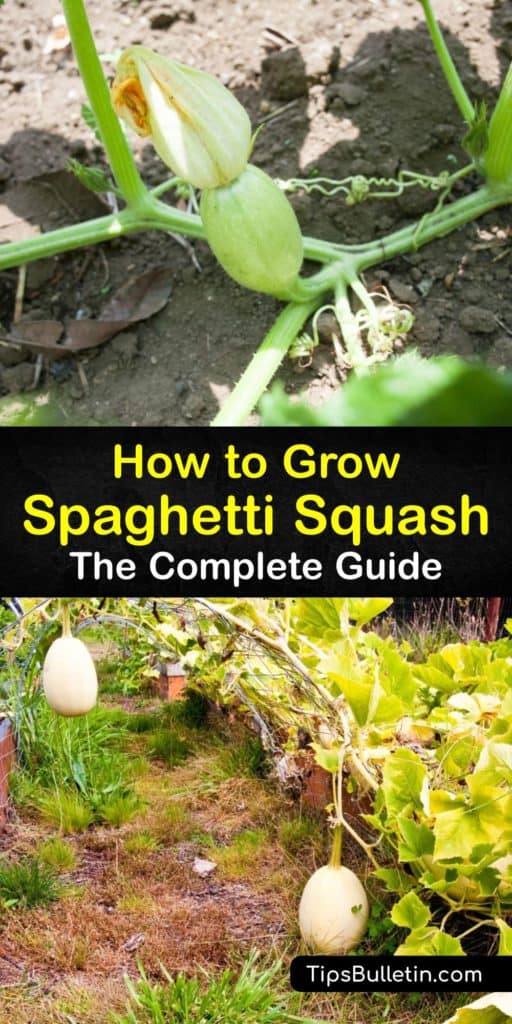 If learning how to grow spaghetti squash encouraged you to plant other winter squash varieties, share this guide on growing spaghetti squash on Facebook and Pinterest.