Vegetable lovers and gardeners alike often wonder how to grow spinach indoors and if it's possible. The great news is growing spinach indoors generally works well with a little bit of knowledge and the right growing conditions.
Learning how to grow spinach at home is easy, and Spinacia oleracea, better known as spinach plants, are favorites among salad greens and exceptionally well suited to growing indoors.
Beginner gardeners easily succeed with this plant, and spinach leaves are packed with potassium and calcium and rich in vitamins and nutrients, making them a tasty and healthy choice among leafy greens.
How Can You Grow Spinach Indoors?
The choice to plant spinach and grow your food is very rewarding. Most spinach seeds grow into spinach plants and are ready for their first harvest about 6-8 weeks from planting. Even better, many spinach plants regrow for two or more rounds of harvesting and thrive on a windowsill with only fundamental care.
Spinach is a cool-season crop, but growing spinach indoors allows it to thrive even in hot weather climates and prevents problems like bolting, aphids damage, fungal diseases, or mildew.
Have you ever wondered, "Can you grow spinach indoors?" Follow a few easy tips and DIY ideas to ensure you have these delicious veggies growing in your home.
Spinach is a blooming plant with a leafy green color native to Central and Western Asia. Its leaves are typical culinary vegetables eaten fresh or preserved via canning, freezing, or dehydrating.
Spinach is high in fiber, folate, and vitamins A, C, and K, all of which are essential for overall health, and it's low in calories. Spinach or Spinacia oleracea is a versatile kitchen ingredient, working well with other salad greens, as a hearty vegetable side dish, or in a green smoothie.
Moist nitrogen-rich soil is vital for good spinach growth. Loosely packed dirt works best as spinach grows a long, easily-smothered taproot. The entire plant tends not to surpass 12 inches in height, making spinach a great candidate for indoor and container growing.
This veggie is hardy and versatile, with an optimum temperature range of 60 to 75°F, agreeing with the most common living temperatures inside houses and making it ideal for a DIY to grow at home.
Growing spinach indoors is straightforward for most growers and requires little equipment beyond a container, spinach seeds, and appropriate soil and fertilizer.
Best Types for Growing Spinach Indoors
Different varieties of spinach have various properties, making some better suited to growing indoors.
Thanks to their hardiness, these varieties of spinach are great choices to grow spinach at home. By choosing types of spinach plants that are more resistant to fungal infections and bolting – or going to seed – you raise the chances to grow your own spinach. The Tyee, in particular, is a popular choice as it's an all-season crop and grows year-round.
How to Grow Spinach Indoors – Planting Tips
Before you start growing spinach in pots or outside, place the seeds in warm water for a day a week before planting, and allow them to soak to increase the likelihood of seed germination. When you take them out of the water, pat them dry with a paper towel.
Place the seeds in an airtight jar and keep them in a cold place for a week after soaking them in water; this keeps the seeds moist enough to get them through the first two stages of germination. When you're ready to plant your spinach seeds or are starting kale indoors, spread them out and cover them with about half an inch of potting soil.
Propagating seedlings is another excellent way to start growing spinach indoors. First, plant one seed approximately half an inch in each seed tray cell. An egg carton makes a great DIY seed tray.
Spray the dirt with water and cover the crops with a film. Soil temperature should stay between 65 to 70°F. Remove the film after ten days. Transplant your seeds into pots with loamy potting mix when you notice they are developing well and want more space.
Water Spinach Often
Water spinach frequently and keep it away from severe heat. Keep the soil moist but not saturated, and avoid wetting the entire plant or the leaves themselves. Using a pot with drainage holes and removing excess organic matter like dead leaves can help prevent water damage or mildew.
Optimum Temperature to Grow Spinach at Home
The best time to plant spinach is a consideration when growing this vegetable, as well as when you are growing arugula indoors. Because spinach is a cool-season crop, it should be grown in temperatures ranging from 50 to 75°F. Mature spinach plants can withstand temperatures as low as 20F, but immature spinach plants bolt if temperatures fall below 40F. Temperatures between 60 and 75°F are often optimum for growth.
Spinach Light Requirements
If you're growing spinach on a windowsill or balcony, ensure it gets at least 4 and up to 6 hours of direct sunlight each day. Although spinach grows best in full sun, it can also thrive in partial shade. LED grow lights are the best alternative for producing spinach indoors without access to full sun conditions.
Fertilize and Mulch to Grow Spinach at Home
Nitrogen-based fertilizers are preferable for growing spinach indoors. You can also use a liquid fertilizer. Fish emulsion, manure tea, or compost can all help your plant get the nutrients it needs to develop.
Mix well and pour on the soil. Fertilizers should be applied when the spinach has sprouted, not after it has reached maturity. Mulch is necessary to help retain moisture and enhance soil quality. However, excessive mulch may bury the plant.
Harvest and Enjoy Your Veggies
When the plant has at least five spinach leaves, which are around four inches long, spinach leaves are ready to harvest.
Small spinach leaves can be harvested by simply cutting them at the stem with clean scissors. It's better to begin collecting the plant's outer leaves and work your way toward the center. You can harvest the new inner leaves later as they grow.
If the temperature is excessively humid or hot, the plant quickly generates little yellow or green blossoms. The leaf thickens as the plant flowers and bolts, and the flavor of spinach gets more bitter. It's essential to maintain growing conditions and harvest the spinach before it flowers for a better taste and reduced bitterness.
How to grow spinach indoors is a question that's simple to answer as this plant is easy to start and can even thrive as a hydroponic in only water. Like arugula, many enjoy baby-spinach and quickly obtain it by DIY growing. You may think baby spinach is not the same as spinach but it is. Baby spinach is simply spinach that is picked before it reaches full maturity.
Whether you are apartment living or your area is outside of the growing season, grow spinach at home and enjoy your favorite fresh salad greens any time without maintaining an entire garden.
Fresh veggies are delicious and rich in health benefits. Learning how to grow spinach indoors allows you to have access to nutritious food at a low cost and offers a rewarding gardening project. Now that you know how to grow spinach indoors, give it a try and enjoy homegrown leafy greens or share them with your friends.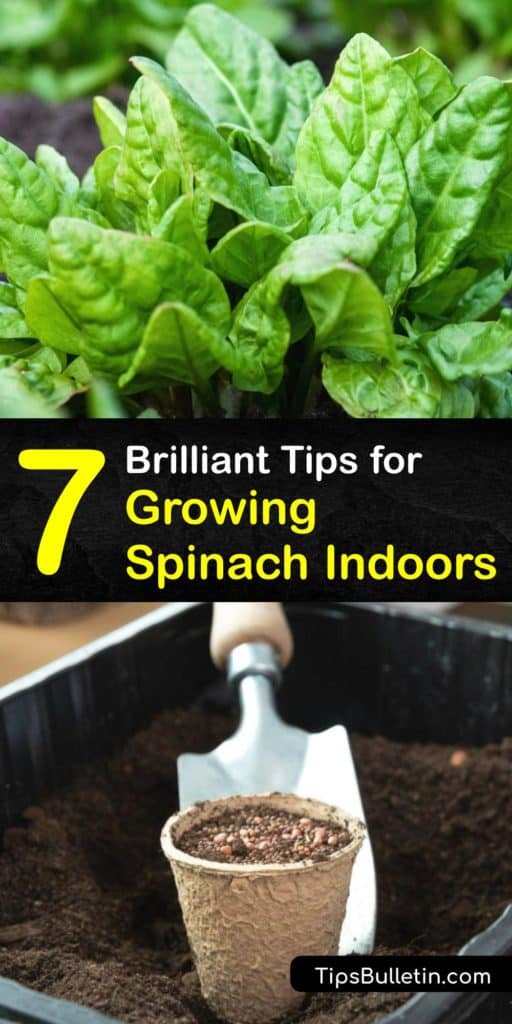 If this article answers the question of can you grow spinach indoors, consider sharing these brilliant tips on how to grow spinach indoors with your friends and family on Pinterest or Facebook.