There are dozens of squash varieties or cultivars to choose from, and deciding which to grow may be based on preference, but if you're looking to expand your garden, consider planting squash in pots. Container gardening is an innovative gardening method for those who lack space or wish to start small in their gardening endeavor. To ensure your pot-grown squash is successful, we compiled a list of tips on how to grow squash in a pot.
Are you looking to create space in your ground garden for different varieties of squash? Are you looking for methods to improve air circulation? Or, are you trying to avoid your squash rotting from excess moisture?
We've got solutions for these questions and many others, like minimizing places for pests to hide below. Follow our tips to get started if you'd like to dive into planting squash in pots and take advantage of the benefits of growing squash in pots.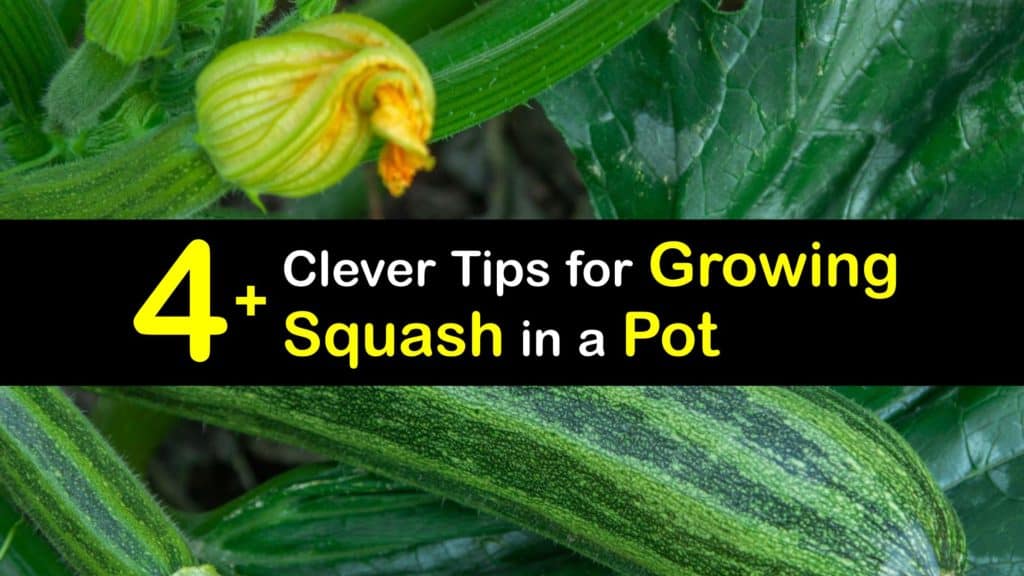 Tips for Growing Squash in a Pot
Divided into two categories, summer and winter, squash is ready for harvest during their respective season. Harvested in winter, squash from the cooler months has hard rinds that make them ideal for keeping.
Summer squash is harvested during warmer times of the year, but does not store for long. Continue reading to find out how to plant squash in pots effectively.
When to Begin Growing Squash in Pots
Winter squash grows best in temperatures ranging from 50° to 90°F and reaches harvest between 60 and 110 days from being planted. There is little difference between squash and pumpkin in this regard.
If you are transplanting your squash, wait until the soil temperature is at least 60°F, when the danger of the last frost has passed—winter squash blossoms with female and male flowers that are essential to pollinations and later fruiting.
For the best crop of summer squash, or when growing watermelon in containers, it's best to plant in early spring, but depending on your climate, it could be later. Either way, wait until after the last frost of the season.
Be careful when handling squash that has begun to produce fruit. If the fruit falls off during handling, or you knock off any male and female flowers, it won't produce fruit.
How to Grow Squash in a Pot Indoors
It's to your advantage that squash are vegetables that grow well in containers. One essential benefit of growing squash in pots is the option to move your plants. Unlike traditional gardening in the ground, placing your squash seedlings into pots indoors or growing zucchini indoors gives you a bit of flexibility on where to put them.
While vining squash requires a large space to grow, several smaller varieties, known as bush-type squash, aren't much of a grower and are perfect for growing inside.
Although they may not grow as aggressively as vining squash, bush variety squash needs a sizable pot measuring 24 inches across and 30 inches deep of space for the squash roots. When you start to grow zucchini in pots, the pot should have a good drainage hole to avoid your squash rotting in soggy soil.
Once you fill your pot with potting mix, add one tablespoon of slow release fertilizer to each pot before planting five squash seeds two to three inches deep into the center of the pot, allowing a few inches between each seed.
If your potted squash is outside, adding mulch to your pots after your seedlings have grown to two to four inches high helps protect your seedlings from weather damage.
Apply mulch to the top of your potting soil without allowing it to touch the bottom leaves of your plant to avoid contact diseases.
Gourds are also suitable for pots. Growing birdhouse gourds in containers is easy as long as they have something to climb on to grow up instead of along the ground.
Common Pests and Diseases for Squash
While growing squash in pots is somewhat easy, the risk of disease and pests is always there, like with all plants. Simple steps you take along the way can help.
Whether you want to grow spaghetti squash seedlings or zucchini, make sure your squash is growing in soil rich in organic matter, has proper air circulation, and appropriate water.
Growing your squash vertically with less leaf coverage also means fewer places for pests like squash bugs and cucumber beetles to hide; this makes inspecting your plant and taking action against pests easier.
Another way to repel pests is to create a companion plant of radishes. Some pests make their way into the squash stem to feed and prevent water from flowing through the plant, but radishes naturally repel these pests.
When it comes to disease, a common worry for gardeners is powdery mildew. The mildew, which looks like white powdery spots on infected leaves or stems, is dispersed by the wind carrying its spores from contaminated plants.
This mildew thrives in warm climates with high humidity, much like the days and nights of late spring and early summer.
Neem oil can effectively treat powdery mildew when applied to all affected areas. Proper air circulation is another way to prevent mildew.
Benefits of Planting Squash in Pots Vertically
Whether your preference is winter squash or summer squash, grow it in areas that receive between five and seven hours of full sun. A great time to plant butternut squash and other varieties is after the threat of frost has passed. During the growing season, provide organic fertilizer every two weeks.
Water your soil when it feels dry, and as it grows, water near the base of the plant only to prevent wet leaves from forming mildew and attracting unwanted pests.
Vertical growing also lessens the shade covering your squash and allows more sunlight to reach the leaves.
Adding a stake or a trellis to your pot helps your plant support the weight as it begins to produce fruit. Vertical growing also allows air circulation around your plant and reduces the likelihood of mildew forming after watering.
When to Harvest Squash
While harvesting the largest vegetables may seem like a no-brainer, this isn't always the case for summer squash and zucchini.
Pick your summer squash from the vine before they grow too large, as bigger fruit causes their outsides to become tougher and create a seedier and more watery inside.
Perform a quick test by pressing the nail of your finger to the skin of the vegetable. It should feel firm and show bright and healthy skin.
Winter squash is ready to harvest once the skin hardens. Again, use your fingernail to test, but this time pressing into the vegetable should require some work.
If piercing the squash is easy, your squash is immature and needs more time on the vine.
Planting squash in pots provides gardeners, experienced and new, with an opportunity to test their green thumb and innovate their gardening throughout the year.
We hope this guide on how to grow squash in a pot proves helpful to you; if so, please share this article on planting squash in pots with your family and close friends on Facebook and Pinterest.