You purchase several containers of fresh strawberries on sale from the grocery store only to get them home and discover half of them are growing mold, and the other half have soft spots. All but a few of those once delicious fruits end up in the trash, wasting your time and money. We'll show you how to grow strawberries from seeds so that you can enjoy the sweetest berries fresh from your backyard.
If you've grown your own vegetables or fruits before, then you're aware of the joy of picking them from the garden at the end of the growing season.
Not only that, but homegrown fruits and veggies are packed with flavor not comparable to grocery store produce.
Strawberry plants are relatively simple to grow, and there are many different cultivars to choose from. While it's most common to grow them from a bare root plant, it's also possible to grow strawberries from seed.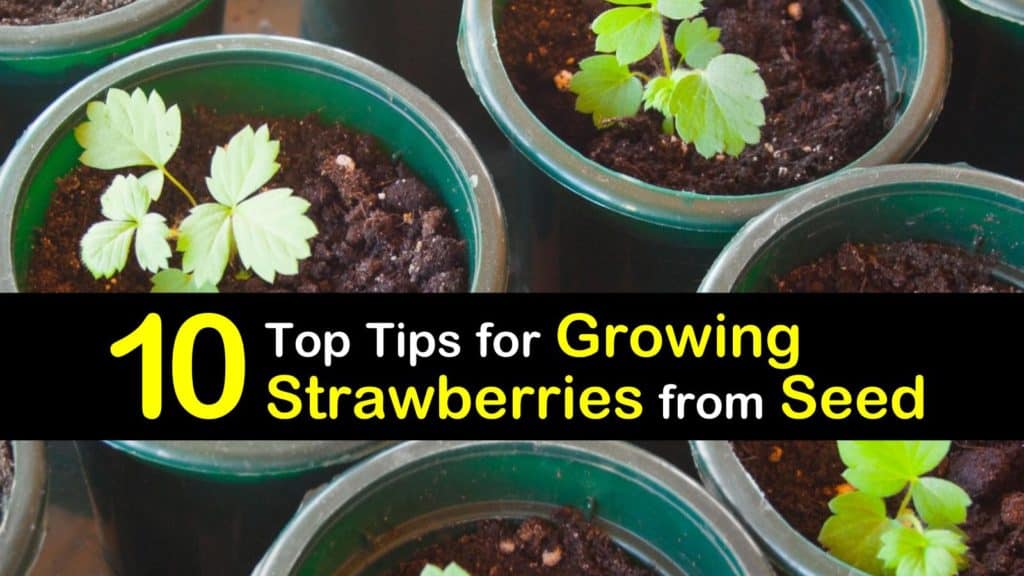 Ways to Grow Strawberries from Seed for the Best Strawberry Harvest
Growing your own strawberries from seeds takes a little more patience than growing young plants, but it's easier than you think.
We'll discuss the different strawberry varieties, when and where to grow them, how to plant them from seed, the importance of maintaining your plants, and how to keep them pest-free.
How Long Does it Take to Grow Strawberries?
Learning how to plant strawberries from seeds is one thing, but how long does it take to grow strawberries? It all depends on the kind of strawberries you choose to plant and the climate of the area where you live.
Strawberry Germination Rate and Fruit Production
Starting strawberries from seed takes some time, and germination often is the most frustrating if you lack patience since it takes anywhere from one to six weeks, depending on the berry.
After you move your seedlings into their new home outside, you have another period of time to wait before those young plants flourish and produce flowers, followed by berries.
Strawberries are generally ready to pick about four to six weeks after planting them outdoors, depending on your region's temperatures and the type of plant you grow.
What to Know before Growing Strawberry from Seed
There are a few strawberry types (Fragaria × ananassa), and it's vital to understand the differences before growing strawberry from seed. Understanding the qualities of each one and their growing habits is important in producing the fruit you desire.
Strawberry Plants
June-bearing strawberries are hardy in zones 3 through 8 and grow ideally in rows or hills. They produce berries in late spring through early summer, and it's most useful to remove the flowers during the first growing season to encourage the plant to make juicier fruits the following year.
The everbearing variety grows ideally in USDA hardiness zone 4 through 8 and spreads through runners, developing buds in the fall for the following year.
Just like the June-bearing plant, this strawberry performs well if you remove the first year's flowers. As soon as the weather warms outside, these plants produce fruit on and off throughout the growing season.
California strawberries are wild strawberries native to the West coast and are hardy in zones 5 through 9. This berry requires planting in early spring and begins fruiting in the late spring of the following year if you choose to remove the first year's buds.
Alpine strawberries grow in neat clumps and do not produce runners. They are hardy in zones 3 through 10 and grow berries the first year you plant them, providing fruit continually from early spring through early fall.
How to Grow Strawberries from Seeds
Choosing the perfect strawberries to grow in your garden is the first step. Now it's time to learn how to grow strawberries from seed and understand how to give them the attention they need to flourish into healthy plants.
Many strawberry seeds need cold stratification to germinate, so place your packet of seeds in a plastic bag and set them in the fridge for three to four weeks before you plant them.
This mimics the winter season and encourages them to grow after they return to room temperature. After the seed packet sits on the counter for a couple of days, they are ready to plant.
Fill seedling trays with seed starting mix and gently press the tiny seeds down into the top of the soil without covering them. Mist the top with a water-filled spray bottle and set the tray near a full sun window or beneath a grow light.
Transplanting Strawberry Seedlings in Outdoor Pots
After growing strawberry from seed indoors, it's time to transplant the new plants into their new home. If you don't have garden space in your yard, it's easy to plant seedlings in pots to grow on a porch or patio.
Seedlings acclimate to indoor conditions and require hardening off before transplanting outdoors. Take the tray outside for short periods each day to get the young plants accustomed to the different climate.
Fill the desired pot with rich potting soil, and make holes large enough to accommodate the plant's roots. Space them about eight inches apart and place the seedlings into the dirt.
Pack them lightly into the soil, spread a layer of mulch around their base, and give them a decent amount of water to help them settle.
How to Transplant Strawberry Seedlings in a Garden
If you're fortunate enough to have space around your home to grow a strawberry patch, it's time to move your young plants into the garden. How long does it take to grow strawberries in the yard? It depends on the strawberry variety.
It's essential to harden off the seedlings before planting them in the garden by gradually exposing them to the outdoors. Make sure the garden bed is weed-free and filled with rich soil.
Make holes in the bed about eight inches apart, and place a strawberry plant into each hole. Fill in the soil around their base and pack it gently in place. Spread some mulch through the garden and water your new plants to help them establish.
The Best Time to Start Strawberries
Learning how to regrow strawberries means acquiring a bunch of information, including knowing when to plant strawberries from seed or seedlings. Timing is key when it comes to growing a garden, as many growers attest, including strawberries.
Starting Strawberries
To understand when it's time to start your strawberry seeds indoors, it's important to know which USDA hardiness zone you live in. This zone indicates the climate conditions for specific locations and helps you understand which plants handle those temperatures.
Start your seeds in your home in the early spring or about one month before the last frost to ensure they are ready for planting outside when the temperatures are warm and steady.
Where is the Ideal Place to Grow Strawberries?
Just like all other plants, strawberries grow better in some locations than others. While some vegetation thrives in shady, cool spots, others need a lot of sunshine and warmth to grow strong and healthy.
Strawberry Location
Strawberry plants require about six to eight hours of direct sunlight every day, so knowing where the sunny spots in your yard are located is key to a good harvest.
The next thing to do is decide whether you want to grow them in the ground or a container garden. Hanging pots, raised beds, and containers are all excellent options for growing these fruits, as long as you place them in the sunshine.
How to Tend Strawberries
As much as we'd all love just to let plants do what they do best after placing them in the dirt, this is not possible.
Strawberry plants require regular care and maintenance to flourish, and giving them what they need encourages them to reward you with a good strawberry harvest.
The first thing to remember when keeping your strawberry plants healthy is to use mulch. This material helps retain moisture in the soil while keeping unwanted weeds from taking over your garden.
Plant them in well-drained and rich soil and add organic compost or fertilizer. Pinch off the first blossoms to encourage a bushy, mature strawberry plant and cut down the plants at the end of the season. Water them as needed and feed them after harvesting and in the fall.
Dealing with Garden Pests in a Strawberry Patch
Many different hungry insects cannot wait to devour your outdoor plants, and strawberries are no exception. While these pests are annoying to deal with, there are some easy solutions to take care of bugs on strawberries.
Sap bugs, tarnished plant bugs, bud weevils, and slugs are all strawberry plant enemies. If you notice slugs, remove plant debris and mulch from around the plant and place a board in the dirt.
The slugs cling to the board, and removing it in the morning eliminates the problem. For other insects, use a natural insecticidal soap, place sticky traps around the plants' base to capture the insects, or use a paper towel to remove bugs by hand as you notice them.
Harvesting the Tastiest Strawberries
After working to start your plants from seed and transplanting them to the garden or pot, it's finally time to harvest delicious berries.
The harvest time depends on which strawberries you grow, and knowing when they are perfectly ripe is key to the sweetest fruits.
Strawberry Harvest
After the blossoms fade away, the strawberries emerge and are small and white. Check your fruits daily and wait for them to turn bright red.
As soon as they turn color, they are ready to harvest. If you wait too long, they become soft and mushy but are still useful for making jam. Use garden scissors to cut the fruits away while leaving the green tops intact.
If you end up with a bountiful harvest, learn more about fresh strawberries storage so the yummy fruits don't go bad before you can eat them all.
Freezing or canning are great options to make fresh strawberries last longer and extend strawberry season throughout the year.
Learning to grow strawberries is easier than you think, and all these plants require is your attention to provide them with their basic needs.
Say goodbye to bland or moldy grocery store strawberries and say hello to the sweetest berries you'll ever taste straight from your own strawberry patch.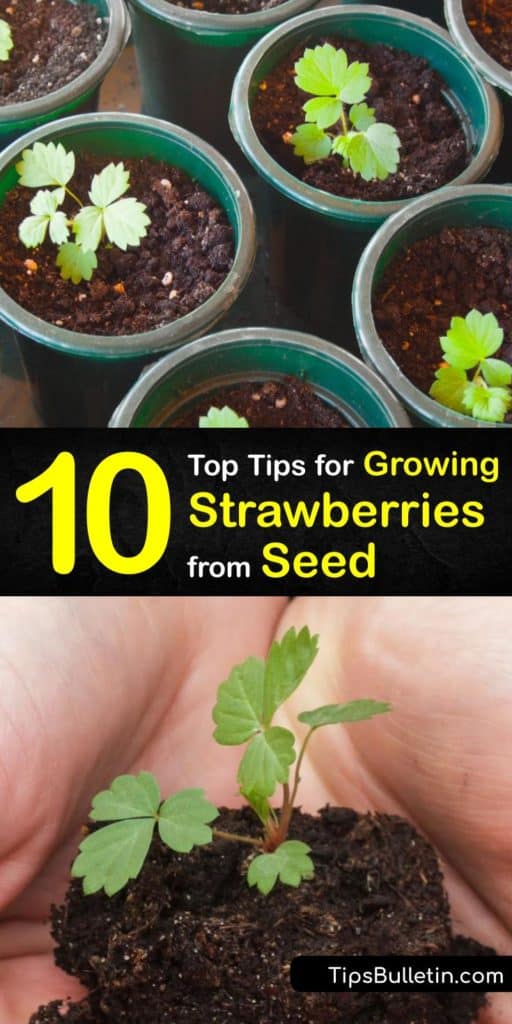 We hope that you enjoyed learning how to grow strawberries from seeds to enjoy the tastiest fruits every year, and we'd love it if you'd share our strawberry growing guide with your fruit-loving friends on Facebook and Pinterest.