Whether it is for strawberry shortcake, to have access to fresh fruit, or to make delicious homemade jam, planting strawberry plants this growing season carries plenty of benefits. Learning how to grow strawberries in pots is straightforward when you have all the correct information and gardening tips and tricks.
One of the fantastic things about planting strawberries is that they are container plants and can survive and produce fruit in an indoor environment.
Growing strawberries indoors allows easier control of the temperature, water levels, and sunlight exposure, making gardening far more manageable. Planting strawberries in pots has never been easier when you follow the gardening advice we provide throughout this article.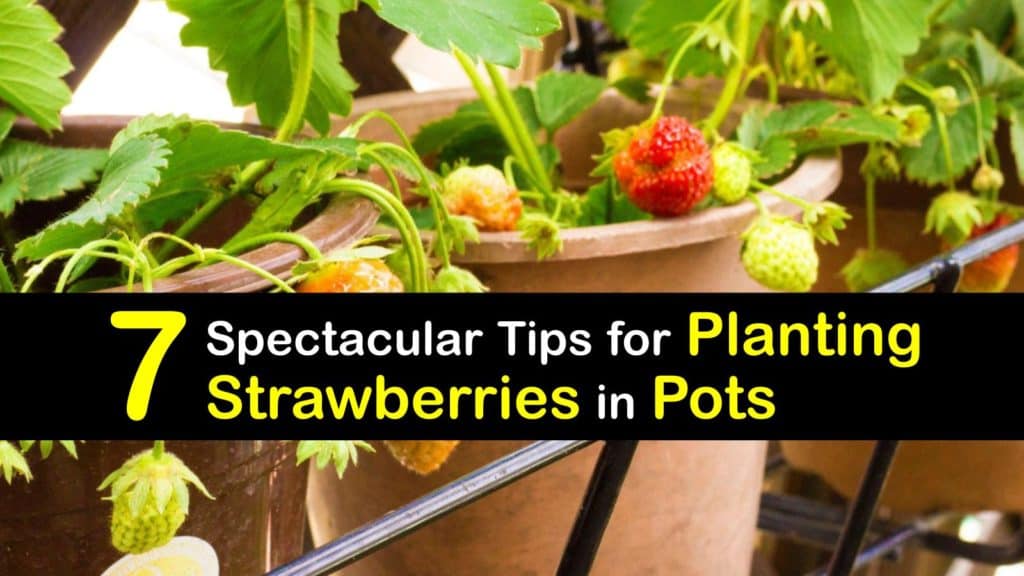 Advantages of Container Gardening
Discover the differences between strawberry varieties, what containers work best for strawberries, and how to care for your strawberry plant throughout its development.
If you would like to have access to fresh strawberries all year long, follow these DIY tips as you discover how to grow strawberries in a pot.
No matter where you live, growing strawberries in containers and plastic pots carries many advantages. One of the most enticing aspects of container gardening is the fact that it is versatile.
Using pots allows you to grow strawberries on your patio, hanging baskets, window boxes, indoors, and in small spaces with ease.
A couple of other benefits of using pots to grow strawberries is that there is a lower chance of weeds overtaking the plant. Additionally, containers are mobile, so you can move the strawberries wherever you prefer, unlike plants in flower beds.
Different Types of Strawberries
There are three major classes of strawberries that are common among gardeners. The distinguishing factor between each type of strawberry is the time of harvest.
When planting strawberries in a container, decide what kind of strawberry you would like to grow. The strawberry variety you choose to grow depends on when you prefer to harvest.
For container gardening, everbearing and day-neutral strawberries are the best because they bear fruit in their first year.
June-bearing strawberries, day-neutral and everbearing types produce fruit quicker and more often. For strawberries that come back each year, plant Alpine strawberries, as they produce fruit in the spring and continue fruiting throughout the growing season.
How to Grow Strawberries in Pots and Containers
Another fantastic quality of growing strawberries in pots is that many containers work to germinate the fruit. The best time to propagate strawberries from runners is between spring and fall.
No matter what container you choose to plant your strawberries in, it is crucial to ensure the strawberry pot has at least one drainage hole. Good drainage is a must so the water does not accumulate at the base of the plant.
The smallest pot to use for growing strawberries in a container is about ten inches in diameter and eight inches deep.
The smaller the container you use for your strawberries, the more frequently you water the plant. If possible, choose a light-colored pot so no excess heat is produced as the plant germinates.
Planting Strawberries in Pots in the Proper Soil
Soil is an essential part of germinating any fruit or vegetable. As you learn how to plant strawberries in pots, you must know what kind of soil these red berries prefer.
Potting soil provides the plant with nutrients that assist in continuous growth and excellent fruit production. The best potting mix to use for strawberries is loamy soil.
This type of soil holds in the necessary moisture while also draining the excess water, preventing harmful fungal diseases.
Loosely fill your strawberry pot with loamy potting mix and make sure the container has at least one drainage hole at the base. Ensure the planter has about two inches of free space at the top so the container is not overflowing with soil.
How to Grow Strawberries in a Pot
When planting strawberries, there are a couple of options based on how developed you would like your starter plants. If you grow strawberries from seed, press the seed into the soil and give it several weeks for germination.
It is best to germinate strawberry seeds indoors before transplanting them in the late spring to grow a strong root system. An alternative for planting strawberries in pots is to grow bare-root strawberries.
After soaking the plant's roots, dig a hole that is at least the roots' length. Spread the roots out in the spot as you fill it with soil, making sure the crown of the strawberry is at soil level.
A vital part of discovering how to grow strawberries in a pot is to sow the seeds properly.
The Ideal Location for Your Containers
To ensure your strawberry plants bear fruit from early summer to late summer, it is vital to place the container in a location with plenty of full sun.
Sunlight is integral for strawberries because the plant converts the sun's rays into nutrients that it needs to sprout. For the quickest growth, place your strawberries in a location that receives at least six hours of sun.
When starting an indoor strawberry plant, there may not be a spot inside that projects full sun of every part of the plant.
If the sun only enters the room in one direction, rotate the plant every other day so each piece receives sunlight to grow evenly. Using this technique, you can grow strawberries in an unheated garage, your kitchen, or a windowsill.
Watering Your Strawberries Correctly
Another source of nutrients for strawberry plants comes from water. Water feeds the roots of new plants and promotes the development of the entire plant.
When strawberry plants do not receive enough water, the roots dry out and lead to wilting and even the strawberry plant's death. One way to test if your strawberries need water is to stick your finger one inch into the soil.
If the potting mix is dry, it indicates that you must water the plant. The soil in containers dries out much faster than plants growing in garden beds.
To help preserve the water in the soil, sprinkle a thin layer of mulch on top of the potting mix to slow the evaporation rate.
Even when in pots, strawberries benefit from other plants grown nearby. The perfect companion plant for strawberries is chives or onions. They keep pests away.
What Fertilizer do Strawberries Require?
Container plants, like strawberries, benefit greatly when you add fertilizer to the soil. Fertilizer has several benefits and helps make germination much simpler. Most varieties of fertilizer are found at your local garden center.
Feed your strawberries plants with a balanced liquid store-bought or homemade fertilizer for strawberries once every three to four weeks during the growing season. To continue to have healthy soil for next spring, keep adding fertilizer in the fall as well.
Container gardening is terrific if you are short on space in your backyard and still want to grow fresh fruit. Strawberries are excellent container plants because they have a straightforward maintenance routine.
Additionally, some strawberry varieties produce fruit throughout the year, giving you access to fresh berries all year long. Learning how to grow strawberries in a pot is not challenging, no matter what level gardener accepts the task.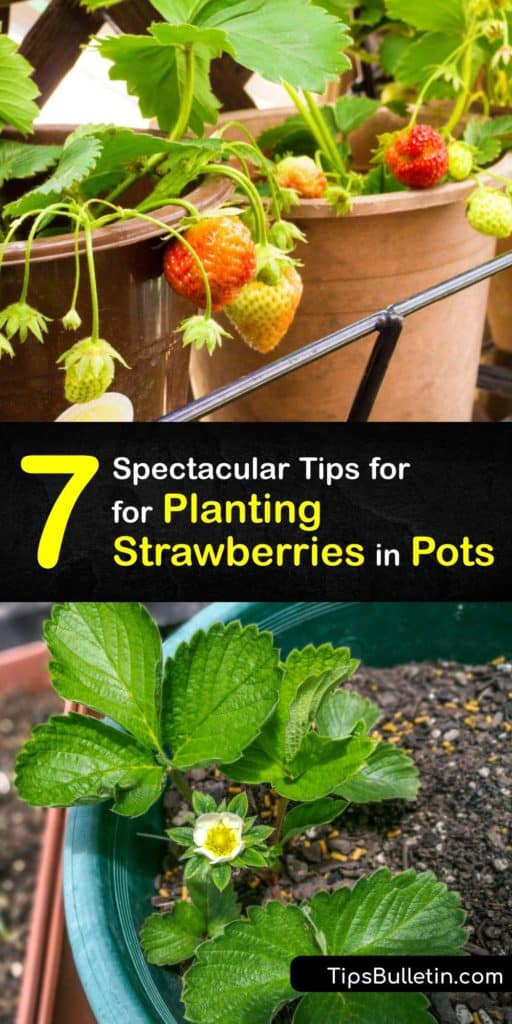 If you found out how to grow strawberries in pots, share these tricks for planting strawberries with your family and close friends on Pinterest and Facebook.