Strawberries are a classic favorite for all the right reasons, and homegrown produce always has a superior taste and nutrition content. Biting into a freshly picked strawberry is like a little taste of sunshine. Read on to learn how to grow strawberries and keep them thriving in your garden.
Growing strawberries is easy with the proper growing conditions. They're astonishingly versatile, and once established, you'll enjoy a bountiful harvest for years.
Some gardeners use strawberries as a ground cover or allow them to trail over a retaining wall. Others prefer keeping strawberries in containers or hanging baskets. They also make excellent companion plants in your vegetable garden.
Not only are strawberries sweet and delicious, they're also highly nutritious. Strawberries contain essential nutrients like vitamin C, vitamin K, antioxidants, fiber, folic acid, potassium, and manganese.
They promote heart and digestive health, regulate blood sugar and cholesterol, and lower blood pressure.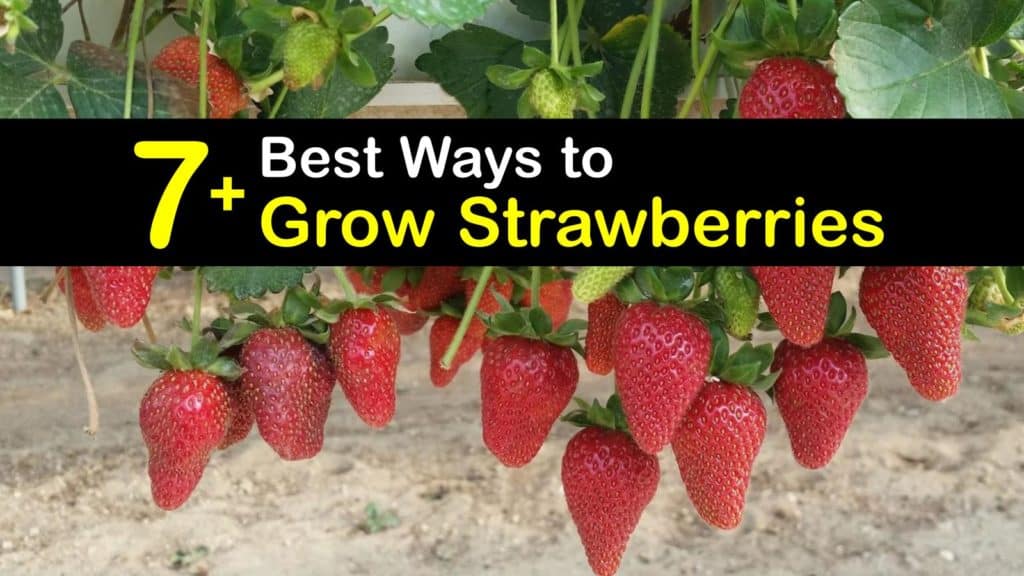 How do Strawberries Grow?
If you've never tried growing strawberries at home, you may have a few questions like, "How do strawberries grow? How long does it take to grow strawberries?"
There are several approaches to growing strawberries. They're perennial plants, meaning they come back the following year. It's worthwhile to give them the best start possible.
Most gardeners purchase starts from a plant nursery. Other people prefer growing their strawberries from seed, which takes a bit longer.
Once established, many strawberries send out "runners," or horizontal stems that produce new clones or daughter plants.
The clones grow roots and establish themselves while still connected to the mother plants. For increased productivity, trim the runners and only allow each plant to produce up to three clones per year.
Growing Strawberries from Seed vs. Transplanting Starts
Growing strawberry plants from seed requires plenty of patience. Start growing strawberries from seeds indoors in early spring, 12-14 weeks before the average last frost in your area.
Strawberry seeds require cold stratification to germinate, meaning they must go through wintery conditions before breaking dormancy. Place your strawberry seeds in a sealed jar or plastic bag and leave them in the refrigerator for four weeks.
Remove the seeds from your fridge and keep them in the sealed container at room temperature for a day to warm up without becoming wet from condensation.
Fill a seedling tray with nutrient-rich potting soil and lightly press several strawberry seeds into each cell's soil surface, but don't cover them with soil.
Strawberry seeds are incredibly tiny, so it may help to use a moistened cotton swab to pick up the seeds, then scrape them into the cells with a toothpick.
Strawberry seeds take one to six weeks to germinate. The ideal soil temperature for germination is around 50-60℉. Mist the soil to keep it damp but never soggy. Cover the tray with a humidity dome or sheet of plastic to retain moisture.
Once the new plants sprout, move them to a sunny south-facing windowsill where they receive at least six hours of bright light. Consider supplementing natural sunlight with a grow light if you don't have a sunny location available.
Once their roots emerge from the cells' drain holes, transplant into four-inch peat pots until they're ready to move to the garden after the last danger of frost has passed.
Determine when to plant strawberries in zone 7 or another hardiness zone to ensure that they are ready for outdoor temperatures.
Alternatively, strawberry starts are readily available at most retail garden centers as small potted transplants or bare root stock. If your starts are already growing in pots, simply transplant them into your strawberry growing area in late spring.
Bare root plants are dormant and not planted in soil. To prepare them for transplanting, soak the roots in clean water for about 20 minutes to rehydrate and bring the plant out of dormancy.
Ideal Strawberry Growing Conditions
Strawberries require full sun to produce fruit, with least eight hours of direct sunlight daily. If you started your strawberries from seeds, they might not produce fruit the first year.
Because their root system is relatively shallow, strawberry plants are quite versatile regarding their location. Many home gardeners use them as an attractive ground cover or border plant.
Others prefer to grow them in containers or hanging baskets. It's as easy to grow strawberries indoors as outside. The way to grow strawberries in a pot is the same as in the garden.
Since there are numerous types of strawberries, make sure the variety you select is hardy to your USDA zone. In warmer climates, plant strawberries in the fall and grow them as a cool-season crop.
Strawberries require consistent watering, with one to two inches of water each week or more during particularly hot summer periods.
Apply a layer of mulch around your strawberry plants. Mulching helps retain moisture, suppress weed growth, and protect the soil from wind erosion.
Provide your strawberry plants with plenty of room to send out runners and establish daughter plants in the coming years.
Spacing between plants should be approximately 18 inches. In pots or hanging baskets, plant strawberries at least eight inches apart to avoid overcrowding as the plants mature.
Best Soil for Growing Strawberries
Strawberry plants grow best in well-draining soil rich in organic matter. Work in several inches of organic compost one week before transplanting. Strawberries favor slightly acidic soil, with a pH level between 5.5 and 6.5.
For growing strawberries in containers, use high-quality potting soil blended with organic compost. Try this easy recipe for making DIY potting soil.
Combine the ingredients in a wheelbarrow using a trowel or hand rake. Store any unused soil in a cool, dry location in a sealed container.
Most Effective Fertilizer for Strawberries
There are three primary nutrients present in plant fertilizer: nitrogen (N), phosphorus (P), and potassium (K). Nitrogen enhances leafy growth, phosphorus supports healthy root systems, and potassium advances fruiting and flowering processes.
When transplanting strawberries into your home garden or containers, add one tablespoon of all-purpose organic fertilizer to the bottom of the hole.
Once your plants begin flowering, switch to a fertilizer with higher phosphorus and potassium levels to encourage fruit production in early summer. For best results, fertilize your plants monthly.
How to Grow Strawberries in Raised Beds
While there's no best way to grow strawberries, raised beds are ideal for numerous reasons. It's easier to maintain light, well-draining soil when you're not walking on it and to tailor your garden soil to different plants' needs, like soil pH and fertilizer content.
Strawberries suffer when competing for soil space and nutrients with weeds and grass. Raised bed gardening helps minimize the opportunities for grass to invade.
However, you still might notice some wind-blown seeds making their way in. Weeding tools easily damage strawberries' shallow roots, so be gentle when pulling weeds.
Similarly, growing strawberries in raised beds prevents their runners from spreading to unintended places. The same applies to planting strawberries in a container.
Harvesting Strawberries
At harvest time, knowing which strawberry varieties you have is essential. Some cultivars produce throughout the season, while others only fruit at specific times.
Everbearing strawberries produce two or three yields of fruit during the season. Expect the first crop from your everbearers in late spring to early summer, a second crop in midsummer in cooler climates, and a final harvest in late summer to early autumn.
Day neutral strawberries continue fruiting throughout the entire growing season. Some gardeners recommend pinching off emerging flower buds on day-neutral varieties for the few weeks after transplanting to encourage the plant to focus its energy on growing. Once it's roughly doubled in size, allow the flowers to mature.
June-bearing strawberries produce one vigorous yield of fruit in late spring to early summer. June-bearing varieties set flower buds the previous fall, and the flowers bloom in early spring for a June harvest.
June-bearers are susceptible to damage from late frost. Use frost cloths or row covers to protect them. June-bearing strawberries tend to be more heat tolerant than everbearers.
Strawberries are green when they first emerge, then turn from white to red as they mature. However, there are a few strawberry varieties that ripen to white or yellow.
When white alpine strawberries ripen, they appear plump with more space between the seeds, have a texture that's soft but not mushy, and easily detach from the vine with a gentle tug.
Strawberries won't ripen off the vine, so it's critical to wait until they're fully mature before you harvest strawberries. Immature strawberries don't taste as sweet as ripe ones.
Companion Plants for Strawberries
Companion planting strawberries is a useful garden design strategy that pairs compatible plants to take advantage of their mutually beneficial qualities.
Some plants attract beneficial pollinators and predatory insects, repel pests, and enhance their neighbors' flavor and overall growth. However, certain plants are not compatible and should live separately.
Strawberries make excellent companions for many other plants, both in the vegetable garden and around ornamental beds. They're perfect for interplanting with taller crops like asparagus and rhubarb to act as a living mulch since they have shallow roots.
Herbs like basil, borage, dill, parsley, thyme, and sage effectively attract pollinators and predatory insects that feed on insect pests like aphids, thrips, spider mites, and whiteflies. Their strong scents also repel certain pests.
Legumes like beans and peas are powerful nitrogen fixers. They have a symbiotic relationship with soil bacteria that allows them to convert atmospheric nitrogen, which most other plants don't consume, into ammonium nitrate absorbed by plants' roots.
Members of the allium family like chives, garlic, onions, and shallots effectively repel pests like aphids, carrot flies, flea beetles, mosquitoes, deer, and rabbits. However, alliums must be planted away from legumes as they stunt each other's growth.
Leafy greens like lettuce and spinach are ideal companions for strawberries. This combination of plants reportedly improves the flavor of all three crops. The large leaves may help to hide the strawberries from hungry birds, as well.
Avoid planting strawberries near brassicas like broccoli, cabbage, cauliflower, kale, and kohlrabi. These plants may stunt one another's growth.
Strawberries are also highly susceptible to verticillium wilt. They should be kept away from other similarly vulnerable plants like eggplant, peppers, potatoes, tomatoes, melons, and pumpkin to help keep your garden disease-free.
Common Pest and Disease Problems when Growing Strawberries
Although strawberries are generally low-maintenance plants, there are a few common pest and disease issues to watch out for.
Mildew and fungal diseases are easy to inadvertently spread around the garden through water splashing on leaves. Using drip irrigation helps to minimize this problem.
We're not the only ones who think that strawberries are delicious. They're also a favorite snack for birds, slugs, rodents, and various insect pests. If you live in a rural area, it's not uncommon for deer to come through and mow down an entire strawberry patch.
Protect your crop with bird netting, row covers, and companion planting. To deter slugs, scatter crushed eggshells around the base of the plants.
Strawberries are self-pollinating, meaning their flowers have male and female organs and pollen is transferred by the wind.
However, a bit of pollination help from insects never hurts. If you notice diminished fruit sets or are growing them in an enclosed area where they don't move with the wind, you may have to hand-pollinate your strawberry plants.
After you harvest your strawberries, you probably won't be able to eat them all at once. Learn the best way to keep strawberries fresh until you add them to a delicious recipe.
There's no question that the taste of homegrown strawberries, just like growing asparagus and other fruits and veggies, is unrivaled. They're fun and easy to grow, and your initial efforts are rewarded by a delicious strawberry harvest.
Whether you grow them in a traditional garden bed, raised beds, or containers, be sure to provide them with soil that's rich in organic matter, plenty of water and sunshine, and monthly doses of fertilizer.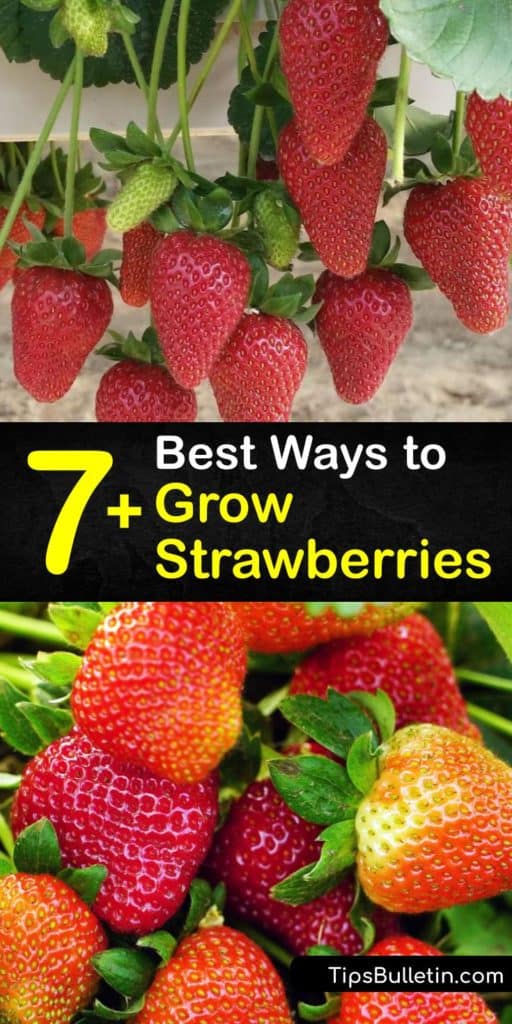 If you enjoyed these strawberry growing tips, please share this article about how to grow strawberries with your fellow green thumbs on Pinterest and Facebook.