Sweet corn is an annual crop yielding ears of white, yellow, or bi-colored kernels. Many gardeners wonder how to grow sweet corn at home. Corn requires a long, frost-free growing season to be productive. Corn (maize) is one of the three staples (together with beans and squash), and it has been grown for thousands of years in various regions of the world.
In North America, corn is thought to have undergone domestication in central Mexico before spreading through ethnic communities across North and South America on a global scale.
Though maize is now mostly farmed on an industrial level, several kinds are well suited for growing in home gardens. If you've ever wondered how to grow sweet corn or how long does sweet corn take to grow, this article answers your questions.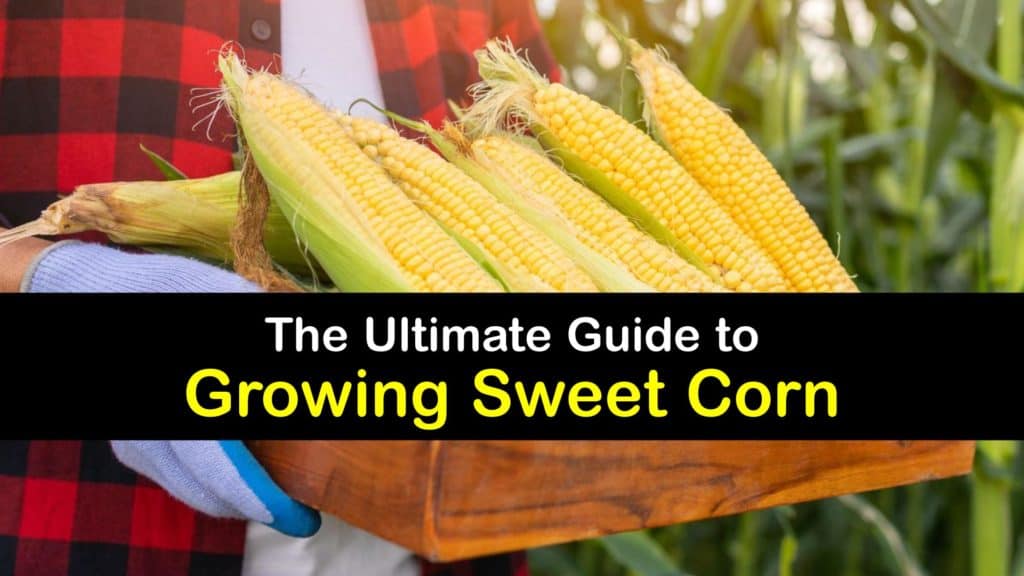 Everything to Know About Cultivating This Crop
Sweet corn is an integral part of the grass family and is pollinated by the wind; it is best sown in blocks of short rows rather than long, single rows to ensure adequate pollination. Sweet corn crops are unquestionably warm-season plants to grow successfully in any garden.
Although corn is grown on a broad scale, the kind known as field corn has a starchier flavor and a little firmer cob. Sweet corn is softer than regular corn and has a sweet, enjoyable taste.
Growing sweet corn is a straightforward process and is not significantly different from cultivating ordinary corn. Proper planting ensures it continues to thrive throughout the summer, allowing you to enjoy fresh corn on the cob from your garden in no time.
Sweet corn is a delicious summer treat and tastes great in various recipes, from corn on the cob to salads and creamed corn dishes. Learn about growing sweetcorn and add this tasty veggie to your home garden for delectable fresh produce and a fun growing project.
Cultivating Corn Plants – Exploring Different Types
Early varieties, mid-season, and late-season kinds of corn are available. Early-season corn matures the quickest, while late-season may require the entire growing season to develop. Planting types with varying days to maturity allow you to harvest for a more extended period.
Beyond seasons, corn also comes in different varieties depending on its sugar content. Understanding the different kinds of sweet corn available allows you to make the best choice of sweetcorn seed for your garden.
Standard sweet corn, super sweet corn, and sugary enhanced sweet corn are the three most common varieties of sweet corn available. Their sweetness, shelf life, and seed vigor vary.
Sweet Corn Types
Regular sweet corn types have a flavor and texture similar to traditional sweet corn varieties. Unfortunately, the ears of regular sweet corn in the garden only hold freshness for 1 or 2 days. Standard sweet corn types don't keep well since the sugar quickly converts to starch.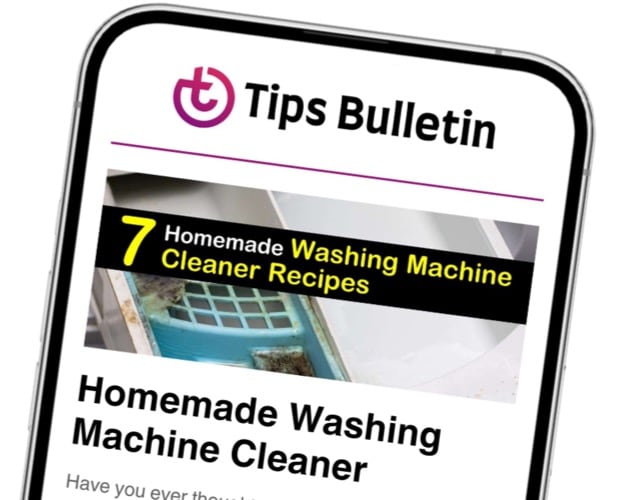 Finally, an email that Transforms Your Home.
Get the latest home and garden tips from our experts, delivered straight to your inbox.
Supersweet corn is also known as shrunken-2 corn and includes almost double the quantity of sugar in standard varieties. The transformation of sugar to starch happens significantly slower in super sweet varieties, so a more prolonged harvesting and storage period is possible.
Despite this, the yields of supersweet corn cultivars are often lower than those of a regular sweet corn variety. The seeds of shrunken-2 types are more petite and sprout less well in cold soils, giving them a shorter growing season in cooler climates.
Sugary enhanced sweet corn has sugar levels in the middle range between ordinary and supersweet types of sweet corn. Sweet corn with sugar added to the kernels is tender and pleasant to chew because of the soft texture.
Sugary enhanced sweet corn types' harvest and storage times are slightly longer than regular sweet corn varieties. According to industry standards, sow sugary enhanced varieties one week later than standard types.
Preparing Your Garden for Sweet Corn
It is preferable to start sweet corn seed directly in your garden rather than transplanting them to avoid disturbing their delicate root systems. Sow corn seeds directly into the ground outside two weeks after the final spring frost date. It grows well next to bell peppers.
It is critical to grow corn from seed directly into the ground as soon as possible since it demands a lengthy growing period in warm weather. For those living in a climate with a short growing season, selecting an early variety that develops well before the first frost is wise.
The temperature of the soil is critical for adequate germination. A soil temperature of at or over 60°F for regular corn or 65°F for super sweet cultivars is required for successful germination.
If necessary, place a black plastic sheet over the ground to warm it in colder climates and plant seeds through the perforations in the plastic. Corn plants are particular about the soil where they grow. Before planting, incorporate old compost into the ground to ensure fertile and suitable corn.
The best way to plant sweet corn includes choosing well-draining soil while also maintaining a steady moisture level. Corn tends to absorb a lot of water.
Plan your plot carefully to ensure adequate pollination. Instead of planting a single or two long rows, plant blocks of corn a minimum of four rows deep; this increases the likelihood wind rather than bees pollinate the corn to produce viable, whole ears of grain.
Essential Steps for Planting This Crop
If you plan to soak your sweet corn seed and plant it in warm soil, be sure to choose untreated seed when shopping for your sweet corn plants. Treated seed is better to plant corn directly without soaking, mainly when growing corn in less than optimal conditions.
The fungicide on the treated seed helps prevent the seed from rotting as it sits in cold, damp ground. Wrap the seeds in moist paper towels before storing them in a plastic bag for about 24 hours to speed up the germination process.
Sow the seeds about 2 inches deep and 4-6 inches apart in rows. Ensure each row is about 36 inches apart. Fertilize your corn at planting time with the best fertilizer for sweet corn which is a nitrogen fertilizer such as manure tea. This is beneficial as corn proliferates and needs extra nutrition.
Mix and pour onto soil before planting. Bypass this step if you are confident in the soil's ability to support the plant. Make sure to give your sweet corn seed plenty of water after planting.
Corn Plant Care
After planting sweet corn seed, the next step of growing sweet corn is caring for your crop. One critical aspect of how to grow sweet corn is supporting the immature sweet corn plant until you have an entire crop. Thin the young corn plants when they are 3 to 4 inches tall, keeping them 8-12 inches apart.
When weeding around each sweet corn plant, be careful not to harm the roots. Corn has short roots and is easy to stress with drought, so keep it adequately watered. An inch of rain each week is sufficient; if the weather is scorching or you have sandy-type soil, you may have to water your corn more frequently.
Side dress the corn with a high nitrogen fertilizer such as manure tea when it reaches about 8 inches tall. When it grows to about knee height or 18 inches tall, repeat the process. Mulch aids in the reduction of evaporation to help your sweet corn plants retain moisture.
Because they are tall, thin plants, corn stalks may require support during high winds to prevent them from bowing and snapping; Pack mounds of soil at the base of taller plants to offer support and keep the stalks straight during severe winds.
You may observe tillers, also known as suckers, which are secondary shoots appearing low on the stalk later in the season. Tillers have no negative impact on the main stem and are no cause for concern when you grow sweet corn.
How Long Does Corn Take to Grow?
From planting to emergence, corn takes about 90 to 120 days, based on optimal conditions. Many factors play a role in answering how long does sweet corn take to grow.
Having the correct level of moisture in the soil, the planting depth of the seed, the temperature, and the nutrients available all slightly alter the length of time it takes to grow sweet corn.
How to Harvest Corn
Corn matures more quickly when the air temperature rises. It usually ripens from 15-23 days after silking, but it may ripen sooner if temperatures are unusually high.
The tassels turn brown when corn is ripe and kernels are complete and milky. Ears of corn should appear blunt or rounded, not pointed. The best way to harvest corn is to test it first. Pull back a section of husk and puncture a kernel with your fingernail to see whether it's good.
It's ready if it's white or milky. Sweet corn is only at its prime for one to two days in hot weather above 85°F, so check it periodically. Corn plucked a few days after reaching the milk stage is less sweet. Harvest corn based on each ear's readiness.
When two ears grow on the same stalk, the higher ear matures one to two days before the ear below it. To remove the stem, pull the ears downward and twist. Regular sweet corn varieties lose their sweetness quickly after harvesting, so utilize them immediately. To store fresh corn on the cob, prepare sweet corn for eating or preserving directly after harvesting.
If immature corn plants and cobs don't mature in time for harvest, they may be harmed by a late-season frost, resulting in the plant's death or poor-tasting corn.
The best way to freeze corn is to blanch it first, whether it stays on the cob or you are preserving the kernels. Corn lasts for up to a year in the freezer.
Avoid the European Corn Borer
Pests are troublesome and harm or, in some cases, destroy your valuable crop. Learn about the common problems plaguing gardeners who grow sweet corn and avoid them wreaking havoc in your garden.
The European Corn Borer is a worldwide pest, and adults are tiny nocturnal moths with brown coloration. Females have a thicker body and lighter-colored wings than males, which are tan to brown.
The larvae devour leaves and tunnel in all areas of the stalks and ears, with the ears causing the most harm to sweet corn. Tunneling of the insects hampers plant growth and reduces crop yields.
Treat the European Corn Borer using pheromone lures in conjunction with wing traps to lure males and prevent mating. After the season, destroy stalks and mow very close to the ground surface. The larvae use the stalks as overwintering habitats; mowing kills up to 75% of them. Do not compost infected or sick plant debris.
Pests – Corn Earworms
Corn earworms are a pest affecting sweet corn and other crops. They are also known as tomato fruit worms or cotton bollworms.
Corn earworm larvae reach about 1-1/2 inches when fully grown. Light and dark stripes run lengthwise on the body, which is lighter on the underside, and they vary in color from tan to light green, maroon, brown, or practically black.
Golden brown is the color of the head capsule. The larvae eat vegetation, but they prefer the more nutritional tips of corn ears.
There is no effective control once the larva has entered the ear. As a result, getting rid of corn earworm necessitates complete spraying of the ear zone, so the young larvae are exposed to a fatal dose of pyrethroid insecticides when the eggs hatch.
Managing Corn Smut
Corn smut appears when kernels distort into knobby lumps marbled with black or gray when corn is nearly ready to harvest in the summer.
Other plant sections may also show similar growths, but the most common deformed kernels poke out through the husk. The illness begins long before the injured kernels are visible, thanks to spores carried by the wind.
Pick contaminated ears and throw them in the trash or on the compost pile as soon as you notice evidence of corn smut. Rotate sweet corn since corn smut fungus may live in the soil for three years.
Growing corn varieties with thick husks may effectively prevent spores from entering ears through insect feeding holes. Early varieties of sweet corn have fewer smut concerns than types ripening later in the season.
Now you know how to grow sweet corn, consider adding a sweet corn plant or two to your garden. This vegetable is relatively easy to manage and a kitchen staple. Choose the best sweet corn varieties for flavor, texture, and growing requirements, and try your hand at growing sweet corn at home.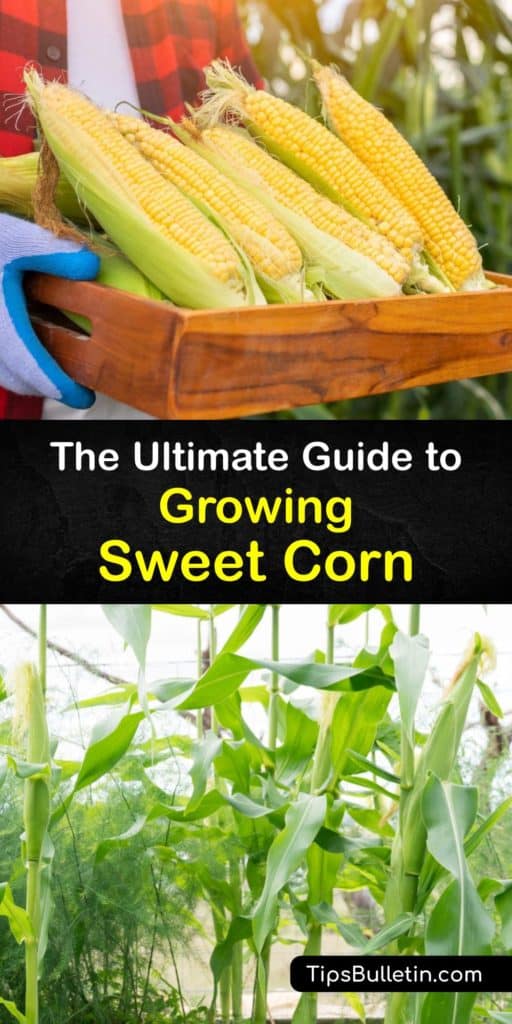 If you loved this article on how to grow sweet corn, share these tips for growing sweet corn with your family and friends on Pinterest and Facebook.