Many gardeners are curious about how to grow sweet potatoes indoors, given the growing popularity of container and indoor gardening. Growing sweet potatoes indoors is a simple way to enjoy organic, nutritious, delicious vegetables without devoting a lot of space to a vegetable garden or having a raised bed.
The two types of sweet potatoes include edible sweet potatoes produced for their roots and ornamental sweet potatoes bred for their beautiful trailing vines and sweet potato leaves. Both cultivars belong to the Ipomoea batatas species, a delicate perennial planted yearly. Both the attractive and edible varieties are easy to grow in containers indoors.
These potatoes thrive in bright, direct sunlight. Growers achieve edible tubers in 100 to 140 days, depending on the cultivars they plant. Growing sweet potatoes indoors takes away worries over warm weather, the last frost date, or ensuring a long enough growing season.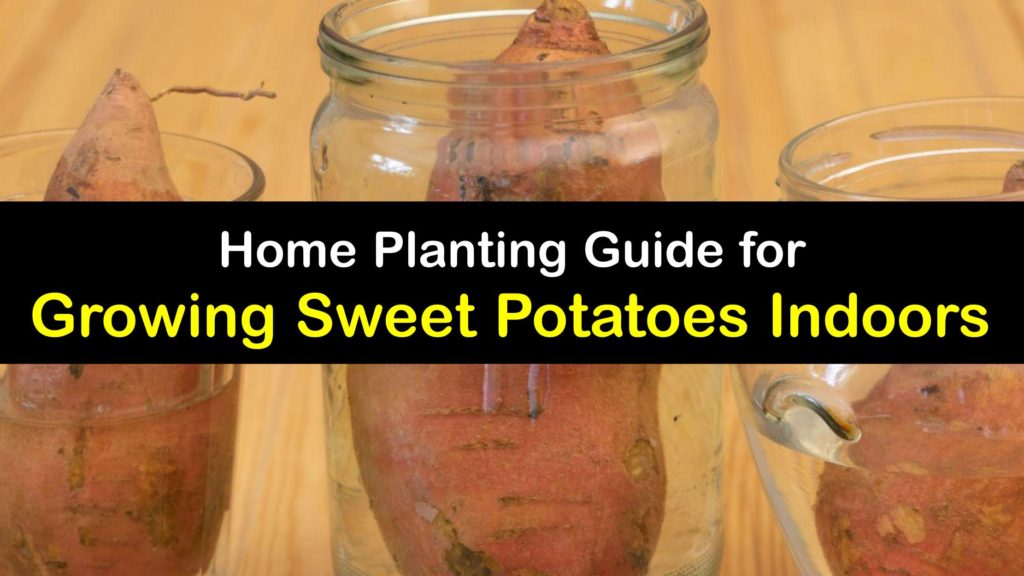 The Ultimate Guide to Growing a Sweet Potato Plant Indoors
Sweet potatoes are typically available as container plants in various sizes in the spring. They are, however, easy to grow by sprouting sweet potato slips from tuber portions. Growing a sweet potato plant indoors is an excellent project if you're interested in producing a good yield of veggies while gardening inside your home. Note that you can grow regular potatoes indoors following the same procedure.
Learning how to grow sweet potatoes indoors is a fun DIY endeavor and a terrific way to cultivate your own sweet potatoes. These yummy spuds are easy to raise and provide a high yield per plant, much like regular potatoes.
Sweet potatoes, sometimes confused with yams, have sweeter, softer flesh and lighter-colored skin. Growing sweet potatoes indoors lets you skip the grocery store or farmers' market and cultivate your own sweet potatoes at home. Growing a sweet potato plant indoors requires very little space and few supplies.
How to Grow Sweet Potatoes Indoors – Sprouting
Sprouting new slips from tubers is the first stage in producing sweet potatoes in a container. Growers may purchase sweet potato slips at most garden centers, and they're easy to germinate on the kitchen windowsill; no grow lights are needed.
To begin making new organic sweet potato plants, choose firm, sweet potatoes devoid of skin damage. If possible, avoid refrigerating them. With a sharp knife, cut the tubers into pieces just smaller in diameter than the opening of the glass container. These tubers generate your new plants.
When you are starting sweet potato slips, insert four or more toothpicks into the middle of each tuber piece; they should go about 1/2 to one inch deep. Place the toothpicks evenly around the ring of the tuber section. If the potato is too firm, cut a small hole with a thin nail and insert the toothpick.
Set up each tuber so the toothpicks lie on the lip of the glass and the pointed side of the tuber faces the bottom. Half-fill the jar with water to submerge the tuber's lower half in the glass of water. To keep your jar of water clean, place it on a sunny ledge and replace the water every few days.
Ensure there's always enough water, so the tuber's bottom is completely submerged in the water in the jar. Green growth from the top of the tuber's surface may take a few weeks to a month. Individual stalks emerging from the tuber and creating a new sweet potato plant are known as slips.
Separating Slips for Growing Sweet Potatoes Indoors
Separating the individual slips is the next stage in growing sweet potatoes at home. Once the sweet potato tuber sprouts, gently prune each slip off the main tuber by twisting. It's possible the slip already has a small primary root system associated with it; if so, take care not to disturb it.
Place each slip in a shallow dish half-filled with water, with the stems' bases immersed and their leaves hanging over the jar's side. New roots sprout from the base of the slips after a few days.
Once the new roots have developed to about one inch in length, carefully transplant the slips into potting soil. Discard any slip that has wilted or failed to grow roots because it is unlikely to produce a sweet potato plant.
Grow Sweet Potatoes at Home by Transplanting
Choose a large container with excellent drainage and plenty of room for your sweet potato vine to flourish. Before planting sweet potatoes in pots, fill a container midway with good quality potting soil until the dirt reaches approximately an inch below the opening of your chosen container.
When you want to plant sweet potatoes in pots, don't over compact the ground; the tubers need loose soil to grow. Mix in a slow-release fertilizer to boost your potting soil if it doesn't already have fertilizer. Dig a pit in the earth deep enough to fit the slip's roots.
Insert one or two slips gently, pushing the ground around them. Check for any air pockets around the roots before thoroughly watering the area.
Keep the soil around your potatoes wet but not soaked, and place the container in an area receiving full sun in a well-ventilated location in your home, such as a sunny window. Check the moisture level of your new houseplants by poking your finger into the dirt, and water the earth if it appears dry.
Though you are growing your potatoes indoors, you can add sweet potatoes companion plants in containers nearby to take care of bug issues. Some good choices are summer savory and dill.
Learning how to grow sweet potatoes indoors is a fun and productive project. Organic sweet potatoes are rich in nutrition and make a tasty accompaniment to many dishes. Growing sweet potatoes indoors requires few supplies and helps reduce food waste by reusing old sweet potatoes to generate new slips.
Consider growing a sweet potato plant indoors for a quirky and unique addition to your houseplants and the ability to grow your own food crops. Your new plant provides a tasty harvest and is an excellent conversation piece.
If you loved this article on how to grow sweet potatoes indoors, please share this brilliant information on growing sweet potatoes indoors with your family and friends on Pinterest and Facebook.