Swiss chard is a must-have in your vegetable garden if you enjoy having delicious leafy greens all season long. In this article, discover how to grow Swiss chard from seed and keep it thriving well into autumn or early winter.
Also known as silverbeet or Beta vulgaris var. cicla by its botanical name, Swiss chard is closely related to beets, quinoa, and spinach. It tends to be more heat-tolerant than most other salad greens. All that's required is well-draining soil rich in organic matter and plenty of sunshine.
The colorful stems can be orange, yellow, red, pink, and white, making an attractive addition to ornamental gardens, too. This versatile plant is tolerant of both heat and light frosts.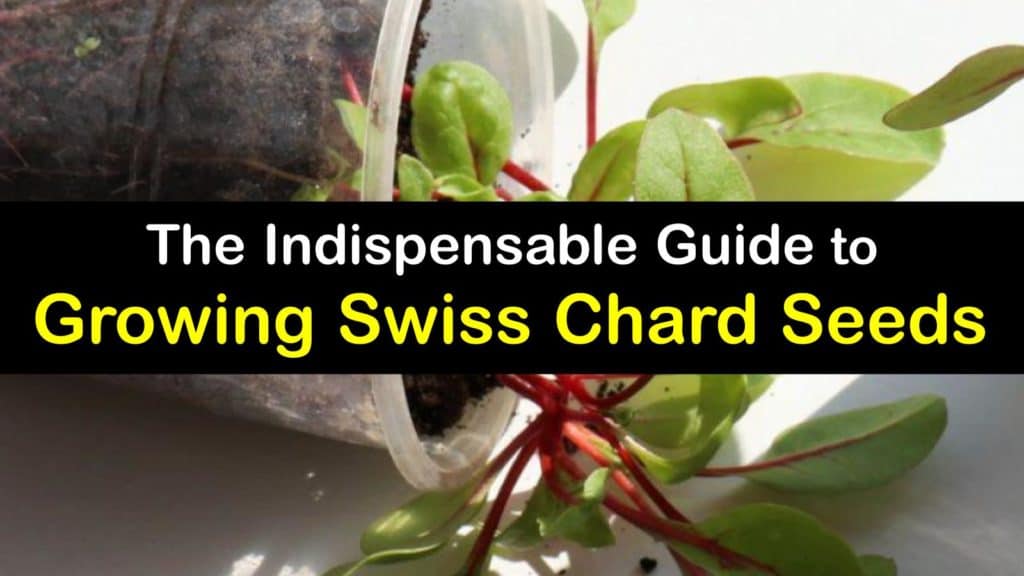 Tricks for Growing Swiss Chard From Seed
Swiss chard rewards your efforts with a generous harvest of deliciously tender leaves all season. Whether you're growing Swiss chard from seed in raised beds, containers, or a traditional garden plot, it's easy and worthwhile when you follow these essential gardening tips.
Swiss chard thrives in various conditions, from full sun to partial shade. Ideally, it should get at least five hours of direct sunlight daily. Although the plants grow faster in full sun, they benefit from a bit of shade on hot summer afternoons.
These plants are heavy feeders, so it's best to add several inches of organic compost to your planting area one or two weeks before planting Swiss chard seeds. The ideal soil pH for growing Swiss chard is neutral to slightly acidic, between 7.0 and 6.0.
Swiss chard is a biennial plant, developing roots and new leaves the first year and growing flowers and seeds the second year. However, once it begins flowering, the leaves turn bitter and become inedible.
Chard plants have shallow root systems and suffer when competing for water and nutrients with weeds. Use mulch between the plants to suppress weed growth and hold soil moisture.
The many colorful and tasty types of Swiss chard are highly nutritious and contain high levels of vitamins, minerals, and antioxidants. It's a great source of fiber, which helps lower cholesterol and promotes heart health and weight loss.
Magnesium, potassium, and calcium aid the body in maintaining normal blood pressure. Vitamin K is critical for healthy blood clotting and bone strength.
One of the best things about growing your own groceries is trying unusual varieties that aren't available at the supermarket. Here are several of our favorite types of Swiss chard.
How to Plant Swiss Chard Seeds
If you've ever wondered how to plant Swiss chard seeds, you'll find it's remarkably easy when you follow these simple tips. Swiss chard grows best when directly sown in your garden or container. Since it's such a fast grower, there's no significant advantage to starting seeds indoors.
To speed up germination, soak the seeds in water for 24 hours to break down their protective outer coating. Like other members of the beet family, Swiss chard seeds contain clusters of several seeds.
Sow seeds one inch deep, covering them lightly with soil. Spacing between the seeds should be four to six inches. Germination usually takes between five and seven days.
When planting Swiss chard from seed, ensure the soil temperature is at least 50℉. Seeds take longer to germinate at colder temperatures.
Once the seedlings reach three or four inches tall, thin them so the spacing between each plant is eight to ten inches. If you have room, try transplanting the seedlings you thin out.
The best approach for how to plant Swiss chard seedlings is to gently loosen and remove them, keeping as many roots intact as possible. Use your finger to create a new planting hole. Carefully settle the roots in the hole and gently press the soil back in around the stem.
When to Plant Swiss Chard Seeds
Swiss chard growing time and season vary slightly between hardiness zones. Plant Swiss chard seeds two or three weeks before the average last frost date for your area in the early spring. It's helpful to cover the soil with a layer of dark-colored mulch, compost, or black plastic a week or two before planting to raise the soil temperature.
For a fall crop, the best time to plant kale and plant Swiss chard seeds is in late summer, about 40 days before the first frost date in autumn. Swiss chard plants can tolerate temperatures as low as 15℉.
To extend your growing season, try using a cold frame or row covers when planting spinach from seed or another leafy green. In mild climates, it's possible to grow Swiss chard through the winter in an unheated greenhouse.
In general, Swiss chard grows best in cool weather when the temperatures are between 60-75℉. However, bolting in hot weather is rare. Growth slows somewhat when temperatures rise above 85℉, then picks up again in late summer.
Best Soil and Fertilizer for Swiss Chard Plants
Swiss chard grows nicely in well-draining soil that's rich in organic matter and is one of the ideal vegetables to grow in pots. Leafy greens need consistent moisture levels to thrive, but the soil shouldn't get soggy.
Use mulch to protect the soil surface from sun and wind erosion, retain moisture, and minimize weeds. In addition to healthy soil, Swiss chard benefits from regular feeding with a nitrogen-rich fertilizer.
For slow-release granular fertilizer, apply every four to six weeks according to the instructions listed on the product package. With liquid fertilizer, feed your plants every three or four weeks.
How to Grow Swiss Chard From Seed in Containers
If you don't have a garden plot or raised beds at home, don't worry. Swiss chard is an ideal candidate for container gardening and a great way to plant beet seeds. The method for how to plant Swiss chard seeds in a pot is the same for in-ground plantings.
For the best way to grow Swiss chard in containers, allow 12 inches of space per plant, and use a container that's at least 12 inches deep. Make sure your pot has drain holes to avoid problems with rot and fungal disease.
Harvesting Swiss Chard
The best way to harvest Swiss chard throughout the growing season is with the cut-and-come-again approach. Pick the outer leaves as needed, allowing the inner leaves to keep growing.
At the end of the season, either harvest the entire plant or overwinter it for a second spring harvest before the plant begins flowering.
Begin harvesting microgreens or baby leaf chard once the plants are six to eight inches tall, usually taking about 30 days. Regularly harvesting Swiss chard encourages consistent leaf production.
Pest and Disease Issues for Swiss Chard Plants
Although Swiss chard plants are generally low-maintenance, it's critical to monitor your plants for signs of distress. Healthy plants are much less susceptible to attacks from insects and pathogens, so giving them adequate amounts of light, nutrients, and water is the best defense.
Some of the most prevalent insect pests for Swiss chard plants include aphids, flea beetles, and leafminers. Protect your plants with row covers in the springtime to minimize feeding damage and prevent insects from laying eggs on tender young seedlings.
To combat an infestation, spray all parts of the plant with an organic insecticide like neem oil or insecticidal soap.
Most of the plant diseases that affect Swiss chard are moisture- and weather-related. A few of the main concerns are downy mildew and Cercospora leaf spot. These fungal diseases thrive in moist, warm conditions and frequently spread through water droplets.
Ensure that your plants have adequate airflow, and use drip irrigation to prevent water splashing on the leaves. Treat affected plants with an organic copper or sulfur fungicide.
Swiss chard is a vegetable garden staple for many growers thanks to its heat tolerance, ease of care, and high nutritional value. These delicious leafy greens are considered a superfood and thrive in your garden all season long with minimal effort.
Ensure they receive plenty of water and fertilizer and grow in a location that gets a minimum of five or six direct sunlight hours daily.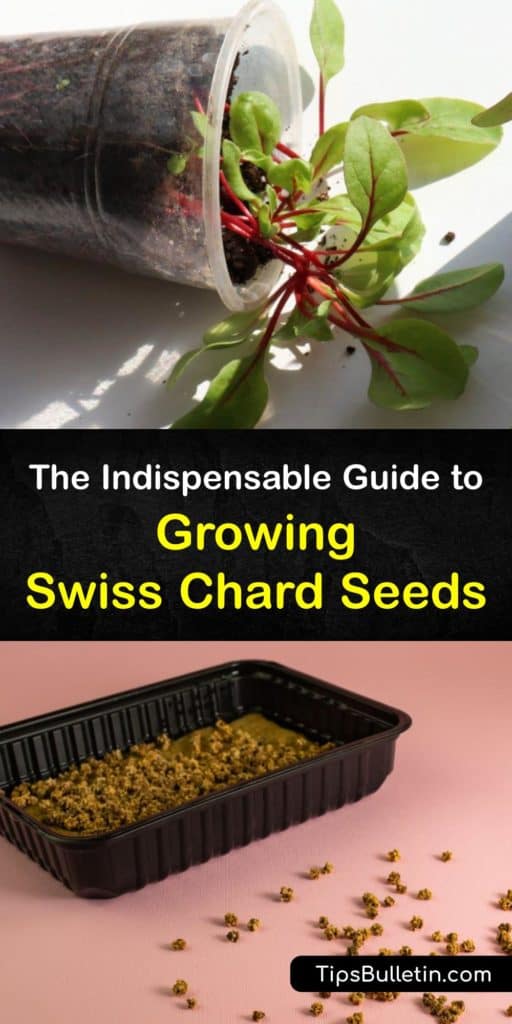 If you enjoyed learning about growing Swiss chard from seed, please share this article about how to grow Swiss chard from seed with your fellow gardeners on Pinterest and Facebook.