Tabasco peppers are relatively easy to grow in most climates. It's even possible to enjoy fresh tabasco peppers year-round by growing a tabasco pepper plant in a pot indoors. In this article, you'll find out how to grow tabasco peppers from seeds and in containers.
As long as you have an area in your garden that gets full sun and consistent moisture, you'll have no trouble growing tabasco peppers.
Since they have a relatively long growing season, it's best to start tabasco pepper seeds indoors in March or buy seedlings at your local garden center.
Although it's a compact plant with a relatively small fruit size, tabasco peppers pack a punch in more ways than one. The plants are prolific producers, bearing large clusters of colorful peppers.
Tabascos are moderately hot peppers. Aji, Pequin, Amarillo, and cayenne pepper have a similar heat level to tabasco pepper.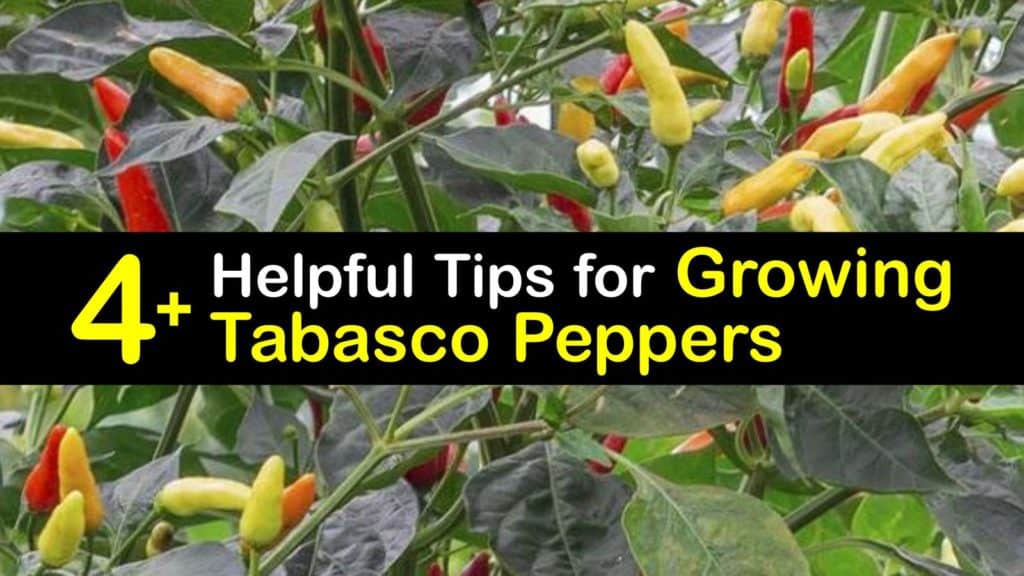 Growing Tabasco Peppers
Whether you have a traditional garden bed, raised beds, or a container garden, tabasco peppers thrive as long as they receive enough water and sunlight.
They require a minimum of six hours of direct sunlight each day to produce fruit. If you live in a predominantly arid, hot climate, you may need to provide some afternoon shade to keep the leaves from getting scorched and crispy.
Tabasco peppers take about 80 days from transplanting to start producing fruit. They continue fruiting from mid-summer as long as weather conditions permit.
Can you grow peppers indoors? If you live in a cold climate with early frosts, consider growing your tabasco pepper plant in a moveable pot. That way, you're able to bring it inside when the weather starts freezing.
What is a Tabasco Pepper?
Tabasco peppers, or Capsicum frutescens, are native to the Mexican state of Tabasco. However, they're perhaps best known for the famous hot sauce with the same name made in Avery Island, Louisiana.
Maybe you've used Tabasco sauce and wondered, "What is a tabasco pepper?" The Scoville scale rates the heat level of peppers based on how much capsaicin they contain.
Tabasco peppers rate medium-hot on the Scoville scale, measuring between 30,000 and 50,000 Scoville heat units (SHU).
For reference, jalapeno peppers measure 2,500 to 10,000 SHU, serrano peppers measure 5,000 to 15,000, and a habanero pepper measures 100,000 to 350,000. The record hottest pepper is the Carolina Reaper, which measures 1,400,000 SHU.
How to Grow Tabasco Peppers from Seed
Start tabasco pepper seeds indoors eight to ten weeks before the last frost in your area. Germination takes about six to twelve days for different types of chili peppers.
Providing seedlings with supplemental grow lights helps to promote strong stem growth and prevents them from becoming elongated or "leggy."
When growing serrano pepper or tabasco pepper seeds, fill your seedling tray with a well-draining seed starting mix without compressing the soil. Plant the seeds a quarter-inch deep and lightly cover with soil.
Using the spray bottle, mist the soil until it's lightly saturated. Enclose the tray with a humidity dome or a plastic bag to hold in moisture.
The optimal soil temperatures for chili pepper seed germination are between 80-85 degrees Fahrenheit. It's helpful to use a heat mat to keep the soil consistently warm.
Once the seedlings sprout, move the tray to a sunny, southern-facing window. Consider using grow lights on short days in early spring.
Pepper plants are highly cold-sensitive, so be careful not to put your tabasco peppers outside too soon. Begin hardening your seedlings off when daytime temperatures are above 60 degrees Fahrenheit.
Only leave them out for short periods with minimal wind levels at first, and progressively let them acclimatize to staying out in the elements for longer times.
Transplant the pepper seedlings two to three weeks after the average last frost in your area once soil temperatures are warmer.
It's advantageous to apply a layer of dark-colored mulch to the place where you intend to plant peppers about one week before transplanting. The mulch helps to keep the soil warmer and retain moisture.
Dig a hole double in size to the plant's root ball, and fill it in with a blend of equal parts compost and soil. Apply two tablespoons of organic, all-purpose fertilizer around the base of the plant and thoroughly water it in.
Growing Tabasco Peppers in Pots
Since they're relatively compact plants, only growing to a size of 24-36 inches tall and 16-20 inches wide, tabasco peppers are perfect for container gardening.
To allow enough space for the root system, grow tabasco pepper plants in a three- to five-gallon pot with drain holes at the bottom. Use a potting soil mix that is well-draining and rich in organic matter.
Place your pepper pot in a sunny location that gets protection from the elements. It's helpful to situate the container next to a wall of the house in cooler climates, which provides radiant heat.
Harvesting Tabasco Peppers
When are ghost peppers ripe? What about tabasco peppers? Tabasco peppers are ready to harvest once they turn from green to bright red, yellow, or orange.
Use a sharp pair of scissors when you pick tabasco peppers, like when harvesting serrano peppers and other pepper varieties, instead of pulling them off the plant to avoid accidental damage.
To take advantage of the best flavor and quality, use the peppers when freshly picked. They stay fresh for several days when stored on the kitchen counter or in the refrigerator. When do banana peppers go bad? What about tabasco peppers?
To preserve the juicy quality and smoky flavor of tabasco peppers or the unique flavor or other kinds of peppers, freeze them or keep them in oil.
Ideal Growing Conditions for Tabasco Peppers
Whether you're growing a chili pepper or a bell pepper plant, they require a minimum of six hours of strong sunlight each day to produce mature fruit. However, they're also sensitive to extreme high and low temperatures.
Pepper plants may experience diminished fruit set with nighttime temperatures below 60 degrees Fahrenheit or above 75 degrees Fahrenheit.
For climates with especially hot summer afternoons, consider providing additional shade to prevent wilting or scorching. Pepper plants are not drought tolerant. The soil should remain consistently moist but never soggy.
Ensure that each plant has adequate room to grow by spacing the plants 18 to 24 inches apart. Use an all-purpose fertilizer every other week for the first few months.
Once the plant begins flowering, switch to a fertilizer with higher quantities of phosphorus (P) and potassium (K) than nitrogen (N).
Phosphorus promotes fruiting and flowering processes, and potassium assists with healthy root growth, while nitrogen enhances green leafy growth.
Companion Plants for Tabasco Peppers
Companion planting is based on taking advantage of the beneficial qualities of various plants which interact to create a healthy garden ecosystem. Some plants attract beneficial insects, while others ward off pests.
However, certain plants don't make good neighbors. Hold these factors in mind when designing your garden layout. If you have a problem with rodents in your yard, tabasco peppers as rabbit deterrent work well.
Basil repels thrips, flies, and mosquitoes. Flowering parsley attracts predatory wasps that prey on aphids. Chives, onions, and garlic deter aphids, rodents, and deer.
Various pepper companion plants make adequate neighbors due to their root depth and growth habits. Greens like chard, lettuce, and spinach grow quickly and help to suppress weed growth.
Root crops like beets, carrots, radishes, and parsnips fit nicely between pepper plants and help to suppress weeds and preserve soil moisture.
Avoid planting peppers near fennel, beans, and brassicas like cabbage and broccoli. These plants tend to stunt one another's growth.
Tabasco peppers have a rich, smoky flavor and are relatively simple to grow. These little peppers have a similar heat level to cayenne pepper.
They're perfect to use in chilis, Thai recipes, or to make your own pepper sauce. Growing tabasco peppers takes plenty of sunshine, moisture, and patience.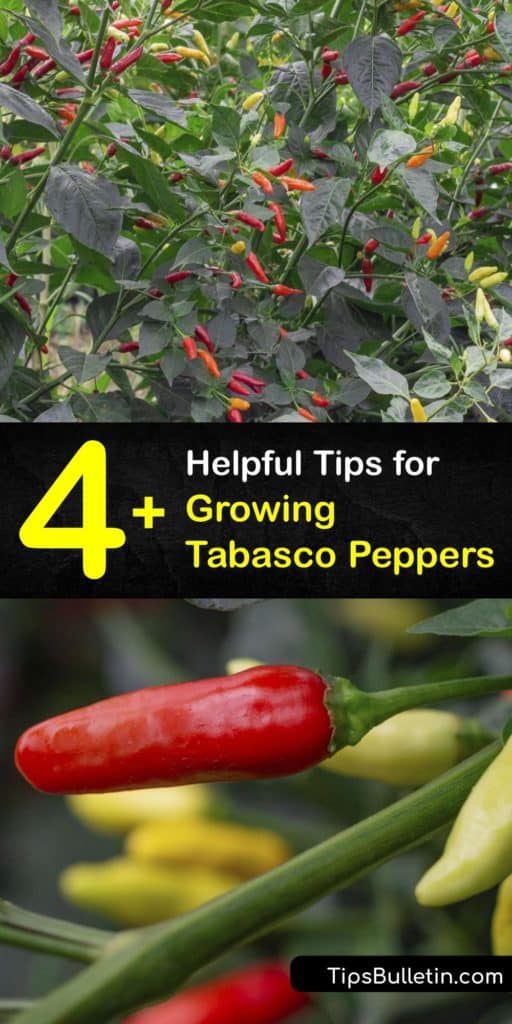 We hope you enjoyed learning about how to grow tabasco peppers, and we'd appreciate it if you'd share this article about growing tabasco peppers with your friends and family on Pinterest and Facebook who may wonder, "What is a tabasco pepper?"