Tomatoes are one of the most prominent veggies for home gardeners for excellent reasons. The taste and nutritional value of homegrown tomatoes are far superior to store-bought produce. In this article, you'll learn everything you need to know about how to grow tomatoes from seeds.
Most tomato varieties have a relatively long growing season, taking between 90-140 days from transplanting to reach maturity. As such, it's a good idea to start tomato seeds indoors in early spring. The exact date varies based on your USDA hardiness zone. Plant tomatoes about six to eight weeks before the average last frost date for your area.
Tomato plants require full sun, consistent moisture levels, and garden soil rich in organic matter. Depending on which variety you choose, tomatoes sometimes reach five or six feet tall. Therefore, it's vital to support their heavy vines through staking, trellising, or using a tomato cage.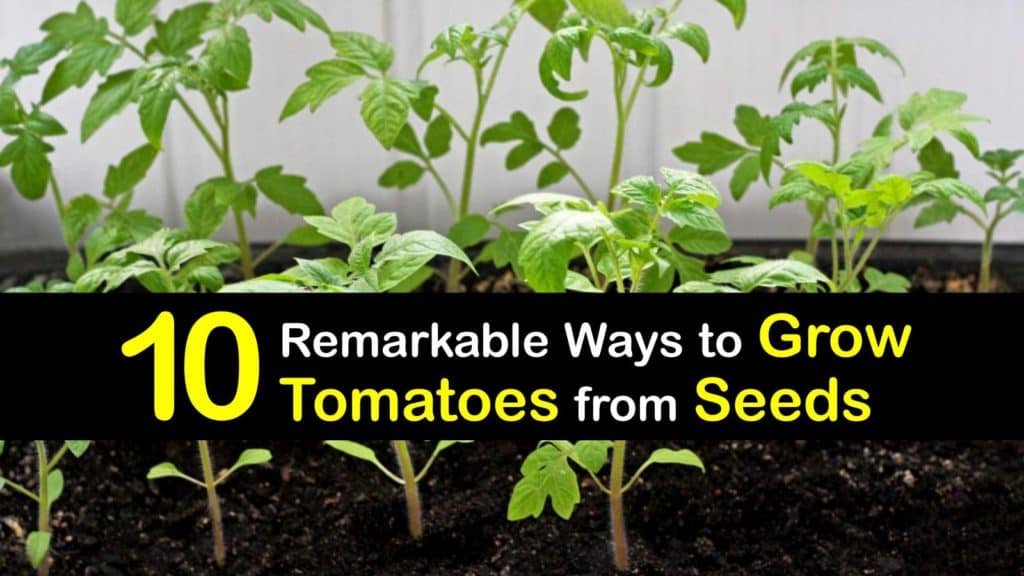 Best Tips for Growing Tomato from Seed
For seed starting, there are a few critical factors to consider. Keeping the soil warm during germination and ensuring that young plants receive enough light help your seedlings grow strong and healthy.
Tomato plants are incredibly versatile. If you don't have space for a veggie garden or raised beds at home, don't worry. Tomatoes are ideal candidates for container gardening.
As long as there's a location that receives at least six hours of direct sun each day, your potted tomato plants will reward you with a generous harvest of delicious homegrown tomatoes.
Growing your groceries doesn't have to be hard work. By using the following seed starting tips, growing tomato from seed feels like a breeze. Whether you prefer sweet, snackable cherry tomatoes or grow beefsteak tomatoes that are big and juicy, it's worth the effort.
How to Grow Tomatoes from Seeds
Planting cherry tomato seeds is no different than growing Roma tomatoes or seeds of heirloom varieties. Start in early spring, about six to eight weeks before your region's last frost date. Use a seed starting tray with two-inch cells, peat pots, or egg cartons to plant tomato seeds. The seed starting mix must be well-draining and rich in nutrients.
Plant your tomato seeds a quarter-inch deep and cover them lightly with soil. Use a spray bottle to gently saturate the soil. Cover with a humidity dome or plastic wrap to retain moisture.
The optimal soil temperature for tomato seed germination is 70-75℉. Keep in mind that room temperature is usually higher than soil temperature. Using a heat mat is beneficial to keep the soil consistently warm.
Have you ever wondered, "How long for tomato seeds to sprout?" Most varieties germinate within five to ten days of planting.
Once they sprout, you'll notice their first set of leaves, called cotyledons or 'seed leaves,' don't look like regular tomato leaves. They're part of the plant embryo within the seed. The true leaves appear within a few days.
Ensure your seedlings receive at least six hours of bright light daily. If you're growing them on a south-facing windowsill, it's critical to rotate the tray regularly so the seedlings lean in different directions.
The movement helps them establish strong stems. If you don't have a sunny window, consider using grow lights to prevent the seedlings from becoming elongated or "leggy."
Transplanting Tomato Seedlings Outdoors
Before transplanting young plants, you must harden them off first. This means exposing them to direct sunlight, wind, and varying temperatures over gradually longer periods for a week or two.
Transplant your tomato seedlings one or two weeks after your area's average last frost date, once the nighttime temperatures stay above 55℉.
Put down a thick layer of dark-colored mulch or a sheet of black plastic over your garden soil about one week before transplanting to heat up the ground.
Once it's warm enough to transplant your tomato seedlings outdoors, dig a hole roughly double in size to the plant's root ball and half the depth of the stem. Place two tablespoons of organic, all-purpose fertilizer in the bottom of the hole.
Trim all of the leaves from the lower third of your tomato plant's stem and place it in the hole. Be sure Roma tomato plant spacing is adequate to allow room for growth.
Fill in around the stem and root ball with a mixture of equal parts compost and garden soil and thoroughly water it. The plant soon begins growing roots from nodes on the stem called root initials. Learn how far to space tomato plants for the highest yields and to discourage disease.
Best Soil for Growing Tomatoes
Maintaining healthy soil culture is a crucial element of successful home gardening. By ensuring your plants have nutrient-rich soil that's aerated and drains well, you'll be less reliant on fertilizers, pesticides, and other treatment products.
In the fall, add several inches of well-rotted compost or manure to your garden soil, then a layer of mulch several inches thick.
Covering the soil during winter protects it from wind erosion and helps it warm up faster in the spring. During spring rains, nutrients from the compost gradually leach into the soil.
To avoid the ground becoming compacted, make established pathways throughout your garden so you're not walking over plants' roots. However, it's best not to do heavy tilling each year.
An extensive microbial network exists in healthy soil that converts organic matter into nutrients that plants can absorb.
Deeply tilling the soil kills most of these beneficial microbes. Instead, practice mulching in autumn to add nutrients to the soil, and only till your garden if the soil becomes too compacted.
For growing tomatoes in containers or planting tomatoes around a buried bucket, try making a DIY potting soil blend using this easy recipe. It's often more cost-effective than purchasing specialty potting mix at your local garden center.
Use a garden trowel to combine the ingredients in a wheelbarrow or large bucket. Use all of your homemade potting mix immediately if possible. Otherwise, store it in a cool, dry location in a sealed container.
Choosing the Right Fertilizer for Tomato Plants
Plant fertilizer contains three primary macronutrients: nitrogen (N), phosphorus (P), and potassium (K). Nitrogen encourages green leafy growth, phosphorus promotes robust root systems, and potassium boots the fruiting and flowering processes.
While tomato plants are still young, use all-purpose organic fertilizer. During the first few weeks after transplanting, removing the flowers helps direct the plant's energy toward growing larger.
Once it reaches about two-thirds of its mature size, let the flowers develop and change to a fertilizer with greater levels of phosphorus and potassium.
Apply granular organic fertilizer every three or four weeks throughout the growing season. It's also helpful to mulch around the base of the plant with coffee grounds for garden tomatoes and add some crushed eggshells. Try making organic tomato plant fertilizer with Epsom salt or banana peels, as well.
Like banana peels and coffee grounds, Epsom salt is good for tomatoes. Add calcium and nitrogen and other important minerals to the soil while repelling pests like aphids, rodents, and slugs.
Growing Tomatoes in Containers
Growing tomato plants in pots is advantageous for several reasons. It allows you to grow veggies in small spaces and move your plants to adapt to changing conditions throughout the growing season.
Planting tomatoes in a five-gallon pot allows enough space for the plant to develop healthy roots. A mature plant only grows as big as its root system allows, so larger containers mean larger tomato plants.
It's critical to use a container with drainage holes at the bottom to ward off root rot. A dark-colored pot keeps the soil warmer, which is advantageous for growing tomatoes in cooler climates. Use well-draining potting soil that's rich in organic matter.
Best Way to Stake Tomato Plants
Most tomato varieties require extra support once they begin fruiting. To determine whether you should use staking, trellising, or a tomato cage, first determine whether your tomato plant is determinate or indeterminate.
Determinate tomatoes have a relatively compact, bush-like growth habit and reach a maximum size where they stop growing. They also tend to set all of their fruit at once.
While there are a few determinate varieties that don't require staking, it's usually a good idea to use a tomato cage to prevent accidental plant damage or breakage.
Indeterminate tomatoes keep growing and producing fruit as long as conditions allow. Some varieties stay smaller than others.
Pruning regularly helps maintain airflow, control the plant's size, and encourage healthy new growth. Tomato cages are sometimes too small to support indeterminate tomatoes. Staking or trellising works best, especially for cherry tomatoes.
Insert the tomato cage or plant stakes while the plant is still immature. Doing so helps limit breakage and damage to the roots. Alternatively, place a trellis at the back of the pot and loosely tie the growing branches to the frame.
Harvesting Tomatoes
Most tomato varieties begin producing fruit within 90 days of transplanting. Harvest tomatoes as soon as they're ripe for the best flavor and to lessen the branches' weight.
There are numerous tomato varieties available that ripen to red, yellow, orange, or purple. In most cases, it's fine to pull ripe tomatoes off the vine.
However, if you encounter any resistance, use a sharp pair of scissors to avoid accidentally breaking the branch.
If you still have lots of green tomatoes at the end of the growing season, check the bottoms for light-colored streaks coming from the blossom end. These streaks mean that the tomato has started to ripen and will continue doing so off the vine.
Storing green tomatoes in a paper bag with a banana helps them ripen faster because bananas release ethylene gas.
How to Regrow Tomatoes
Have you ever heard of how to grow tomatoes from tomatoes? Although it might sound odd, read on to learn how to regrow tomatoes.
Because tomato stems have root initials, it's possible to transplant a broken branch into a new pot and grow it into a separate tomato plant. Look for light green or white nodes on the stem to tell whether it can develop adventitious roots.
To grow-tomatoes from a cutting or broken branch, remove all the flowers and fruit. Pinch off the leaves from the lower third of the branch.
Fill a one-gallon container with potting soil and insert the stem into the soil up to where you've removed the leaves. Keep your soil moist at all times, and the branch will begin developing roots within a few weeks.
Common Pest and Disease Problems for Tomato Plants
Ensuring that your plants receive all the nutrients they need helps fortify them against pests and disease. Some of the most commonplace problems that tomato growers encounter come from nutrient deficiency rather than insects or plant diseases.
Blossom end rot, which appears as a soggy brown spot on the fruit's bottom, comes from calcium deficiency. Remove any fruit with blossom end rot immediately. Earthworm castings, bone meal, and rock phosphate are excellent remedies.
The most commonplace garden pests that attack tomatoes include aphids, spider mites, slugs, and tomato hornworms. To combat small insects like aphids and mites, make a homemade spray for tomato plants. Spritz all parts of the plant with an organic insecticide like neem oil or insecticidal soap.
Take extra care to cover the leaves' undersides, as that's a favorite hiding spot for insects. To deter slugs, use an abrasive mulch like crushed eggshells or coffee grounds. Deter tomato hornworms through companion planting.
Leaf spot and powdery mildew are fungal diseases that frequently affect tomato plants and cause tomato leaves to turn brown, curl and fall off.
The best way to prevent the spread of fungus through your garden is to ensure adequate air circulation and limit water splashing on the plants' leaves using drip irrigation. Spray affected plants with organic copper or sulfur fungicide.
Companion Plants for Tomatoes
Companion planting is a centuries-old garden design strategy that utilizes the mutually beneficial relationships between certain plants that repel pests, attract beneficial insects, and enhance their neighbors' flavor and overall growth.
However, other plants aren't compatible and must grow separately. Marigolds repel ants, aphids, tomato hornworms, thrips, whiteflies, and harmful soil nematodes.
Also, they attract pollinators and provide habitat for beneficial predatory insects like ladybugs, hoverflies, and parasitic wasps.
Aromatic herbs like basil and dill repel insect pests like aphids, tomato hornworms, and whiteflies. Many gardeners believe that basil also enhances the flavor of tomatoes when grown nearby.
Leafy greens like lettuce and spinach have shallow roots that don't compete with tomatoes for soil space. This also goes for when to plant arugula. Their broad leaves act as a living mulch to retain moisture and insulate the soil in the heat of summer.
Growing your own tomatoes is a worthwhile endeavor. After your first harvest of juicy, delicious tomatoes, you'll be hooked. It's like having a taste of summer sunshine with each bite.
Besides being more flavorful and nutritious, growing tomato from seed allows you to try unusual tomato varieties that aren't available at the supermarket.
If you accidentally break off a branch, just use the technique described above for how to regrow tomatoes.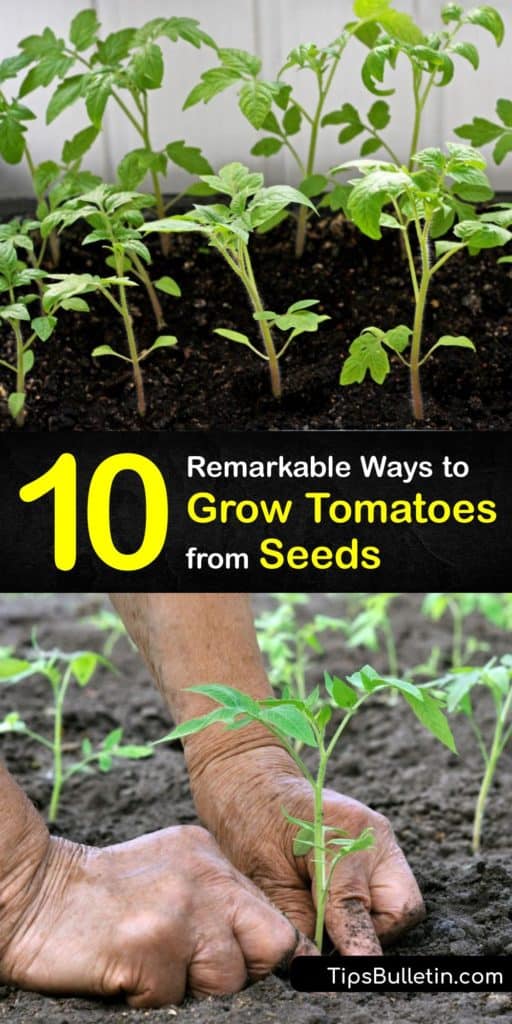 We hope you enjoyed reading these tomato growing tips, and would appreciate it if you shared this article about how to grow tomatoes from seeds with your fellow gardeners on Pinterest and Facebook.