Growing tomatoes is a rewarding and straightforward gardening project.
I always choose a sunny spot because tomatoes need at least six hours of direct sunlight to thrive.
I use fertile, well-drained, loamy soil, enriching it with organic compost for the best results.
I water my plants regularly, keeping the soil moist but not waterlogged to avoid root diseases.
I fertilize every two weeks once the plant starts setting fruit to ensure a bountiful harvest.
I watch out for pests and diseases and take action immediately if I spot any issues.
To grow tomatoes successfully, I start by selecting a variety that suits my taste and garden space. Then, I plant the seeds indoors six weeks before the last frost date to get a head start on the season. I transplant the seedlings into my garden or containers after all danger of frost has passed, making sure they have room to grow.
Regular watering and fertilization are key to my plants' health and productivity. I also keep an eye on potential pests and diseases, taking preventative measures to keep my tomato plants thriving. When it's time to harvest, I pick the tomatoes when they are colorful and slightly soft to the touch.
If you've never had tomatoes fresh from the garden, you're definitely missing out. These homegrown garden delights are more succulent than grocery store tomatoes and packed full of goodness. Discover how to grow tomatoes of all types in your backyard or on your patio and reap their benefits throughout the growing season.
Tomato plants are one of the easiest garden vegetables to grow. However, it may surprise you to learn that they are technically a fruit.
These sweet and juicy fruits are packed full of antioxidants, including lycopene and vitamin C, and may even reduce heart disease and cancer. Tomatoes are not a one-size-fits-all type of garden treat.
There are many different varieties, from small grape and cherry tomatoes, perfect for salads, to large heirloom beefsteak tomatoes, ideal for slicing on sandwiches. They also grow in many colors, from red, yellow, and orange to brown, pink, and even purple.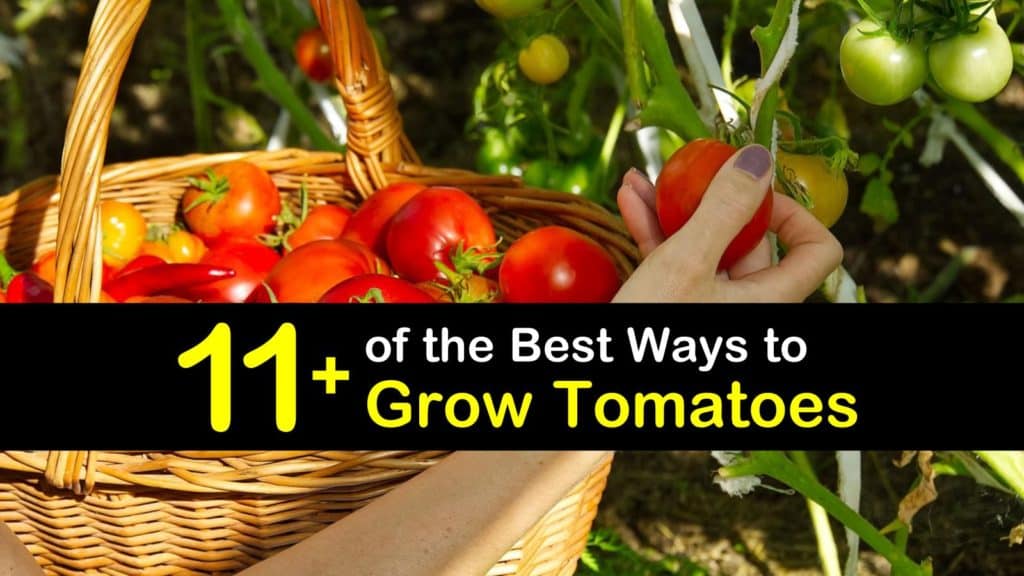 How to Grow and Maintain Tomatoes
Growing tomatoes seem daunting if you've never taken the opportunity to grow them before. However, these plants are easy growers and only require a bit of maintenance to thrive.
What are tomatoes? We'll explain the different types, their growing requirements, how to grow them from seed and plant, and how to maintain them through the season.
Things to Know Before Growing Tomatoes
Before taking a stroll through your local garden center, there are a few things to know when it comes to growing tomatoes.
There are so many tomato varieties, it's easy to get confused as to which type is the one to grow, and understanding what they need is essential to healthy growth and production.
Garden Tomatoes
There are two main tomato types, indeterminate and determinate. Determinate tomatoes grow to an average height of about two to three feet and then set tomatoes to ripen, while indeterminate tomatoes continue growing taller while producing fruit until the first frost.
There are also many varieties, ranging in size and color. Some of the most popular are cherry tomatoes that are small and round and grape tomatoes that tiny and oblong.
What are Roma tomatoes? Roma or plum tomatoes are ideal for making sauces, beefsteak tomatoes are perfect for slicing on burgers, and heirlooms which are non-hybrids and useful for seed-saving.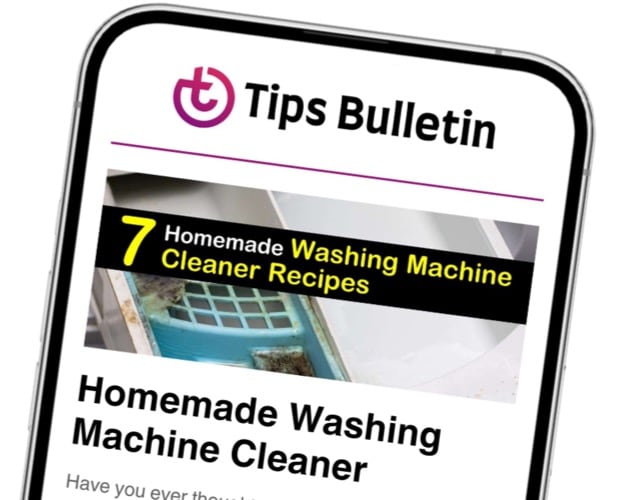 Finally, an email that Transforms Your Home.
Get the latest home and garden tips from our experts, delivered straight to your inbox.
How long does it take to grow tomatoes? It depends on the type and whether you start them from seeds or plants.
Tomato seeds take about five to ten days to germinate, six to eight weeks before you transplant them, and about four months for the entire growing process.
Growing young plants in the garden is faster, and they produce fruits about 50 to 80 days after planting, depending on the type. The same applies when you grow tomatoes in a greenhouse or a container indoors or out.
Best Way to Grow Tomatoes from Seed
There are two ways to grow tomatoes, and these include planting young plants or seeds. If you opt to try your hand at seeding them, the best way to grow tomatoes from seed is to start them indoors first.
The way to grow Roma tomatoes and other types is basically the same. Begin the seeds approximately six weeks before the final frost, as one of the ways to grow cherry tomatoes or full-sized varieties. Fill a starter tray with an even amount of seed starting soil. Open the packet of seeds, place two to three seeds into each compartment and cover them with about a quarter-inch of dirt.
Spray the surface with water and set the tray in a warm area. The seeds need a room temperature of 70 to 75°F to germinate, so consider covering them with plastic wrap to retain warmth and moisture.
Water them daily to prevent the soil from drying out and check the tray daily. Remove the plastic wrap as soon as you see the plants sprouting, and move them to a sunny spot or use a grow light.
How to Grow Tomatoes by Transplanting Seedlings
After you plant seeds and give them the care they need to grow, tomato seedlings often need transplanting into a larger pot before it's time to move them outdoors. Or, growing tomatoes indoors is also possible in larger pots. This is an essential step to prevent them from getting pot bound.
For the way to grow beefsteak tomatoes or smaller types, pour a small amount of potting mix into a four-inch pot and set it aside. Use a pencil or utensil to lift the seedling out of the tray, being careful not to damage the stem, and put it into the new pot.
Pour more dirt into the container to fill it and press it down lightly. Water the plant and use a water-soluble fertilizer to feed your seedlings regularly.
Ways to Grow Tomatoes in a Container Garden
If you do not have a spacious backyard or enough area to grow a garden, growing tomatoes in containers is a great option. They are vegetables that grow well in pots. All that is needed is your plant of choice, the right kind of soil, and a decent-sized pot.
Once the last frost is over, it's time to plant tomatoes outside. To grow tomatoes in a bucket, fill a five-gallon bucket or a two-foot container with high-quality potting soil. Take your tomato plant and remove the bottom sets of leaves.
Dig a large hole in the middle and place the plant deeply into the center so that most of the plant is below dirt-level. Fill the rest of the pot with soil and pat it down gently to enable the plant to produce roots along the stem and give it a robust root system.
When growing tomatoes in pots, set the container in an area where it receives about six to eight hours of full sun daily. Position a tomato cage in the pot for staking and water the plant thoroughly.
If you would rather have your tomatoes as a houseplant, that's possible, too. It's easy to grow cherry tomatoes indoors as long as they get enough light and water.
Growing Tomato Plants in a Vegetable Garden
The best way to grow tomatoes if you have space is in a vegetable garden. However, there is more to understand than merely placing your plants into the ground. Tomatoes require good soil and prefer growing alongside companion plants.
Prepare your garden with the proper garden soil and dig a hole for each plant that is twice the root ball's size. How far apart to plant tomatoes is about two feet to allow the roots room to spread.
Sprinkle organic matter or compost into the bottom of each hole and place them into the hole up to its topmost set of leaves. Fill each hole with garden soil and pat it down gently.
Spread a layer of mulch beneath the plants to retain moisture and prevent weed growth, and water them right after planting.
If you plant your tomatoes in a garden with other veggies, some improve the health of tomatoes while others inhibit and stunt their growth. Plant your tomatoes near parsley, garlic, and basil, and avoid growing them beside fennel, cabbage, and broccoli.
Choosing the Right Medium for Growing Tomato Plants
There are many different soil types, including sandy, clay, peat, silt, loam, and chalk, and growing tomatoes in the wrong kind of dirt results in an unhealthy plant with poor production.
While tomatoes are not particularly fussy about the soil they grow in, some soil types are better than others. They do great in well-drained, loamy soil that has a pH of 5.8 to 7.0.
The best way to plant tomato plants is to combine a few inches of aged animal manure or organic compost into the soil's top part before planting your tomatoes for ideal results.
Taking Care of Your Tomato Plants
Tomatoes require daily attention after you plant them to ensure they remain healthy and strong. Give them the right amount of water, sunshine, and nutrients, and your plants reward you with a fantastic harvest at the end of the season.
First and foremost, these plants require a lot of sunshine to flourish. Growing them in the shade does not produce good results, so finding an area where they get no less than six hours of sunshine each day is the way to go.
It's also important to ensure that there is no danger of frost when you plant them outdoors to prevent them from damage.
Water your plants daily as needed, especially during the dry season, and don't forget to spread mulch beneath them since mulching helps retain moisture. If your tomatoes are growing in pots, they need more watering than in the garden because containers dry out faster.
Tomato plants are heavy feeders and need fertilizer when you plant them in the garden or pot. After they start growing fruit, give them light fertilizer once every two weeks until the first frost.
How to Prevent Tomato Plant Diseases and Disorders
There are many plant fungal diseases and disorders, and tomato plants are no exception. Take charge of tomato problems and solutions so you can address any issue that comes up.
Understanding what ails your plant and which diseases of tomatoes you are dealing with are key to fixing the problem before it gets out of hand and destroys your garden.
It's also important to watch out for pests like the tomato hornworm and aphids. Learn what to plant next to tomato plants to deter these creatures and ensure a bountiful crop at harvest time.
Healthy Tomato Plants
Several diseases cause disorders in tomato plants. The most common are blossom end rot, fusarium wilt, septoria leaf spot, and late blight. You may wonder why are tomato plant leaves curling or have other issues. Luckily, there are ways to prevent and deal with these problems.
Always water your plants in the morning at ground level and avoid overwatering them to prevent disease. To help eliminate brown spots on tomato leaves, keep your garden tools clean by disinfecting them regularly, and cut away infected leaves immediately.
Pruning Your Plants for Optimal Results
Tomato plants are not often what we think about when it comes to pruning, and it is not necessary. However, clipping away excess leaves and branches prevents the plant from getting too bushy and focuses more energy on the fruits.
Begin by removing the flowers until the plant is about twelve to eighteen inches tall to encourage a strong root system. The next step is to prune the leafy suckers or side shoots.
These are little shoots that form at the axel where the leaf stem attaches to the main stem, and removing them allows for faster development of fruit.
How to Get Rid of Garden Pests on Your Tomato Plants
Pests and insects are a gardener's worst enemy, especially if you grow your plants organically. Insects easily take out entire plants if you let them, and it's vital to eliminate them as soon as you notice bugs on tomato plants.
Aphids, slugs, snails, whiteflies, and tomato hornworms are common pests on tomato plants. These insects damage the leaves, stems, and fruits and often take out an entire garden if you don't eradicate them right away.
Pluck off visible bugs by hand and submerge them in soapy water or use insecticidal soap. Another natural way to keep aphids off tomato plants is to sprinkle diatomaceous earth around the plant to kill them.
Mix dish soap and water in a spray bottle for a homemade bug spray for tomato plants to keep pests away and kill the ones already there.
When and How to Harvest Tomatoes
Now that you know how to take care of a tomato plant, tend to your garden each day, make sure the plants are healthy, well-watered and fed, and bug-free, it's time to prepare for the harvest.
Tomatoes spend most of their time as a firm, green fruit while growing on the stem or vine. If you are trying to grow green tomatoes, you can pick them when they reach the appropriate size. But, as they ripen, they turn to their mature color of red, orange, yellow, or burgundy.
Check them for firmness, and clip them from the stem with garden shears at their peak moment of color or right before they change entirely to ensure they do not lose flavor. Remove the ripe fruits and carefully place them into a basket to prevent bruising them.
When do tomatoes go bad? If you have a good tomato harvest, take steps to preserve your fruit. You can freeze, can, or make sauce with your tomatoes to enjoy their flavor all year.
Choose several different ways to preserve garden tomatoes. You can even give some as gifts for those who aren't into gardening.
How to Save Tomato Seeds for Next Season
Your local garden center is not the only place to get tomato seeds. Saving seeds from this year's crop is relatively simple and a great way to regrow your favorite tomatoes during the next growing season. You can also grow cucumbers from seeds, as well as many other veggie favorites.
Unlike many other plant seeds, tomato seeds are inside a gel-like sack of growth inhibitors, so the process of collecting seeds is a bit different. First, choose the best-looking tomatoes from your bunch, and slice them in half from the stem down to the blossom end.
Scoop the seeds out and put them into a jar, and refrigerate the remaining fruit for eating. Pour a cup of water into the Mason jar, cover it with a paper towel, and set it in a warm and safe place to ferment for two to four days.
As the seeds ferment, there is a foul odor and a layer of mold on the top. While this is unpleasant, it is a normal part of the process. Once the seeds settle to the bottom of the liquid in the jar, they are ready for separation.
Remove the mold covering from the top and discard it. Pour the seed mixture into a colander and rinse the seeds well under cool, running water to clean them and wash away pulp and mold.
Spread them on a paper plate and place them in a dry, warm spot until they are completely dried before pouring them into an envelope for storage.
While there are a few steps to take to keep your plants safe from garden pests and ensure they flourish, tomatoes are one of the easiest plants to grow. The most challenging thing is deciding what to do with all those tomatoes at the end of the growing season.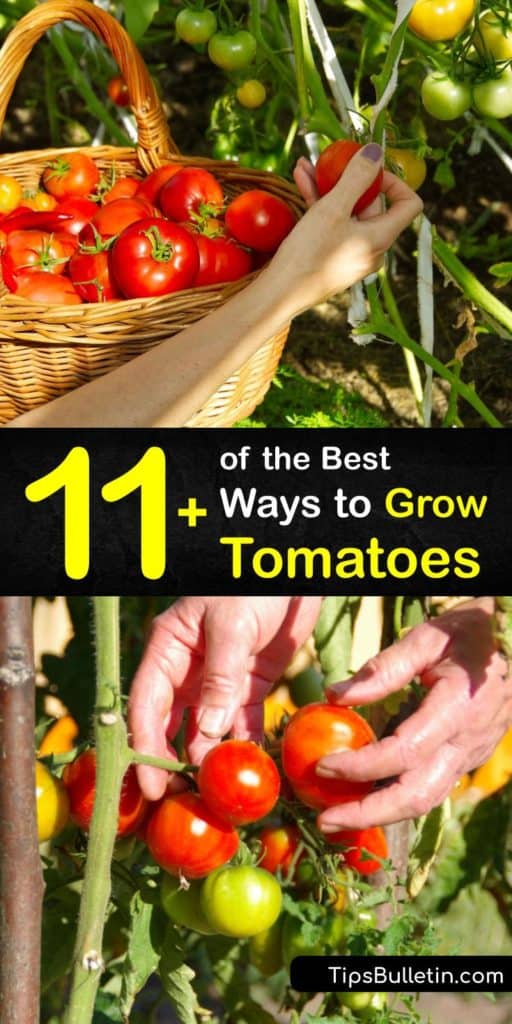 Knowing how to grow tomatoes means that you get to enjoy the tastiest and juiciest tomatoes on your burgers and in your salads, so why not share our tomato growing guide with your circle of friends and family on Facebook and Pinterest?