You likely view turmeric powder as an exotic ingredient at the grocery store and have no idea what type of plant it comes from, let alone how to grow it. Although turmeric—Curcuma longa—is native to India, it's possible to grow it in cooler climates with a little patience and ingenuity. Find out how to grow turmeric to enjoy your very own turmeric fresh, grated, or ground.
Turmeric is a tropical plant and perennial herb in the Zingiberaceae family—the same family as ginger and cardamom.
Also known as Indian saffron, the plant has large green leaves and spikes of flowers that may be green, white, pink, or yellow. Its roots yield the familiar warm yellow spice.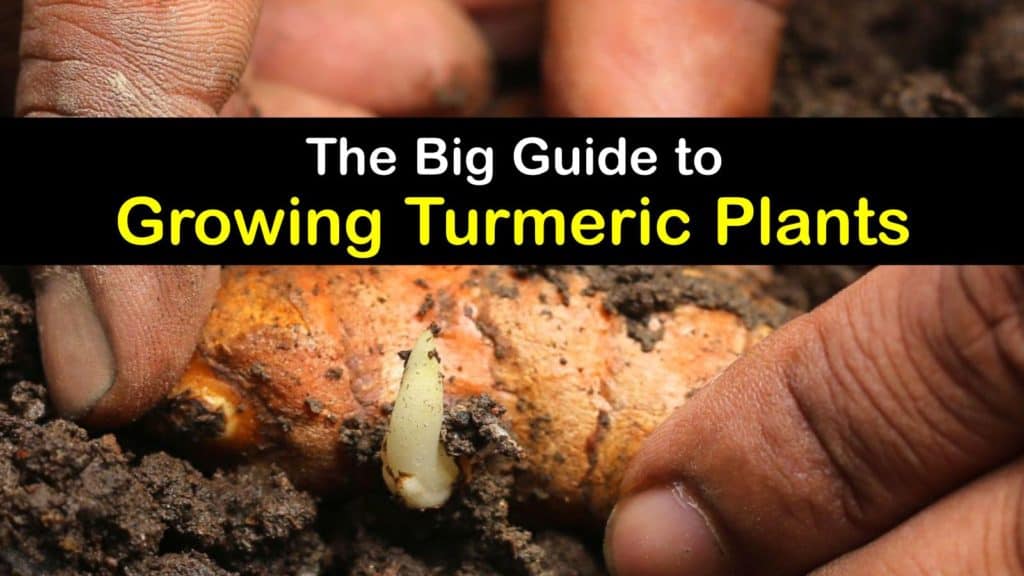 Tips for Growing Turmeric
Turmeric contains curcumin, a chemical compound with anti-inflammatory and antioxidant properties. Possible health benefits include slowing the spread of cancer, regulating blood pressure, and improving digestion.
Add a dash of black pepper when cooking with turmeric to make it easier to absorb the curcumin. Compared to other superfoods, turmeric is a relatively easy addition to the diet with its earthy, mildly sharp flavor. Try using it in curry or golden milk.
Unless you live in USDA zones 8 to 11, you'll probably have to grow your turmeric plant in a pot and move it outdoors for the summer.
How long do turmeric roots take to grow? Whatever your climate, you'll have to wait the better part of a year to enjoy a turmeric harvest.
How to Grow Turmeric
Propagate turmeric using rhizomes, which are knobby roots shaped almost like hands. This is also the way to grow ginger at home.
How long do turmeric roots take to grow? Approximately seven to ten months from planting, so start the process in early spring.
It's possible to grow turmeric in the garden in zones 8 to 11. In cooler zones, sprout turmeric rhizomes indoors, then transplant them to a larger pot or outside. Use loose, well-drained soil that's rich in organic matter, and work in compost.
To sprout the rhizomes, break them into smaller pieces, then cover them with potting soil. The sprouting rhizomes may need grow lights.
If transplanting the seedlings outdoors, harden them off gradually. This plant thrives in the sun but is sensitive to sunburn. Water to keep the soil for turmeric moist but not soggy. You could also mist the leaves. Fertilize regularly—turmeric is a heavy feeder.
Harvest in the fall when the leaves start turning yellow or brown. Either tip the pot over or carefully dig out the roots.
Getting Ready for Growing Turmeric
Start by finding turmeric rhizomes at a local store or online. You also need to determine the best approach for growing turmeric in your zone.
Sourcing Turmeric Rhizomes
You may be able to find fresh rhizomes at your local grocery store, Asian grocers, or health food stores. Ensure the roots are certified organic; otherwise, they may be treated with growth inhibitors.
You may notice a similar looking root vegetable labeled curcumin. While many don't know the difference between curcumin vs turmeric, they are actually the same root.
Local nurseries or growers may also have turmeric rhizomes available. If nothing else, ordering the roots online is always possible. Once you have turmeric plants established, consider saving some of the rhizomes to plant in future years.
Look for plump and firm rhizomes with as many little bumps as possible. It's best if the buds are slightly green, which indicates that they're ready to sprout.
Determining When to Plant Turmeric
When growing turmeric indoors, remember the answer to the question "How long do turmeric roots take to grow?"
Given that the process takes seven to ten months, plant in late winter or early spring. To determine the exact date, count back ten months from your region's average first frost in the fall.
Early spring is ideal for planting turmeric outside as well. Ensure that the soil temperature is at least 55℉. Daytime temperatures should remain close to 70℉.
Deciding How to Grow Turmeric
If you live in USDA zones 8 to 11, plant rhizomes directly in the garden. How long do turmeric roots take to grow? The ideal is having eight to ten frost-free months per year.
If you live in a slightly cooler zone, you may also have luck planting turmeric outside if you spread mulch before the winter.
Otherwise, start your turmeric plant indoors. There is not much difference between turmeric vs ginger in this regard. Keep either as a houseplant for the whole year, or move the pot outside once there's no frost risk. Return the container indoors in the fall.
Alternatively, treat turmeric as an annual. Plant it outside in zone 7 or lower, then let it die off with the cooler temperatures in the fall.
How to Plant Turmeric
Whether you're planting inside or out, there's a specific process for sprouting turmeric. Make sure to provide the appropriate soil and light conditions.
Selecting a Container and Soil for Growing Turmeric
Part of how to grow turmeric is choosing the correct container size. The pot must be wide enough to accommodate the plant's spread. Aim for 18 inches across.
The depth is less important—10 to 12 inches is deep enough. Ensure that the container has good drainage. Fabric pots drain well but require more frequent watering.
Turmeric thrives in soil that is well-drained, loose, and rich in organic matter. The ideal pH range is 4.5 to 7.5.
Make sure that the soil for turmeric is free of rocks and clumps. Loosen it to at least one foot deep. Work in aged compost to improve fertility and drainage.
Sprouting Turmeric
Break or cut larger rhizomes into smaller sections with two to three buds each a couple of days before planting to give the cuts a chance to scab over.
Fill the container partway with potting soil. What's the ideal turmeric root spacing? Insert the rhizome pieces two to four inches deep and four to six inches apart.
Alternatively, start your turmeric in smaller pots and then transplant them. Ensure that the nubs are facing upward, then cover the rhizomes with soil.
Place the pot somewhere warm, and use a heat mat to keep the temperature between 80 and 85℉. Water to keep the soil for your turmeric plants moist but not soggy. Once the rhizomes sprout, put them on a sunny windowsill or under grow lights.
If you're growing turmeric in the garden, space the rhizomes four inches deep and three to four inches apart. Note that turmeric may take several months to sprout outdoors.
Transplanting Turmeric
Transplant turmeric outside once there's no risk of frost. Harden the turmeric plant off by placing it in a shady spot briefly for several days. Gradually increase the plant's amount of time in the sun.
Ultimately, place the container in full sun to partial shade—a little afternoon shade is often beneficial. Turmeric loves sunlight, but its leaves burn easily. The site should also enjoy protection from strong wind.
Avoid planting your turmeric near members of the nightshade family, such as eggplant, peppers, and tomatoes. These plants may compete for nutrients. Instead, plant near companion plants like beans, cardamom, cilantro, ginger, and peas.
Caring for Turmeric Plants
Water your turmeric often. However, avoid soaking the soil, especially before the plants sprout. Turmeric requires frequent fertilization.
Watering Turmeric Plants
Keep the soil for turmeric plants damp but not constantly wet. Avoid leaving the plants in standing water. However, do not allow turmeric's soil to dry out either since that decreases yield.
Water significantly less before the rhizomes sprout. Unsprouted rhizomes may rot in soil that is overly wet. Check the moisture level for the top couple of inches of soil with your fingers before watering.
Plants that are actively growing require more water, partly due to the warmer summer temperatures. Provide approximately one inch of water per week if there's no rain. Consider misting the leaves in hot, dry weather to increase humidity.
Reduce your watering during the fall and winter, especially in rainy weather. You could stop watering a couple of weeks before harvesting to make the harvest easier.
Fertilizing Turmeric Plants
Turmeric is a heavy feeder while it is actively growing. Feed your plant compost throughout the growing season. Every few weeks, provide organic liquid fertilizer, such as kelp or fish emulsion, or give a few doses of a balanced, slow-release, granular fertilizer.
Be careful since turmeric leaves may burn if they receive too much fertilizer. Avoid, as well, providing too much nitrogen since that encourages leaf growth at the expense of rhizome growth.
Preventing Pests and Diseases on Turmeric Plants
You're unlikely to face too many issues when growing turmeric.
To prevent pests and diseases, ensure that your plants have adequate lighting and spacing. The soil should drain well and be rich in organic matter. Keep the area well-weeded and avoid under or overwatering.
Harvesting Turmeric
A good part of how to grow turmeric is patience. Once the rhizomes are finally ready to harvest, you'll need to be careful not to damage them.
How Long do Turmeric Roots Take to Grow?
Expect to harvest turmeric rhizomes in fall or early winter, seven to ten months after planting. Don't remove the roots too early since much of their development happens in the final few weeks.
You know it's time to harvest turmeric when the leaves and stem turn yellow or brown, dry out, and die back. This process occurs faster if there's a frost but occurs eventually in any case.
How to Harvest Turmeric
If you remember, stop watering one to two weeks before you intend to harvest to let the soil dry out slightly. Like the way to harvest ginger, do not simply pull on the stems since that could damage the rhizomes. The roots are particularly delicate earlier in the season.
Before removing the rhizomes, dig around the plants with a trowel or your hands, careful to miss the roots.
After loosening the soil, gently pull on the stalks or scoop up the roots from underneath. Wear gloves when harvesting to avoid staining your hands with turmeric's famous orange color.
If you're having trouble getting the rhizomes out of a pot, tip it over onto a tarp. Sort through the soil to find the tumeric roots. Shake the dirt off the rhizomes.
Cut off the stems approximately one inch above the rhizomes, and snip off any long roots, tossing them in the compost. Rinse the rhizomes well.
How to Store Turmeric
How long does fresh ginger last? What about turmeric? Fresh turmeric roots keep up to six months in the fridge in an airtight container or resealable plastic bag. The rhizomes last for up to one year in the freezer, although they taste fresher if you eat them earlier. Freeze turmeric roots whole in an airtight container.
Set aside a few roots for replanting to avoid having to buy new ones next year. Store the unwashed rhizomes in a plastic bag or container in a cool, dark location. Then, start them in potting soil in early spring to sprout new turmeric plants.
Does ginger root go bad the same way turmeric does? Yes, spoiled roots are wrinkly, mushy, and may have mold. Discard in the trash.
How to Grind Turmeric Powder
Once you have your turmeric rhizomes, you'll probably wonder what on earth to do with them to get turmeric powder. Start by washing the roots, then stick them in a pot of water. Heat the liquid to a boil, then reduce to a simmer.
Cook until you can pierce the roots with a fork—approximately 45 to 60 minutes. Drain the rhizomes and rub off their skins. Wear gloves to avoid staining your fingers.
Dry the rhizomes in the sun or a food dehydrator set to 140℉ until they're brittle and snap cleanly. Grind the turmeric with a spice mill, coffee grinder, or mortar and pestle.
Add turmeric to your favorite recipes or use turmeric as carpenter ant repellent. Turmeric is also the best home remedy to get rid of bed bugs. This spice has multiple uses.
If you've ever wondered whether it's possible to grow turmeric at home, the answer is yes—even in cooler climates. Before getting started, learn the answer to questions like "How long do turmeric roots take to grow?" to understand what you're getting into.
Growing turmeric does take some know how. Break the rhizomes into smaller pieces before sprouting them, insert them in a large pot, and fertilize regularly to set your turmeric plants up for success.
Become confident with how to grow turmeric to amaze everyone that you know with homegrown turmeric roots.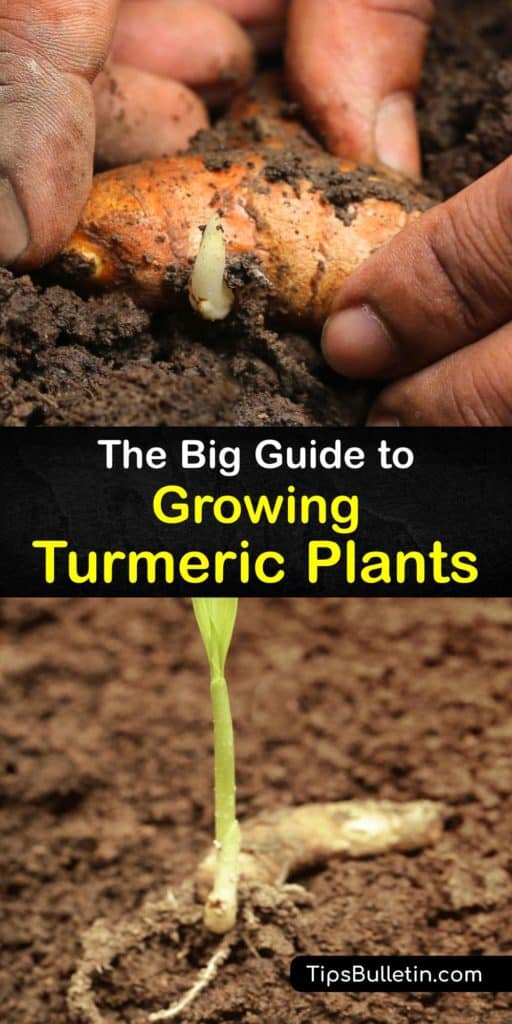 If you found these tips for growing turmeric helpful, please share this home gardening information with your friends on Pinterest and Facebook.