Turnips are hearty, nutritious root vegetables that humans have cultivated for thousands of years. Both the roots and leaves are edible and delicious, and they are one of the first crops to be ready for harvest in the spring. In this article, you'll learn how to grow turnips from seed to enjoy a spring and fall harvest of savory turnip roots and greens.
You'll find that growing turnips from seed is incredibly easy. They flourish in cool weather and can tolerate a light frost. They are fast growers, and some varieties are ready to harvest in as little as 30 days.
If you have never tried planting turnips from seed before, you won't be disappointed. This ancient cool-season root crop rewards you with a quick and satisfying harvest and does not require much effort at all. Read on to discover how to plant turnip seeds in your home vegetable garden.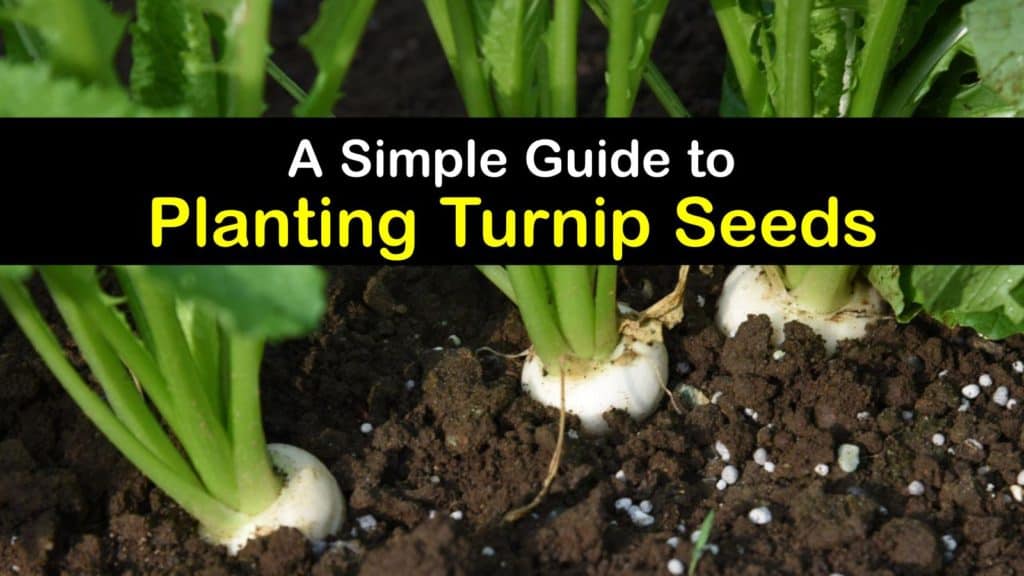 Best Tips for Growing Turnips from Seed
Turnips, or Brassica rapa, aren't fussy about their growing requirements. All they need is loose, fertile soil that's well-draining and rich in organic matter and plenty of sunshine and water.
Their short growing season makes them ideal for succession planting, where warm-season crops take the place of cool-weather veggies once the temperatures get warmer.
Turnips are part of the Brassicaceae plant family. They are related to bok choy, Brussel sprouts, cabbage, kale, kohlrabi, radishes, and rutabagas. Although they are mainly cultivated as annual root crops, turnips are biennial.
They grow roots and leaves in the first growing season and produce yellow flower stalks and seeds in their second year. Here are a few of the best turnip varieties to grow in your garden.
How to Plant Turnip Seeds
Like most other root crops, turnips grow best when direct-sown. Since they grow so fast, there's no significant advantage to planting turnip seeds indoors in early spring.
It's important to know when to plant turnips so you have a nice yield. Plant turnip seeds two or three weeks before your average last frost date for a late spring harvest. For a fall crop, plant again in late summer. Sow the seeds a quarter to half-inch deep and cover them lightly with soil. Seed germination takes three to ten days.
Spacing between seeds should be about one inch. Once the seedlings grow four inches high, thin them out so they're at least four to six inches apart.
How to Grow Turnips from Seed
The best way to plant vegetable seeds like turnips is to plant turnips in an area with partial shade to full sun, at least five or six hours of direct sunlight each day. Keep the soil consistently moist, as drying out may cause the roots to turn woody and split.
The plant might also begin bolting, prematurely producing a flower stalk and going to seed. Overwatering leads to problems with rot and mildew. On average, turnips require about an inch of water per week.
Hot weather may also trigger bolting in turnips. The ideal temperatures for growing turnips from seed are between 40-75℉.
Just like the way to plant bok choy, turnips tolerate frost much better than heat. Colder temperatures down to about 26℉ may burn turnip leaves but won't kill the plant.
However, they require protection from a hard freeze below 25℉. Insulate the plants with row covers, old blankets and towels, or mulch.
Turnips don't compete well with weeds. Be careful when weeding to avoid damaging their shallow roots. Use mulch to suppress weeds, retain moisture, and insulate the soil.
Harvesting and Storing Turnips
Turnips are typically sweeter and more tender when they get harvested early. How long does it take turnips to grow? Turnip greens are ready to harvest within a month of planting seeds. The roots mature in approximately 40-60 days, depending on the variety.
For baby turnips, dig up the roots when they're one or two inches wide. For larger turnips with a more robust flavor, harvest when they're three to six inches wide.
When harvesting your fall crop of turnips, wait for one or two freezing nights to pass. Many growers report that turnips have a sweeter flavor after a light frost.
Store turnips for up to four months in a cool, dark root cellar that stays consistently below 40℉. Turnips remain fresh in the crisper drawer of your refrigerator for up to two weeks.
When freezing turnips, it's best to blanch them first. Use frozen turnips within six months. Many people wonder about turnip vs potato when trying to go low-carb. Turnips are a great substitute.
Troubleshooting Common Pest and Disease Problems
The most prevalent insects that attack turnips are aphids, flea beetles, and root maggots. Cover newly sprouted seedlings with row covers to prevent insects from laying eggs on the plants.
If you notice an infestation, spray all parts of the plant with an organic insecticide like neem oil or insecticidal soap.
Clubroot is a common disease for Brassica plants that comes from a soil-borne fungus. Infected plants have stunted, yellow leaves and deformed roots.
It persists in soil for up to seven years and is challenging to manage. Be sure to purchase certified disease-free seeds and practice crop rotation.
Turnips are easy and worthwhile to grow in your garden. They're highly nutritious and are ready to eat within a few weeks. If you've ever wondered how to plant turnip seeds, know that it's straightforward.
Just make sure they get adequate sunlight and water, and you'll enjoy a bumper crop of turnips in both spring and fall.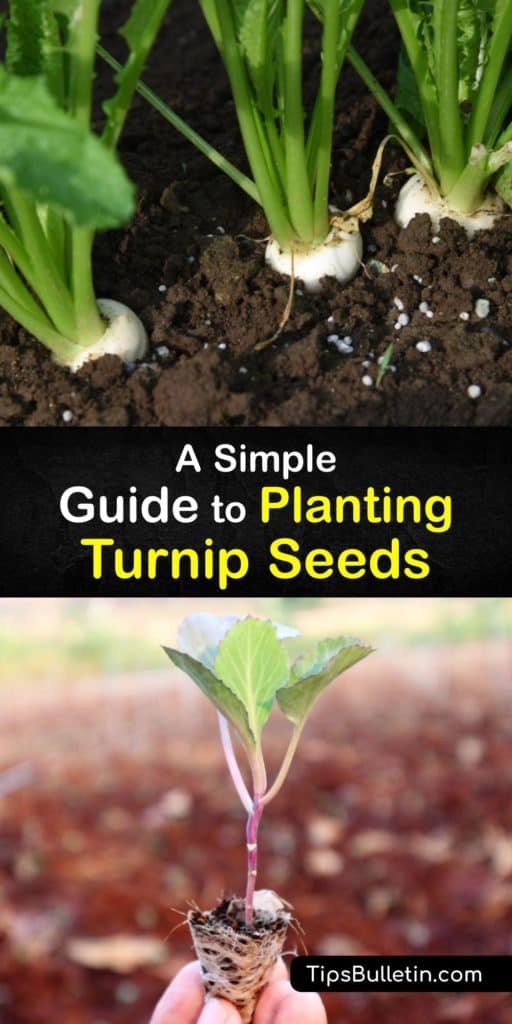 If you enjoyed these tips for growing turnips from seed, please share this article about how to grow turnips from seed with your fellow gardeners on Pinterest and Facebook.