Gardeners have a hard time restraining themselves from filling their vegetable gardens with crunchy cucumbers, juicy tomatoes, and spicy peppers. However, you grow a deeper appreciation for vegetable gardening when you set aside space to nurture less popular cool-weather crops. Learning how to grow turnips is something many people overlook when planning their garden layout for the upcoming growing season.
Your garden and taste buds are missing out on these small root vegetables. We know that taking on plants that grow in cool weather can be a little bit intimidating. How long do turnips take to grow, and is it really worth it to spend the time sustaining them?
Turnip roots have tons of nutritional value, tolerate an occasional hard freeze, and store for long periods. If you haven't already tried to grow turnips in your garden beds, then read this article to find out precisely how to do it.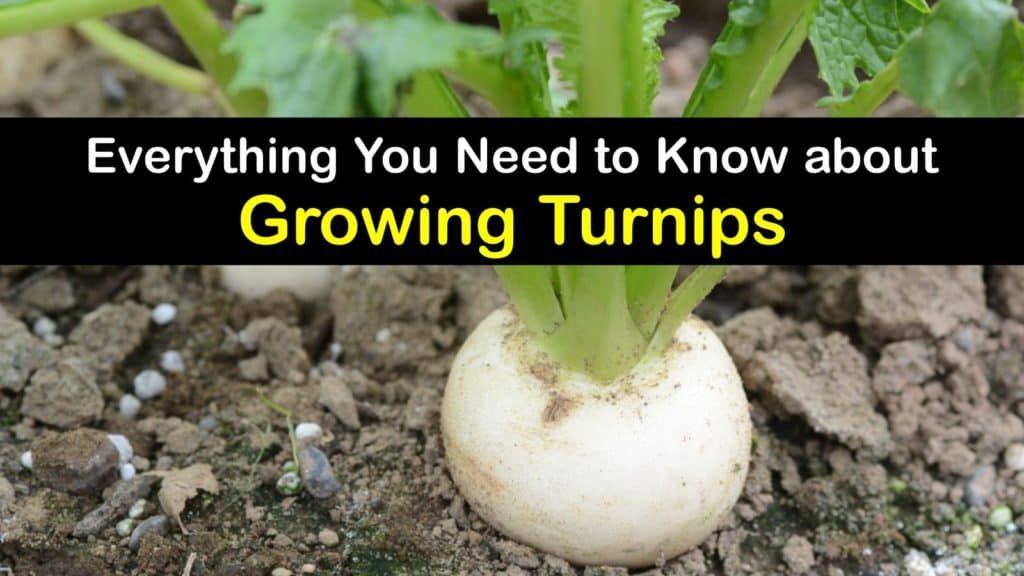 About Turnips
The Brassica rapa species are biennial root crops closely related to mustard greens and other mustard plants. Most turnips have a similar taste and texture to radishes and rutabagas and are ideal for those looking for a fall harvest.
Turnip leaves are hairy with small yellow flowers, white or yellow bulbs and the top of the root that is sometimes purple or green when they grow above the soil line and become exposed to the sunlight.
Root vegetables aren't always the most exciting at first glance, but turnips have a long history of uses for both humans and animals. These veggies have been traced back to Roman times, although they likely originated in Europe or West Asia.
Today, home cooks love to use turnips for a crunch factor in salads and sandwiches, but there are many ways to use them in the kitchen. Learning how to grow turnips is something that nearly anyone can do since there are minimal care requirements.
How to Grow Turnips
How long do turnips take to grow from start to finish? It depends on when you propagate them during the growing season, whether you grow radish or turnip seeds. Pay attention to their primary care needs, and you'll be growing turnips like an experienced gardener in no time.
How Long do Turnips Take to Grow?
Growing turnips to maturity takes five weeks to two months. You may be able to harvest them during the early summer if you want small turnips or turnip greens.
If you plan to harvest fully mature bulbs, wait about 60 days to pull them from the ground. This timeframe also changes based on the varieties you plant.
Turnip Cultivars to Grow
There is an excellent selection to choose from when you decide to grow turnips, so do your research to find out which works best for your growing zone and the qualities you're hoping to receive from it.
One of the best all-around turnip cultivars is the Purple Top White Globe turnip. The name is about as straightforward as it gets.
This type of turnip is a long-time favorite that produces large, mildly sweet roots that reach up to six inches across and are ready for harvest in as little as 45 days. The turnip greens are fine to harvest multiple times throughout the season as well.
The Shogoin turnip is another older, traditional turnip. It grows large, globed bulbs that could be eight inches in diameter but are best when only four inches across. They have mild greens that are also great to cook with or eat raw.
Tokyo Cross turnips are a hybrid variety and an award-winning cultivar. They are safe to harvest at any stage during the growing process.
They have smooth skins and a sweet, crisp inner flesh. They are also known for bolting later than other types of turnips, so you have some extra time to harvest them.
Propagating Turnips
It is best to sow turnip seeds directly into well-draining soil that gets full sun or partial shade in the early spring. Turnips thrive when the weather is cool, and too much heat makes the roots woody and encourages quicker bolting.
Planting turnips a couple of weeks before the last frost is encouraged since they tolerate light frost. Getting the seeds in the ground before rising summer temperatures hit is ideal.
If you live in regions with long, cool growing seasons, sow turnip seeds every few weeks for a continuous crop and different harvest times.
If you miss your deadline, sow the seeds in the late summer for a fall crop. Try spacing each seed about four to six inches apart and keep the soil moist while they start sprouting. The ideal soil temperatures range from 40°F to 75°F.
Growing Turnips
Growing turnips is one of the most manageable tasks in the garden. There is not much difference between rutabaga and turnip as far as growing them. They are reliable and fast growers and don't require much labor from gardeners. The key to producing big turnips is to use loose soil.
Mixing two to four inches of organic matter like mulch or aged manure into the prepared bed is the best way to achieve this.
If you have land with heavy clay soil, amend it with some sand and organic matter to improve drainage. Keep the beds slightly acidic with soil pH levels ranging from 6.0 to 6.5.
It isn't always necessary to fertilize plants once you've already planted them in the ground, especially since turnips grow quickly. There is no difference between turnip and parsnip regarding fertilization. Make sure the plants receive consistent water and have a minimum of one inch of water every week.
This base encourages healthy roots to grow and keeps them from getting waterlogged and causing diseases. To further prevent issues with waterlogged soil, spread plenty of mulch or straw around the bottom of the plants.
Caring for Turnips as they Grow
Start thinning seedlings once they are at least four inches tall and bushy. Crowding is possible if you don't trim them when they overgrow.
If thinning your leaves is necessary while the bulbs grow, don't throw them out. Instead, toss them into a salad for a spicy kick.
Do your best at keeping the beds weed-free. As you pull them from the soil, try not to disturb any of the young turnip roots, or you risk damaging them. Remember to mulch heavily to keep weeds at bay and maintain moisture in the ground.
Turnips are hardy plants. We treat them as annuals in our veggie gardens, but they are biennials, and bolting during their first year of life is usually a sign that they're under some stress.
These stressors could be extreme temperatures, either cold or hot, lack of nutrients or water. If the temperatures affect your crops, use row covers to protect them from freezing and provide shade on hot days.
Turnip plants don't require a lot of care. As long as they have a healthy amount of water, it's hard to mess these plants up too severely.
Turnip Pests and Diseases
Although turnip plants are part of the hardy brassica family, they have many different pests that like snacking on them. One of the most common turnip pests is aphids. Aphids have small, soft bodies that are oval-shaped.
These pests suck the sap from the turnip leaves, and they leave behind their sticky waste on the plants called honeydew.
The honeydew makes matters even worse by attracting molds to the plant. Spraying the plants with soapy water or neem oil is your best defense against them.
Cabbage maggots are another problem you may face when learning how to grow turnips. The maggots tunnel through the roots and make everything shrivel and wilt.
The flies of these gray worms lay their eggs near the soil. Sprinkle a little wood ash around the bottom of the plants to deter them or plant when the weather is dry.
Flea beetles might be another insect you stumble upon. They have small, dark bodies and are easy to get rid of by introducing talcum powder to your beds.
Clubroot is one of the few diseases you'll experience while growing turnips at home. This disease is caused by parasites, and they remain in the soil for up to ten years.
The best way to prevent clubroot and other diseases is to rotate crops every few years. It usually thrives in acidic soils, so it might be a sign that you need to lower the pH level as well.
Practice companion planting for turnips to repel some pests. Know that what may be a companion plant for celery may not be the same as for turnips, so choose the plants you grow together wisely. Growing a turnip plant with onions is always a safe bet.
Harvesting Turnips
When you harvest your turnips is ultimately up to you and when you want to eat them. If harvesting them primarily for their leafy greens, then pick them multiple times throughout the growing season.
Harvest young, tender bulbs when they are at least two inches across and larger bulbs when they are about three to five inches. The best way to harvest turnips is to loosen the soil around the bulbs and pull them straight out.
Cutting the leaves reduces the ability of the plants to soak up the sun and provide fuel to the plant. Don't cut them back too much or too often, or you might stunt the root growth.
Harvesting turnips after a few light freezes is safe if you are doing a fall harvest, but if there is too much thawing and freezing, it compromises the texture of the roots.
Storing Turnips
Turnip roots last for several months when they are under the right conditions and safely put away. Ideal storage temperatures for harvest turnips are between 32°F and 35°F. The best place to do them is in the refrigerator or a cool root cellar.
Substituting Turnips in the Kitchen
Many people think that the only way to eat turnips is raw, but that isn't the case. Turnips are a fantastic replacement for potatoes because of their texture and are delicious when roasted in the oven or turned into mashed potatoes.
Preheat your kitchen oven to 425°F. Toss the peeled turnips in a large bowl with the sage, olive oil, and a little salt and pepper to taste. Spread the turnips evenly across a baking sheet and roast them in the hot oven for 35 minutes or until each piece is tender.
Remove the baking sheet from the oven and then toss them with the butter and additional salt and pepper to taste. Remember that if you cut the turnips into larger pieces, they'll likely have to cook longer. Check for turnip tenderness by stabbing them with a fork.
Adding Turnips to Family Dishes
Casseroles are a classic family dish and are the perfect solution if you have too much of one crop and no ideas for using them before they rot.
Using turnips as the main meat for your casserole is a filling yet healthy way to feed your family and have a few servings of leftovers.
Preheat the oven to 375°F. Place the diced turnips into a small saucepan and fill it with water until the veggies are just covered. Bring the turnips and water to a boil, cover them and let them simmer for 12 minutes or until tender.
Drain the boiling water out of the pan and set it aside. In a bowl, stir two tablespoons of the butter into the turnips and then stir in the two eggs.
In a separate smaller bowl, mix the flour, brown sugar, nutmeg, baking powder, salt, and pepper before adding it to the turnip and egg mixture. Transfer the entire combination to an eight-inch baking or casserole dish.
Melt the remaining butter in a small ramekin. Sprinkle the bread crumbs over the turnips and drizzle the melted butter over the top of everything. Bake the turnip casserole for 25 to 30 minutes and serve it right away.
Turnips are often looked over when people start a garden because they don't understand how many different ways to use them.
With lots of different possibilities and the ability to have an additional fall harvest, it's hard to understand why we've been looking over these root vegetables for so long. Plant turnips in your garden this summer to experience the endless benefits of these plants.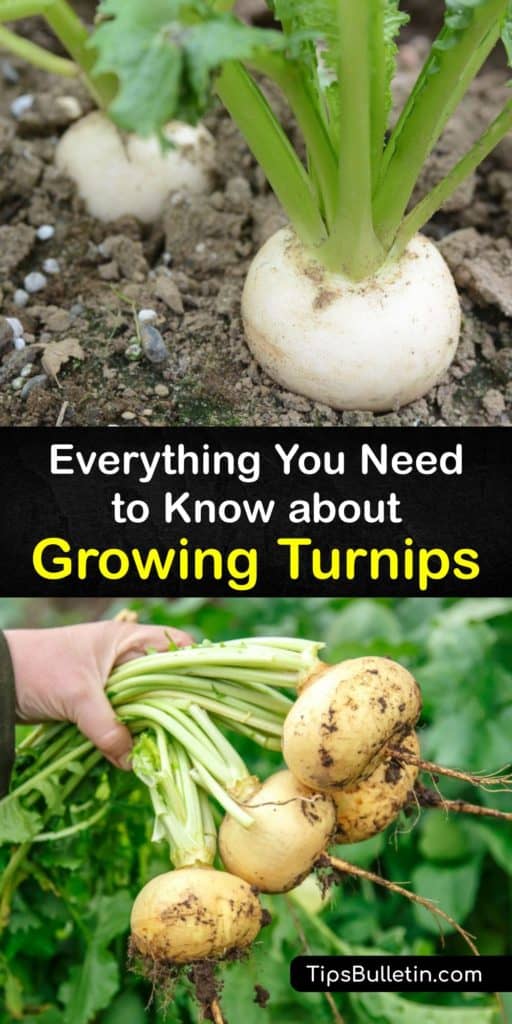 If learning how to grow turnips has opened your mind to other vegetable choices, share this guide on growing turnips on Facebook and Pinterest.