Not everyone knows that it's possible to regrow many fruits and veggies from the parts that generally end up in the trash or composting pile. For example, the green tops or root end of produce from the grocery store are easy to regrow as houseplants or garden plants. Discover how to grow vegetables from scraps in water and soil and use your regrown food to make a delicious recipe.
Regrowing your own food from kitchen scraps is convenient and an excellent way to save money. All you need is water, dirt, and a sunny spot to grow new plants. Before you know it, you have a garden or windowsill full of new fruits and vegetables for eating and regrowing.
No one wants food waste, especially during challenging times. Fortunately, there are ways to propagate food for an endless supply of everything from onions and potatoes to lettuce and pineapple.
Regrowing Vegetables, Fruits, and Herbs
If you've never grown a veggie garden, you may find the idea of producing new food from scrap material intimidating. However, growing vegetables from scraps is easy, even if you lack the famous green thumb. Tasty greens grow from celery stalks and chives offer produce year-round. Give your plants what they want and enjoy eating new potatoes or leafy greens in no time.
Learn which veggies, fruits, and herbs regrow from scraps and how to prepare them for the growing process. Find out how to grow vegetables in water and potting soil, and nurture your new plants for healthy production.
Ways to Grow Vegetables in Water
Many veggies regrow if you place them in a cup of water, from green onions to sweet potatoes. Explore which ones are good candidates for DIY growing and how to grow vegetables in water from leftover scraps.
The best plants to grow in water from cuttings are cilantro, basil, potatoes, sweet potatoes, ginger, lettuce, pineapple, celery, bok choy, cabbage, green onions, garlic, and lemongrass. Regrowing lettuce in water and growing bok choy from stem or scraps is so simple you'll wonder why you didn't do it earlier.
To regrow vegetables in water, like when you are regrowing scallions from scraps, you need the stem or root end of the veggie. Basil and cilantro grow back after placing the stem in water for about a month. Likewise, when you regrow onions in water, submerging the root end of onions, scallions, leeks, garlic, and lemongrass in warm water causes new roots to grow.
You may be wondering how to regrow potatoes. To plant tubers, rhizomes, or roots, cut the potato or ginger in half, suspend the cut side in a glass of water with toothpicks, and place them in a sunny window.
Lettuce, bok choy, cabbage, fennel, Romaine lettuce, and celery regrow from their base. Position the root end in shallow water on a sunny windowsill, and roots and new leaves begin sprouting in about one week.
While other veggies regrow from stems and root ends, regrow pineapples, parsnips, turnips, and carrots from the top. Suspend the top section from a pineapple, carrot, turnip, or parsnip in enough water to cover the bottom, set it in the sun, and change the water every day.
After a week or so, the pineapple top begins growing roots, and the parsnip, turnip, or carrot tops produce green shoots.
How to Grow Vegetables from Scraps
Growing vegetables from cuttings is a great way to produce more food. Grow vegetables from kitchen scraps in a container or garden bed after they begin sprouting in water. Replanting cabbage scraps this way is simple and rewarding.
After growing vegetables from kitchen scraps in water inside your home, you may decide to transplant them outside into the garden. For outdoor gardening, it's essential to understand your plant's growing requirements, whether you plant garlic cloves or potatoes, like soil type and spacing.
For example, when you plant a romaine lettuce stump in soil, these leafy greens like loose, rich dirt. Root veggies prefer sandy loam and peat soil, while alliums are suited for well-drained dirt. All veggie plants require at least six hours of full sun each day and enough room to grow.
Leafy veggies only desire about an inch or so of space, tubers are happy with 12 to 15-inch spacing, and onion plants want six to eight inches between plants.
Prepare the garden bed or container according to your plant, dig a hole slightly larger than the root system, and bury the roots beneath the soil. Water your veggies right after planting and feed them as required.
If you're regrowing more than one type of vegetable, consider companion planting to promote healthy growers. Carrots, lettuce, and cabbage make good companions for onions, basil and cabbage grow well with potatoes, while carrots, parsnips, onions, and radishes are great companions for each other.
Making a Recipe after Growing Vegetables from Scraps
After watching your new plants flourish when growing vegetables from scraps, it's time to harvest them for recipes. The ingredients in this salad all come from regrown plants, and it's super healthy and delicious.
Whisk the buttermilk, red wine vinegar, mayonnaise, minced garlic, garlic powder, chives, and salt in a large bowl. Spread the celery and romaine leaves on top, cover with a lid and place it in the fridge for a couple of hours. When you're ready to eat the salad, gently toss everything, sprinkle it with black pepper, and serve.
We are often surprised at how nature provides us with everything we need to thrive, and regrowing food from scrap material is one of them. Plant a veggie or herb section in soil or water and watch as it grows new roots and new green leaves.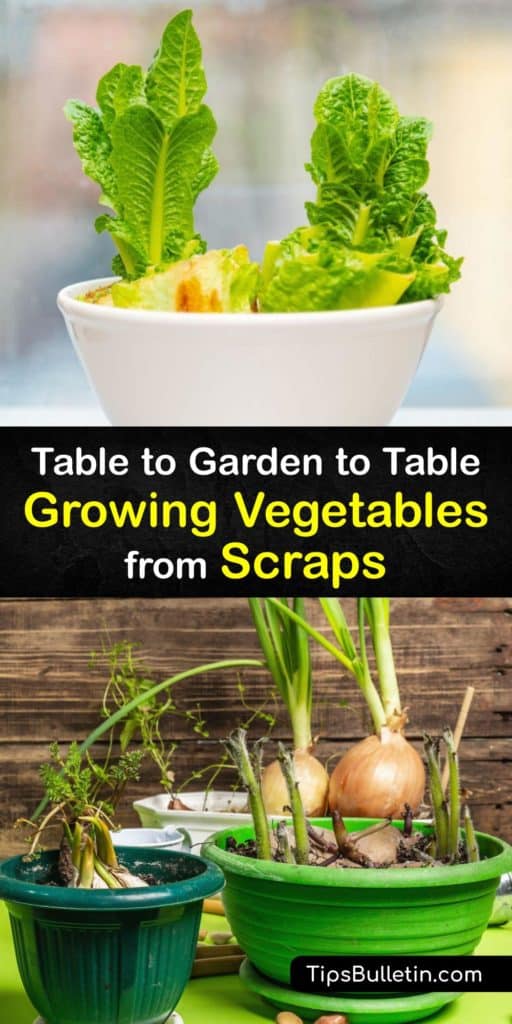 Knowing how to grow vegetables from scraps saves money and prevents food waste, so why not share our veggie, fruit, and herb regrowing guide with your thrifty family and friends on Pinterest and Facebook.