Growing watermelon is a fun and rewarding experience, and this household favorite tastes even better when it comes from your home garden. Some gardeners may wonder how to grow watermelon in a pot. With the popularity of limited space and container gardens on the rise, the answer has never been more straightforward.
Container gardening is built around the idea of growing plants, including fruits or vegetables, in tubs or containers rather than planting them in the ground. This concept is great for gardeners with limited space and a penchant for DIY. Container gardening is suitable for small fruits and flowers or growing watermelon in pots.
Planting watermelon in pots brings the gift of flexibility to your home garden, as well as taking up limited space. When your crops are in containers, they are much more mobile. Move them under cover if there's a sudden soil temperature drop, an unexpected last frost, or an attack of cucumber beetles, aphids, or mildew on a neighboring plant.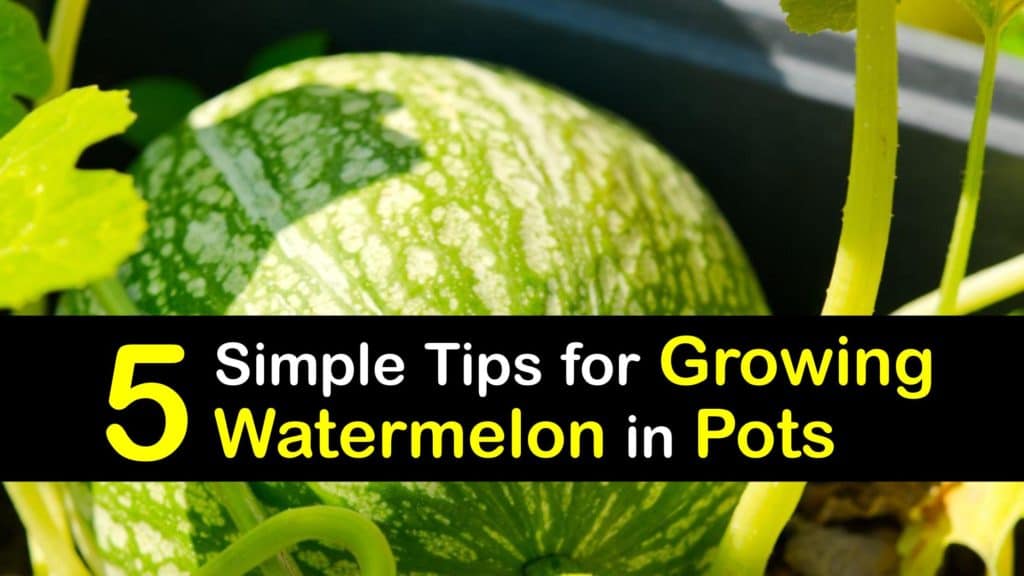 Top Tips for Planting Watermelon in Pots
Delicious cucurbits like watermelon and cantaloupe are always a garden favorite. Where limited space may prevent watermelon from being the obvious choice for a traditional garden, container gardening allows growers of every experience level to try this relatively easy sweet ripe fruit for themselves.
Watermelons thrive in full sun, so take this into account when planning the location and position of your container. Watermelons tolerate partial shade, especially in hotter climates, but rely on the sunshine to produce sweeter ripe fruits. Lack of sun causes the fruit to be smaller and the yield to be lower, so plan accordingly.
You may go the route of growing watermelon in a pot in your home or a greenhouse and enjoy a longer growing season too.
Planting watermelon begins with watermelon seeds, which you can find at your local garden center or order online.
Plant Choices for Growing Watermelon in Pots
Specific watermelon cultivars do better in a limited space and container setup when you grow watermelon at home. Choosing one of these more suitable watermelon plants increases your chances of having delicious ripe fruits. Create a watermelon container garden with several of these varieties.
These different types of watermelon plants are well suited for growing watermelon in pots as they produce small fruits which require little space and are unlikely to outgrow their container. Choose one of these watermelon seeds when you visit your local garden center for supplies.
How to Grow Watermelon in a Pot – Container Choice
How to plant watermelon in pots begins with the tub itself. Watermelon plants proliferate quickly and get quite large. In a typical garden, watermelon vines are vast and sprawling, covering lots of ground and competing with plants around them for space.
Harness their prolific nature for container gardening by choosing the right tub and taking advantage of vertical climbing space rather than horizontal spread.
Choose at least a five-gallon sturdy tub like a black plastic container tote, or check your local garden center for other container options. The potting container must have drainage holes to allow excess water to escape to avoid causing mildew and water damage to your watermelon vines.
Use an electric drill or a sharp knife to create drainage holes for a quick DIY project.
Soil for Growing Watermelon in a Pot
How to grow watermelon in a pot includes the proper soil. Potting soil and soilless mix are good choices. Avoid dirt from the garden, as this compacts easily and causes your watermelon plants to have too limited space. Use mulch with caution as it attracts cucumber beetles which are harmful to cucurbit crops like watermelon.
Fill your container with your chosen soil and plant your watermelon seeds directly onto the surface. Watermelon plants don't do well with transplanting, and sowing seeds right into the container avoids this stress. Place your watermelon seed at a depth of approximately three times its length into the soil.
Watermelons are heavy feeders and require lots of water and nutrients to produce tasty ripe fruits. Water your watermelon plant once per day if temperatures are under 80°F and twice per day if they're over 80F. Use liquid fertilizer in water once a week to meet your plant's heavy feeder requirements and ensure it has enough nutrients.
Add the ingredients to a gallon jug or watering can, then fill with water for easy liquid fertilizer with Epsom salt for watermelons. The Epsom salt works by adding vital nutrients, such as nitrogen, into the soil.
Support Your Watermelon Plants
Vertical support is critical for growing watermelon in pots. Watermelon vines spread out over the ground naturally. Use a trellis to keep your watermelon plant in the pot space and take advantage of vertical growth instead.
As watermelon vines grow, train them up the trellis frame by gently encouraging them up the levels and tying them up with stretchy ties. Prune as necessary until your watermelon plant is well on its way to growing up the trellis framework.
As your plant grows, you'll first notice small fruits, followed by baby watermelon. The watermelon itself also requires support.
Use a stretch material like pantyhose to cradle the watermelon fruit and attach it to the primary supporting point on the trellis. The stockings or fabric creates a stretchy hammock that cradles the fruit and stretches with it as it grows in size.
Pollination is Key
Learn how to grow a watermelon in a pot by paying attention to pollinating. If pollinators are in short supply, hand pollinate your watermelon plants to ensure germination. If small fruits appear but fail to progress, it could signify your container watermelon lacks pollinators.
To hand pollinate, locate the male flowers, identifiable by the fuzzy stem in its center called the stamen. Male flowers often grow before female flowers and are found directly on the stalk of your watermelon plant. Next, locate the female flowers on top of the small fruit; they have a fuzzy center called the stigma.
Either remove a few male flowers and insert their stamen into the stigma of the female flowers and tap or use a paintbrush to collect pollen from the stamens and tap over the stigmas to pollinate your plant.
Although it may seem daunting, pollination is crucial for growing watermelon in pots and should be simple after identifying the male and female flowers. What grows well with watermelon? Grow marigolds and basil nearby to deter pests and keep them away from your watermelon plants.
Growing watermelon in pots, like when you grow cantaloupe in a pot, is a fun way to test the world of container gardening or take your small garden to the next level. Whether cantaloupe vs muskmelon or watermelon, these heavy feeders demand more care than their lower maintenance counterparts but give beautiful ripe fruits in large numbers for the effort.
Their pollination process is simple and may easily be replicated by hand pollination if necessary. Simple trellis and pantyhose hammocks allow you to grow them within the bounds of a container without suffering from lack of space.
Planting watermelon in pots is relatively straightforward and requires items and tools most gardeners already have at home, except for a trip to the garden center for the seeds.
Whether you live in a warmer climate or have a greenhouse available, give growing watermelon in a pot a try if you have the sunlight to sustain one and are interested in an accessible new crop with a good yield and moderate care requirements.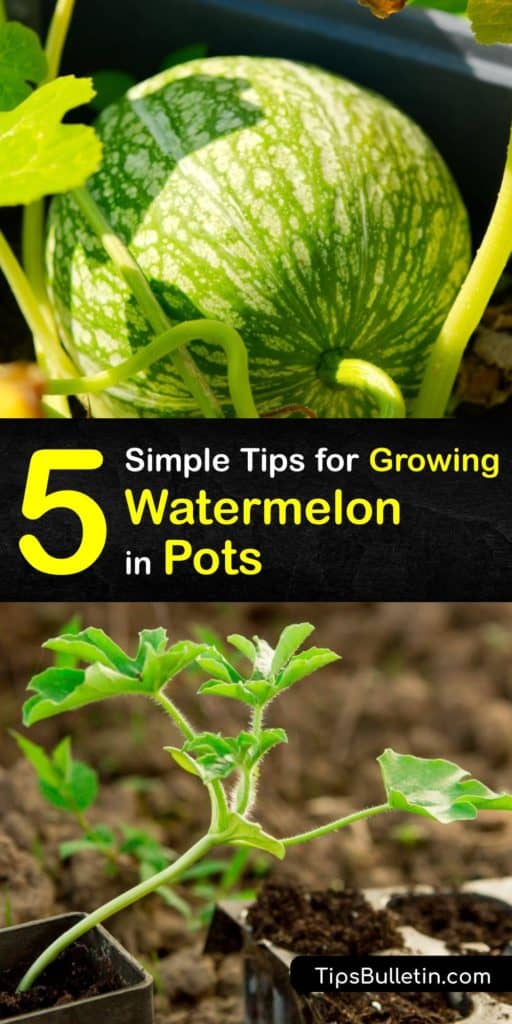 If this article showed you how to grow watermelon in a pot, consider sharing these fun tips on planting watermelon in pots with your family and friends on social media such as Facebook and Pinterest.